Tale of the Tape: Arrieta vs. Syndergaard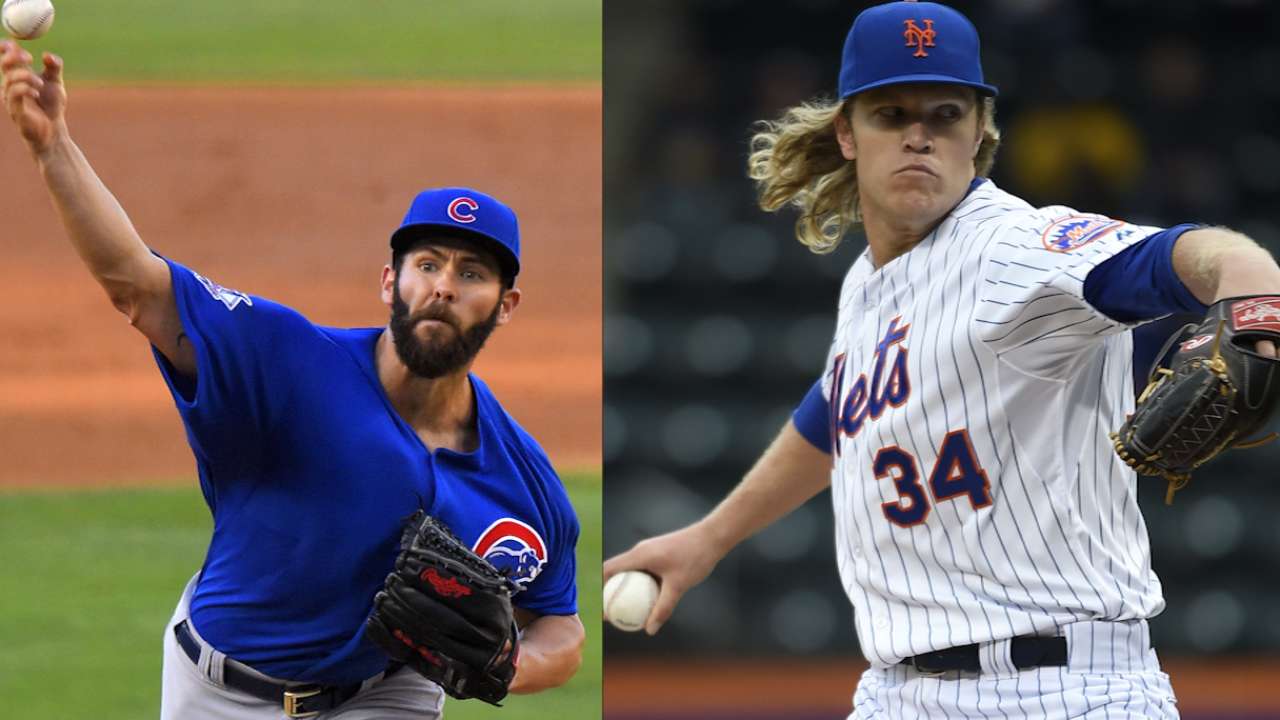 The Cubs and Mets send two of their most consistent pitchers to the mound Sunday night in Game 2 of the National League Championship Series (7:30 p.m. ET, TBS; first pitch at 8:07 ET), although both have limited postseason experience.
Jake Arrieta takes the hill for Chicago, making his third start in the postseason and hoping to bounce back from what was, for him, a disappointing four-run outing in Game 3 of the NL Division Series against the Cardinals. Mets rookie Noah Syndergaard gets the nod on short rest, having thrown in relief in Game 5 of their NLDS victory over the Dodgers. It will be his third appearance and second start of the postseason.
• Gear up for the NLCS: Cubs shop | Mets shop
We take a look at how the two consistent pitchers stack up against each other Sunday night at Citi Field.
Jake Arrieta, Cubs
Against the Mets
2015: 2 GS, 2-0, 1.13 ERA
Career: 5 GS, 2-1, 1.82 ERA
Loves to face: Michael Cuddyer .222 (2-for-9)
Hates to face: Curtis Granderson, .333 (10-for-30), 3 HRs; Lucas Duda, .364 (4-for-11)
Game breakdown
Why he'll win: Arrieta finished the second half of the season on one of the best runs of quality starts in Major League history. In his two outings against the Mets this season, Arrieta allowed a combined two runs in 16 innings while striking out 17. Having already pitched twice this postseason, he is well prepared for the atmosphere that comes in New York.
Pitcher beware: His last outing of the postseason Monday proved Arrieta is human, breaking his quality-start streak. The Mets are also much different from his last visit in early July, featuring four hitters -- Cespedes, David Wright, Travis d'Arnaud and Michael Conforto -- he has yet to see this season. Arrieta, 29, has never been this far in the postseason and will have that added pressure on him.
Bottom line: Don't expect him to have two rough starts in a row; he has the experience to rebound quickly.
Noah Syndergaard, Mets
Against the Cubs
2015: 1 GS, 0-1, 5.06 ERA
Career: 1 GS, 0-1, 5.06 ERA
Loves to face: Dexter Fowler, .000 (0-for-3)
Hates to face: Kris Bryant, .667 (2-for-3)
Game breakdown
Why he'll win: Syndergaard is a more experienced pitcher since making his debut against the Cubs in May. But against a team that led the Majors in strikeouts, Syndergaard could excel -- he's struck out 32 batters in his last 22 innings. The right-hander has been one of the Mets' most consistent pitchers this season, and he's carried that into the postseason, with a 3.68 ERA in 7 1/3 innings. And he was much more effective at home this season, carrying a 2.46 ERA compared to a 4.23 ERA on the road.
Pitcher beware: Though he's pitched well, Syndergaard, 23, is still a rookie making one of the biggest starts in his young career. He's also going against a Cubs lineup which has shown it can put up runs at any time. And he'll be pitching on short rest, having thrown an inning in relief the New York's NLDS win on Thursday night.
Bottom line: He's a different pitcher since he last saw the Cubs, but so is the scenario in which he's pitching.
Greg Garno is an associate reporter for MLB.com. This story was not subject to the approval of Major League Baseball or its clubs.