Harvey reclaims NY hearts with Game 1 gem
Ace hears cheers from Mets fans, silences doubters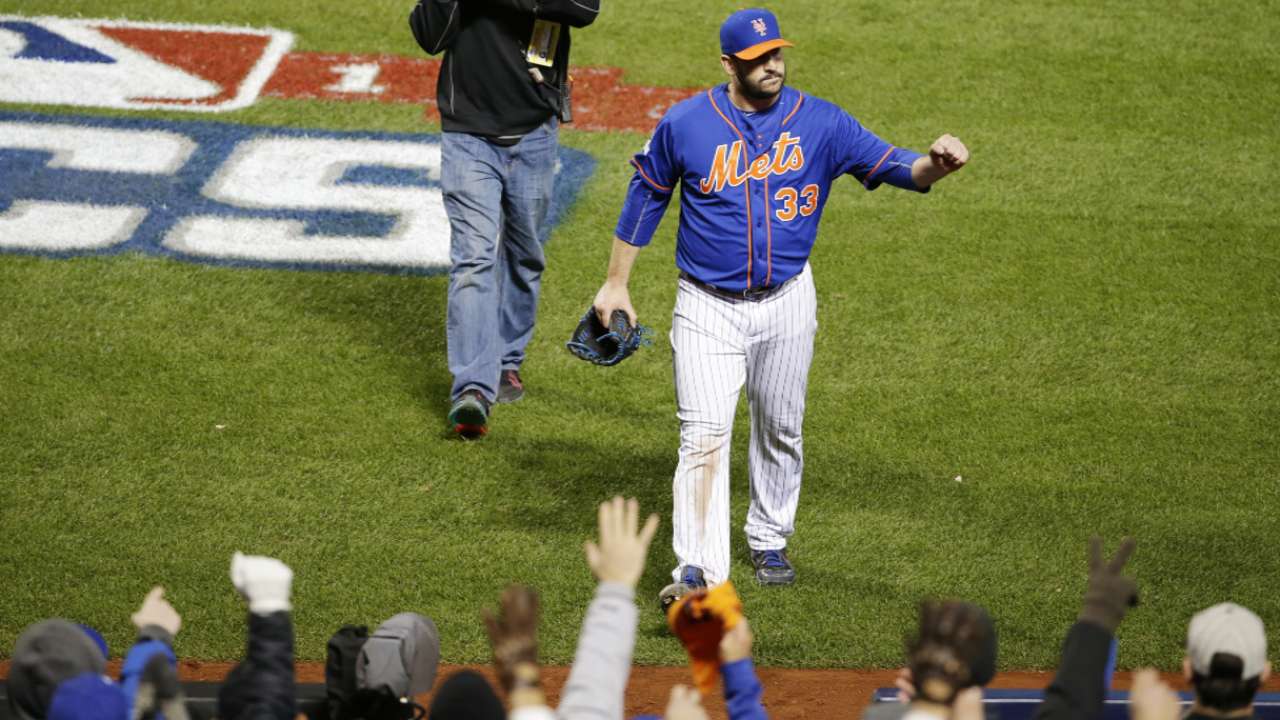 NEW YORK -- Scattered at first, the chants of Matt Harvey's name -- a name dragged through the mud of Flushing Bay so often in recent weeks -- grew irrepressible by game's end. Harvey had just delivered the most impactful 7 2/3 innings of his career in the Mets' 4-2 National League Championship Series Game 1 win over the Cubs. If not outright adoration, he had at least earned forgiveness from the second-largest crowd ever to step into Citi Field.
"I think anybody that had any doubts about his toughness or his desire to go out there and pitch should take notice tonight," Mets outfielder Michael Cuddyer said. "The guy's a beast. He's an animal. And tonight he proved it."
• Dress like the Mets for the NLCS
This was not the best performance of Harvey's career, the sharpest he has looked, nor the most electric that his fastball has ever been. It was hardly a flawless outing -- Harvey lost his perfect game bid in the fifth, when he plunked Anthony Rizzo and allowed an RBI double to Starlin Castro.
But under the circumstances, it was the most important performance of his life. Never before in Harvey's career had the Mets reached the postseason, let alone the NLCS. And for all their backing, Citi's fans seemed primed to turn on Harvey if things went south. Boos followed him throughout September, after Harvey became embroiled with the Mets and his agent, Scott Boras, in innings-limit drama.
Given all that, Harvey's so-so performance in NL Division Series Game 3 -- five innings, three runs -- had plenty questioning his mettle heading into the NLCS. And it was with that backdrop that Harvey went to work in front of 44,287, the majority of them chanting and waving bright orange towels.
"I wanted to go out there," Harvey said. "I wanted this game bad."
He wound up leaving no doubt, opening with consecutive strikeouts to garner the first of many "Har-vey! Har-vey!" chants. The chorus bubbled louder when he froze opposing pitcher Jon Lester to finish the third, then again when he whiffed Kris Bryant to complete the fourth. At that point, Harvey had not permitted a Cub to reach base, featuring what Chicago manager Joe Maddon called "outrageous" command.
"He had it in his eyes tonight when he went out there to take that mound," Cuddyer said. "He wasn't going to be denied."
Perfection ended in the fifth, and Harvey's night followed three innings later, courtesy of a Kyle Schwarber homer. But by that point, the Mets had the game reasonably well in hand, having rapped out four runs against Lester. As Harvey paced off the field, fans throughout the ballpark chanted his name for the final time. If boos were interspersed, they were too soft to hear.
The night and the fan base belonged to Harvey.
"It was great," said Harvey, whose most significant scare came when Dexter Fowler lined a ball off his right shoulder in the sixth, resulting in nothing more than a swollen joint. "After everything that's happened, I think the biggest thing was really staying focused on what I had to do tonight."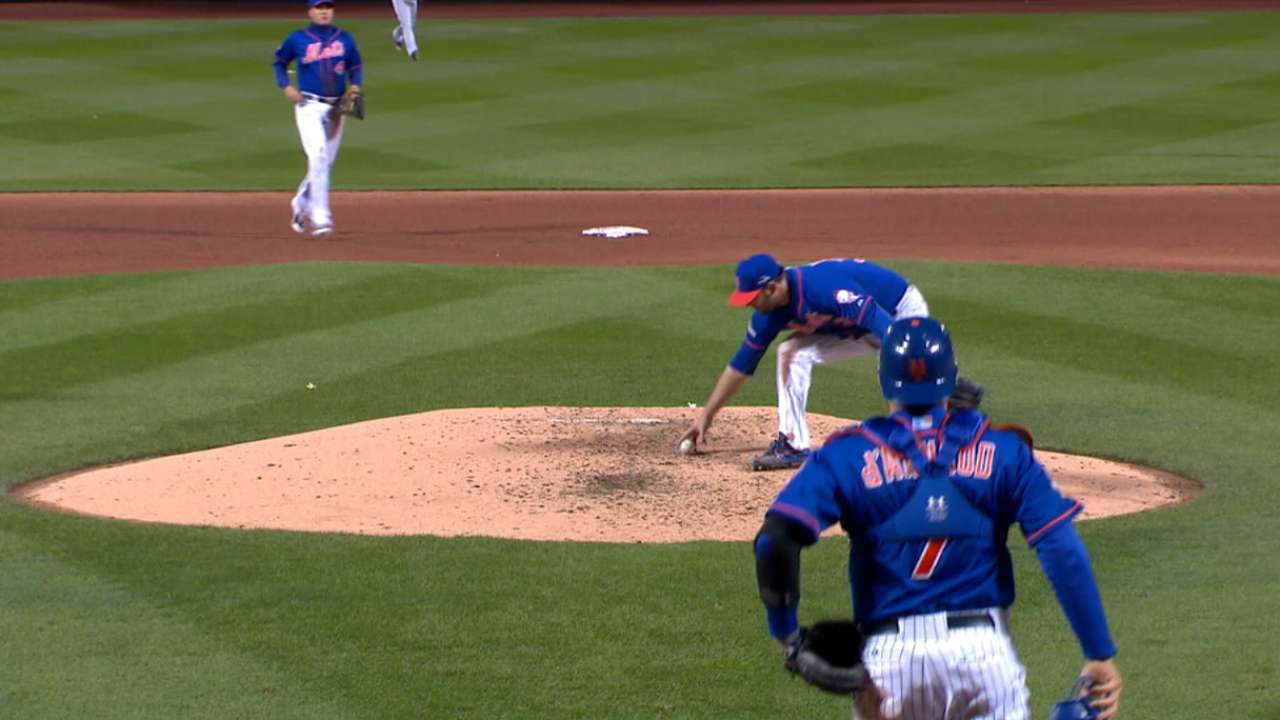 "I talk to this guy every day," Mets manager Terry Collins said. "I know exactly what he's made of. I know exactly what he's about, and he wants the baseball. He wants it. He wants to be out there."
In taking it, Harvey became the first Mets pitcher to allow two or fewer runs, strike out nine or more batters and log more than seven innings in a postseason game since Tom Seaver in Game 3 of the 1973 World Series. Not that Seaver and Dwight Gooden comparisons are hardly new for Harvey.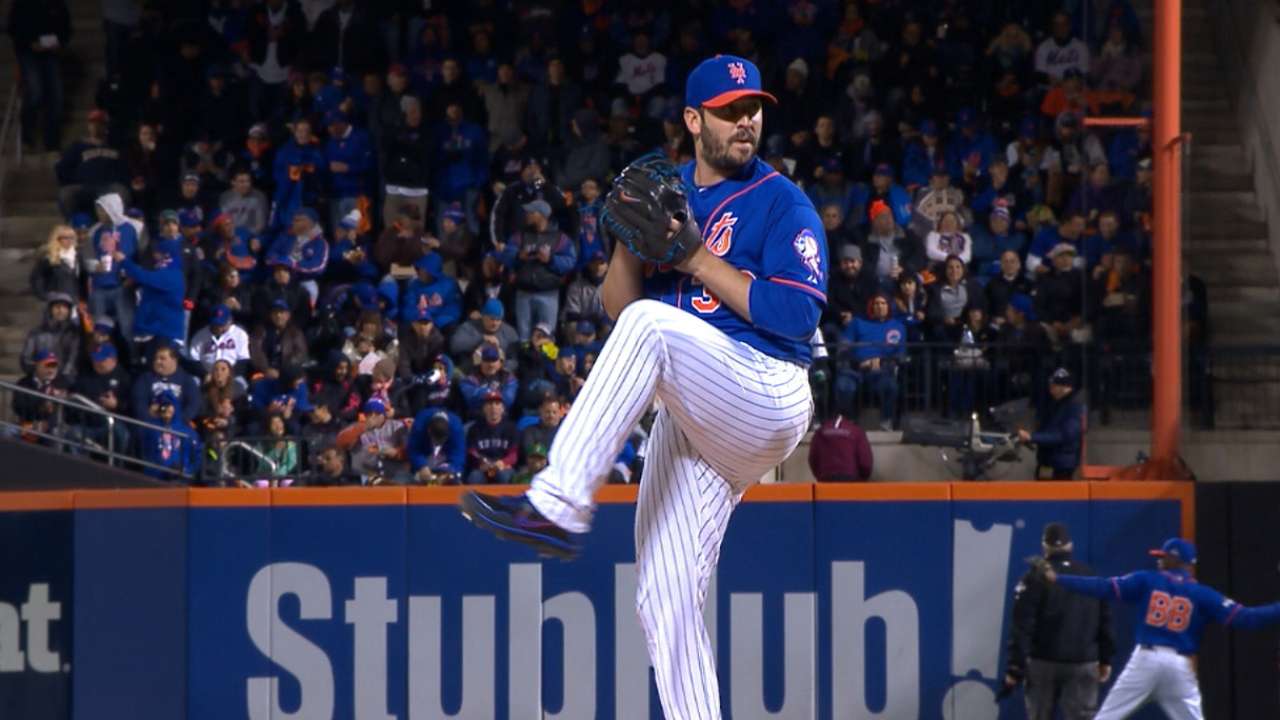 But on this stage, in this context, Harvey needed to shine.
"He wanted to put on a good show," third baseman David Wright said. "He wasn't bad his first playoff start, but I guess when you set the bar as high as you set it when you're a Matt Harvey type of guy, the expectations are a lot higher. When you go out there and you're mediocre, that kind of pushes you, and I think it drives you. He wanted another chance. He got it. And he was dominant."
Anthony DiComo is a reporter for MLB.com. Follow him on Twitter @AnthonyDiComo and Facebook, and listen to his podcast. This story was not subject to the approval of Major League Baseball or its clubs.