Oct. 17 Alex Gordon, Mike Moustakas postgame interview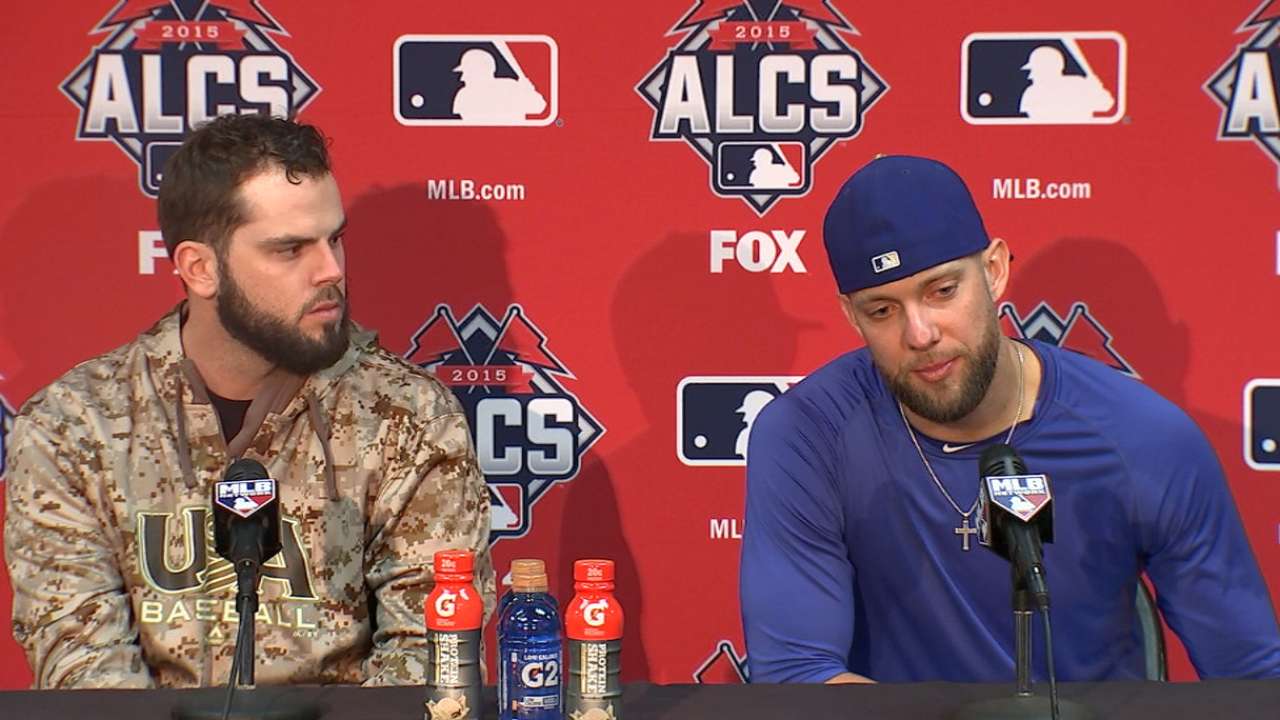 Q. Alex, for you, first, it was only 3-0, but did it feel like a little more with how well Price was throwing, and talk about the attitude you guys bring to being down by whatever the score is?
ALEX GORDON: He was cruising, we got that early at-bat. Price is a tough pitcher. I felt like we needed to catch a break. And Zobrist's ball there I think got things going. And once this lineup gets moving, it's one guy after another, and it was a big seventh inning.
Q. Ned was talking about the difference for you from a couple of years ago. You might have a struggle like you had so far this Postseason, but you have the ability now to look for a good swing to get things going as opposed to digging a deeper hole.
MIKE MOUSTAKAS: I haven't been getting a lot of hits, but I've been putting together good at-bats. That keeps me going. It's nice when you're putting together quality at-bats, just not getting results. Today was nice to get that big hit and get on base for Gordo to drive me in. And later put in another good at-bat and got another knock, so it was good.
Q. Alex, how do you guys kind of make sure the momentum you have after two wins is able to carry over into Toronto, which is going to be a tough thing to do?
ALEX GORDON: Forget about this game. We're going to enjoy it tonight, but know that it's going to be a challenge in the Rogers Centre, that's a tough crowd, good team. It's going to be a challenge. We're going to enjoy it tonight but forget about it and get a nice workout in and then go to work on Monday.
Q. Mike, you were not so great against left-handers throughout your career until this season. You were much better. What have you done or have you done anything to improve your performances against left-handed pitchers?
MIKE MOUSTAKAS: I kept my same approach. And tried to hit the ball the other way.
Q. Alex, we normally don't see a lot of demonstrative expressions from you, but you gave a big fist pump after the double. Obviously a huge spot. Anything else there that led you to decide to let one go there?
ALEX GORDON: I saw Alex Rios do it the other night. He doesn't do it either, so I figured I'd join the club.
Q. Rios was not with you guys last year. This year he had two big RBIs and another RBI today. Can you talk of his contributions in general, and especially now in the playoffs?
ALEX GORDON: He's a pro. He's been around the League a long time. Had kind of a rough year with injuries and sickness here, but he's battled through it.
Towards the end of the year is when he started swinging it well. And you've seen it in the Postseason he's stuck right there. A veteran player that knows how to go about his business every day. And I think we've seen it in this Postseason. It's a big sign by Dayton Moore, and we're happy to have him here.
Q. Mike, when Ben gets that hit, could you guys kind of sense or smell blood in the water?
MIKE MOUSTAKAS: Yeah, a little bit. I think like Alex said earlier, we just needed to catch a break. Price was throwing the ball unbelievable. Like he said, we got that early hit. And he was kind of cruising throughout the rest of the game. And I think we just needed to find a way to get a runner on base so we can do what we can, which is to keep the line moving. That's a big knock for us and kept things going. And it turned into a big inning for us.
Q. You talk about keeping the same approach and draw the ball another way. What got you to lock in on that approach and finally get comfortable with it?
MIKE MOUSTAKAS: Hitting .212 last year (laughter).
I knew I was a better hitter than that. And the shifts with all the data that's collected nowadays and all the stats or the spreadsheets that everyone gets, you don't get those hits in the 4-3 hole anymore. I didn't want to hit .212 again and go back to Triple-A. I love being in the big leagues and love being with these guys up here.
I knew I had to make a change, and it was a conscious effort to drive the ball to leftfield. And Dale was with me the whole way, coaching me, and giving me some success when I had it.
Q. For both of you, maybe lost in a lot of this comeback was what Luke did, did a little damage there against the Blue Jays. What's it mean for him, he wasn't involved as much last year? It's a really big spot for him, how big was that for him?
ALEX GORDON: It was huge. He's been a big part of this turnaround in this organization, and the tough Tommy John year coming back. And I think this year he kind of seen it gradually get better and better, stronger and stronger. And to add that key to our bullpen from last year is huge. So we feel like in those tough spots, bring in Luke, and he can get the job done.