Oct. 17 John Gibbons postgame interview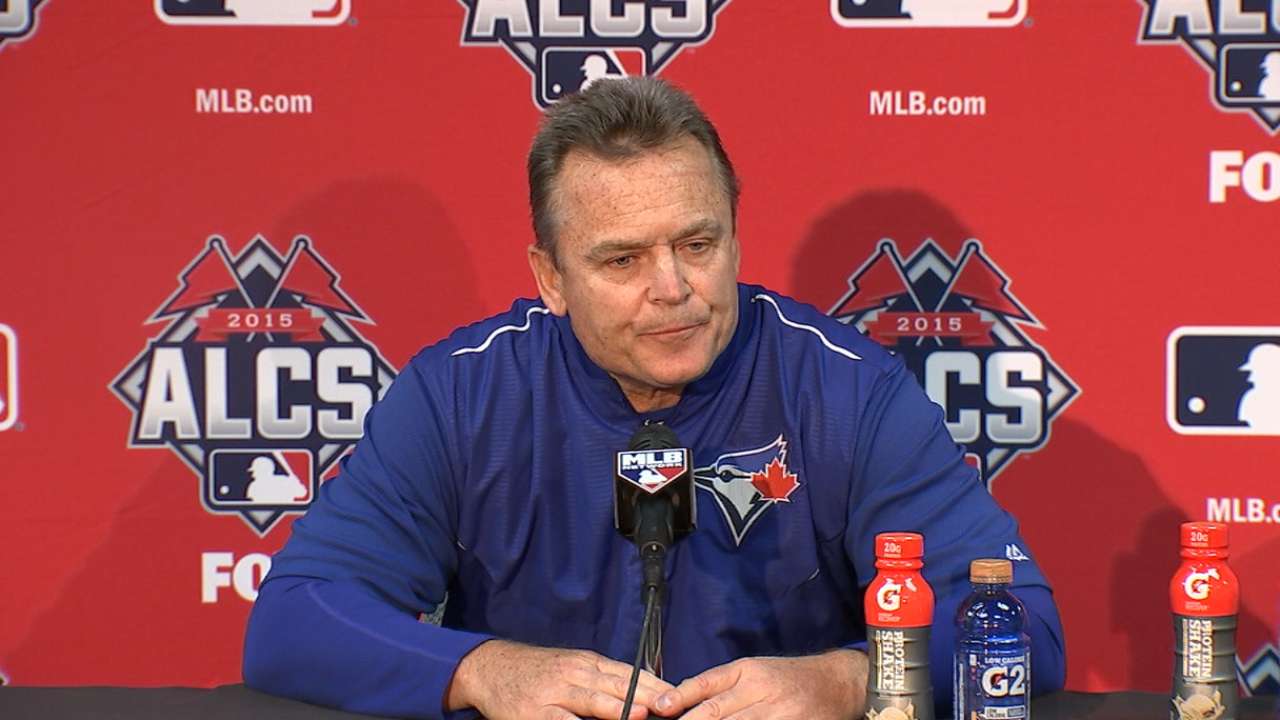 Q. Had a chance to talk to Ryan and Jose, and what the miscommunication was?
JOHN GIBBONS: I don't know if there's time for that, you know.
Yeah, the way I saw it it looked like Ryan kind of held him off a little bit and he might have backed Jose up a little bit and the ball dropped in. They were looking for that one crack because David was so good. And Cain followed up and some good at-bats, but David was so good tonight that it's a shame it had to end that way.
Q. Was it encouraging to see Tulowitzki be able to do something and also Encarnacion considering he was iffy?
JOHN GIBBONS: Good day for Tulo, he's been taking a little heat. He's such a good hitter. It's a matter of time. Big at-bats today, that really gets him going.
As far as Eddie, yeah, no signs of the pain. He had a good day, as well.
Q. You've proved that you can dig yourself out of a hole already, but you need a bigger shovel this time, down 0-2 in this best-of-7.
JOHN GIBBONS: You don't like to get in the habit of doing it, that's for sure.
Our back is against the wall, but it will be good to go back home where we normally play well. We'll have Stromy going on Monday. We feel good. It's a lot tougher from here. But we have a pretty good team, too.
Q. As the seventh inning unfolded, did you notice any change in Price or was it just the way it's gone at a certain point?
JOHN GIBBONS: Yeah, you know, the ball dropped in, of course. Cain hit one pretty good and then Hosmer flipped one out there and he got the ground ball to Morales, and then Moustakas.
But he's one pitch away of getting out of that. And of course, the big hit by Gordo with a good at-bat.
So it was unfortunate. You really can't pitch a better game to that point, anyway. He did a hell of a job. Sometimes there's that one little crack, like I said, when you're on the road, can open up the floodgates. We saw that against the last game in Texas. He held them at check, he didn't break a sweat before that seventh inning. We did a hell of a job. Deserve better, that's for sure.
Q. How do you guys maybe reset as you go home? You did it last series. What's your message?
JOHN GIBBONS: Well, you've got to get a win under your belt will go a long way. We're capable of that. We're at home. That's where you've got to win. It won't be easy, no doubt about that. But we get one win out of the way, that can turn things in a hurry.