Goins takes blame for botched popup in 7th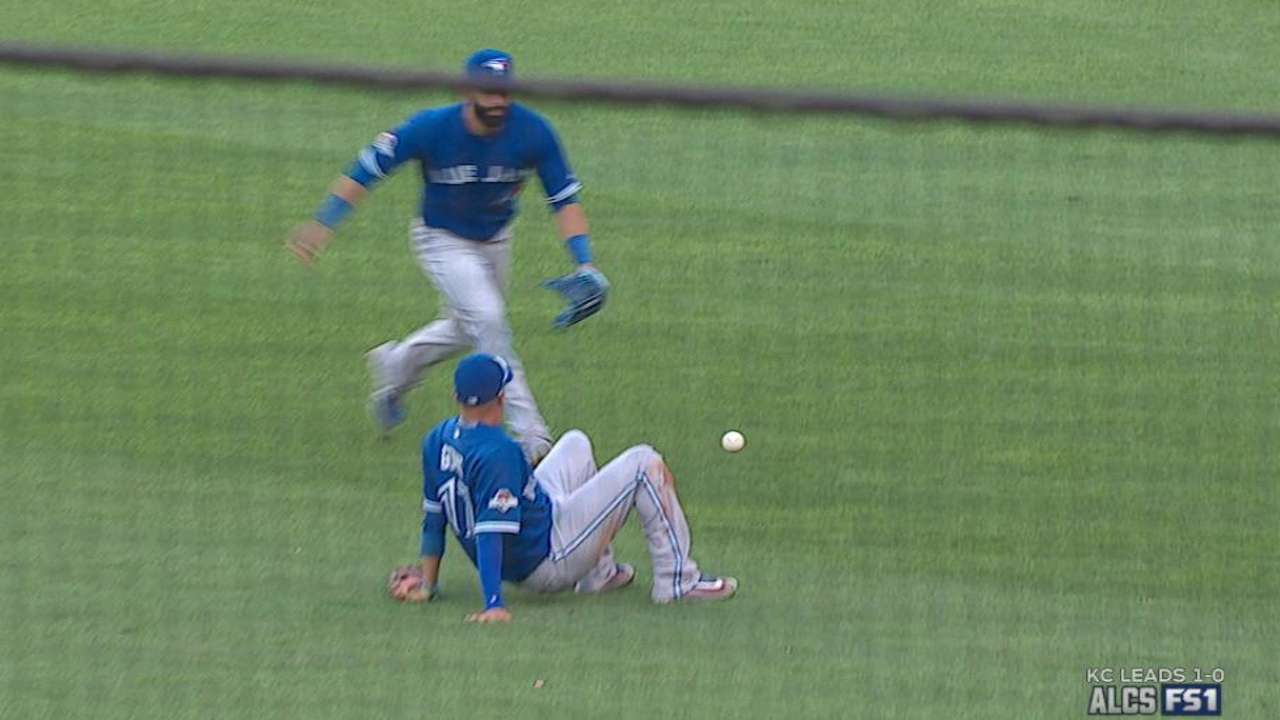 KANSAS CITY -- The doors to the visitors' clubhouse opened, and Ryan Goins was willingly waiting. The Blue Jays second baseman made a costly misstep on a routine fly ball, but he was not about to sidestep accountability in the aftermath of a potentially damaging postseason defeat.
"The blame should go on me today," Goins said after Toronto's 6-3 loss to the Royals in Game 2 of the American League Championship Series (Game 3, Monday, 7 p.m. ET air time, 8 p.m. first pitch, FOX Sports 1/Sportsnet).
• Shop for Blue Jays postseason gear
His back against the clubhouse wall, Goins knew his mistake pressed the Blue Jays' backs up against a much larger one as the team heads home in an 0-2 hole in this best-of-seven set. Toronto has been in this position before, having clawed back from a two-games-to-none hole in the AL Division Series against Texas, but leaning on that experience is now necessary due to Goins' misplay.
In the seventh inning on Saturday, Goins ran into shallow right field, waving off outfielder Jose Bautista on a fly ball that tailed off the bat of Kansas City's Ben Zobrist. As the decibel level inside Kauffman Stadium climbed, the young second baseman became enveloped by the raucous environment, pulling up and sitting down after he thought he heard Bautista call for the ball.
When the baseball dropped to the grass, The K only roared with more ferocity.
"I thought I heard, 'I got it,'" Goins said. "It was nothing."
Asked for his perspective on the play, Bautista only said, "There's video. You can watch it."
Bautista also wanted to make it clear that there was no miscommunication on the play.
"There was no confusion," he said abruptly.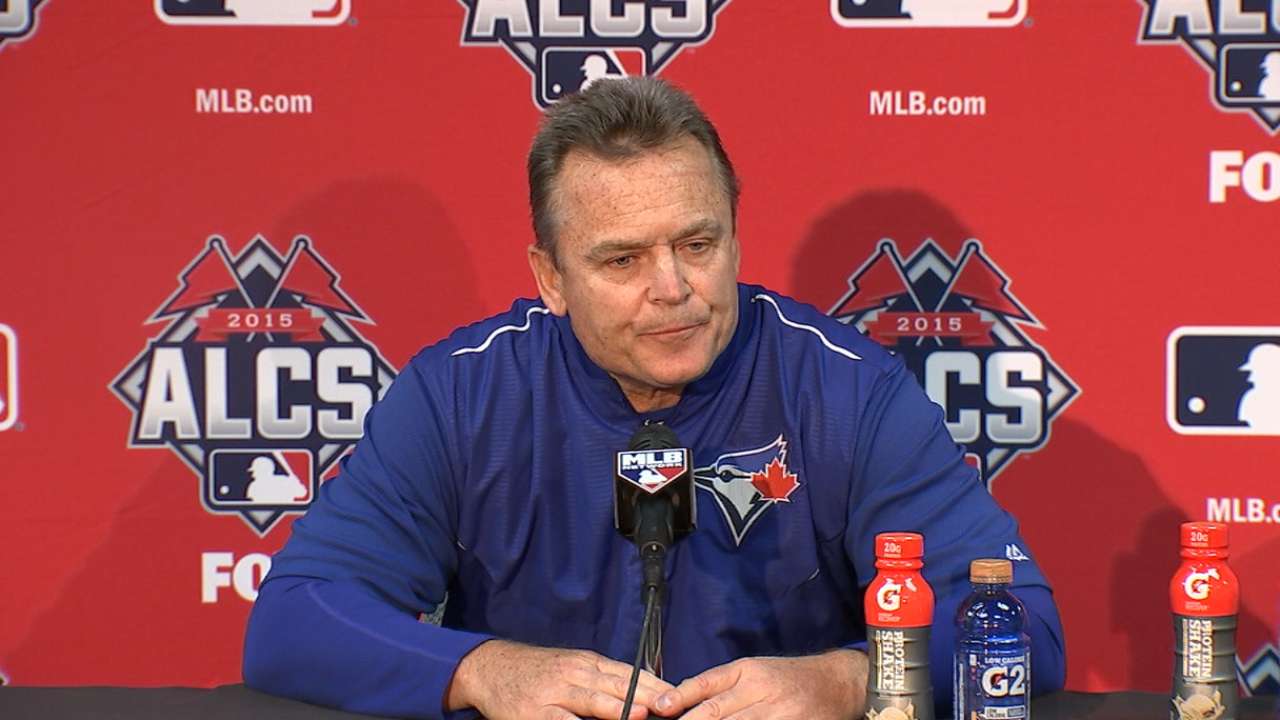 No, there was only Goins, running to make the catch, raising his glove twice to stop Bautista's sprint and then looking up for the unidentified noise that spooked him to the ground. In a replay of the missed catch, which led to Kansas City's five-run rally against Toronto lefty David Price, Goins appears to ask Bautista, "Did you say something?"
Bautista shook his head and slapped Goins on the backside before returning to his position.
At that moment, with the Blue Jays still holding a 3-0 lead and Price having set down 18 batters in a row before Zobrist's fluke flare, Bautista was still confident that Toronto would escape unscathed. The October-tested Royals, however, have a knack for smelling blood and attacking. They pushed across five more hits in the inning and had run to a 5-3 lead when the smoke cleared.
"You don't think it's going to open up to be a five-run inning, but it did," Bautista said. "It's disappointing. It's obviously a ball that should've been caught and, again, that's what opened the door. We should be making those plays."
"It was unfortunate," Blue Jays manager John Gibbons added. "Sometimes there's that one little crack. Like I said, when you're on the road, it can open up the floodgates."
Said Price about the play and the ensuing K.C. rally: "[Goins has] made a lot of great plays since I've been here, for all of the pitchers. He's a really good defensive player. ... [The miscue is] baseball, that's part of it."
Blue Jays shortstop Troy Tulowitzki said he felt bad for Goins, given the way the inning unraveled.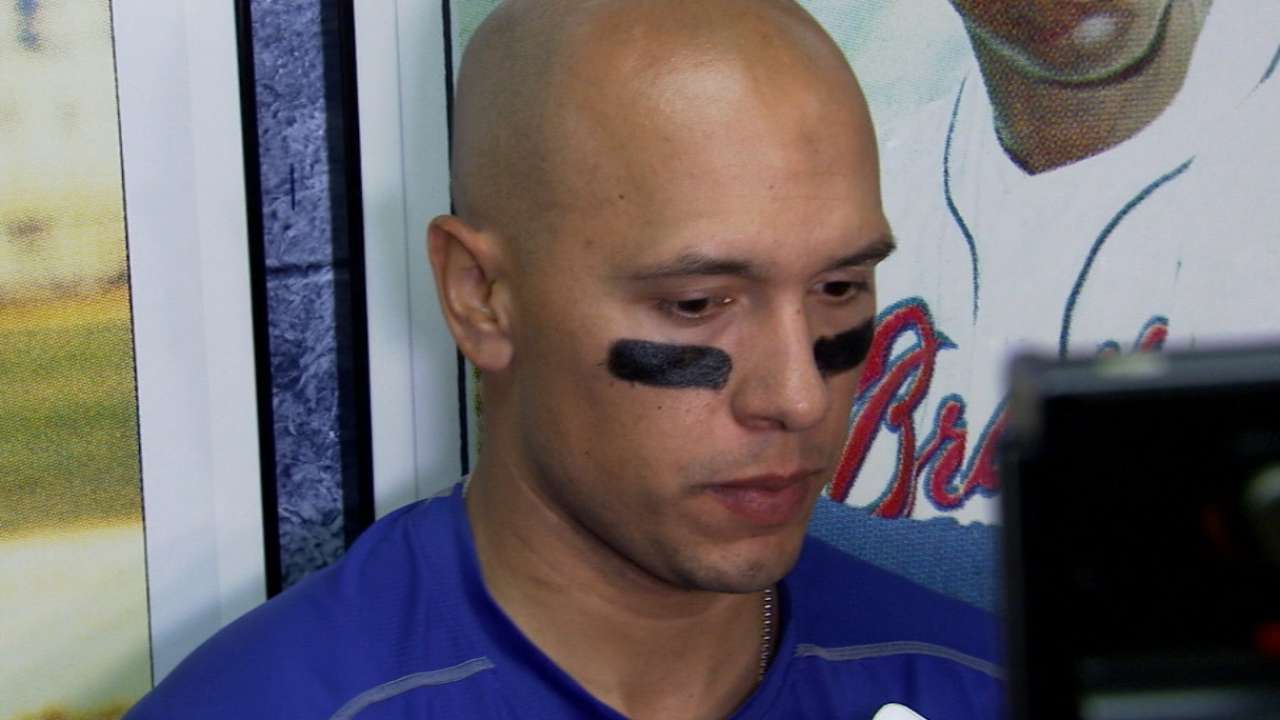 "You're going to be shaken up," Tulowitzki said. "You don't want to see that happen with anybody. Obviously Go-Go is a heck of a player, a good defensive player. The crowd was loud and somehow the ball dropped. But, just because one guy gets on doesn't mean those runs have to score.
"There's still pitches after that, plays to be made after that. This doesn't fall on Go-Go at all."
Goins saw things differently.
That's why he was there immediately following the game, willing to accept the fall for his team slipping into a tough position.
"It's a play that I've made a hundred times this season," Goins said. "I just lost track of where I was on the field. I thought I heard something I didn't, and I backed off the ball. I should've been more aggressive. It was a big play in the game."
Jordan Bastian is a reporter for MLB.com. Read his blog, Major League Bastian, follow him on Twitter @MLBastian and listen to his podcast. This story was not subject to the approval of Major League Baseball or its clubs.