Oct. 16 Jon Lester workout day interview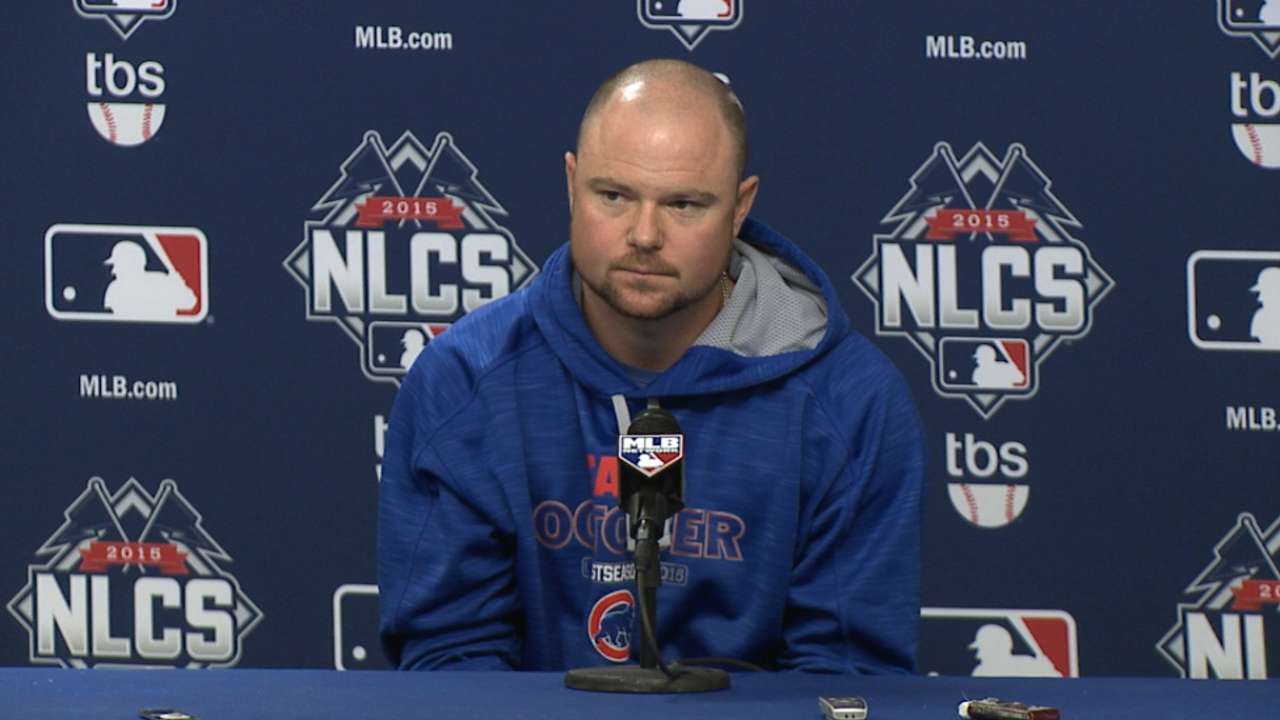 Q. Jon, you told us in Chicago from day one and your press conference that you came to the Cubs to win. Could you envision this starting so quickly in Game 1 of a Championship Series?
JON LESTER: Yeah, I think we all have that in our mind. You know, I think all 30 teams coming into spring training with the mindset you're going to win the World Series that year. It's just a matter of obviously playing good baseball and having a little luck on your side and now we're sitting here.
So, yeah, I wouldn't have come here if I didn't think that we had a chance to win. I didn't want to go through another down year and worry about rebuilding for the next year. I wanted to win now.
Saying that, I knew what division I was going to be coming into with the Cardinals and the Pirates and how tough that was going to be, but we held our own, and now we're sitting here and hopefully we can keep going and playing good baseball.
Q. When you signed with the Cubs, you talked about sort of the esteem with which the '04 Red Sox team is held in Boston, even compared to '07 and '13. I know you've won one series now and you still have a lot of working to. But winning the other night at home in Wrigley, do you sense in Chicago that there is sort of a feeling that this team could be special, that that '04 Red Sox thing could exist there?
JON LESTER: Yeah, absolutely. I mean, it's got to end sometime, right? I mean, it's been a long time. So we can't look too far ahead right now. We've got to worry about tomorrow, worry about the Mets. And if we get into that position, obviously, it's going to be a pretty special time for the city of Chicago.
This group has been pretty tight-knit and pretty special all year from day one of Spring Training. Everybody is kind of the old cliché, everybody gets along, the good chemistry and all that stuff, but we really do. We feel like a family.
Everybody has fun playing. We enjoy coming to the ballpark together and going to work. But to go back to '04, those guys are legends in Boston. I always use the comparison that Dave Roberts stole one base, and this guy hasn't paid for a meal or drink since. I mean, it's fun to think about, but we've got some games to go before we get there. At the end, maybe we can talk about it a little bit more.
Q. You're kind of one of the grizzled vets, I guess. Not that you're old or anything.
JON LESTER: Thanks, yeah.
Q. But what do you make of the extreme youth on both of these clubs and what that might say for the future of these two clubs even after this?
JON LESTER: Yeah, I mean, it's, I can't speak too much for the Mets. I mean, we don't play them a lot. Their pitching staff speaks for itself as far as the youth and the talent there. Theo and company did a great job with this organization. It's obviously a lot easier for me to talk about this organization, but they did a great job. They built from within.
I've seen it before. Been a part of it before, and now getting brought in with these guys and seeing what he's done again with all these young kids is pretty special. He's got a great group of core players that can really take this team and this organization for a long time and hopefully put it on the map as far as winning year-in and year-out, and make it a Cardinals, make it a Pittsburgh, make it a Yankees, the Red Sox, the teams that are always in it every year. That's a hard thing to do in this game. It's a hard thing to do is be consistent, and I think he set it up for that for a long time.
Q. Do the media and fans make too much out of that? It's not just another ballgame but it's the playoffs? And how do you come back to center on that? How have you done it and how do you maybe help some teammates who haven't been up through much of it before?
JON LESTER: I mean, I don't think anybody makes it -- it is a big deal. We're one of four teams still going or one of three other teams. I mean, that's pretty special. We're in playoffs. This is what you play for. Like I said, every year you come in first day of Spring Training, your manager sits there and addresses the team and your goal is to win the World Series. We're one step away from doing that.
With that being said, as a player and competitor, we all know the atmosphere's going to be there, the adrenaline, and the competitiveness as far as the other team's going to be there. I keep going back to what I said before. You try to make it as a normal start. You try to prepare, like I would for a June 15 start against the Mets at home in Wrigley. So for me, that works. That's just what makes me tick. Other guys do it other ways, and that's fine. But what makes me tick is I have to prepare the same, go through my routine the same, and go into tomorrow night with, obviously, added adrenaline. Know that I'm prepared and know that I have something to fall back on when things maybe speed up a little bit and you have a game plan to go back to and have some thoughts you can go to to kind of calm things down.
So I just try to do that, and once you're out there, you're out there. You're thinking about other things. You're worried about executing pitches and trying to get guys out and get our guys back in the dugout.
Q. You've spoken about Cubs history quite a bit. And I'm wondering specific to Mets-Cubs, 1969, and I know it's 46 years ago, but I'm wondering what your general impression and understanding of that time was within the clubhouse, first of all, and second of all, what, if anything, do you hear from fans about Mets-Cubs from that time?
JON LESTER: I'll be honest with you, I haven't. I haven't. I mean, I'm still -- we answered questions last week about the Cardinals and Cubs rivalry, and I couldn't comment on it. It's hard to comment on it. I don't know. I know this is just a fun series. You've got two storied franchises that have been around a long, long time, played a lot of good baseball. They haven't won in a while. We haven't won in a really long time. So I mean, that's all I can really speak on.
I don't know about that series or anything like that. I just know the Cubs fans are pumped up. They're just so excited for us to finally be winning again and be back in this position. You know, they're just fired up. Wrigley was going, it's going to be going again next week. And I'm sure here is going to be pretty fired up as well.
Q. Is there a different mentality that you have and that other ace pitchers have that allow them to win in games like this, win World Series games? Do you believe you have a different mentality?
JON LESTER: I don't know. I mean, I'm me. I don't know. I don't know how to compare it to anybody. Like I said, I just try to do my normal routine. That's how I try to prepare, I try to take that into every game. I can't comment on other guys. I don't know what they do. Guys I've played with, Jake is probably pretty similar to me as far as how routine oriented he is and how he goes about his business, and when he gets out on the mound, he's so focused and locked in to what he's trying to do, I don't know. I don't know what has allowed me to have success. If I had it, I would be able to tell other people and make sure that they don't struggle with things or whatever. But I just try to go out and pitch my game. Be a competitor, go out and execute as many pitches as I can, and that's all I can control. So I guess if that answers your question.
Q. How have you conveyed to guys who have not been in this position before to enjoy the moment and yet not let it overwhelm them?
JON LESTER: I don't think you can fully enjoy the moment until it's over. I've always been a big believer in that just because I'm so locked in to what I'm trying to do on the mound that you don't have time to step back, look around and kind of soak everything in.
For me, obviously, I'll pitch, and then I have five days off or four days off and then pitch again. So I can sit back and enjoy the moment. But these guys playing every day, they've got to be locked in every day. Same thing with the bench guys. So I really don't think those guys get to enjoy it until probably two or three weeks after we all settle down in the off-season, and you can look back on things and really relish those memories. I mean, everything, the playoffs is such a blur. The further you go, the fast faster things pick up, more travel, later nights, getting up earlier. All this stuff. So I really don't think until it's over it all settles in for you and you can look back and enjoy the moments.
Q. You have pretty good career numbers against Cespedes. What is your approach against him and what kind of threat does he pose?
JON LESTER: Obviously he's a huge threat, especially in this lineup. That was a really good pick-up for these guys. To be honest, I haven't even looked at the scouting stuff to remind me. Like I said, we don't play these guys a lot so I've got to go back and look at what I've got written down. He's obviously a guy you can't make mistakes to. He doesn't make mistakes. He gives obviously quality at bats.
What makes him even tougher is he can cover both sides of the plate at any given time. So it's not like you have him set up for a location later in the at-bat: It's just a matter of trying to make a quality pitch and hopefully he hits it at somebody. But he's such a good hitter, and being able to cover both sides of the plate, also expand and cover the ball down and up and all that.
I'll have to take a look and see, but he obviously has a threat and makes that lineup a little deeper which always makes our job a little harder.
Q. Getting back to your statement a little while ago about not wanting to experience another down year or a rebuilding situation. In terms of making your decision, how much easier was it to make because it was Theo who had his stamp on this team? And also, how hard was it for him to convince you that this team was ready to make a big leap?
JON LESTER: I think obviously when you have a familiar face that you're talking to, especially in this situation or that situation, it makes things a little bit easier. I knew how he communicated. I knew when he was kind of BSing me; I knew when he was telling the truth and all that. So I think when you have that it's a little bit easier. You have something to fall back on.
It didn't take much for him to convince me about these young guys. He sat there and gave me highlight after highlight and number after number on these guys and what they projected them to do and what position they wanted them to play. I think the biggest thing that sold me, especially on not only these young guys, but the whole organization was just how arrogant he was about it and I mean that in a good way. He was very confident in what he has done to this point or to that point to get this team to the next step, and I thought that was the most impressive part. Just how confident he was in these guys because these guys were not going to be failures.
They weren't going to be a bust when the scouting report gets out and going to get exposed and all that stuff. Now getting to play with these guys, the majority of these guys, for at least three-quarters of the year, you really understand now what he saw. It's not just baseball players, they're good kids, they compete. They show up every day to play. I think the most impressive thing was how prepared they are. That was the hardest thing for me to learn at a young age was every day I had to be prepared to do my job, whatever it was that day. They do it day-in and day-out and go out and bus their butt. I think all their numbers and what they've been able to do on the field speaks for themselves.
Q. You've been in the postseason a lot. When you've had success against a team during the regular season, does that carry over to the postseason at all in terms of confidence for the players? You guys are 7-0 against the Mets this year.
JON LESTER: I think obviously on the confidence side, yes, but that can bite you in the butt. We can't come in here and say we're 7-0 against these guys in the regular season. You look at their lineup, and it's changed a little bit. I think we were fortunate enough to hit a couple of their guys, not really throwing the ball well at particular times, so that always helps.
But like I said, it does add that confidence. You know you've beaten this team. I'll go back to the Cardinals. I mean, there is always that question mark when you face the Cardinals, can we beat these guys? I think we lost the season series to those guys. So you have that little bit of doubt.
Here I think it adds maybe a little bit of comfort maybe. Knowing that we have beaten them. But at the same time we can't come in here knowing that we're 7-0 and going to walk through this thing. We have to be on our toes and go out and play good baseball against this team.
Q. How would you compare Maddon to Tito at similar stages of the season? Or throughout the entire season?
JON LESTER: I think managerial style is pretty similar. They let their guys play. They try not to get in the way. I think the biggest thing that reminds me of each is how well they put guys in positions to succeed. I don't know if that makes sense much. But they always try to give guys the best opportunity to succeed. He doesn't want to put them in bad situations to really all you can do is fail. He always wants his guys to go out and feel good about themselves. I think those two guys have done that better than anybody I've seen or been around.
As far as personality-wise, I think Joe's -- they're different. They both like to have fun. Tito is, I think, more inside the clubhouse with his guys having fun, inside the dugout. Joe, like you've seen this year, we've had zoo animals and magicians and a roasted pig on the field the other day for breakfast. You never know what he's going to do to lighten the mood for us. But at the same time, I think they're both great. They do a good job of making sure their players are relaxed and ready to go.