Oct. 16 Matt Harvey workout day interview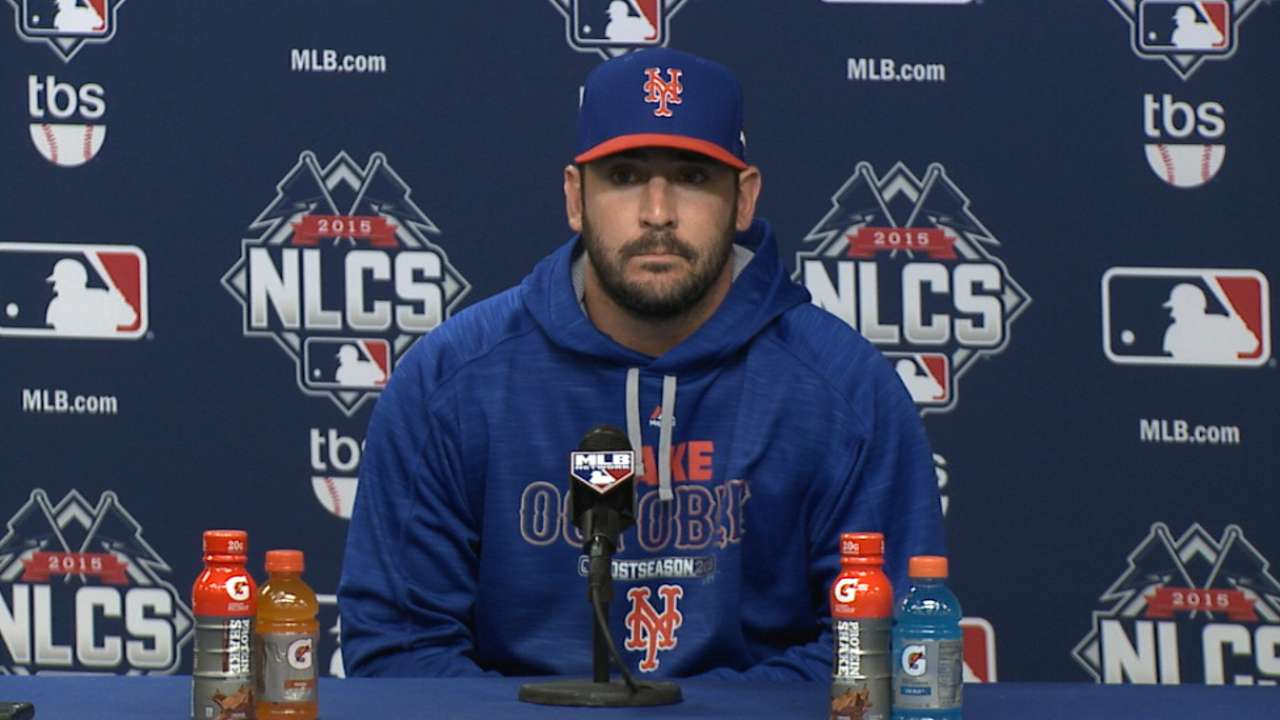 Q. What are your impressions of their lineup? Obviously they're kind of know for their young hitting the same way you guys are know for your young pitching. What challenges do they present?
MATT HARVEY: Well, I think anybody at this point this far into the playoffs, you're always finding threats and reasons why they got here, and obviously their offense has shown that that's mostly the reason why they are. Besides Arrieta, who's obviously performed extremely well this season, their highlights are mostly on their offense.
You know, we've obviously taken today and paid attention to their lineup and gone over it, and I think we're up for the challenge. We're definitely excited, and we have a lot to bring to the table.
Q. What, if anything, did you learn last series about how the postseason is different from the regular season, and how does that help you going forward?
MATT HARVEY: I think it's a fight. I think everybody contributes, and even when we've been -- like the other day, we were down, our team showed a lot of character, a lot of fight, and I think this -- obviously a five-game series is going to be different than a seven-game series, but I think the biggest thing is deGrom showed the other day, I kind of went through it my first start, is when you give up a couple runs, you really have to battle the last couple innings and really try and keep them off the board. Jake did a great job yesterday of doing that and I think we're going to do a great job of keeping doing that.
Q. How tough a year has it been for you mentally and physically to come back from the Tommy John and to get to the point where you are now, starting the NLCS?
MATT HARVEY: I think there's been a lot of ups and downs. I think obviously all the success that we're having as a team has kind of put all of that -- the downs a lot more out of my head than anything. I think going into the playoffs, into the series, I think we all kind of went into it trying to flush every ups and downs we've had, keep the positives in our mind and really keep going forward with that.
Q. You've obviously worked extremely hard to get back here from Tommy John surgery. That's obvious how you performed this year. But can you talk about taking the mound in a series that's going to decide the pennant, and did you ever think that was possible 12 months ago?
MATT HARVEY: I mean, we all hoped so. I definitely hoped so. I think we -- I think as a team we showed a lot of character going in to Spring Training. We didn't have the pieces that we have now. We didn't have a full season of success.
I think going back and going through that whole process of Tommy John, not being able to play, not being able to be with the guys, being here now, getting the ball tomorrow has kind of made that process all that much easier.
Q. My question is about Jeurys Familia. I'm just curious, the last couple years the team has had bullpen struggles. I'm wondering how significant it is from a mental perspective, not only in the second half with Familia was such a key part of the run you had but even in the first half when you guys did have leads he was able to lock those down and lock in those wins, how much that mattered do you think?
MATT HARVEY: Oh, it's huge. The things he's done this year, the performance that he's put on game after game, you know, we all knew it was in there, but for him to go out there and do it, it's been exciting to watch. The transformation of all of his pitches, everything that he brings to the mound, everything he brings to the clubhouse, he's a better teammate, better guy than he is performer, and he's -- obviously we came up together in the Minor Leagues a little bit, and I couldn't be happier for a better guy to have the success that he's had.
Q. I think you said last night that you were thankful for a Game 1 part because you weren't fully pleased with your last outing. Could you kind of elaborate on what you want to do differently than Game 1 or the last round or what this means to you?
MATT HARVEY: Well, I think the biggest thing was I finally had a stretch here where I could be on a normal routine, normal rest, and I'm not using 10 days off as an excuse, but kind of going down the stretch there we had some 10 days off here, 10 days off there, and as a pitcher, as a starting pitcher to get into a routine with that going on, it's a little bit difficult. I think I was mostly excited to get a chance to get back out there again and have a normal routine, normal rest period, and I'm definitely looking forward to it.
Q. Terry told us a little bit about how you came into his office before Game 5 and said, look, I want to pitch for the game. He said it wasn't going to happen, but I also heard that you came up to him afterwards and said, I want to pitch Game 1, on the plane. I just was hoping you could talk us through a little bit about the communication that you had with Terry about that.
MATT HARVEY: Yeah, I think when you get into these situations, I want to be out there as much as the next guy, as anybody else. I just went up to him and said, I hope you have me as available and not unavailable for an important game-deciding series like that.
I think I went off of how my body felt, how my arm felt those two days off, and things started feeling great. I gave my two cents and said I was feeling good and wanted to be available and help the team any chance I could.
Q. You guys have home-field advantage in this series. What does it mean particularly with the ballparks being so different?
MATT HARVEY: Oh, man, I think it's electric. I think from the first pitch on, it's -- the Mets' fans have been great all year, but they kind of took things to a different level this past series. The excitement of New York is definitely coming alive for New York Mets, and we can feel it. We appreciate all the support, and we're out there, we're getting more adrenaline, more fight, and a lot of that goes to them.
We're all excited to have our first two games at home and be able to play in front of them and all of New York, and we're all really looking forward to it.
Q. You talked a little bit about the Cubs' offense. The fact that they are so young by and large and you might not have a lot of experience against them or vice versa, does that give either side an advantage, or what are some of the challenges for you to face some of these guys whom you might not know all that well?
MATT HARVEY: I think obviously everybody knows the series matchup through the year didn't quite go in our favor, but I think we all believe that we're a completely different team, and the development of Noah Syndergaard and what Jacob has done all year, I think we match up very well against them. I think we're excited to give them another run and have it be in this important of a series.
Q. With all the talk a month ago or so with the pitch count, innings, all of that, is that now just completely out of your mind? You don't even think about that?
MATT HARVEY: Yeah, that's -- I think everybody kind of had enough talk and discussion about that whole ordeal. I'll be the last person to ever bring that one up again.
Q. There's four young pitchers in your rotation, you and your three friends have done really well, but guys like Colon and Niese didn't get a chance to start, but when you walk around the clubhouse you see a lot of you guys talking to them. What have they been able to impart to you, especially a guy like Colon, that's helped you when taking the mound?
MATT HARVEY: Obviously he's a starter and I wasn't happy about going five innings, but when you have a guy like Bartolo Colon who can come in and give you two or three innings, or Jon Niese if we do get into some trouble, you know, you really work hard to get as many innings as you can, but having those guys who have been with us all year and have done so much to get us to where we are, it makes that much more confident in everything.
We're always going to try and go out as much as we can, but if we happen to get the pitch count up or whatever it is, we know we have those two guys coming in right after us.
Q. I know at this point you're solely focused on the game tomorrow, but you're lined up in a slot now where you could very likely pitch twice in a series, whereas the previous you were slotted to pitch just once. How do you feel about that? Are you real excited to maybe have more of an impact on the series here?
MATT HARVEY: Absolutely. I think -- you know, I think that was part of the reason why I wanted to get out in Game 5. I wanted to be out there as much as I could and getting my body and arm in shape so I could get out there for Game 5 this past series was important to me. Obviously now going into a seven-game series and having the opportunity to line up for two games, I couldn't be happier and more ready for it.
Q. I know the two games look a lot different, but is there any psychological impact on going 0-7 against them and now seeing them again?
MATT HARVEY: No, I think we've developed so much as a team. We've obviously added a lot of key parts, and we've really grown, and I don't think any of us have really looked towards any series in the past. We're really going into this with a new mindset, a new team basically, and like I said, we're all ready for it. We're all excited, and what's happened in the past really isn't on our mind.
Q. As a teammate and fellow pitcher, do you appreciate what Syndergaard did last night, warmed up three times and coming in when he's not used to coming in at all in relief?
MATT HARVEY: Better yet, I think the number of hundred miles per hour fastballs that he's been throwing up there has been more impressive than anything. But he's an animal. He loves the ball just as much as anybody. You kind of feel for a guy like that who's never really been in that situation and gets up, gets down, gets up, and he came in and did a great job like we knew he would. Like I said, the things that he's accomplished this year and how much he's grown has really been fun to see. You know, we're all excited to see what he can do next.