Hendricks, Hammel will draw NLCS starts
Maddon waiting to specify which games for Cubs' duo; Schwarber back in No. 2 spot, homers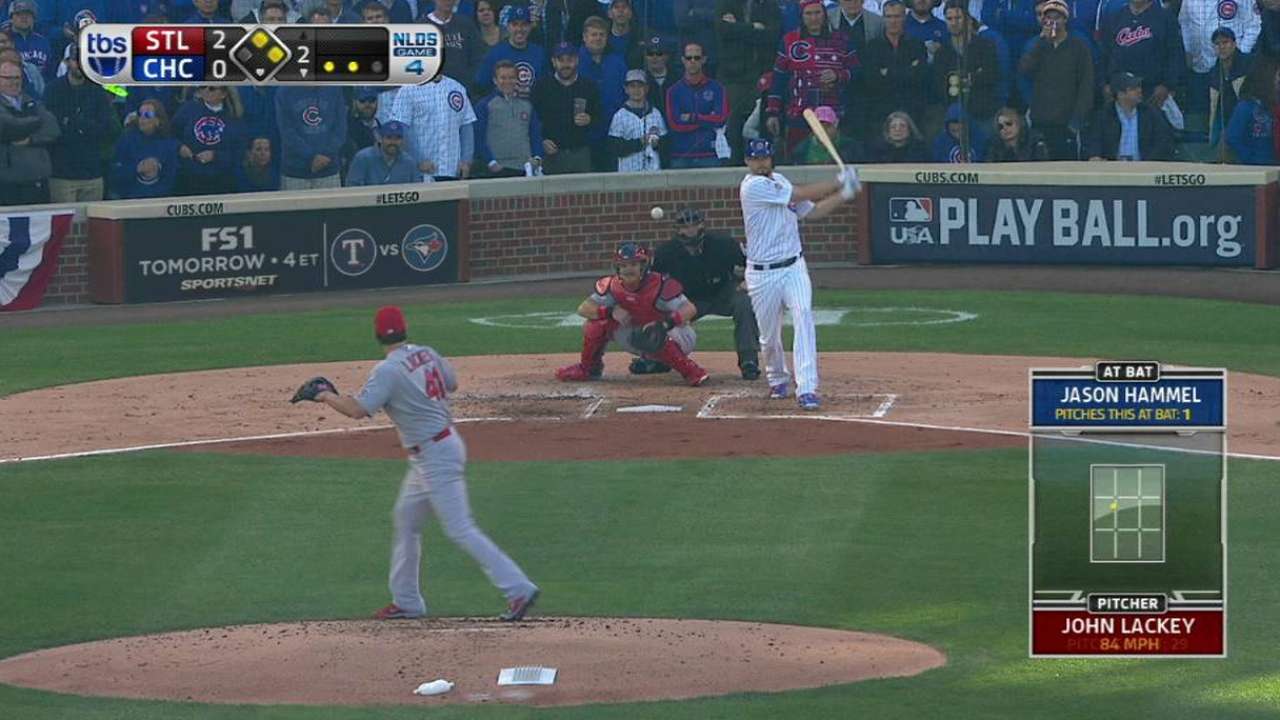 NEW YORK -- Kyle Hendricks and Jason Hammel will start in the National League Championship Series, but Cubs manager Joe Maddon wasn't ready on Saturday to announce which game each right-hander would pitch in.
Jon Lester opened the best-of-seven series on Saturday night -- which the Cubs lost, 4-2 -- and Jake Arrieta was scheduled to pitch Game 2 on Sunday (7:30/8:07 p.m. ET, TBS). The series shifts to Wrigley Field for Games 3, 4 and 5, starting Tuesday.
• Shop for Cubs postseason gear
Neither Hendricks nor Hammel got a decision in their NL Division Series starts. Hammel was pulled after three-plus innings in Game 4, while Hendricks gave up three runs over 4 2/3 innings, all coming on three solo home runs, in Game 2.
Maddon said he wanted to wait until pitching coach Chris Bosio had a chance to talk to both pitchers before announcing how they would handle the rotation.
Extra bases
• Kyle Schwarber batted second in the NL Wild Card Game and the first game of the NLDS, but Maddon then inserted Jorge Soler into the No. 2 spot for the next three postseason games. On Saturday, Schwarber was batting second again because the Cubs wanted to give the left-handed-hitting rookie as many at-bats as possible against Mets right-hander Matt Harvey.
Schwarber then clubbed his fourth postseason homer, chasing Harvey in the eighth, and finished with a 1-for-4 night.
Schwarber batted .278 against right-handed pitchers this season, hitting 14 of his 16 homers.
Maddon was just hoping the Cubs don't try to do anything different than they have so far.
"I don't want us to change anything -- just go out there and keep doing what we've been doing," Maddon said. "All of their pitchers are good. They have great starting pitching. We have some pretty good offensive players. Go play. Don't try to do anything differently. Just play."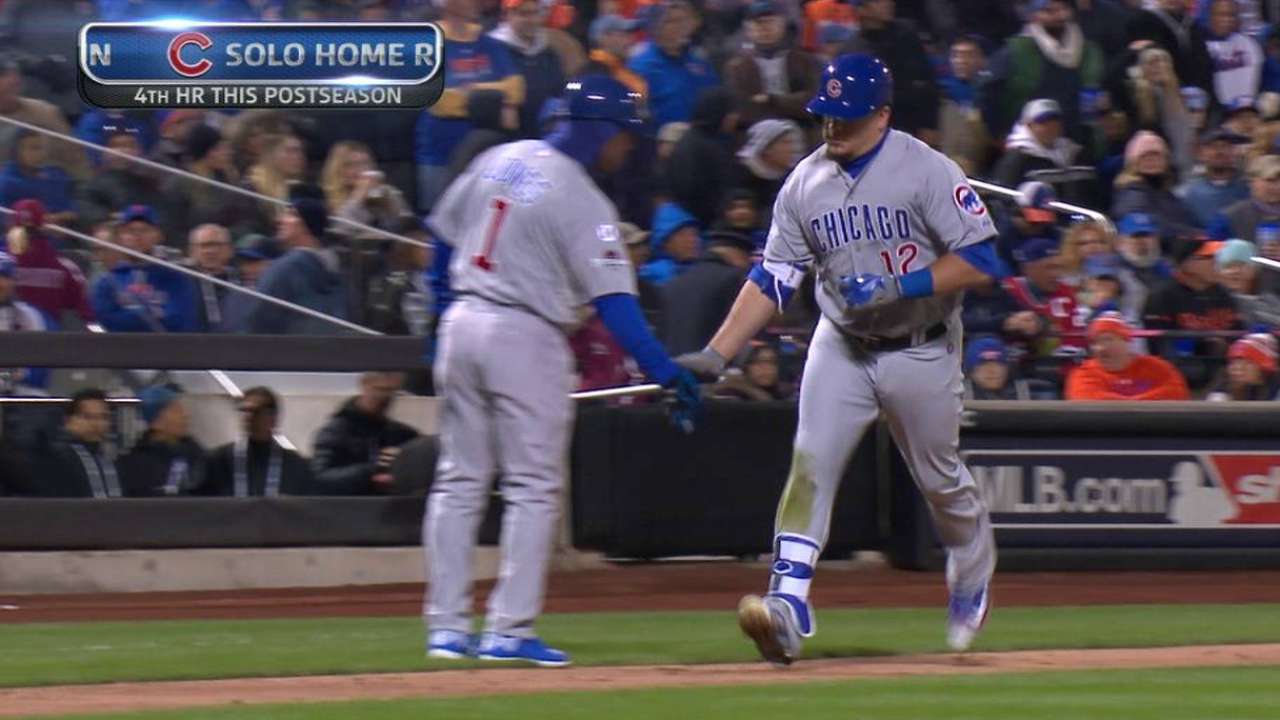 • Maddon was battling a raspy voice and a cold, which he caught celebrating after the Cubs won Game 4 of the NLDS at Wrigley Field.
"It's a head cold, and after the game on the field, talking to everybody, it was so loud, and I was trying to talk so loud," Maddon said. "I get a head cold every year in October and November. I've been that guy."
Maybe it's a playoff cold.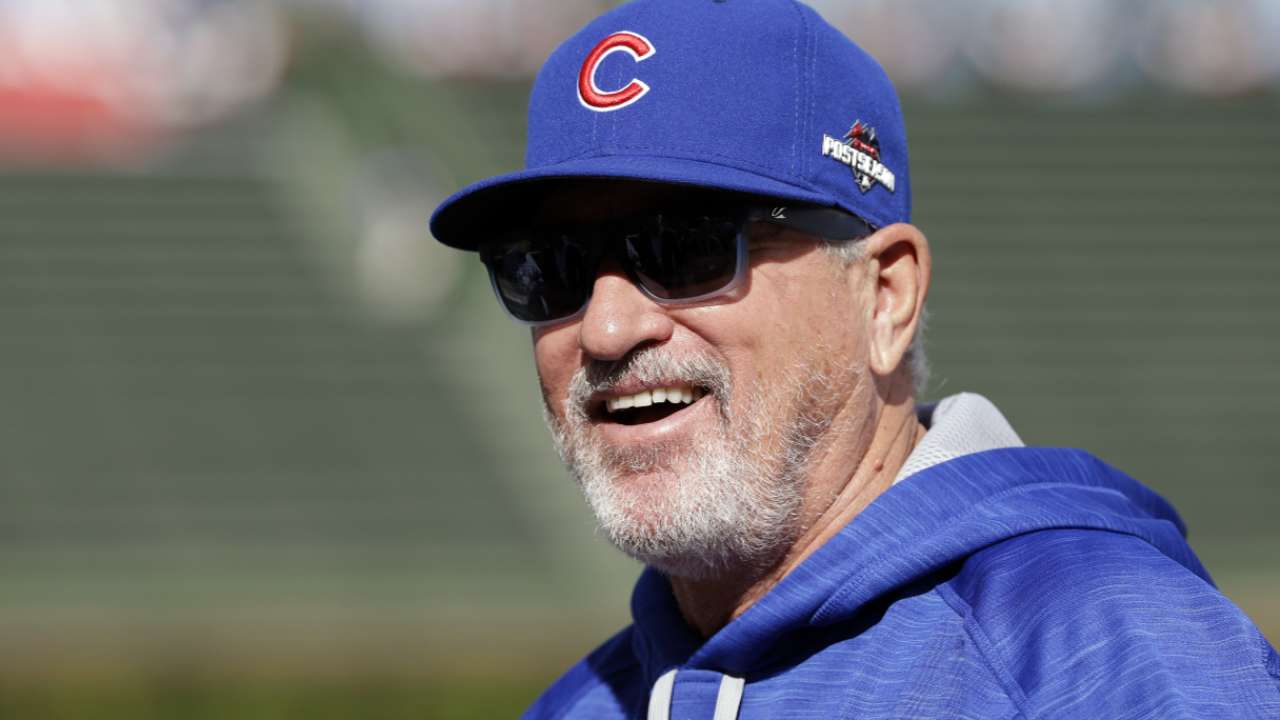 • Maddon was a bench coach for Mets manager Terry Collins when they were together on the Angels. Does that mean Maddon may know what Collins is thinking regarding moves?
"Sometimes I think that's overrated, most of the time or all of the time," Maddon said. "It's about the players on the field. I mean, you've got to be prepared for different things that the other side may attempt to do, but at the end of the day, it's about execution."
Because Maddon did stand right next to Collins, he knows a few things about the Mets' skipper.
"He's real sharp," Maddon said. "He doesn't forget anything. He knows how to run a game. That's not going to change."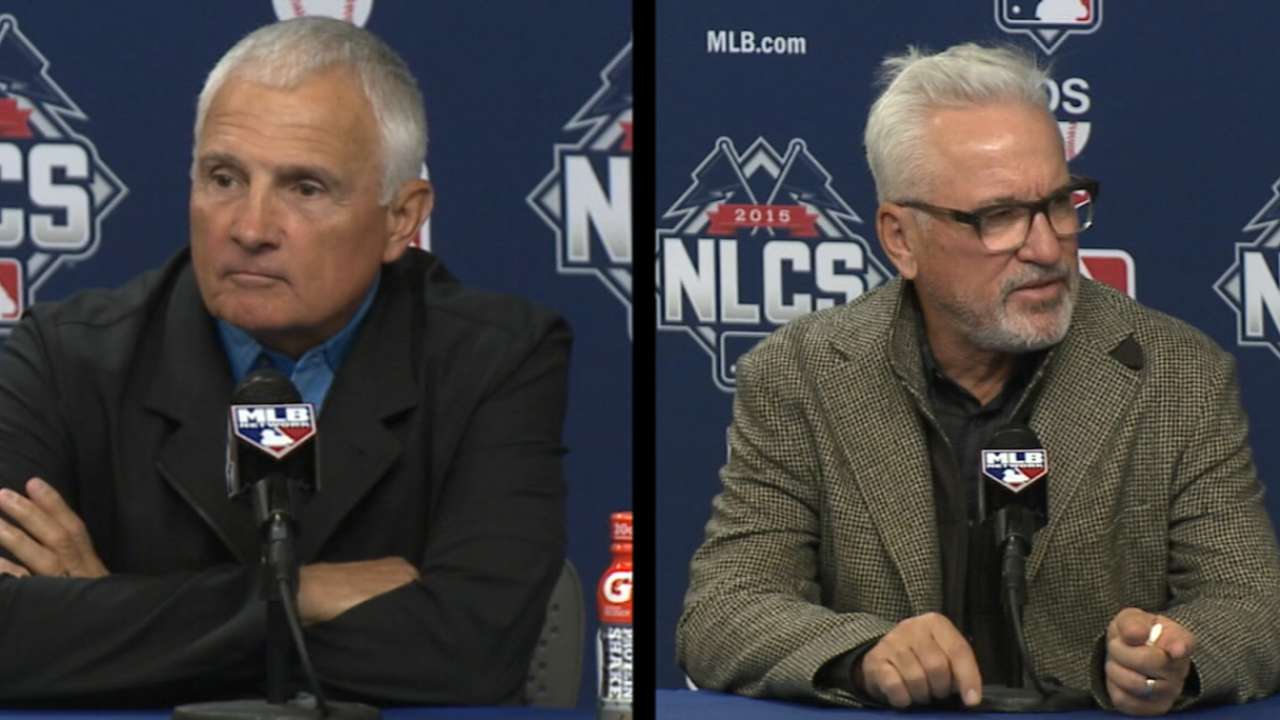 • Tim Wilken, who was the Cubs' director of amateur scouting from 2005 to August 2012, when he was promoted to special assistant to the president and general manager, will be leaving the organization and joining the Arizona Diamondbacks. Wilken helped sign and develop Andrew Cashner, Darwin Barney, Jeff Samardzija, Josh Harrison, and Javier Baez. Prior to joining the Cubs, he spent 25 years in the Blue Jays' organization, and he also worked with the Rays.
Carrie Muskat is a reporter for MLB.com. She writes a blog, Muskat Ramblings. You can follow her on Twitter @CarrieMuskat and listen to her podcast. This story was not subject to the approval of Major League Baseball or its clubs.