Oct. 16 Sandy Alderson workout day interview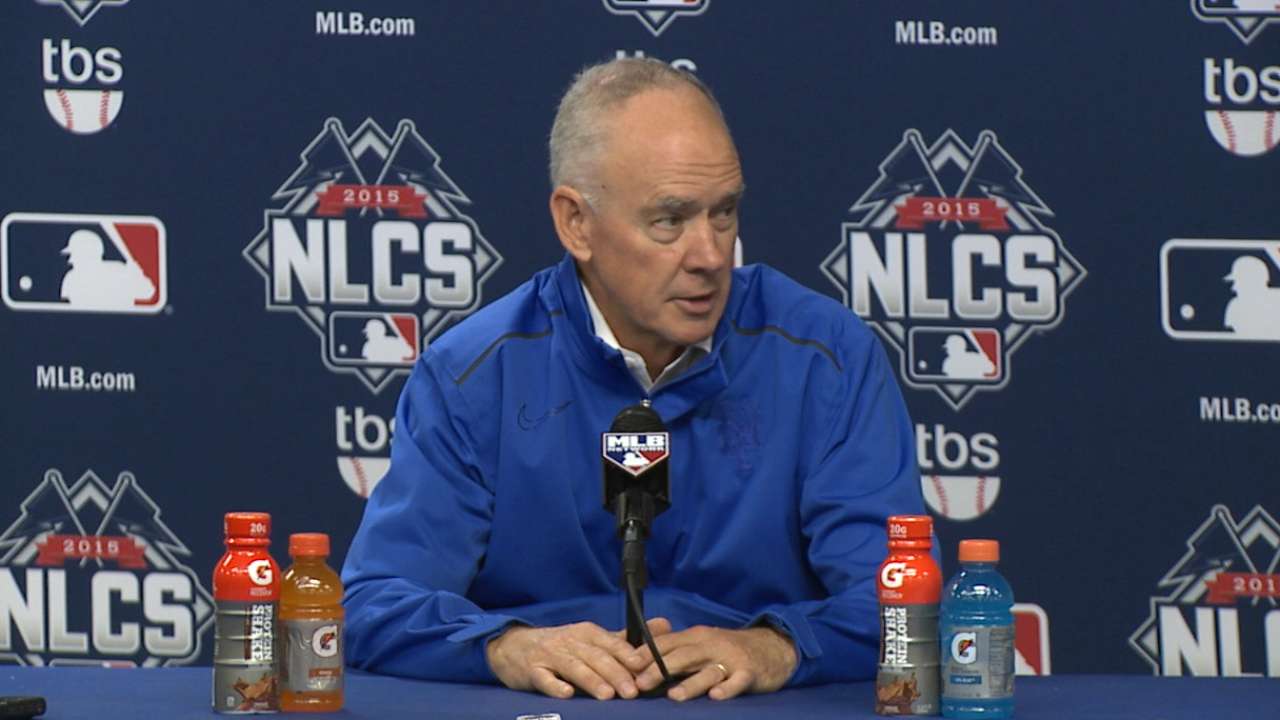 Q. Sandy, I'm going to ask you a question about something 46 years ago. If you could take me back to 1969, you had just gotten out of Dartmouth and what you remember about Mets-Cubs in 1969 just as a baseball fan, and any memories from that time and just what you recall?
SANDY ALDERSON: The only thing I recall about the postseason in 1969 is that I was stationed at Quantico taking Marine training at the time, and the field radios that we used, they were called PRC-25s, could pick up the audio from the television broadcasts. So a few of us would go out in the bush and hide and listen to the games.
I don't recall listening to a Mets-Cubs game, but later in the postseason.
But that's my only memory. I was kind of cooped up in a Quonset hut at the time.
Q. I know it doesn't need to be in until tomorrow, but would you expect that the roster will look identical to how you finished the Division Series or might you sub out someone in the bullpen?
SANDY ALDERSON: It might look a little different, I'm not sure. Still have to talk to Terry about that.
Q. We're going to be hearing a lot about billy goats and Bartman and 107 year. I'm just curious for someone who's in the management position, is that kind of lazy media narrative because this is a whole new ownership, new players, et cetera. I'm kind of curious your feeling from a historian point of view or management point of view?
SANDY ALDERSON: Well, I don't think you can ignore history. I think history informs the present, and certainly there have been changes. They're not going to run out the same team tomorrow that they ran out in 1906 or whatever it was. We understand that there's a different narrative here.
But at the same time, it does put things into a larger context, and I think that that sort of colors the current competition and the Cubs of today. As a history major in college, you know, I wouldn't dismiss all that background.
Q. How do you feel about how Harvey has weathered the season with his rehab, both mentally and physically, to get to the point where he's starting the game tomorrow? It's been at times tumultuous.
SANDY ALDERSON: Well, you know, we started out well before Spring Training with a plan for Matt that he bought into, and it really wasn't until much later in the season that it became an issue again.
I have a tremendous amount of respect for Matt and what he has accomplished this year, and coming back from that surgery, pitching as much as he has, as well as he has, and his determination to pitch in the postseason.
There was a little tumult along the way, and I think he's learned a lot from the experience, and he's probably a much better pitcher and person as a result.
But it wasn't going to be smooth throughout the -- that's what seasons are about. They're long and involve ups and downs. I can understand a certain reservation on his part as he got closer to what some people felt was a large number, and he got through that, and I think he has confidence now in his physical capacity, which is important for his mental approach. So I think he's come through it really well, and I'm very proud of what he's been able to accomplish this season.
Q. Is conserving Matt's innings this series still a pressing issue, or is he kind of free to go all out for possibly two starts this series?
SANDY ALDERSON: You know, as we've said all along, it's a matter of appearance to appearance and how he feels. So that's a determination we'll make after his first start tomorrow. We'll see. But certainly starting him in Game 1 creates a certain presumption that he'll pitch more than once in the series, but that's not a decision we've made.
We're comfortable with running any one of four guys out there, so you know, it's not a decision that we have to make immediately, but certainly he's lined up for Game 1, and we'll see how he comes out of that.
Q. On that topic, I think Terry said before the playoffs started that he couldn't foresee Matt starting six games in the postseason total. Could you see a maximum of five being plausible, meaning two this round, two next round, under optimal circumstances?
SANDY ALDERSON: Yeah, I really haven't done the arithmetic. As I pointed out before, it's a game-by-game proposition, and can I see him pitching six times? I really haven't thought of it in those terms.
We've tried to take it sort of one step at a time. It's probably unlikely that he would pitch six times.
Q. Five is plausible?
SANDY ALDERSON: We'll see. That's -- if we get to the World Series, that's two per series, that's four plus one, so I think that's five.
Q. I know you addressed it a little last night, but can you contrast where the team is now compared to where they were when they got swept seven games by the Cubs? All those games were completed by early July.
SANDY ALDERSON: Well, I'd say a couple things from our standpoint. In looking at the pitching, I think that our young guys are a little more experienced, a little better command, more confidence. So I think from that standpoint, we're in a better position.
Offensively it's a different team. Not totally but significantly. So I don't think that 0-7 registers much concern on the part of our players, but we certainly have to turn that around. We'd like to be 4-10 at the end of this with the Cubs.
Q. What do you make of Lucas's struggles in the NLDS? Is that just a slump or is there something more concerning about that, just the fact that he's a young player who hasn't been in this situation before and obviously didn't do very well?
SANDY ALDERSON: Well, we didn't have a lot of offense in that series. We faced Greinke and Kershaw twice each. That'll put people in a slump. Fortunately somebody like Daniel Murphy rose to the occasion. But I don't think that we're overly concerned about it. I mean, Terry may decide to do something against left-handed pitching, use somebody else at first base. I don't know. It's one of those things, and you hope that he catches fire, and last night you're just waiting for him to sit one in the seats, and he has that potential.
Q. In the postseason, the Giants obviously had a lot of success with a very high-contact rally-oriented offense. Do you think there's a particular blueprint that works particularly well in the postseason? Is it that? Is it home run dependency, or do you think it really doesn't matter?
SANDY ALDERSON: Well, I've heard that theory many times, that high on-base contact offense with some speed is more effective in a short series because it's more consistent as opposed to power numbers.
I think you'd like to have a little of everything, and certainly on-base percentage is -- on base is an important element. We scored, I think, two runs in the first game of our series on three walks and a single.
Those things are important, but it's nice to have some power, too, and I'm sure the Cubs are happy with their lineup, which is power oriented, and we have guys that are capable of hitting the ball out, as well.
Again, you'd like to have something of everything, but you can't really change things for the postseason. Maybe a player here or there, but generally you're built for the long haul with an eye toward the playoffs, and it's difficult to make significant changes.
Q. Sandy, you mentioned Danny Murphy and the series he had, not only the homers but the type of pitchers he hit homers off of. In your estimation is the way you value him or judge him in the last month changed, or is this the Daniel Murphy that you always thought about back in Spring Training or the offseason?
SANDY ALDERSON: Well, I think Daniel Murphy is a different hitter today than he was two, three months ago. He's looking to do damage. He's looking sort of middle of the field and pull as opposed to kind of going the other way. More selective at the plate. I think that has a lot to do with Dan applying what Kevin Long and Pat Roessler have been advocating.
So I don't think this is a phase for him. I think that in some ways he's a fundamentally different hitter than he was, as recently as three, four months ago. And the intensity that he has in the playoff situation certainly is evident, as well. He's really focused in, and he's always been sound mechanically. But I think his approach is a little bit different, which has made him a more dangerous hitter.
Q. For those of us on the East Coast last night, can you kind of describe the tensions of those last few innings and then the emotional response everybody had immediately afterwards?
SANDY ALDERSON: Well, it was a -- it wasn't just a winner-take-all game. It was an exceptional game. We were on the ropes quite often there the first four, five innings, and then we transitioned to an experiment, really, with Noah Syndergaard, and a second experiment with Familia, although I think everybody was confident that because he had had four five-out saves in the past that six was not a big extension from that. But as a result, there was a little certainly tension on the part of -- I think internally as well as among the fans. But it was a -- you know, it was a terrific game.
I made a comment, I know one of my colleagues -- I don't know if it was the fifth inning or so, I think they had hits with runners in scoring position the first two at-bats and didn't have another one all night, and they had something like 13 total, so we were dipping in and out of trouble all night until really we got to the sixth, seventh inning.
So it was a -- you know, it was a great game. As I've said, at that point, I'm a fan like everybody else. I'm watching, there's nothing I can do except walk around and hope the time passes in a positive way.
Q. Terry said it was unlikely that Uribe would be available for the next series. Where does he stand now as far as you're aware?
SANDY ALDERSON: I doubt he'll be available for this series. I don't contemplate putting him on the roster by tomorrow at 10:00.
Q. Even though the future is so bright here with young pitchers, is there still a sense of urgency just going back to your Oakland days when the team was a powerhouse and I think people thought you were going to dominate that league for a long, long time?
SANDY ALDERSON: Well, you know, if I go back to the '88 team that we had in Oakland, and we lost four out of five to the Dodgers, those players all thought they were coming back next year, and they did. But it doesn't happen that often. We understand that.
So I think that -- I wouldn't describe it as urgency, but I think that there's a -- and this goes back to before the trade deadline. You recognize you're in a position to do something. You try to do your best to take advantage of it.
At this stage, I don't know what that urgency provides. You know, we don't have roster changes. We're not going out and making a trade tomorrow. In fact I think it's probably best not to think of it in terms of urgency but rather let's try to enjoy this and play the best we possibly can and not get caught up in whether it's ever going to happen again. I mean, we understand that dynasties don't develop that often.
You know, we like how we're set up for the future, but there's no guarantee going forward.
Q. So many people over the last couple years have said that because of the Cubs' young hitting and your young pitching that you're a natural for a trade. Was there ever any point in the last year or two where there was traction, even if you're not going to name the principals, where you thought maybe something would be consummated between the teams?
SANDY ALDERSON: No. No. They're probably happy they didn't make a trade, and we're happy we didn't make a trade.
Q. The way your team is built and the Cubs are built are rather similar, through the draft, a lot of young players coming up. Is this now the blueprint do you think now that you're facing the Cubs in the NLCS for franchise building in the future, even the Astros were in the playoffs this year, and they kind of had a number of down years and then you build a team from within?
SANDY ALDERSON: Well, it's a strategy. Houston I think reflects it, Kansas City to a large extent. So it is a strategy. But at the time teams can be built in other ways, but I think you do have to have a fundamental core of players.
And the successful teams, whether they're big market, small marketed, large payroll, small payroll, you've got to develop your own players. That's the currency with which we deal. That's how trades are made. At the deadline I think we traded something like 11 pitchers.
We don't have that inventory, we're not able to make those deals. So I think it's a strategy, and maybe more pronounced for some teams, but ultimately if you don't develop your own players, you're going to come up short at some point, either on your own team or in the trade market, because the dollars aren't always determinative, especially in a trade. If you don't have the prospects to trade, you're not going to make a deal.