Oct. 17 Noah Syndergaard pregame interview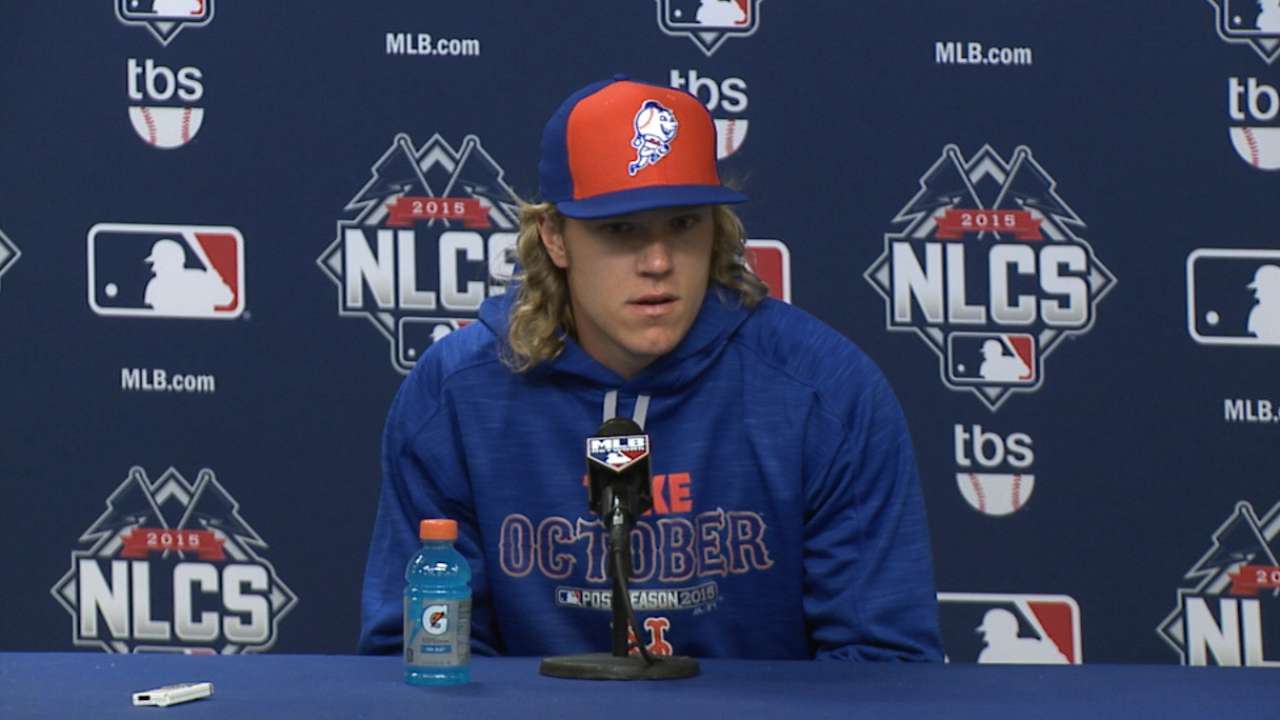 Q. Can you just talk about the sequence of events today that led to you starting Game 2? Did you have to convince Terry Collins you felt fine or what happened?
NOAH SYNDERGAARD: He just called me into his office and asked how I was feeling after my relief appearance, and my body and my arm have never felt better. So that's what I told him and I'm ready to go.
Q. Can you talk about this season and what it's been for you? You came up because of an injury to Dillon Gee, you got your opportunity, and now you're kind of in the final four of the sport. Can you talk about what the year has been like for you in that and traveling through that route?
NOAH SYNDERGAARD: This year has been something else for me. It's been pretty hard to comprehend as well. Just the sequence of events that have happened. I went from last year to not getting called up, to a lot of people doubting me as a Big League pitcher that off-season. I came into Spring Training and I felt like I proved that I belonged there. I went to Vegas for a little bit, and it's unfortunate that what led to my call-up was another injury to a fellow pitcher.
But as I look back at what happened this year, I feel like I've made a lot of strides and even grown as a better pitcher. So extremely blessed to be here.
Q. Can you kind of take us through for those of us who weren't there on Thursday, Thursday night for you, warming up a few times, what that experience was like doing something you've never done at this level, and then of course the 7th inning, the relief appearance you actually made?
NOAH SYNDERGAARD: I try not to pay too much attention to the role that I was playing then. I just went out there and pretended like I was starting the game all over again. Their leadoff hitter, I met Trav at the mound and he just reiterated we're going to take one pitch at a time and execute one pitch at a time and go from there. I had a lot of success doing that.
Q. What was the warmup process like? I saw you get up a few times.
NOAH SYNDERGAARD: Each time I got up, I got up about three different times, but I only threw seven to nine pitches each time. I didn't mind it. I felt like I handled it well and got advice from some of the veteran guys down there. And I just was able to go into the game. My arm felt great.
Q. A lot has been made about how your team wasn't very successful against the Cubs, but obviously your lineup has changed so much. Your debut came against that lineup. So I'm curious how much have you changed since that first appearance?
NOAH SYNDERGAARD: I feel like I've changed night and day, being able to work with Dan we made a lot of improvements and fine-tuned my mechanics, and implemented a secondary changeup grip, which has allowed huge strides for my career.
Q. So much has been made about the young pitchers and there is a quartet of them starting in this series, guys that have come up through this organization. Do you guys ever sit and talk about when you were together down in the Minor Leagues with those pitchers, what it would be like to be in this moment and what impact the four of you would have on this organization?
NOAH SYNDERGAARD: I feel like we've all dreamt of this moment right here, and we're all extremely blessed to be here. And we know that our pitching staff is all fairly young, but that's something that we're able to feed off of.
Q. Will the cold weather tomorrow night affect your preparation in any way? What's your success been pitching in the cold?
NOAH SYNDERGAARD: I mean, this year I've only been able to pitch in one cold environment and that was my start against the Nationals. The preparation is pretty much all the same. Just got to make sure that the body's warm.
Q. My understanding is that you've named all of your gloves. I'm wondering if you've chosen which named glove it's going to be and why?
NOAH SYNDERGAARD: My gamer right now is just a Thor glove, it's got "Thor" on the side, pretty self-explanatory there.
Q. Pitching, making your first two appearances in the postseason, what was surprising to you and what did you learn that you didn't know before?
NOAH SYNDERGAARD: I think the anticipation before was thinking that the game was going to be completely different, but in reality it's still the same game. You're still 60 feet, 6 inches away. The only thing that's really different is the crowd's a little bit louder.
Q. What do you remember about making your Major League debut against the Cubs? I know you touched on it a little bit, but are you a significantly different pitcher now?
NOAH SYNDERGAARD: Yeah, I mean, my mechanics are completely different. I think my mentality out there is a lot different. I've been able to go out there with a lot more confidence in myself and getting myself out of certain situations by using necessarily uncomfortable pitches that I might have used at a different time.
Q. What do you remember about that game?
NOAH SYNDERGAARD: I remember I fell behind a few batters. Still kind of was a lot to take in. I just feel like a completely different pitcher now and I'm looking forward to tomorrow.