Oct. 17 Terry Collins pregame interview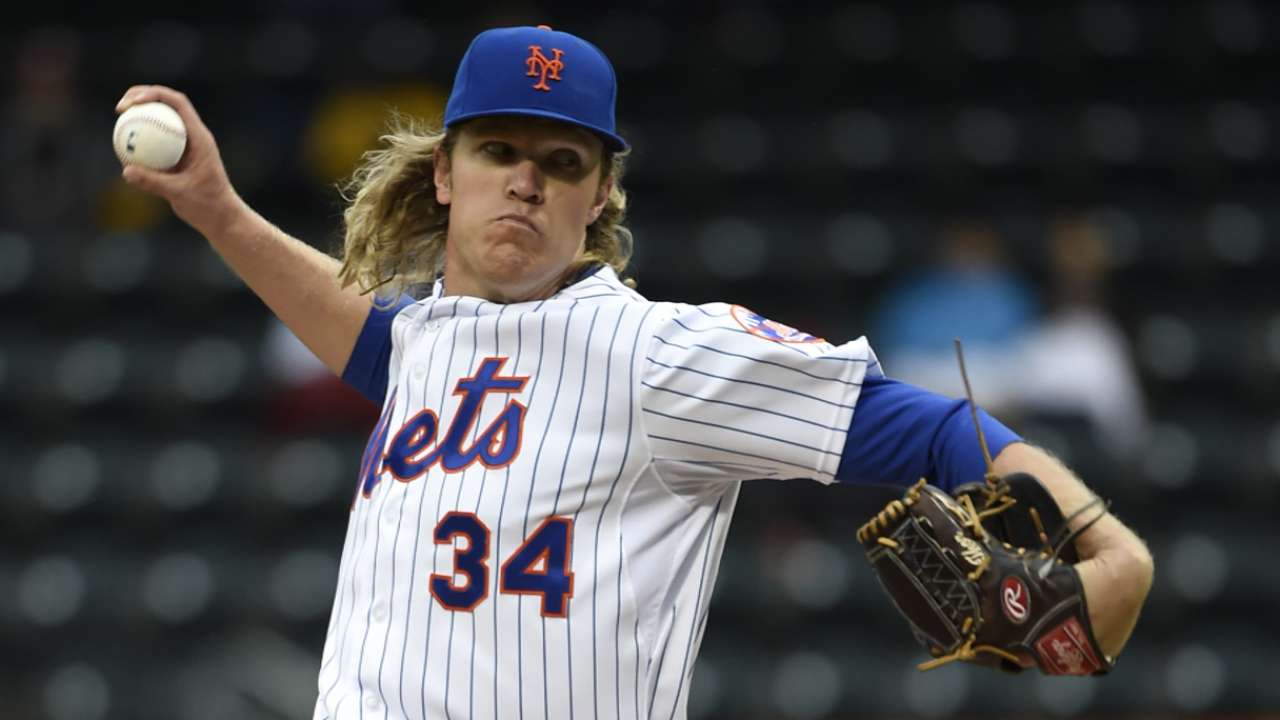 Q. How quickly do you have to hit the reset button? How do you expect your team to respond emotionally, physically, mentally for this?
TERRY COLLINS: Well, they're pretty fired up. I mean, as you saw after the game the other night, they're pretty excited. Just talked to a bunch of the guys today, they're extremely excited to get this thing going tonight, and we like the matchups we have, and we'll be ready to play.
Q. You decided to go with Cuddyer and Lagares against Lester, is part of the reason for Cuddyer how much he's seen him in the American League?
TERRY COLLINS: Yes, yes.
Q. Could you talk about that a little bit.
TERRY COLLINS: Well, we don't play the Cubs very often, obviously, so we don't get to see Lester or Arrieta very much. So when you have a guy that's familiar with what somebody does to get people out, today in our scouts meeting, Michael Cuddyer, believe me, will speak up, because he has a good idea, not that it's ever easy to face those kind of pitchers because one thing we know about Jon Lester, he's a big-game pitcher; he's shown it in the last few years. But Michael's seen him, he knows how to face him. So we thought today would be a good matchup for him.
Q. Could you give us your Game 2 starter, and what sort of conversation, how Noah showed up today?
TERRY COLLINS: Well, Noah came in today, and I ran by all the scenarios that certainly we have had with all of these young pitchers this season, and that is, Okay, you're at 187 innings for the year, how are you feeling? And he said, "I'm feeling great." And I said, Okay, how you feeling today? Because I know you got up the other day, I had Ricky (Bones) in earlier this morning talking about the warm-up sessions the other day, and actually the entire game he only threw about 80 pitches from the times he warmed up. The first couple times he only threw 16, 18 pitches before the inning was over. But he said, "I feel great. I'm not stiff. I'm not sore." And I said, "Well, then you've got tomorrow."
Q. How crucial did you see it to have Noah for that Game 2?
TERRY COLLINS: Well, again, I love our pitching staff. I mean, I love these young pitchers. They're going to be so good. We just thought if you had to sit down right now with what we've seen in the last month of the season, and that's as far back as I'm going to go, if you had to put the four guys that were in the rotation right now, it would go basically deGrom, Harvey and Syndergaard at the top. No disrespect to Steven, but he just hasn't pitched a lot. We want him to start, so we put him in the bullpen tonight. Hopefully get him an inning here in the next couple days, but he'll pitch Game 4.
We like the matchups, and tomorrow night and tonight. This is just like the Dodgers, we've got two of the best in the game we've got to face. So we kind of like the matchups.
Q. It looked like you mentioned to the beat guys that you'd use Matz out of the bullpen. What would be the scenario for that?
TERRY COLLINS: Well, I don't know yet. They don't have a lot of lefties, but certainly Rizzo has pretty good numbers against left-handers, and certainly Dexter who hits lefties good. So you've got to pick maybe an inning where you like kind of the matchups going, or maybe it's just, Hey, get us out of an inning in a certain situation.
So we have nothing right now because we don't know how the game's going to go, but I think it will be important in the next couple days to get him back on the mound.
Q. Is it a matter of time to warm up?
TERRY COLLINS: Well, that's going to be the other thing, we'll find out. If we get him up and he can't get ready, we'll find somebody else, because the one thing we aren't going to do is -- we want this kid to be ready for Game 4, and we aren't going to run him into a situation where he's not prepared to pitch.
Q. I know you said it's not a platoon with Lucas and Michael, but is Lucas definitely going to be in the lineup tomorrow against a right-hander?
TERRY COLLINS: Yes.
Q. What is your level of concern --
TERRY COLLINS: Well, we've got to get him going. David's not swinging real good either. I have confidence that they'll get it going. We've just got to -- I just thought today, you know what, I thought we need to get Michael in there today. I liked the fact that I like what Juan has done against left-handed pitching, so I wanted him in there today.
I think our defense in our ballpark, which is a big outfield, is so much better with him in centerfield. So today's the day to get Michael Cuddyer in there, and tomorrow Lucas Duda will be back in the lineup.
Q. As you said, you've got a couple really good pitchers you're facing here, and you beat a couple really good pitchers in LA. Is there anything about the mentality or the approach to having beaten those two guys that can carry over against these two guys?
TERRY COLLINS: The mentality is Oh, shit, we've got to do it again (laughter). But they're different kind of pitchers. They're just really good. So, again, Kevin's (Long) done a great job of coming up with a game plan. He really has. But we've got to execute it. We've got to work very, very hard to grind out the at-bats and to continue to get Jon to throw a pitch that we can handle, same with Jake. We've got to get him in situations maybe where we can get him in deeper counts where we'll get something better to hit.
But if you let these guys get ahead of you and they can expand the strike zone as pitchers, we're not going to do very well.
Q. I'm sure that down deep you're always concerned about the fact that your young kids are all in uncharted territory, and the deeper you get into this thing, this postseason, the more uncharted that territory becomes. But is it somewhat comforting in your mind that you at least have Colon and Niese as potential long-men or whatever to alleviate a little of that uncharted territory for these kids?
TERRY COLLINS: Yeah, it is. We talked about it. We talked about it today. We went through a lot of scenarios that might occur today, and it's amazing how many times Bartolo's name is brought up. Well, you know what, here's the situation. Maybe -- oh, we can use Bartolo there. Well, you know what, if all of a sudden Matt comes up and he maybe can't pitch the next start, geez, we've got Bartolo and we've got Niese.
So, yeah, they're going to save us, and that's why they're on the roster because we knew going into the postseason those veteran guys become big sooner than you think. Any time, any night something could happen to where they could be a big part of the whole game.
Q. Do you manage against the Cub lineup or do you manage against Joe? You guys know each other so well, do you do a little of both or how do you go about it?
TERRY COLLINS: Well, Joe was never a very good hitter, so I'm not too concerned about Joe at the moment. I am worried about their lineup, so I'm going to pitch against that lineup.
We know some of the things that they do, and what you try to do is make sure they don't have first and third to where they can -- they're pretty good at scoring those runs.
I think that's why I like our guys. If they command their stuff, they're going to be hard to hit. But they've got a lot of weapons. The power is -- I mean, we think we've got power, they've got tremendous power. So we certainly, the location today is going to be, first and foremost, the most important thing we can do.
We've got to keep them off the bases, because they're a team that executes very well offensively. But, you know, we know that they have the tendency to strike out, and we've got to use that to our advantage and make good pitches.
Q. Having used Colon and Syndergaard as your bridge, it stands to reason at some point you're going to need Reed and Clippard. How difficult is it to convince those guys that you still have confidence in them at this point?
TERRY COLLINS: Well, the other day they both have pitched. The other day in Los Angeles Tyler gave us a big inning. Reed gave us a big inning the other night here in the game we won. So they know they're going to be used. We just said, set-up this instance -- and I will tell you what, had it been a different part of the order, I'm not sure I would have gone to Syndergaard. But that part of the lineup against the Dodgers, as I said -- Dan (Warthen) said, Look, this is the time you've got to go with the best power guy. We've got to see if we can overpower him, and he did, and that was the right guy.
But right now those other guys have been our guys and they'll be our guys tonight.
Q. Arrieta really had a breakout year this year. Different pitcher than he'd been before. You saw him a couple times. What was the biggest difference you saw with him this year?
TERRY COLLINS: Well, his stuff's always been really good. The location, his location has just been off the charts. I mean, he's got this, I don't know if -- he may call it a slider. I think it's this hard cutter that he's now started to command that he's eating up left-handed hitters. He locates the fastball. He moves his curveball around. It's a power curveball anyway, but he throws it to both sides of the plate. The location of his pitches is what's changed him for me.