Oct. 17 Jake Arrieta pregame interview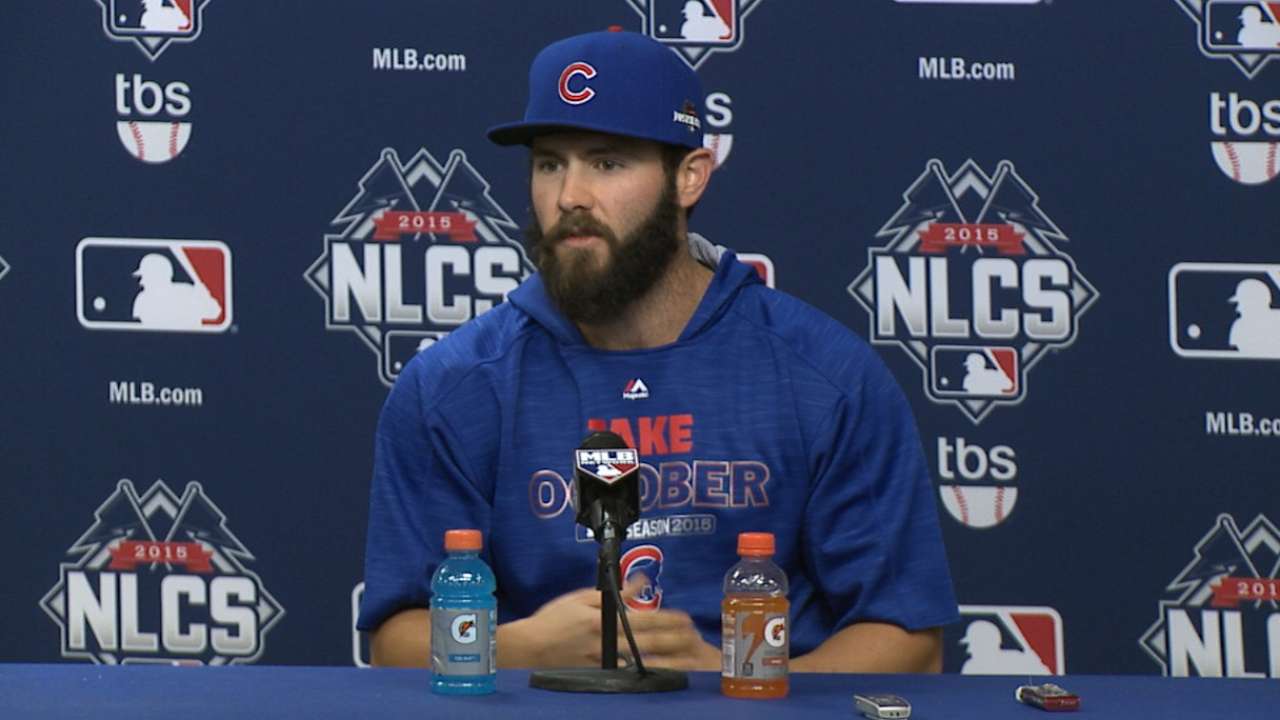 Q. Everyone's talking about how different the Mets team is. Will you take special attention, let's say tonight, to Cespedes, Conforto, some of the guys that weren't around the first time you guys faced them?
JAKE ARRIETA: Well, I think the biggest thing is just to kind of do some scouting, watch some video, have some familiarity with Cespedes. Obviously an extremely, extremely balanced hitter. Good power, hits for average. He's helped the lineup a lot. They've got David Wright back. So it's a different look.
Still know these guys fairly well. They have some young players who are playing really well, and they've been throwing the ball well, too. So this is kind of what you expect in a Championship Series. We've got our work cut out for us, but as far as tonight goes, Jon's starting, and he's going to be attacking those guys from the opposite side. But I'll take some notes and kind of see what I can gather.
Q. When you get to another series, you guys have already been through two, does each one have its own characteristics, do you gain any playoff experience for you and your teammates by having participated, or is it all new?
JAKE ARRIETA: Well, I think the longer you're in this environment, the more you're going to learn from those experiences. Our young players have gained a lot of valuable experience and showcased some pretty special talent already this postseason. I think there's no reason that those guys can't continue to produce at the level they are.
You know, it's the cream of the crop at this point in time. I mean, the Mets have had a tremendous year, and we've done the same. So it's going to be a challenging series for both sides. But that's kind of the expectations you're under once you get to this point.
Q. Terry Collins was in here before and complimenting that slider/cutter that you have. What do you call it, and how did you develop that pitch?
JAKE ARRIETA: Well, it's developed over the course of several years. I think the consistency mechanically is really where that pitch started to flourish, being able to repeat the same delivery, same arm slot on a pretty regular basis. So, and really just adjusting the velocity by tweaking the release point is really where the change in speed comes from. So that's why you'll hear it called a slider or a cutter based on different sequences to different hitters.
And it's just been some hard work and some repetition, really, to get it to where it is now.
Q. So you're in position to pitch on the road here in Game 2 and potentially Game 6 as well. You seemed to take a great deal of pleasure from shutting things down in Pittsburgh. I'm just wondering how you go about enjoying that? And is it in-game where you get to experience that or is it after the fact where you look back at it?
JAKE ARRIETA: That's a good question. I think some of it is in the moment because I think that's a really important factor of being able to really take advantage of these opportunities, and try to enjoy it as much as you can in the moment, but obviously being able to reflect on it after the fact, after big series wins or the Wild Card game in Pittsburgh. Sometimes those things take a little bit longer to develop. I think over the course of time, as these things play out, we'll be able to kind of relive those experiences and enjoy them even further.
Q. You're making starts that you've never made before, pitching games that you haven't pitched before, pitching into mid-maybe-late October. What's your body and mind telling you about the revelation of that, just that long, long haul of a season?
JAKE ARRIETA: Well, essentially that's what I've tried to prepare for. Over the course of the off-season and Spring Training, trying to develop the ability to maintain the durability throughout a long season, and obviously we intend to play in October every year. So I think that's something that I just take into consideration throughout the training process, trying to prepare your body as best as possible. Obviously, shoulder care, keeping everything as injury-resistant as possible. Obviously there are certain things you can't control, but physically my body's great. I feel like there's still some work for me to be done, and I don't think I've gotten to the end of my leash yet.
Q. I remember seeing you pitch over in the American League, and at times you pitched well and at times you didn't, and the Orioles bounced you back and forth and then traded you. For you, when did it start to click in on a regular basis that what you did well over there you could do on a start-to-start basis?
JAKE ARRIETA: I think that process started the day I got to this organization. Kind of reverted back to some things that I was doing successfully, and I started to do those more often. Kind of go back to some comfort things that I had in place in the past, and try to build off that. My arm slot, my release point became more consistent over time, and I think the confidence continued to rise once I started to show signs of consistent success, and that's kind of where we're at.
Q. Jon Lester has obviously pitched in October many times. I wonder what his impact has been on the rest of you guys as starters over the course of the season, and then has he had some words as you guys have gone later in the season here?
JAKE ARRIETA: Well, we've talked about these types of moments since we've known each other and as a group. Obviously with David and Jon doing the things they did together, it's kind of nice to relive some of those experiences, even though it's through those guys. There is a lot of experience to be gained from that, and I think everybody's pretty steady with knowing he's going to be out there with 13 or 14 postseason appearances under his belt.
Just how steady he is, how prepared, and how mentally tough he is, and he's ready for these moments. He's showed us so many times in the past. Any time you can learn and try to develop an understanding of the types of environments you're going to face in the postseason, it's nice to do, especially from a guy like Jon.
Q. You've been with the Cubs from the time the team wasn't very good to where you are now. Was there an acquisition, a move, a change in a player that made you think, Wow, here we go? If you can remember that time, and sort of describe your thinking.
JAKE ARRIETA: I think it's hard to pinpoint one exact move, but just kind of as I saw all these young players start to blossom and grow and get to this level kind of around the same time, I really started to see the types of talent we had in the farm system. Obviously with the trade with Addison Russell was huge to get him over here. Drafting Schwarber and not really understanding the caliber of player he was until I saw him in Spring Training. Then, obviously, with Kris Bryant, what he's been able to do as a rookie, really bolstered our offense especially in really big situations. I think he's single-handedly won a lot of games for us with his bat, combined with Rizzo, Schwarber and all these other guys. And then you've got Soler, I mean, it's just crazy to think about the group of four or five young players we have at such a young age being able to produce together at the same time, it's pretty unique, and it's a really great spot for a guy like me to be in, having these sort of guys who are going to be in our lineup for a lot of years to come.
Q. Jake, I'm wondering what is the greater challenge right now, the physical one you talked about in these innings piling up or the mental toll of each of these postseason starts?
JAKE ARRIETA: Well, I think you're exactly right with the mental expenditure of energy. I was talking to Chris Singleton about it a little bit, and I was telling him how throughout the course of the day you start to contemplate your routine and think about the game in different scenarios, and you start to -- that heart rate starts to rise a little bit. You start to get that anxious energy, that excitement, and I think trying to find a way to relax, and trying to calm that down before you get to the ballpark, because at that point in time, once your routine starts, it's kind of hard to keep the energy level low.
The physical toll really hasn't bothered me at all, but I think that the mental side of it and all the energy you burn leading up to the game does have a little bit of effect. But having a couple of these under my belt now, I'm pretty confident going in that I'll be able to handle that pretty well.
Q. I was just going to follow up on that. What do you take away from the last start then into this one, and what do you discard and what do you carry with you?
JAKE ARRIETA: Well, I think the one thing specifically for me is I try and start my routine a little bit later, because that energy, that adrenaline is going to be there whether you want it to or not. So trying to reserve it, try and maintain it, and just pushing things back, even if it's ten, 15 minutes, is something for me that did help, because once I got into the bullpen I was pretty much ready to go after five or ten pitches.
So just try and preserve that energy, maybe push things back slightly, because I know I'll be ready to go.
Q. For those of us who aren't around you all the time, your team, we've heard lots about your manager, how he has a different, more relaxed approach. Can you give an example of how he's different, how he's just different?
JAKE ARRIETA: Well, we had a cheetah up on the table the other day in the clubhouse. We had a sloth crawling around everywhere. He gets the families involved and all the kids out running around on the field. It creates a really laid-back atmosphere for everybody to kind of get to know each other and have fun and experience this and really enjoy it. I think one thing he always says is, Don't let the pressure exceed the pleasure, and I think that his personality really exudes that and it allows the players to do that.