MLB.com Columnist
Alyson Footer
Golfer Watson throws first pitch at Game 2
Kansas City native has won eight major championships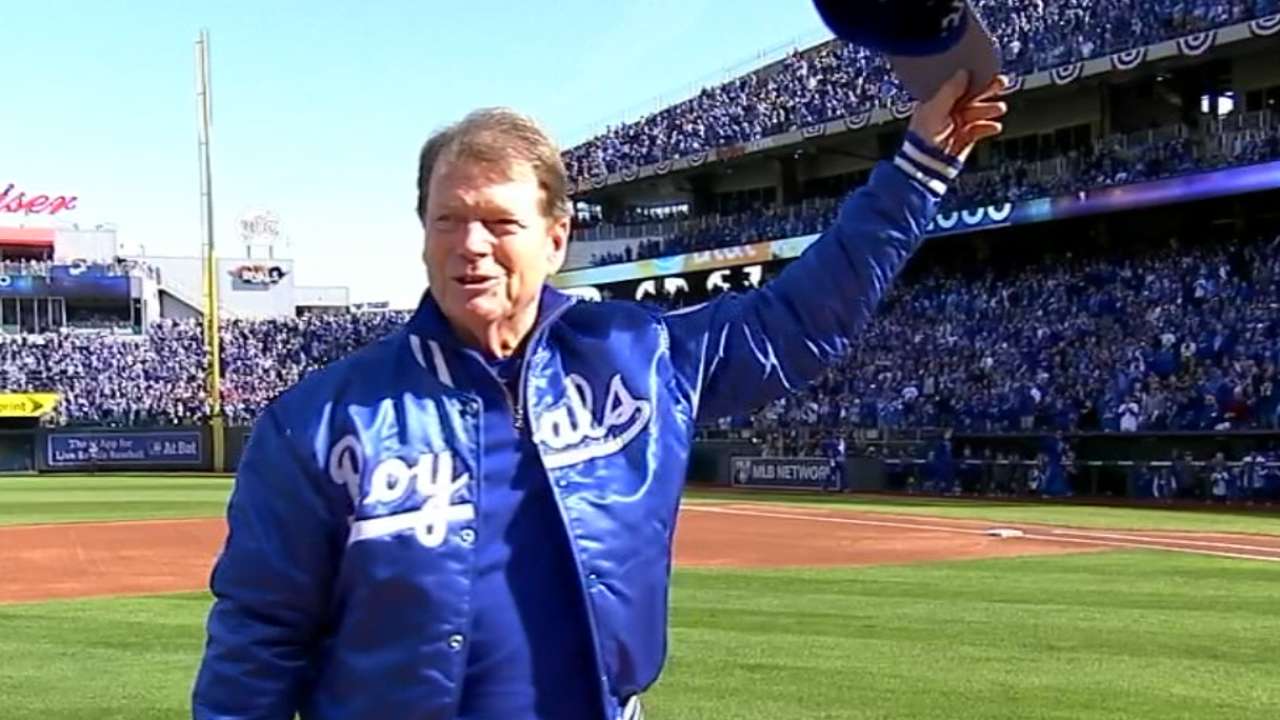 KANSAS CITY -- The first time Tom Watson threw a ceremonial pitch, it was 1980, and the Royals were playing the Yankees in the American League Championship Series.
Watson was feeling pretty good about himself, pumped up with adrenaline and guile and machismo and whatever else gives a person that rush of invincibility before he's about to do -- or try -- something big.
"I had it all lined up," said Watson, winner of eight major golf championships and a member of the World Golf Hall of Fame. "I get on the mound, and I've got some heat. Darrell Porter was the catcher. I said, 'I'm going to throw a hot one.'"
Was it hot? Maybe. Did it get anywhere near Porter, or his glove? Not a chance.
"I threw it eight feet over his head," Watson said. "It hit the screen."
Not knowing exactly what to do in that situation, Watson ambled off the mound and walked toward the Royals' dugout, where he was instructed by more than one man in uniform to get back out there and try it again.
"They said, 'Come back here,'" Watson recalled. "'You've got to do this again.' Now, I'm choking."
The second one went in a slightly straighter line.
"I threw not quite as hard, right at his head," Watson said.
As one of golf's most accomplished competitors and a native of Kansas City, Watson has thrown plenty of ceremonial first pitches in the Kansas City area over the span of his career. He added another one to the list on Saturday, before Game 2 of the ALCS between the Royals and Blue Jays. Kansas City won the game, 6-3, to take a 2-0 lead in the best-of-seven ALCS.
Noting his last two first pitches landed in the dirt, Watson was determined to end the streak this time around.
"Today, I get all my friends and family giving me a lot of grief, saying, 'How's the pressure?'" Watson said. "'Don't throw it in the dirt. You'll get booed.'"
Watson had nothing to worry about. His pitch sailed mostly in a straight line, right to the catcher's glove, and, having already been warmly greeted by Royals fans as he strode to the mound to throw the pitch, he was showered with adoration as he retreated off it.
"It's an honor," he said of being asked to participate in the pregame ceremony. "I was born and raised here and have lived here all my life."
A Kansas City Athletics fan as a kid, Watson recalled going to his first A's game when he was 5 years old with his grandfather. The A's were playing the Red Sox -- Ted Williams' Red Sox -- and the images from that game have never left him.
"That was a special time," Watson said. "We listened to the Athletics on the radio. Mom and dad handed us over to my granddad and mam-mam. I'd go to sleep listening to the Athletics on the radio."
Baseball actually played a big role in Watson pursuing golf. His baseball dreams were, more or less, crushed when he was 9 years old and was cut after trying out for his neighborhood team.
Realizing baseball probably wasn't in the cards, he turned to another sport and found out he was pretty good at it.
"I always loved golf," Watson said. "But I loved baseball more."
In addition to the first pitch, the pregame ceremony for Game 2 of the ALCS featured two anthem singers: Malena Marcase, a 19-year-old native of Blue Springs, Mo., who performed the Canadian anthem, and Kelly Levesque, who sang the American anthem.
Alyson Footer is a national correspondent for MLB.com. Follow her on Twitter @alysonfooter. This story was not subject to the approval of Major League Baseball or its clubs.