Play Ball event in N.Y. brings fun to local kids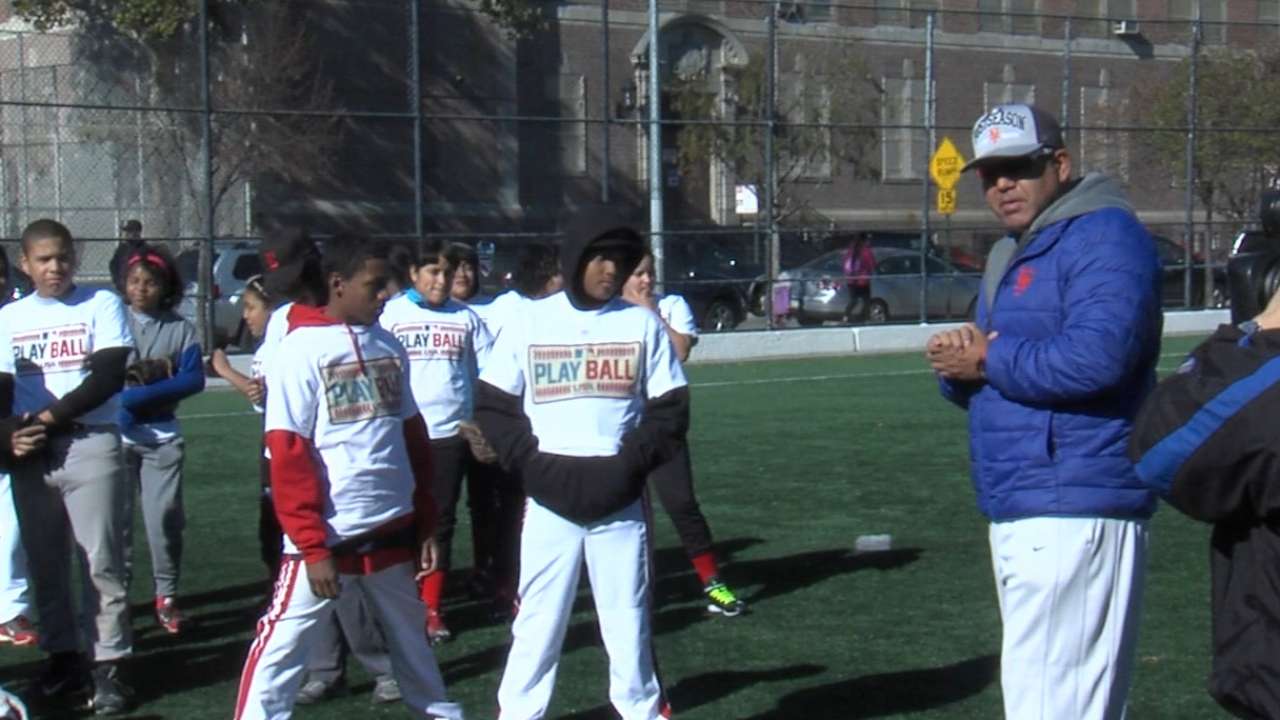 NEW YORK -- With Citi Field serving as the backdrop just off in the distance -- hours before it was set to come alive during Game 1 of the National League Championship Series (7:30 p.m. ET, TBS) -- about 150 children gathered at Hinton Field on Saturday morning for the latest Play Ball event.
The kids, ages 7 through 13, were split into stations, highlighting various ways to enjoy baseball.
There were games and home-run derbies using Wiffle balls. The team set up a pitching station that involved throwing a foam ball to a target on a net, where the ball would bounce back to give the children a chance to field it. There was also a station for Beteyah, a game originating from the Dominican Republic that resembles stickball. Children would take a long skinny bat and try to hit a ball resembling a slightly bigger bottlecap -- "Just keep your eye on it" one child said, as if it were that easy.
"What we found is so neat about this is you get kids interacting in unorthodox ways then what they may do in their local league play," said David James, senior director of youth programs for Major League Baseball. "There are plenty of times for that organized play, but there's times that they do it that you don't have the coaches, you don't have the mom and dad around, and just have fun."
The Beteyah station was an instant hit.
These are the kinds of games Edgardo Alfonzo, a former Mets All-Star who played in New York from 1995-2002, said he grew up playing in Venezuela. Back then, he said, he would use caps from soda bottles. Alfonzo said he jumps at the chance to participate in events like this one whenever he can.
"This is what we do growing up in our countries," Alfonso said. "And now you see how popular it could be. It is right now."
The goal of Saturday's event was to give children games they can play that keep them involved in baseball, without needing an organized league. Most of the children involved played on some kind of youth league in Flushing, Queens, or even as far as Brooklyn.
James said he hopes these events can keep growing and start attracting new fans.
"These fun activities can hopefully get some kids who've never been involved in the game say, 'You know what, I'm going to give that a shot,'" James said.
Jamal Collier is a reporter for MLB.com. Follow him on Twitter at @jamalcollier. This story was not subject to the approval of Major League Baseball or its clubs.