MLB.com Columnist
Alyson Footer
Brett, Wilson attend Royals' Play Ball event
KC legends lead clinic for local kids at Satchel Paige Memorial Stadium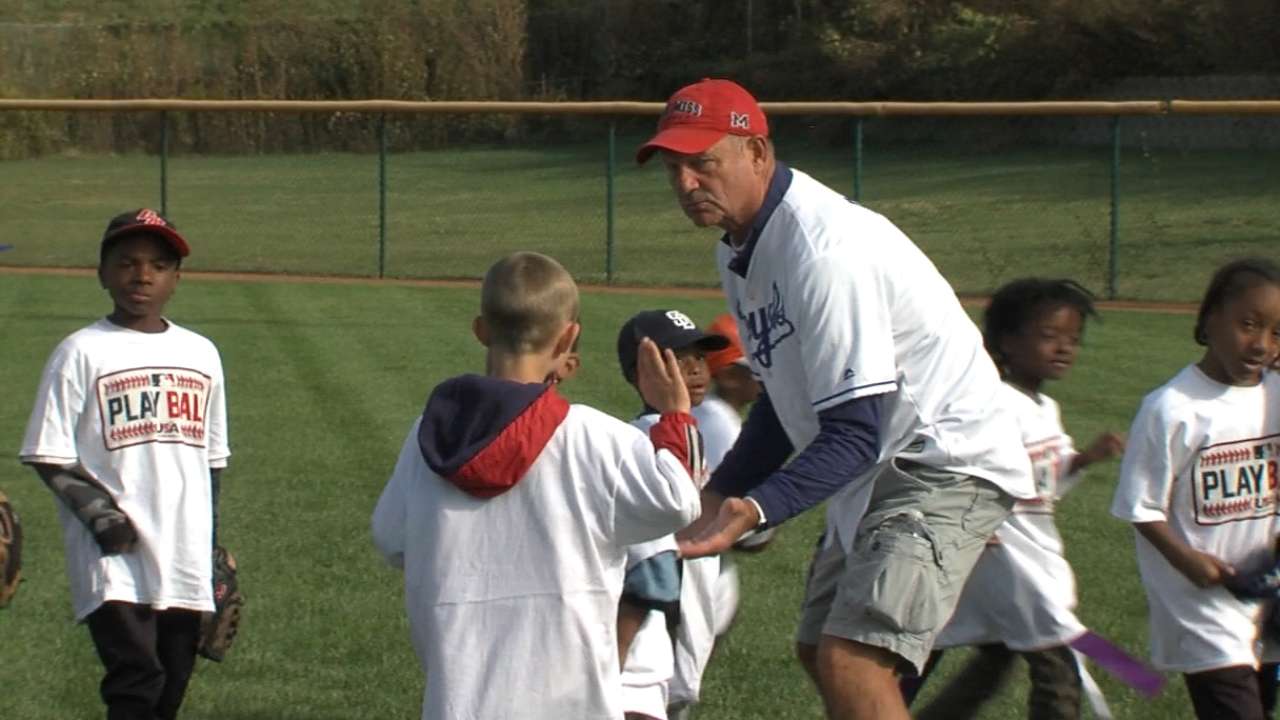 KANSAS CITY -- Donning their Royals jerseys and encouraging children to play ball, Kansas City legends George Brett and Willie Wilson spent more than an hour on a chilly Saturday morning passing along their baseball wisdom to the next generation of ballplayers.
Approximately 150 local kids gathered at Satchel Paige Memorial Stadium, where Brett, Wilson and Royals mascot Sluggerrr helped Major League Baseball celebrate the start of the American League Championship Series between the Royals and Blue Jays with one of two "Play Ball" events that will take place during this round of the postseason. Game 2 of the ALCS airs at 3:30 p.m. ET on FOX Sports 1 and Sportsnet.
An event in New York, where the Mets and the Cubs will begin the National League Championship Series at Citi Field, was also scheduled for Saturday.
Three stations were set up on the field at Satchel Paige Memorial Stadium, where kids worked on hitting, fielding and throwing and, in general, had fun playing ball.
• See photos from the Play Ball event
"It's a good event for the kids," said Wilson, who starred for the Royals from 1976-90 and played on their World Series championship team in 1985. "It gets these guys to learn a little bit more about baseball, to run around, and they know that there's things to do outside besides being on their computers. It's really fun for me, because I get a chance to interact with them."
In June, Major League Baseball and USA Baseball launched Play Ball, a new initiative to encourage widespread participation in all forms of baseball and softball activities among all age groups, especially youth.
The program highlights the variety of ways that baseball and softball can be played, including outside of the traditionally-organized leagues and tournaments, ranging from playing catch, stickball and Wiffle ball to participating in skills competitions like Pitch, Hit & Run.
The object is to reignite interest in baseball in today's youth by getting back to the basics of, simply, playing ball.
"Do you guys know what Eric Hosmer was doing when he was your age?" Brett said to the kids during a pregame pep talk. "He was playing baseball in the backyard with his buddies. How about Salvador Perez? What do you think he was doing? He was probably playing baseball with his buddies.
"Just because your team doesn't have practice, or just because you don't have nine guys, doesn't mean you can't play baseball."
You don't even have to be on a regulation field to play ball, Brett reminded the kids.
"I remember as a child, in the backyard, we'd play Wiffle ball games," he said. "You guys probably watch games on TV. When I was your age, I never thought I'd be a big leaguer. Let me tell you one thing -- anything is possible. If you enjoy the game, get out and play it."
Wilson, who has coached youth baseball, applauds the game's outreach on a global level, but he would like to see a concentration on reviving interest in the game locally and nationally.
"I think the game of baseball really needs to get back to having kids get involved in it," he said. "Baseball isn't quick and this and that, but it's a great game and it teaches you about life lessons. We need to get more kids involved."
Brett, a 1999 inductee into the Baseball Hall of Fame, has enjoyed the resurgence of fan interest in the defending AL champion Royals in the past couple of years after such a long drought. The longer the Royals maintain their relevance, the more chances they have to get youth watching, playing and enjoying America's national pastime.
"The town's thinking baseball, not Chiefs, this time of year, and that's good," Brett said. "To do things like this, come out and get people involved in the game, it's only going to increase the popularity of baseball in Kansas City, and hopefully get more kids playing the game of baseball."
Alyson Footer is a national correspondent for MLB.com. Follow her on Twitter @alysonfooter. This story was not subject to the approval of Major League Baseball or its clubs.