Oct. 17 Kevin Pillar pregame interview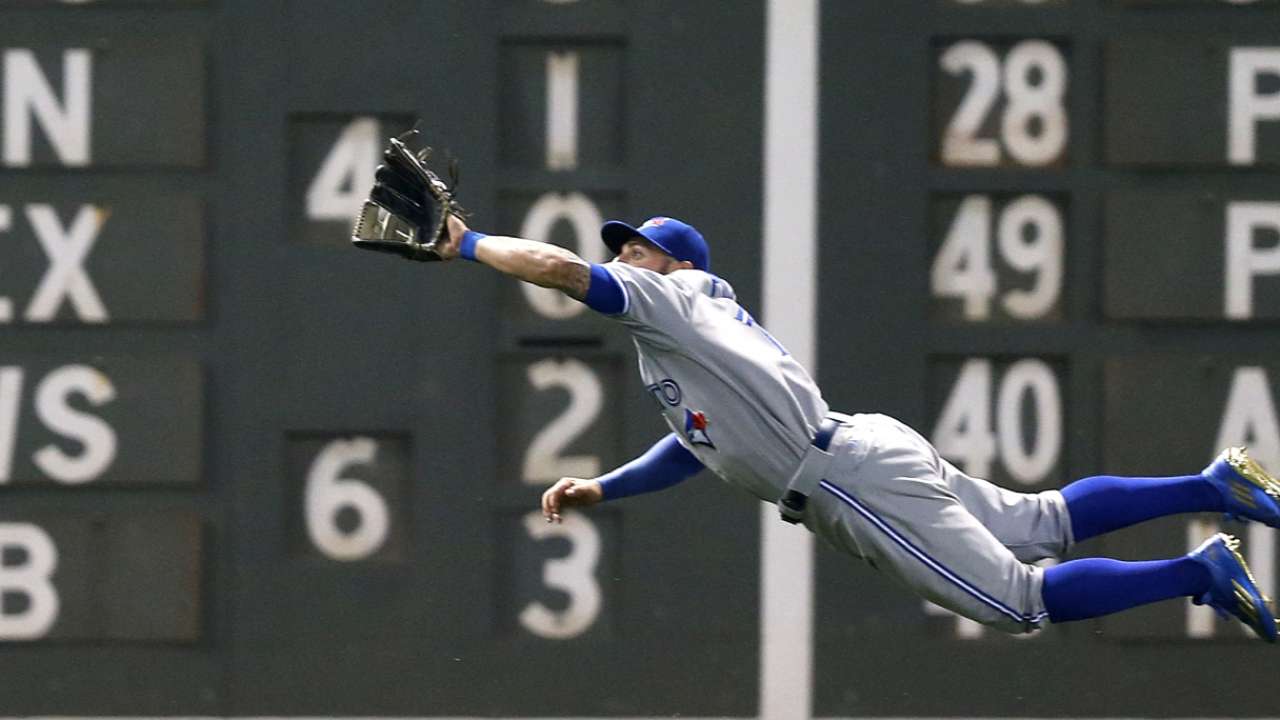 Q. What's the relief when you see Edwin's name back in the lineup, given the potential loss there?
KEVIN PILLAR: Edwin is a big part of our team. Anytime he's in the lineup we're a better team. And it's something he's dealt with throughout the year. He probably wouldn't be playing if it wasn't a Postseason game.

But Edwin is extremely passionate and wants to win, and he's going to do whatever it takes to get ready to play today.

Q. You guys hit a lot of balls hard the first time through yesterday. They didn't find holes. Was it a situation where it probably would have been a different feel for your offense if you found holes to get a groove going or was it just a matter of he just pitched really well yesterday?
KEVIN PILLAR: I mean both. But I think that's the goal of all of us as hitters is to try to hit the ball hard. Once it leaves your bat you don't really have control where it goes.

I wouldn't say there's a down feeling amongst our offense. We had a lot of guys on base. I looked up after the seventh, eighth inning, and we left eight guys on base. So in some way we accomplished what we wanted to accomplish. We got guys on, we just weren't able to get them across.

And, yeah, he threw really well.

Q. You mentioned getting guys on base. And what are the signs you see when the lineup is locked in in terms of the types of at-bat the hitters are getting?
KEVIN PILLAR: Yeah, I think exactly yesterday, hitting the ball hard, first of all. Secondly, guys taking their walks, not trying to do too much at the plate. Bautista walked twice, Donaldson walked twice. We had guys on base. And I guess in the Postseason game that's what you're trying to do.

We're one hit away from having a big inning. We weren't able to do it, but guys not trying to do too much at the plate, getting the next guy up and just trying to hit the ball hard. The ball really wasn't carrying yesterday. C.C. hit some balls. If he hits that ball a little bit higher, a little bit more in the gap, we're maybe talking about a different outcome.

Q. You've made some catches this year that it looks like you're flying through the air. Does it feel like that to you? Does it ever feel like you're hanging up there for a very long time?
KEVIN PILLAR: I can fly (laughter), for a short amount of time.

Yeah, I mean, I think in the moment when you leave your feet and you watch that ball and you know you've secured it, time almost seems to stop and it feels like you're in the air for a while.

But I take a lot of pride in and a lot of passion in my defense. I know it's been able to keep me in the lineup when I've struggled offensively. And I know our pitching staff appreciates it.

Q. Do you feel like Superman?
KEVIN PILLAR: I have not dressed up as Superman, but I don't have to because I am Superman (laughter).

Q. How much can you guys draw from the previous round, your being down 0-2 and the way you guys were able to fight back, being down one game here?
KEVIN PILLAR: Yeah, I would say there is definitely a different feeling going into the game yesterday. For the first time in a while our backs were up against the wall. When you really think about it, the worst-case scenario is you're down 0-1 after yesterday, and we play with our back up against the wall. I'm not going to say it's a position we're comfortable in, because obviously we want to go out there and win.

But at the end of the day it's easy to draw back on the experiences from last series, really having to play with your back against the wall. We understand how important this game is, but you're not going to see guys pressing, putting added pressure on ourselves today. Because at the end of the day the worst we could be is 0-2. We've been there before. It's about winning four games, doesn't matter the order you do it in. We'd like to go back with a split and even the series, and make it a five-game series.

Q. Ventura, if you want to give me a scouting report on him, and then also your starting pitcher, David Price, there's been a lot said about how he hasn't played well in the Postseason. What you've seen from him, while he's been with you both in the regular season and the Postseason?
KEVIN PILLAR: Well, Ventura, he's young, he's athletic, he's electric. He throws hard. He's got a good curveball. He's obviously a good pitcher. He's got Postseason experience. He's good. He's real good.

You're going to see a lot of similarities to what we saw last night with Volquez as far as Price, he's one of the best pitchers in the game. He hasn't had the success he's wanted in the Postseason, but he's not short on confidence. He wants the ball. He's ready to make it happen today and we've got a lot of confidence in him, too.

Today is going to be his day, he's going to get his win today. We're going to put some runs across the board for him and we expect him to go out there and be the David Price that he always is.

Q. With all the tight games you guys have played in the Postseason so far, can you compare the mental toll playing in these games takes compared to regular season?
KEVIN PILLAR: Well, we draw on those similar series we had towards the end of the year, especially the one with the Yankees, when we were trying to win our division, the playoff atmosphere, the intensity. That's what you expect in the Postseason, you're getting now the two best teams in the American League playing. We're both evenly matched. You don't see a ton of blowouts in the Postseason.

Every at-bat is so crucial and pitchers are so locked in on every pitch. It's just how the Postseason baseball is.

But we just try to go out there and be relaxed and as composed as possible. I guess when you get this far, those are the types of games you expect to play in. For the most part, that's how it's been in all the games. I guess aside from maybe the one game in Texas where we were able to jump out to a pretty big lead and kind of was able to cruise to a victory.

We expect that kind of game today. You've got two electric starters on the mounds, and runs are going to be at a premium today.