MLB.com Columnist
Richard Justice
Blue Jays credit Volquez, turn the page
After rare shutout in Game 1, Toronto anything but rattled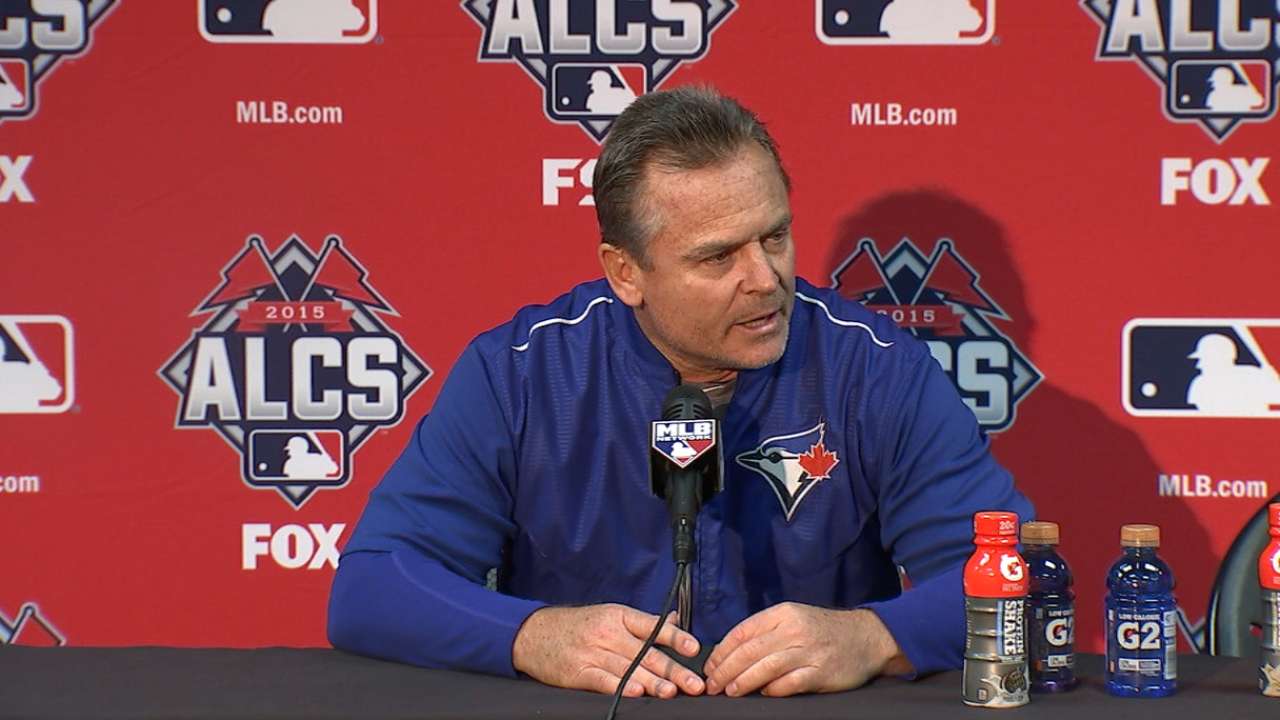 KANSAS CITY -- In the top of the first inning, Blue Jays third baseman Josh Donaldson took a peek at the radar-gun reading to see how hard Royals starter Edinson Volquez was throwing.
"I saw 97 mph a couple of times," Donaldson said. "He had his good stuff, and it showed."
Shop for Blue Jays postseason gear
Donaldson recalled that moment after the Royals had beaten the Blue Jays, 5-0, on Friday night in Game 1 of the American League Championship Series (Game 2, Saturday, 3:30 p.m. ET, FOX Sports 1/Sportsnet).
The Blue Jays showed up expecting Volquez to be at his best. They figured he would feed off the large, noisy home crowd and the adrenaline of a postseason series.
Toronto got a little more than that. Volquez allowed two singles in six innings before turning the game over to baseball's best bullpen for the final three.
The Blue Jays finished with three singles and five walks. They got just two runners into scoring position and stranded them both -- this from the team that led the Majors in runs and home runs during the regular season. This was just the sixth time that Toronto had been shut out.
"We were putting balls in play, hitting some balls at guys," Blue Jays first baseman Chris Colabello said. "That's the way it goes sometimes."
When Volquez needed to make a pitch, he made it, combining that crisp fastball with two different breaking balls. Kansas City scored two runs off Toronto starter Marco Estrada in the third, and that would end up being all the offense it needed.
"Sometimes you have to give credit to the other team," Donaldson said.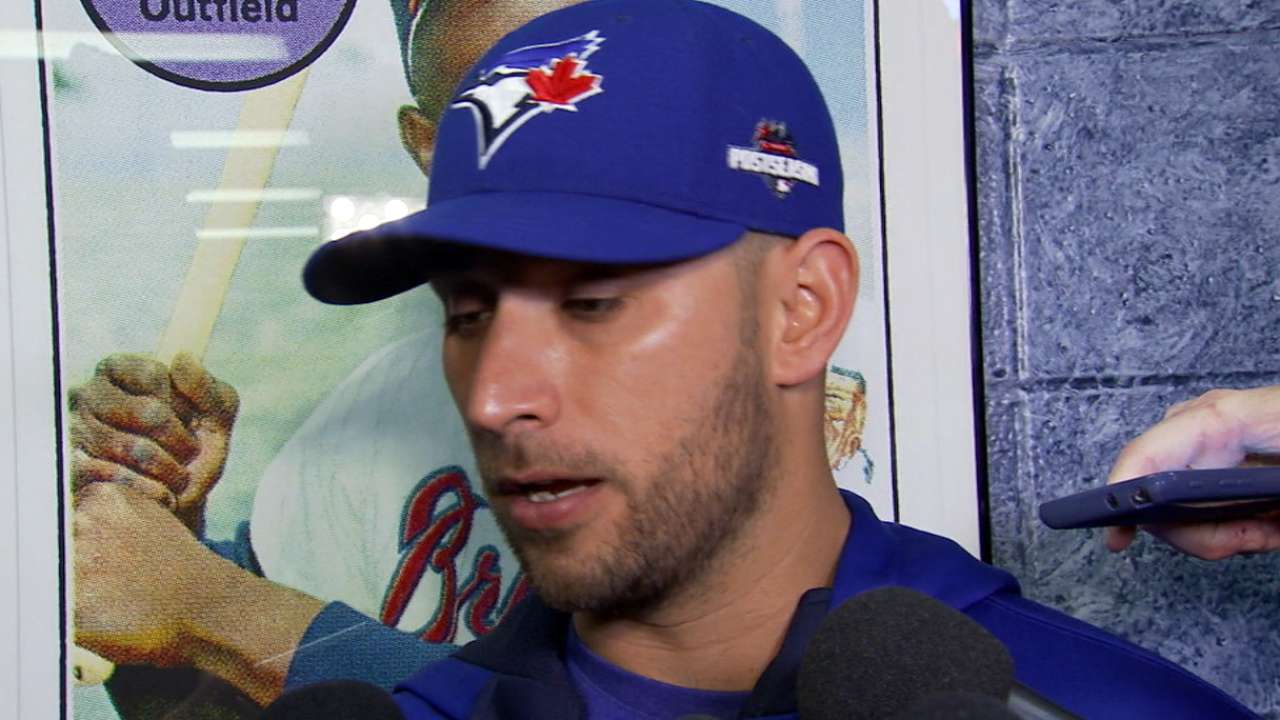 This wasn't what the Blue Jays expected from Volquez, whose fastball averaged 93.7 mph during the regular season, according to Fangraphs.com.
"He was definitely pumped up," Toronto leadoff man Ben Revere said. "It was moving a lot. I was surprised. That's the playoffs. You're going to get the best out of these players."
Volquez hit 97 mph six times in the first inning and was consistently at 96 after the early adrenaline wore off.
"His added velocity made everything better," Donaldson said. "You expect a little bit in the first inning because of adrenaline. He was able to sustain it pretty much the entire time. I don't know why, but he had it."
Volquez's final seven pitches of an 111-pitch outing were to Blue Jays shortstop Troy Tulowitzki in the sixth. All were clocked at 95 or 96.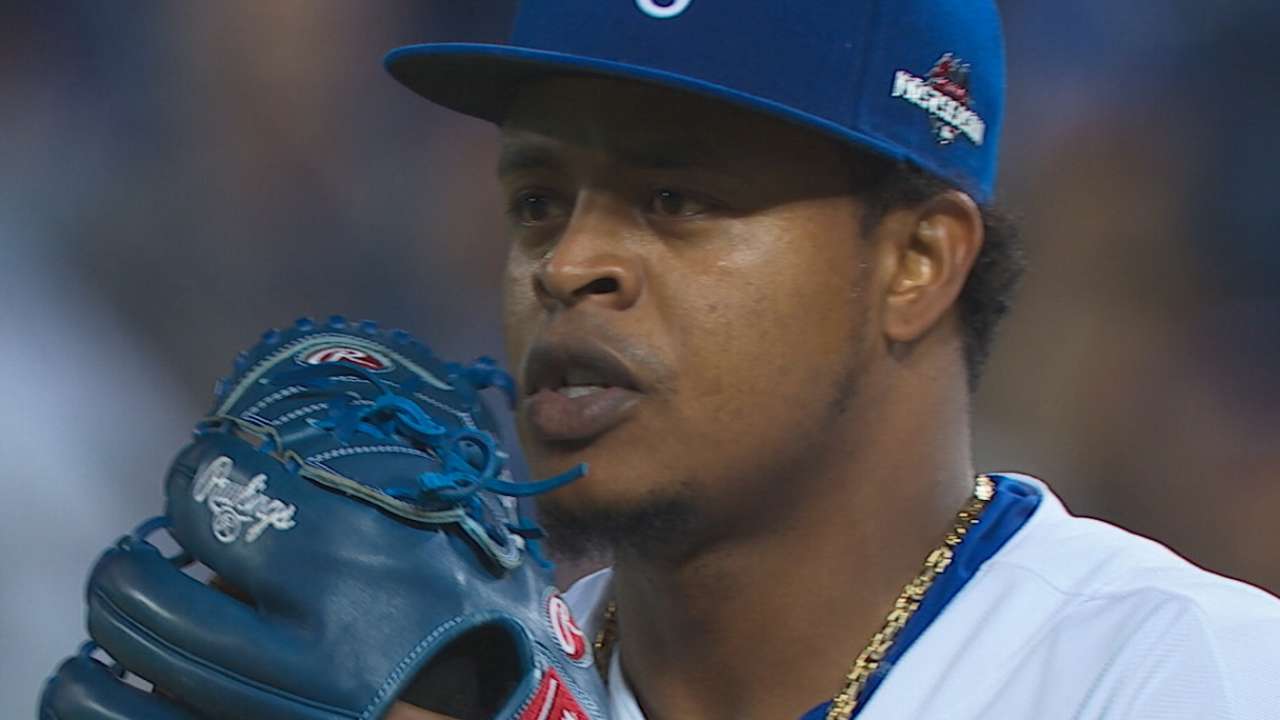 "His velocity was a little higher than it normally is," Tulowitzki said. "He was hitting his spots. He did a good job."
And so Toronto is back in a familiar place. The Blue Jays opened the AL Division Series against the Rangers by losing two at home before winning three straight elimination games.
"That was a different feeling coming to the ballpark today," Tulowitzki said. "We weren't faced with elimination. They got Game 1, but it's no time to push the panic button. Tonight wasn't our night."
All things considered, the Blue Jays are exactly where they knew they might be. Losing Game 1 is not as big a deal as possibly losing DH Edwin Encarnacion.
• Encarnacion exits with finger ligament strain
Encarnacion has played much of the season with an injury to his left middle finger. On Friday, he departed the game in the eighth inning to undergo X-rays, which revealed a sprained ligament.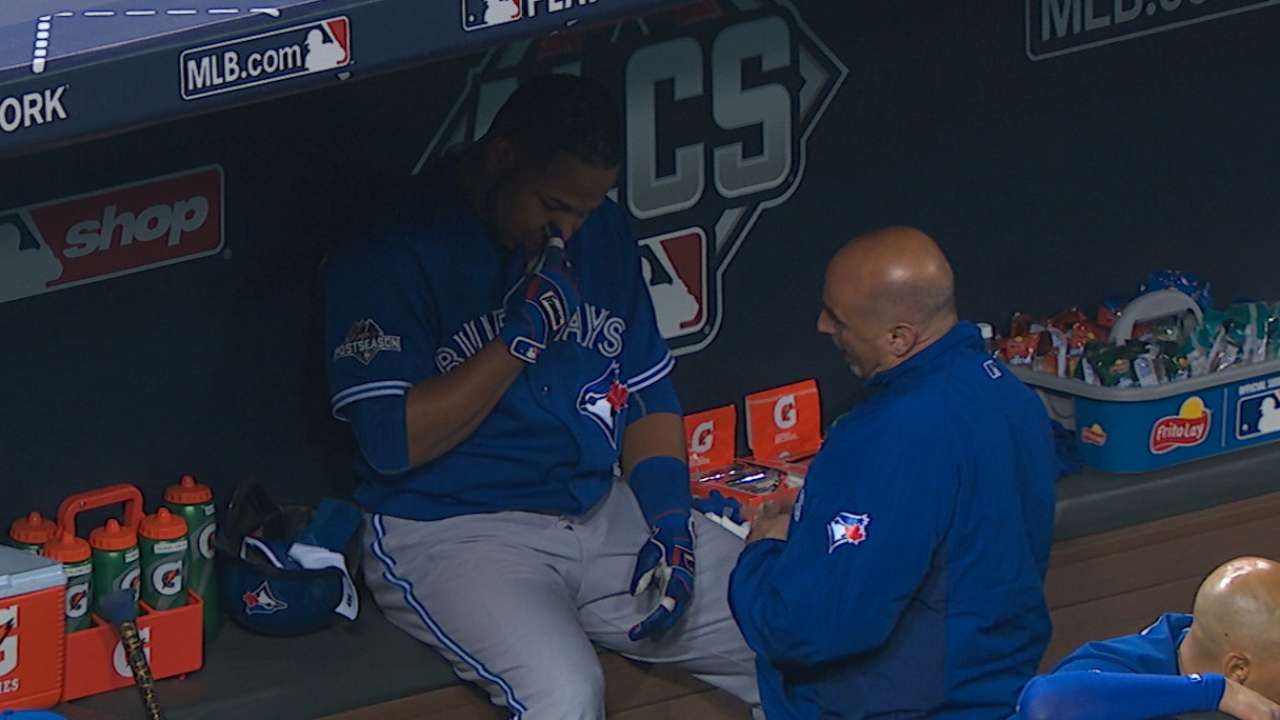 Encarnacion is listed as day to day, and the Blue Jays have no idea when or if he'll be available. He had 39 home runs and 111 RBIs during the regular season.
"He's doing everything he can," catcher Dioner Navarro said. "This man is a gamer. He's got a huge heart. For him to get out of the game, it must have been something really serious. We count on him. He's doing everything possible to be in the lineup."
The Blue Jays have shown they're not rattled by one loss, and in the aftermath of this one, they were quick to credit Volquez with a dominant performance and to say that there's plenty of baseball left.
"We came up short," Navarro said. "They did a great job in their park. We had a few chances. It's a new day tomorrow."
Richard Justice is a columnist for MLB.com. Read his blog, Justice4U. This story was not subject to the approval of Major League Baseball or its clubs.