Postseason struggles resting on Tulo's shoulder
Shortstop just 2-for-25 at the plate through six games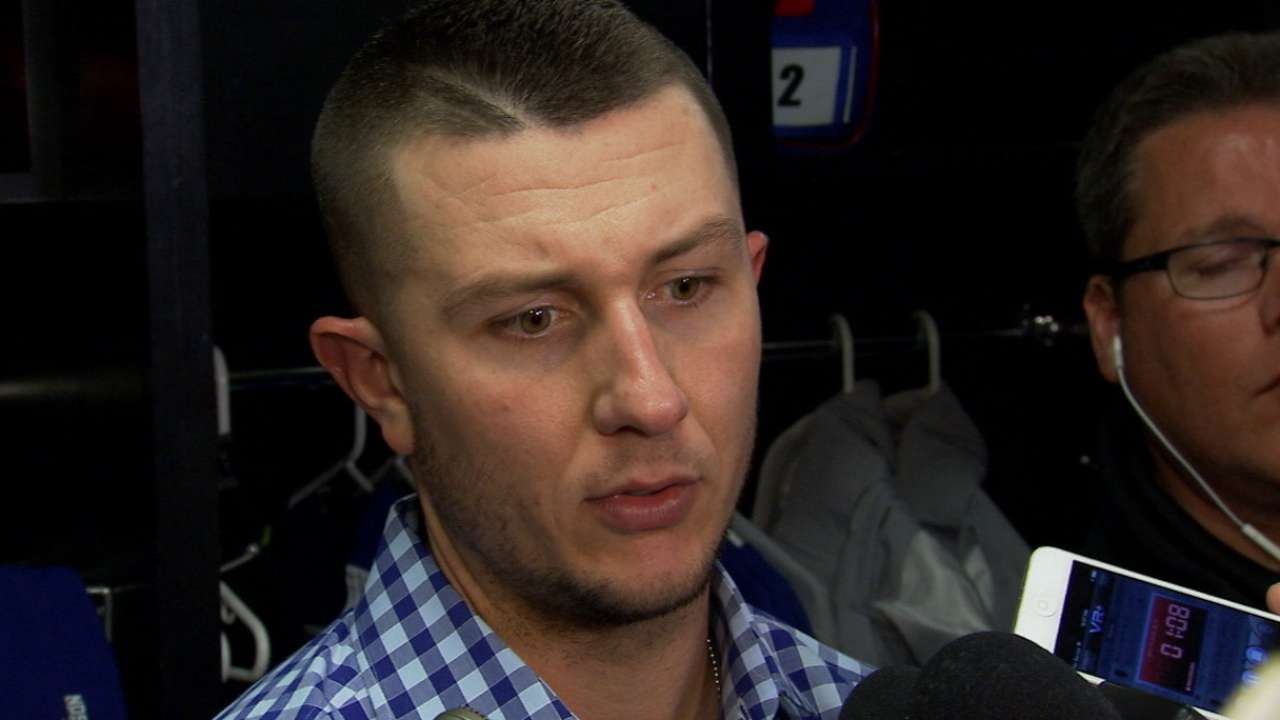 KANSAS CITY -- Troy Tulowitzki stood at his locker, his back to the media horde forming a semicircle behind him. The Blue Jays shortstop's left shoulder blade was still red from his postgame treatment, which is critical right now in helping him remain on the field.
In Friday night's 5-0 loss to the Royals in Game 1 of the American League Championship Series (Game 2, Saturday, 3:30 ET, FOX Sports 1/Sportsnet), Tulowitzki's continued search for offensive normalcy persisted from the sixth spot in Toronto's lineup. He went hitless in four at-bats, including a seven-pitch called strikeout in the sixth inning, ending the Blue Jays' best chance at a breakthrough against Royals starter Edinson Volquez.
• Shop for Blue Jays postseason gear
Blue Jays manager John Gibbons quickly came to Tulowitzki's defense.
"Hey, you can't really just focus on him tonight," Gibbons said. "Everybody got shut down, really."
There is no denying that point from Gibbons, who watched his powerful, pace-setting lineup limp through an 0-for-12 showing with runners on base. Only two at-bats within that sample were linked to Tulowitzki. But the shortstop's struggles extend beyond Friday night. With the exception of one game this postseason, the shortstop has looked lost in the batter's box.
No one with the Blue Jays has denied that Tulowitzki's shoulder is presenting a problem.
Tulowitzki -- one of Toronto's blockbuster additions at the July 31 non-waiver Trade Deadline -- cracked his left shoulder blade in a collision with center fielder Kevin Pillar on Sept. 12. He returned on Oct. 2 and appeared in two regular-season games, and has gone 2-for-25 (.080 average) through six games this postseason.
"It's there," Tulowitzki said of the shoulder injury. "But, hey, it's no excuse."
"I know it's still bothering him," Gibbons added. "But, he's good enough to play and he wants to play and he's gutting it out at this time of year. I tip my hat to him. Yeah, he's been struggling with the bat a little bit. He had a big hit down there in Texas really to get us here."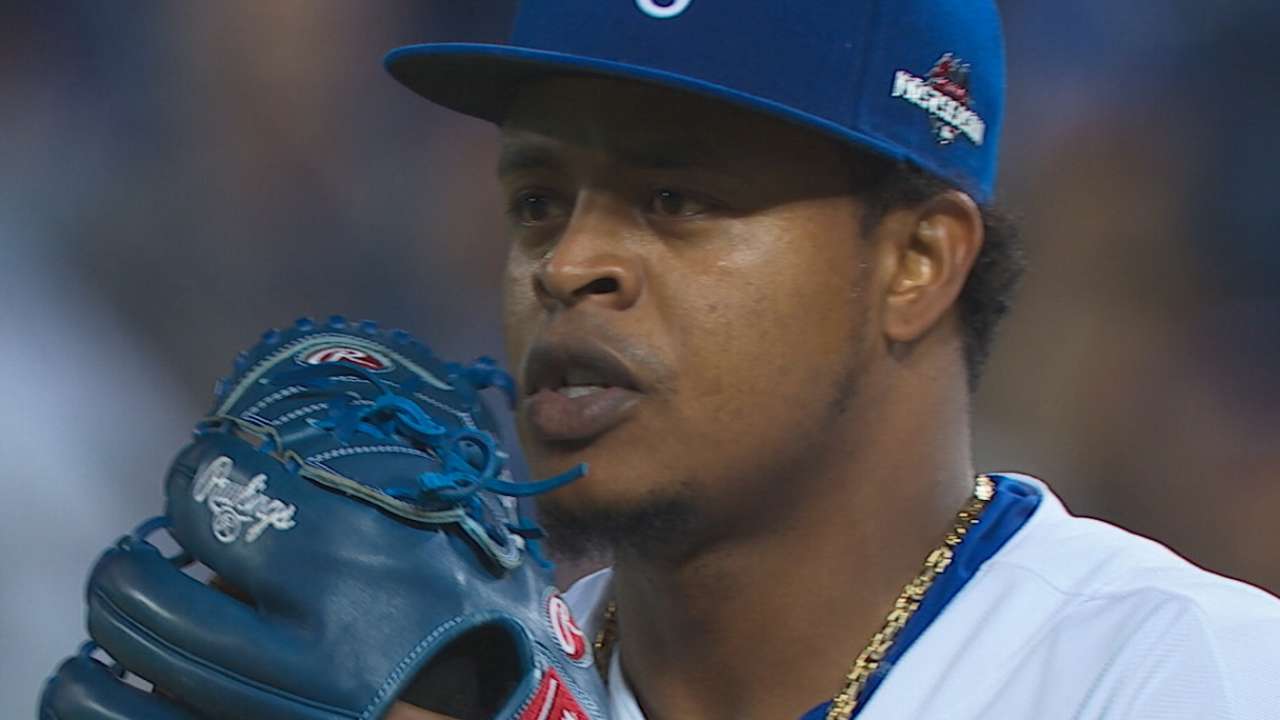 That big hit was the three-run homer Tulowitzki belted as part of a two-hit, four-RBI outburst in Game 3 of the AL Division Series against the Rangers. Down 0-2 in that series, that breakout performance helped put Toronto on its path to an incredible comeback that clinched a spot in the ALCS.
For one night, Tulowitzki was Tulo again.
On Friday night, in the top of the sixth inning, Tulowitzki had a prime chance to rekindle his role as hero. With Kansas City holding a 3-0 advantage, Josh Donaldson and Jose Bautista drew back-to-back walks to set the table against Volquez. While laboring some with his command, the Royals' righty rebounded with a called strikeout against Edwin Encarnation and a flyout off the bat of Chris Colabello.
"Everything could've changed with one swing," Colabello lamented.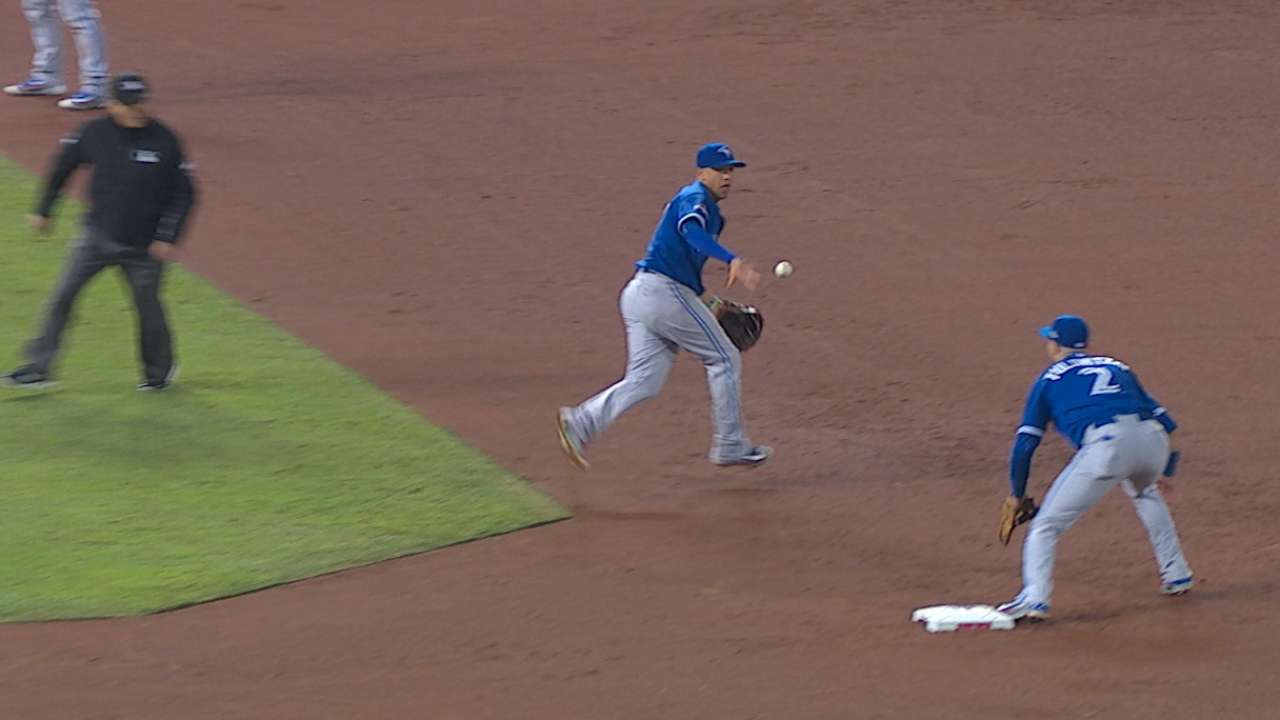 As it happened, Tulowitzki only took one swing in the at-bat that followed against Volquez. The starter's pitch count had ticked over the century mark and the Blue Jays shortstop worked to a full count before fouling off a pitch. Volquez then fired a 95-mph two-seamer that began outside, but snapped back over the edge of the plate for a strikeout.
Tulowitzki spun in the batter's box and looked up in disbelief, while Volquez bellowed as he bounded off the mound.
"He made pitches when he needed to," Tulowitzki said.
Tulowitzki's ailing back did not come into play with the bat still on his shoulder.
"I'm out there playing," he said. "So, obviously, I'm good to go."
Jordan Bastian is a reporter for MLB.com. Read his blog, Major League Bastian, follow him on Twitter @MLBastian and listen to his podcast. This story was not subject to the approval of Major League Baseball or its clubs.