Oct. 16 Edinson Volquez, Alcides Escobar postgame interview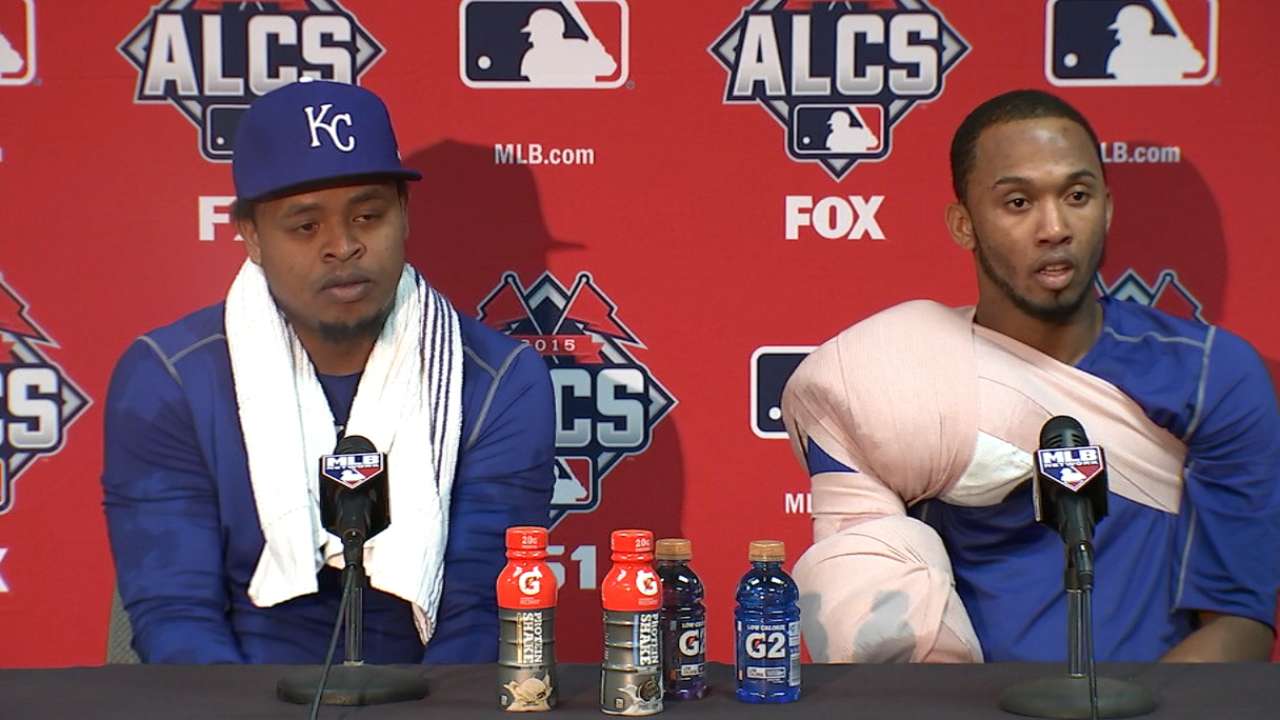 Q. Edinson, did you have a sense, there were a few times that it looked like on called strikes that you were really frustrating the Blue Jays. The second part of the question is, did you think you would be able to stay the whole 6th? Did you think that Ned would let you stay out the whole 6th with all the pitches?
EDINSON VOLQUEZ: I think it was a lot of pitches really close. But, yeah, I was able to make a lot of really good pitches.

Q. Could you tell you were frustrating them? Did they seem to be frustrated walking away from the plate a few times?
EDINSON VOLQUEZ: I don't know. I don't know. I was just making my pitches. I don't know if they got frustrated or not.

Q. Edinson, the crowd during that inning when you were throwing all those pitches started yelling Eddie, Eddie, how much did that help you get through that inning?
EDINSON VOLQUEZ: Someone was telling me I was throwing 96 and 97. But hearing that from the fans, it's a lot of energy. They gave me more energy to pitch the way I pitched in that inning. And that was great to see all those fans there.

Like I said, it was a lot of energy.

Q. The other question was, you and Cueto are pretty good buddies, and he pitched a great game the other night. Did that inspire you, did you feed off that a little bit, maybe?
EDINSON VOLQUEZ: Yeah, we're friends. And I see what he did the other day and I was like it was time for me to do something good, especially in playoffs, besides tonight I haven't won a game in playoffs and I got one tonight. And I think I got a little bit of motivation from him.

Q. For Edinson, we spent a lot of time in the pregame talking about pitching inside. That didn't seem to happen a lot. Tell us about the shift philosophy there.
EDINSON VOLQUEZ: I said it yesterday, I said I'm going to pitch inside, both sides of the plate. And tonight we come from the bullpen, I talked to Salvy about how we're going to pitch this guy. And we changed the whole plan, the game plan. It was like, okay -- we know they've got a lot of power hitters over there. And he told me, like how do you feel pitching down and away? And I said, I feel sexy tonight (laughter).

He was all right, we're going to change the game plan. That was good, I was able to command my fast down and away.

Q. Leadoff guys on-base percentage are supposed to be high, take a lot of pitches. You do the opposite and it works for you guys. You swung at the first pitch, and you won the games. Is that a weird thing that goes on with you guys?
ALCIDES ESCOBAR: Always I swing the first pitch. And then he throw me a curve and I swing again. Like I say, Dale, the hitting coach, told me, when you see every ball right there, no matter what, swing.

Q. Could you hear the guys on the bench, they get excited when you swing at the first pitch?
ALCIDES ESCOBAR: Yeah, those guys, my teammate, he said when you go outside, continue to be aggressive, just swing the bat.

Q. You threw 37 pitches that that sixth inning, did it feel like 37?
EDINSON VOLQUEZ: It was long innings. But I was happy to stay under control and make a lot of good pitches to get out from that inning. And the key for that inning, I think, is don't panic. Stay under control and make a lot of good pitches. I've been in that situation before, so I don't have to -- I know how I've got to get out of that inning.

Q. Do you think Ned might come get you?
EDINSON VOLQUEZ: Yeah, I was looking over there. I looked to the bullpen and I didn't see anybody warming up. And I turned around looking for the dugout and I see -- I saw him sitting over there. I was like, all right, I guess I can still pitch. And I threw a lot of pitches. They came out to the mound and told me, stay under control and get this guy. And stay down and away with this guy. He told me, I know we're pitching down and away tonight, keep doing it.

Q. For both of you guys, talk about the crowd and just the role that they played throughout the game. And it seems like they never let up, the rally towels were going the whole time.
EDINSON VOLQUEZ: It's unbelievable. When you play at home and you see about 45,000 people supporting you, it's a lot of motivation for the team. And I think everybody love to see a lot of fans cheering for us.

Q. How special was it to pitch with a lead?
EDINSON VOLQUEZ: Best feeling in the world. It's always great when you take the lead and you're pitching the first inning, and you come back to the dugout and right from the get-go you score runs. It's less pressure for everybody, I think. Everybody was like, let's go, we've got to get some more. It goes through your mind. We stay in the game longer to get a win.

Q. You told Perez you were feeling sexy, obviously things were working with you guys tonight, even with his hand a little banged up, he got the water cooler to pour on you?
EDINSON VOLQUEZ: I told him, it's too cold, don't do that. He said okay, we won't do that. As soon as I found out he was right behind me with a bucket and poured it over my head.

Q. What does he mean to this clubhouse?
EDINSON VOLQUEZ: We win the first game it's going to be big for the team, especially when we play at home. You don't want to go to Toronto 0-2. And it was good for the team and for the city, I think. Now we've got a couple more games to play. And I hope we can win tomorrow and show up.

Q. Why do you think you guys win so frequently when you bat leadoff?
ALCIDES ESCOBAR: When I see the first pitch, like 40-19, everyone says just continue to swing the bat and time to get on base.

Q. The second half didn't go the way you wanted to. How does it feel to be contributing the way you have in the playoffs?
ALCIDES ESCOBAR: I got a really good feeling between the playoff last year and this year. Like we came back in the eighth inning, coming back home and won the series here. And tonight starting, we win the game, like he said, we won here, is come back tomorrow and play hard to win.

Q. Ned was talking about some of your players, including yourself and Salvador, the fun you have going to the field. Can you talk about that, what is the fun for the game?
ALCIDES ESCOBAR: The game is always, like I say, play, go outside and be a lot of fun, everybody on the team go outside and play hard and have a lot of fun. And for my inning, it's like play hard.