Fans view Game 1 outdoors in chilly Toronto
Hundreds gather in Nathan Phillips Square to root on Blue Jays in ALCS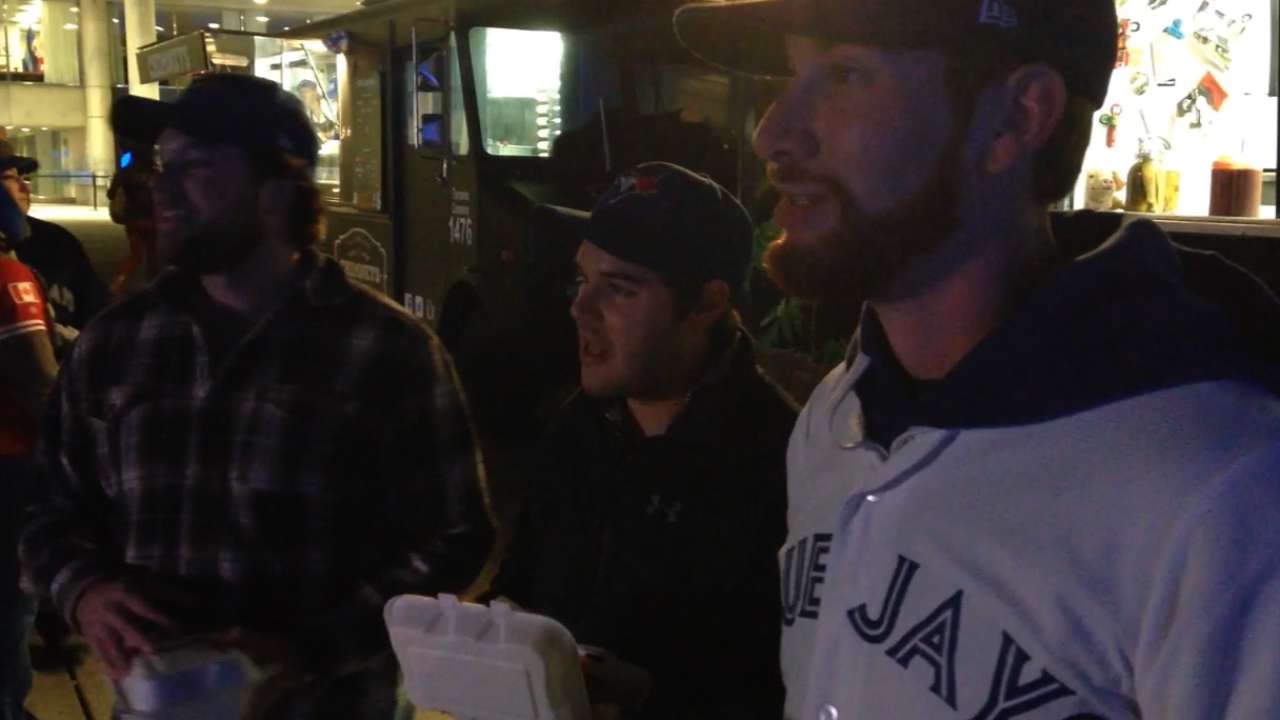 TORONTO -- As temperatures hovered around five degrees Celsius -- not ideal baseball conditions -- Blue Jays fans filled Nathan Phillips Square on Friday night to watch Game 1 of the American League Championship Series against the Royals on the big screen.
Several hundred people turned out bundled up in winter gear to show their support for their hometown team as the Blue Jays opened the series in Kansas City with a 5-0 loss.
• Shop for Blue Jays postseason gear
"These are Jays fans; we're cold, but it's all good," Rob Niddery, 45, a lifelong Blue Jays fan. "It's been a while since we've had a winner, but this team is good."
To keep warm, most fans donned several layers of clothes, tuques and gloves, while others made frequent trips across the street to Tim Hortons to warm up with coffee or hot chocolate. One fan dressed in a full chicken costume, both for warmth and attention.
"I'm wearing a chicken suit and a scarf because it's cold today," said Brian So, a 29-year-old Toronto man who was decked out head to toe in yellow feathers with a Blue Jays pullover jersey. "All Blue Jays fans here are supporting our team because it's not so much fun watching the game by yourself. We're getting together, and we're hoping it explodes. You can't beat that feeling."
Several food trucks flanked the square to keep fans fed, doing their best to replicate the ballpark experience. Steffen Marin, owner of Heirloom, was selling corn dogs, fried chicken and fried pickles out of his truck.
"I base my menu on the crowd," Marin said. "I've got some cool stuff you can't find at the ballpark or stadium."
Zach Bird, a 20-year-old Whitby, Ontario, native, wasn't born the last time the Blue Jays made the playoffs. Coming out to NPS was his way of taking in a postseason game for the first time.
"It's been 22 years, man," Bird said. "I've never seen a playoff game."
Jamie Ross is an associate reporter for MLB.com. This story was not subject to the approval of Major League Baseball or its clubs.