Escobar the unlikeliest of leading men
Despite ordinary OBP, penchant for first-pitch swings working for Royals' shortstop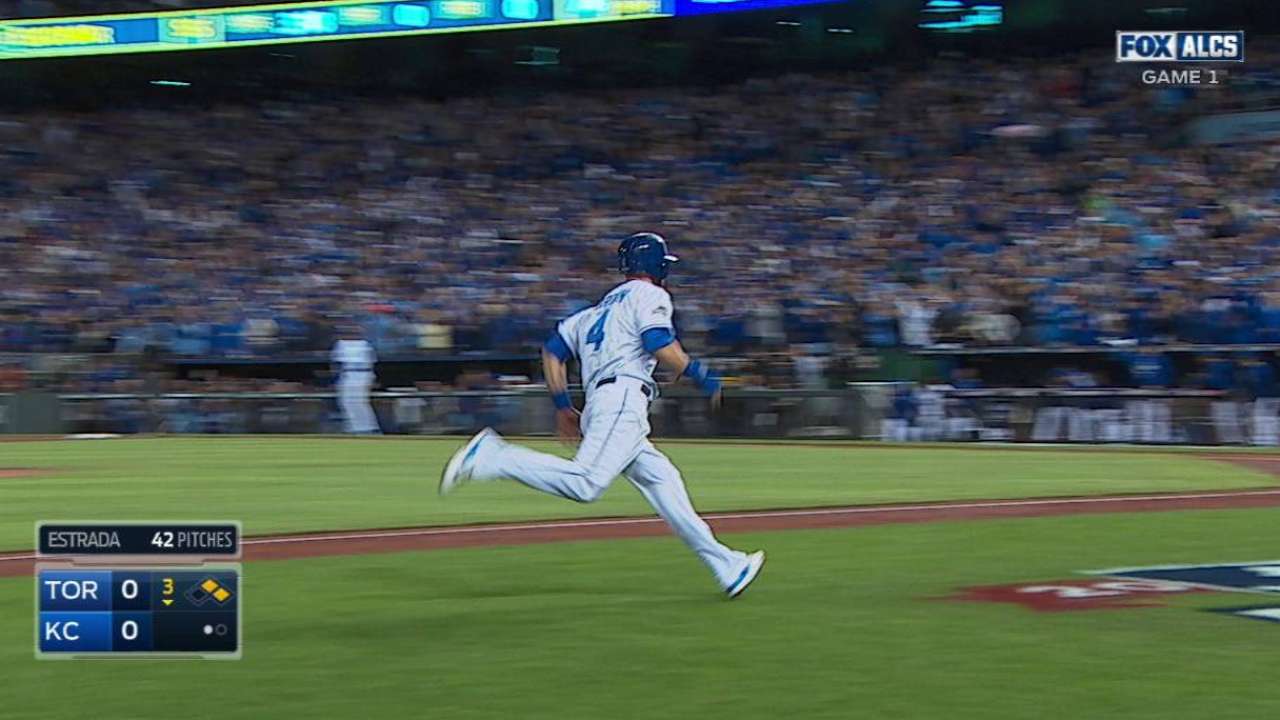 KANSAS CITY -- Your best on-base guys are supposed to hit at the very top. It's Lineup Construction 101, a baseball axiom few, if any, would ever argue. And yet the Royals, true to their nature, continually defy it. Somehow, some way, they're basically unbeatable with slap-hitting shortstop Alcides Escobar batting leadoff, even though his career on-base percentage is .298.
In Game 1 of the American League Championship Series on Friday night, Escobar had two hits, scored two runs and drove in another, setting an early tone in Kansas City's 5-0 victory over Toronto. Since the start of last season, the Royals are 46 games above .500 when Escobar is their leadoff hitter, a stretch that now includes 15 wins in 21 postseason games.
• Shop for Royals postseason gear
Manager Ned Yost can't explain it.
"Statistically speaking, it doesn't make any sense," Yost said late Friday night, shaking his head. "It just doesn't. But it works. It works. We find ways to win baseball games."
Yost tried to tempt fate late in the year, because Escobar was slumping and the Royals suddenly had options. For a three-week period from Sept. 7-29, Yost mainly went to Ben Zobrist and Alex Gordon as his table-setters and batted Escobar ninth.
Kansas City lost 13 of 21 in that stretch, so with one week left in the season and home-field advantage still within reach, Yost went back to Escobar at the leadoff spot.
The Royals ended the regular season with five straight wins.
"It's just the chemistry of the lineup, somehow, that is kind of unexplainable to me -- how it works and why it works," Yost said. "But it does."
Shortly after Escobar reclaimed his job as the leadoff hitter, hitting coach Dale Sveum informed him about another statistical anomaly he's somehow at the center of: Kansas City, Sveum said, was 39-17 when Escobar swung at the game's first pitch.
So Escobar began to do it. A lot. He swung at the first pitch he saw in each of the last five regular-season games, and thrice in the five-game AL Division Series.
Then Escobar did it again in the ALCS opener, and he lined a Marco Estrada fastball for a leadoff double. He did it again in the third inning, and ripped an Estrada curveball for another double -- this one scoring the game's first run in an eventual two-run inning.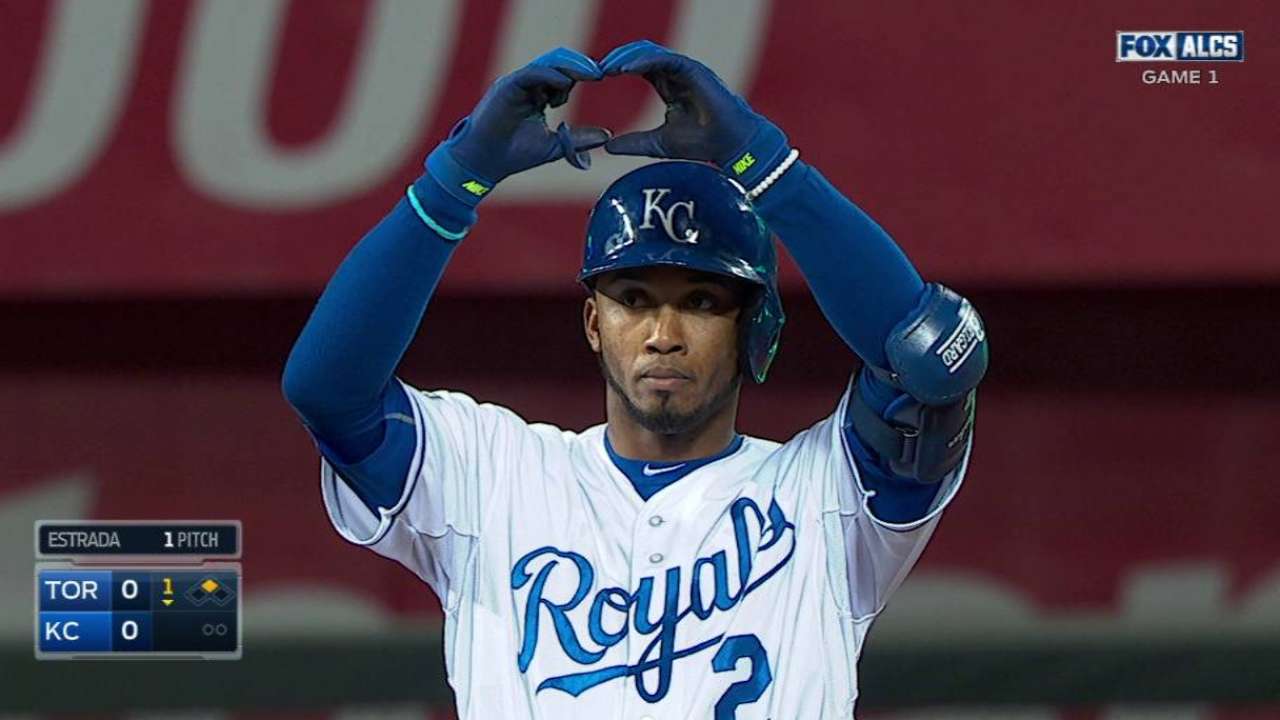 "Dale, the hitting coach, told me, 'When you see the ball right there, no matter what, swing,'" said Escobar, who now has nine multihit games in the postseason, fourth most in franchise history.
"Those guys, my teammates, they said, 'When you go outside, continue to be aggressive. Just swing the bat.'"
It's a logic that runs contrary to what a leadoff hitter is typically supposed to do, but the Royals have learned to embrace it. Escobar's presence at the top allows Yost to achieve lineup balance, with none of his lefties stacked together and his two corner outfielders -- Gordon and Alex Rios -- at the bottom.
So what if Escobar's .293 on-base percentage was dead last among players with at least 500 plate appearances at the leadoff spot this season -- the Royals won 63 percent of the time, and they seemingly aren't stopping.
"Incredible," Escobar said of that stat. "That's the only way I can put it -- incredible."
Alden Gonzalez is a reporter for MLB.com. Follow him on Twitter @Alden_Gonzalez and Facebook , and listen to his podcast. This story was not subject to the approval of Major League Baseball or its clubs.