Oct. 16 John Gibbons postgame interview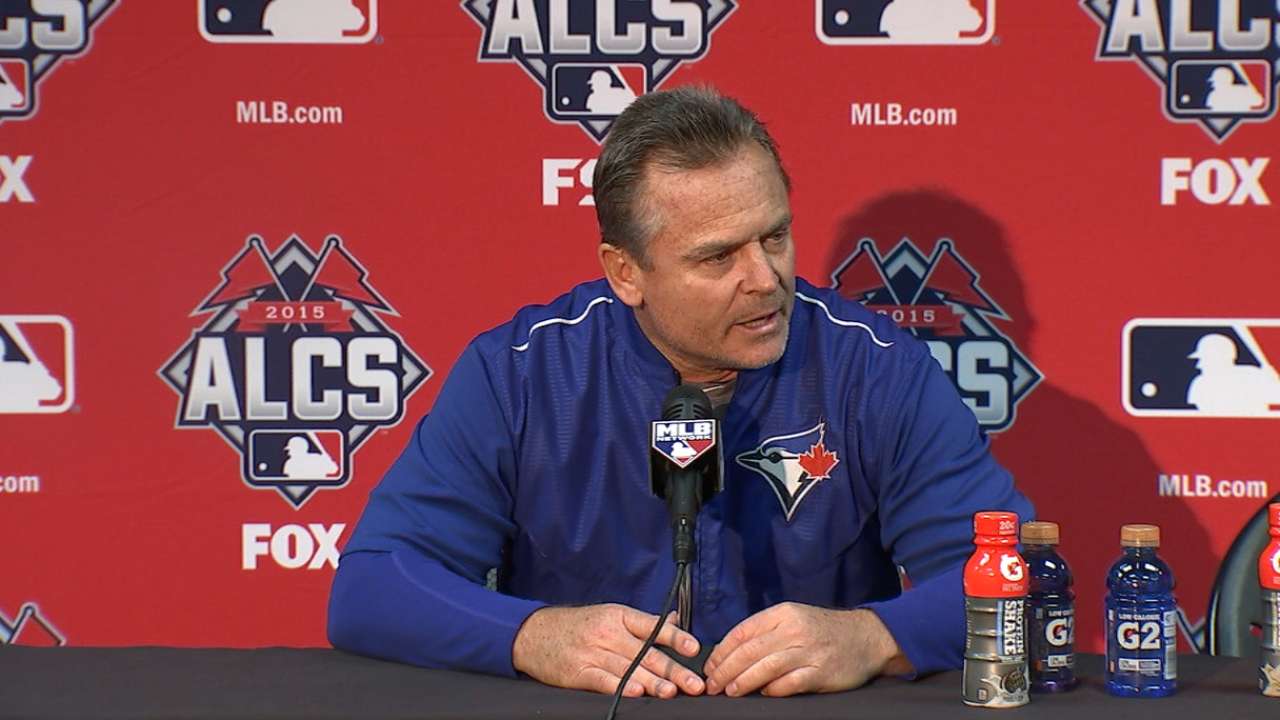 Q. The lineup they were able to put together with Perez, Gordon, and Rios at the bottom, how much more difficult does that make things for you?
JOHN GIBBONS: You know, it's a very good lineup, it's very balanced. The thing they do, they're a high-contact team. They can put the ball in play. They battled Escobar pretty hard, the guys at the top. Escobar had a couple big doubles. And Cain, some real good at-bats, trying to shoot the ball the other way.

They're dangerous, and they put the ball in play, so things happen and they have good team speed. Tonight was the Volquez show, he was tremendous. We had a couple innings there, had a couple walks, we got some guys on base the one time, it came up empty. And he was that good tonight, and of course they get to the bullpen, those guys, Herrera came through, walked through us pretty easily. And then we made a run a little bit at Madson, but came up empty.

Q. What's your degree of concern with Encarnacion?
JOHN GIBBONS: I don't know, he's been battling this thing, I don't know how long it's been now. X-rays are negative. But it swelled up a little bit more than we've seen it in the past. Did that early in the game. We'll see how he is tomorrow. Hopefully he can go. Usually a day or two it calms down on him and he's able to get through it. We'll see. It's an early game tomorrow, hopefully he'll be ready to go.

Q. What are your thoughts on Tulowitzki, does the shoulder still bother him quite a bit or just having a bad stretch?
JOHN GIBBONS: I know it still bothers him. But he's good enough to play and he wants to play and he's gutting it out this time of year. I tip my hat to him. He's been struggling with that a bit. He had a big hit down in Texas to get us here.

We can't focus on him tonight, because everybody got shut down, really.

Q. What did you see from Escobar tonight in his second playoff starting the week for you guys?
JOHN GIBBONS: Actually, he was pretty good. They battled them up top, Escobar got the big double at the first baseline, and Cain had a good at-bat there. And of course, the solo home run by Salvy.

Overall didn't give up a lot of hits. Early on I thought he was especially sharp. But he looked like he lost a little bit. He knows how to survive and he kept us in the game. We just got shut out, really.

Q. Volquez seemed like he was living on the edge, just outside of the zone. Was that the big issue? What can you do to overcome that when a guy is just on the edges?
JOHN GIBBONS: I don't know, he shut down a good hitting team. That's really how good he was. On top of that he has a good arm. His ball is ducking and darting everywhere. We thought we had a chance to get him there in the end, but he got out of that inning and completed that inning. But really, he was that good tonight.

Q. Did Edwin get hit on the hand during that at-bat or did he just reinjure it some other way?
JOHN GIBBONS: That thing has been bothering him all year. Every now and then he takes a swing and it just -- whatever happens, just grabs it.