V is for Volquez, victory in ALCS Game 1
Royals starter changes game plan to stifle high-powered offense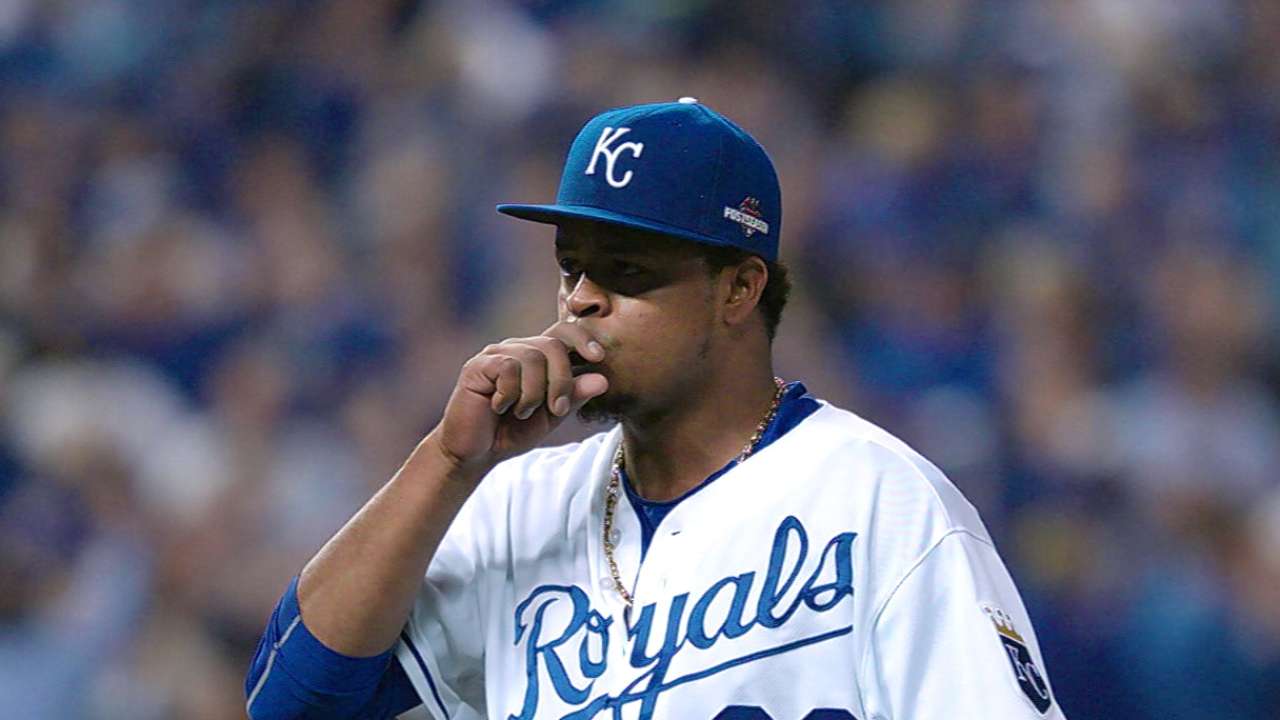 KANSAS CITY -- During his news conference Thursday, Royals right-hander Edinson Volquez pounded home the message: To beat the Blue Jays, you have to pitch inside.
That sure seemed like Volquez's game plan. But Volquez and catcher Salvador Perez scrapped that plan less than an hour before Kansas City's 5-0 win over Toronto in Game 1 of the American League Championship Series on Friday. Seriously.
• Shop for Royals postseason gear
"Yesterday, I said, 'I'm going to pitch inside, both sides of the plate,'" Volquez said. "And tonight we come from the bullpen, I talked to Salvy about how we're going to pitch these guys. And we changed the whole plan, the game plan. It was like, 'OK, we know they've got a lot of power hitters over there.' And he told me, 'How do you feel about pitching down and away?' And I said, 'I feel sexy tonight.'
"[Perez] said, 'All right. We're going to change the game plan.' That was good. I was able to command my fastball down and away."
Considering the magnitude of the moment and the opponent -- the high-powered Blue Jays -- Volquez tossed the game of his life. He silenced Toronto on two singles through six shutout innings. Volquez walked four and struck out five, throwing 111 pitches (69 strikes).
But there was still the grueling, dramatic sixth inning that Volquez had to navigate. He walked the first two hitters, Josh Donaldson and Jose Bautista, as the Royals clung to a 3-0 lead. That brought up the middle of the dangerous Blue Jays order, starting with Edwin Encarnacion and Chris Colabello.
Volquez -- with the crowd chanting "Eddie! Eddie!" -- worked his way through it, striking out two of the next three hitters, including Troy Tulowitzki with a called third strike to end the inning.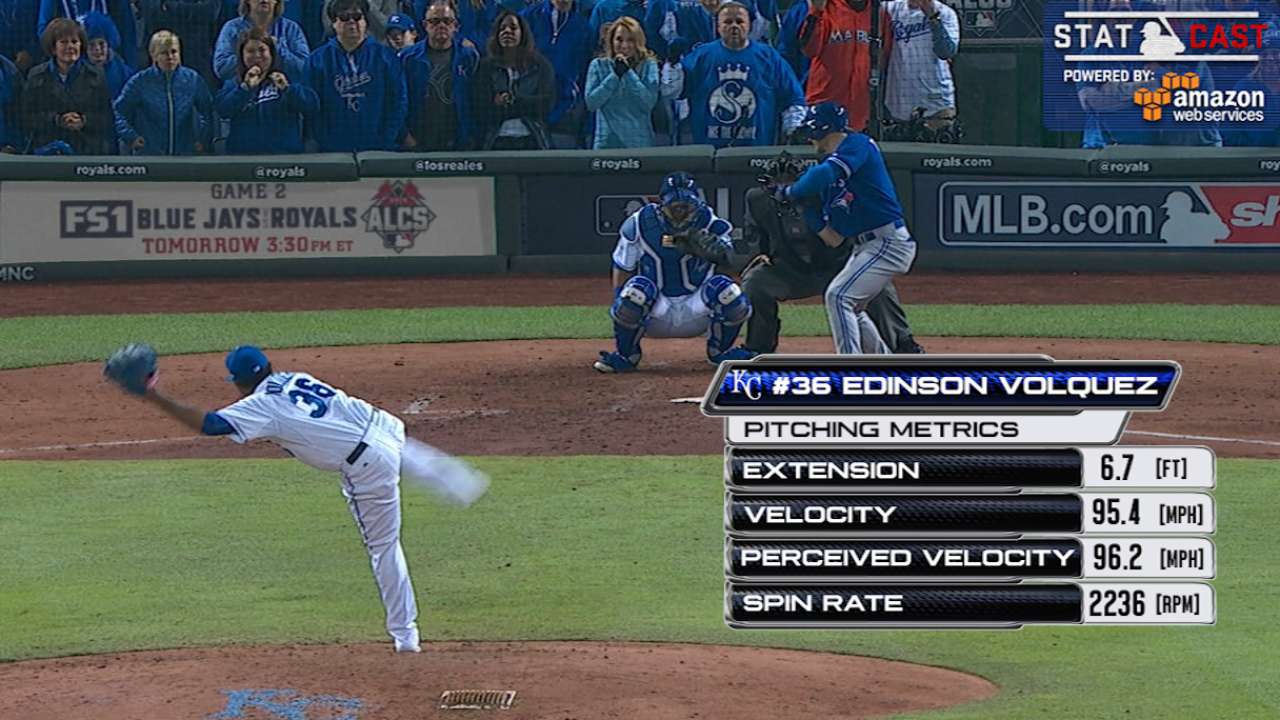 Volquez said he had heard similar chants last year in Pittsburgh, but nothing this vocal.
"You hear 40,000 or 45,000 fans," Volquez said, "you want to do something for them. I'm glad I did."
But make no mistake: That sixth inning was work. Volquez threw 37 pitches and the half-inning lasted 29 minutes. Royals manager Ned Yost said he was close to taking Volquez out.
"I mean, one more guy got on, and we were going to go get him," Yost said.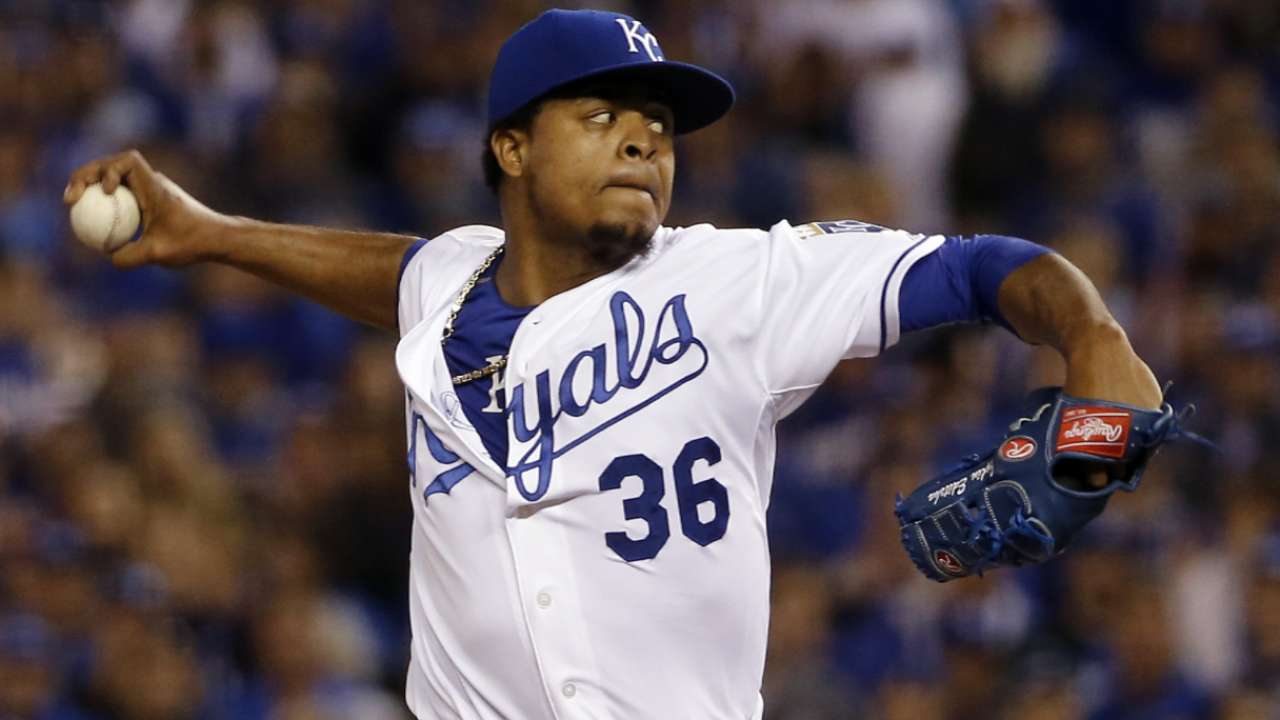 Right-hander Kelvin Herrera was up and warm in the bullpen, but he then sat as Volquez got closer to getting out of the jam. Volquez never realized that Herrera was ready.
"I looked to the bullpen and I didn't see anybody warming up," Volquez said. "And I turned around looking for the dugout and I see -- I saw [Yost] sitting over there. I was like, 'All right, I guess I can still pitch.' And I threw a lot of pitches.
"[Pitching coach Dave Eiland] came out to the mound and told me, 'Stay under control and get this guy. And stay down and away with this guy.' Then he told me, 'I know we're pitching down and away tonight, keep doing it.'"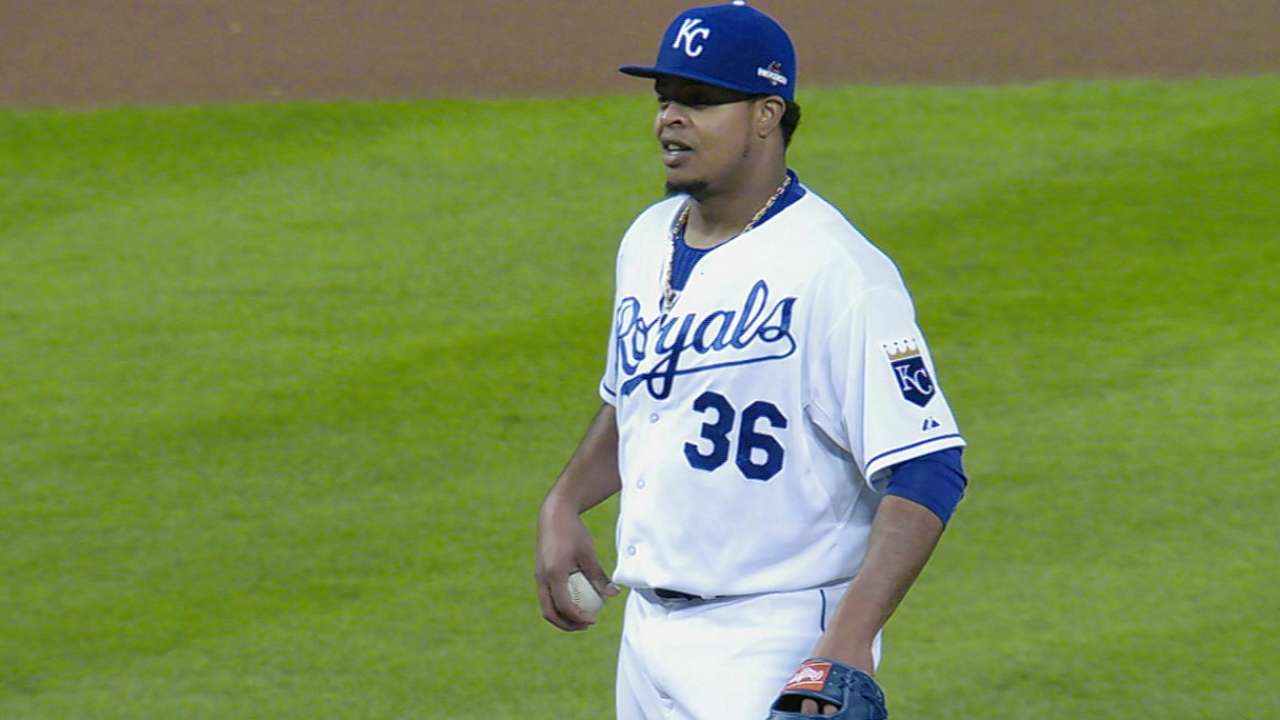 Volquez said he likely will feel the aftermath of those 37 sixth-inning pitches on Saturday.
"Yeah, tomorrow I'll feel it," Volquez said, laughing. "It was a long inning. But I was happy to stay under control and make a lot of good pitches to get out from that inning. And the key for that inning, I think, is don't panic: Stay under control and make a lot of good pitches. I've been in that situation before, so I know how I've got to get out of that inning."
And now the Royals sit a game up in the series.
"We win the first game, it's big for the team, especially when we play at home," Volquez said. "You don't want to go to Toronto 0-2. And it was good for the team and for the city. And I hope we can win tomorrow."
Jeffrey Flanagan is a reporter for MLB.com. Follow him on Twitter at @FlannyMLB. This story was not subject to the approval of Major League Baseball or its clubs.