Blue Jays miss 2 chances to break through
Toronto held scoreless for just sixth time in 2015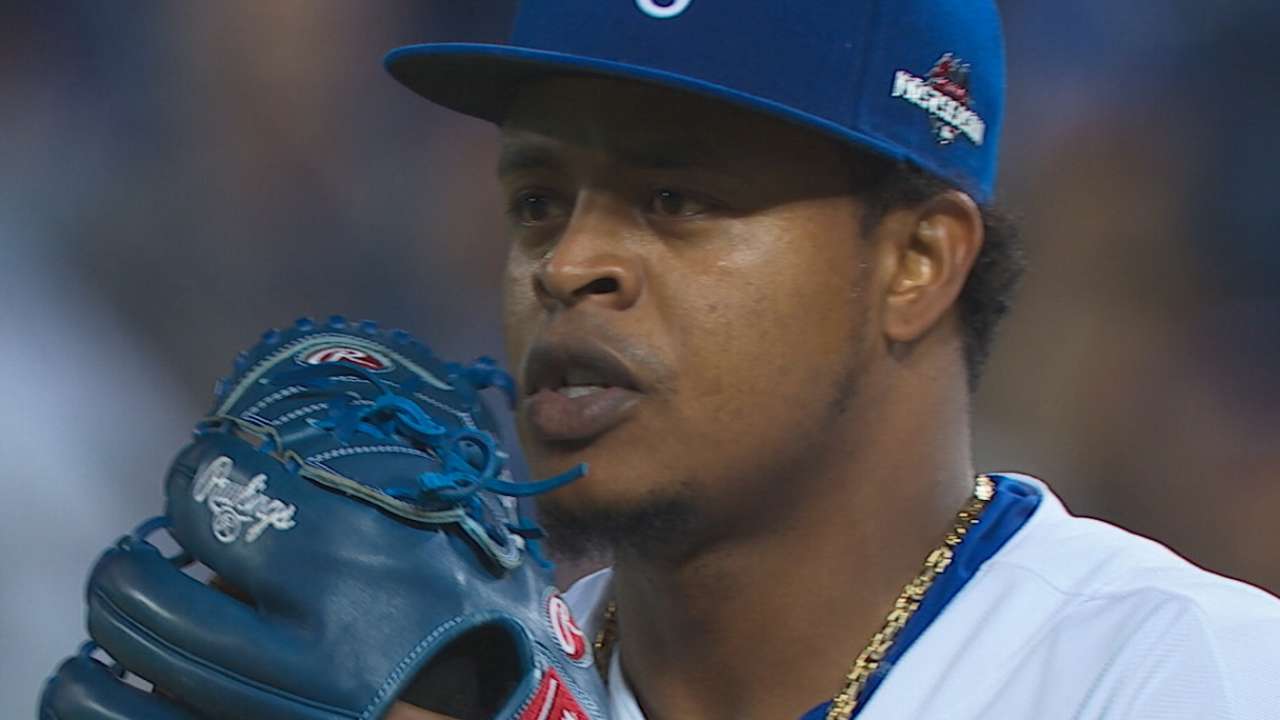 KANSAS CITY -- Offensive production was nowhere to be found for the Blue Jays in Game 1 of the American League Championship Series on Friday night, but it wasn't because they lacked opportunities. The chances were there. The timely hits were not.
Toronto had a pair of prime scoring opportunities, in the sixth and eighth innings, and both times came up short in a 5-0 loss to the Royals (Game 2, Saturday, 3:30 ET, FOX Sports 1/Sportsnet). It was the sixth time all year that the Blue Jays were unable to score a run and the fourth time they didn't manage an extra-base hit.
Despite the jarring numbers, Toronto had at least a couple of cracks at Kansas City's pitching staff. In the sixth inning, there was a pair of baserunners on with nobody out, and in the eighth, the Blue Jays had two on with one out. Both times, they came up short.
• Dress for the ALCS: Blue Jays shop | Royals shop
"We didn't catch many breaks," Toronto first baseman Chris Colabello said. "We had a couple guys on there a few times. Everything could've changed with one swing. All in all, I don't think you can complain about our at-bats for the first six, seven innings, especially. You just move on."
The sixth inning began with a pair of nine-pitch walks by Josh Donaldson and Jose Bautista. That had the potential for the start of something big, but Royals right-hander Edinson Volquez then took things to another level. He quickly got ahead of Edwin Encarnacion, 0-2, and two pitches later got him looking on a called third strike.
Colabello had a shot and continued to make Volquez work by eventually getting into a full count. On the eighth pitch of the at-bat, Colabello hit a hard fly ball to left-center field. For a moment, it appeared headed for the gap, but then it seemed to die in the air before landing in Alex Gordon's glove.
Shortstop Troy Tulowitzki represented the last chance, and he quickly got into a hitter's count at 3-1. The most hittable pitch of the at-bat came in that count, but instead of swinging, Tulowitzki took it for a called strike. Two pitches later, he also struck out looking, on a 95-mph fastball. Just like that, the Blue Jays' best opportunity of the game was wasted.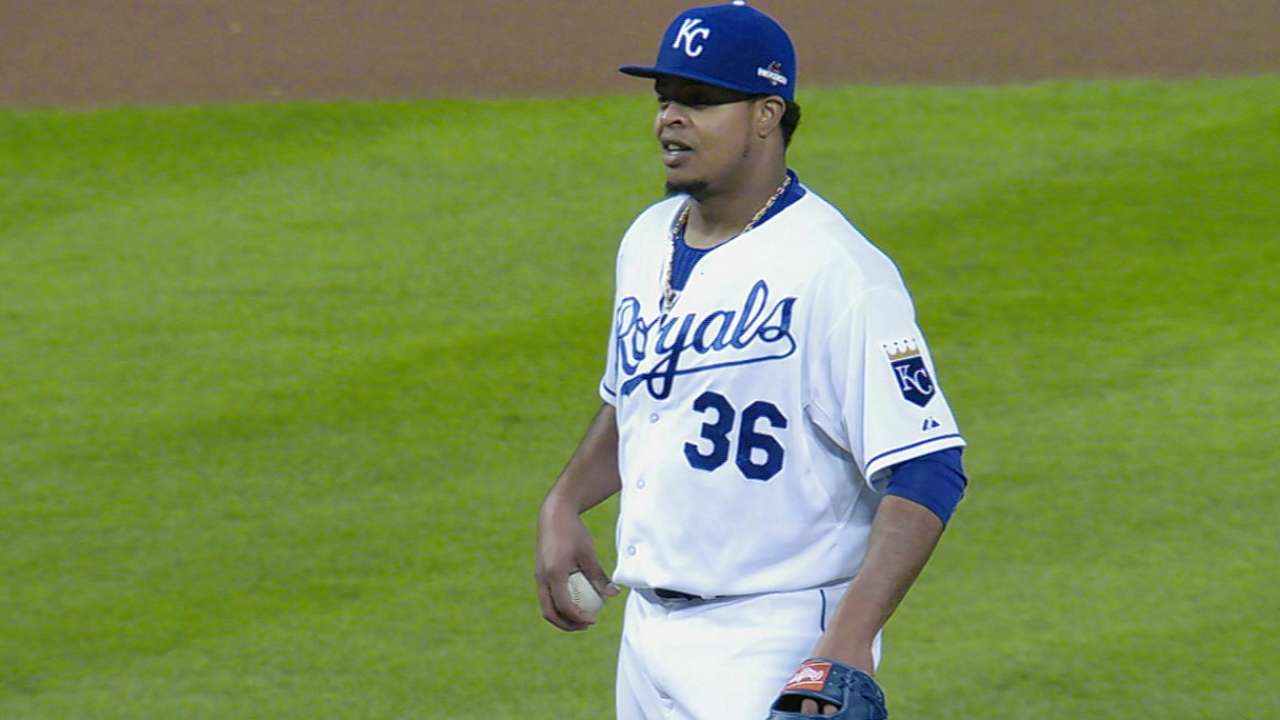 "The key for that inning, I think, is don't panic," said Volquez, who didn't allow a run on two hits and four walks over six innings. "Stay under control and make a lot of good pitches. I've been in that situation before, so I don't have to -- I know how I've got to get out of that inning."
The eighth inning told a similar story. The Blue Jays once again put two runners on, this time with one out against right-hander Ryan Madson. The big blow this time came before Toronto even swung a bat -- Encarnacion had to be removed from the game because of a sprained ligament in his left middle finger. That brought pinch-hitter Justin Smoak to the plate with two runners on, and he promptly fouled out to first base.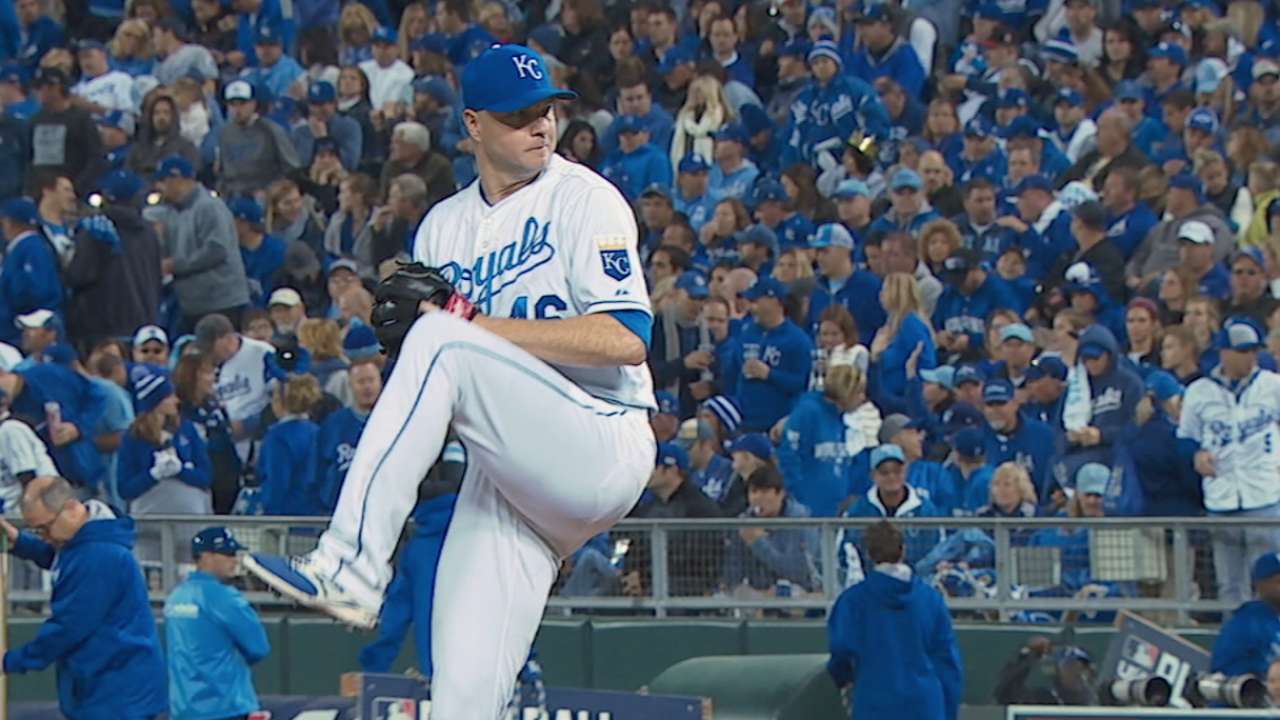 Colabello followed with a ground ball to second base, and that was as close as the Blue Jays would get. Kansas City increased its lead to 5-0 in the bottom of the eighth and never looked back, while Toronto finished the night 0-for-7 with runners in scoring position and left nine men on base.
"You've got to give them credit," Donaldson said. "We had a few opportunities. We weren't able to get that big knock. ... Sometimes you have to give credit to the other team."
Gregor Chisholm is a reporter for MLB.com. Read his blog, North of the Border, follow him on Twitter @gregorMLB and Facebook, and listen to his podcast. This story was not subject to the approval of Major League Baseball or its clubs.