4 ingredients for Mets winning the NLCS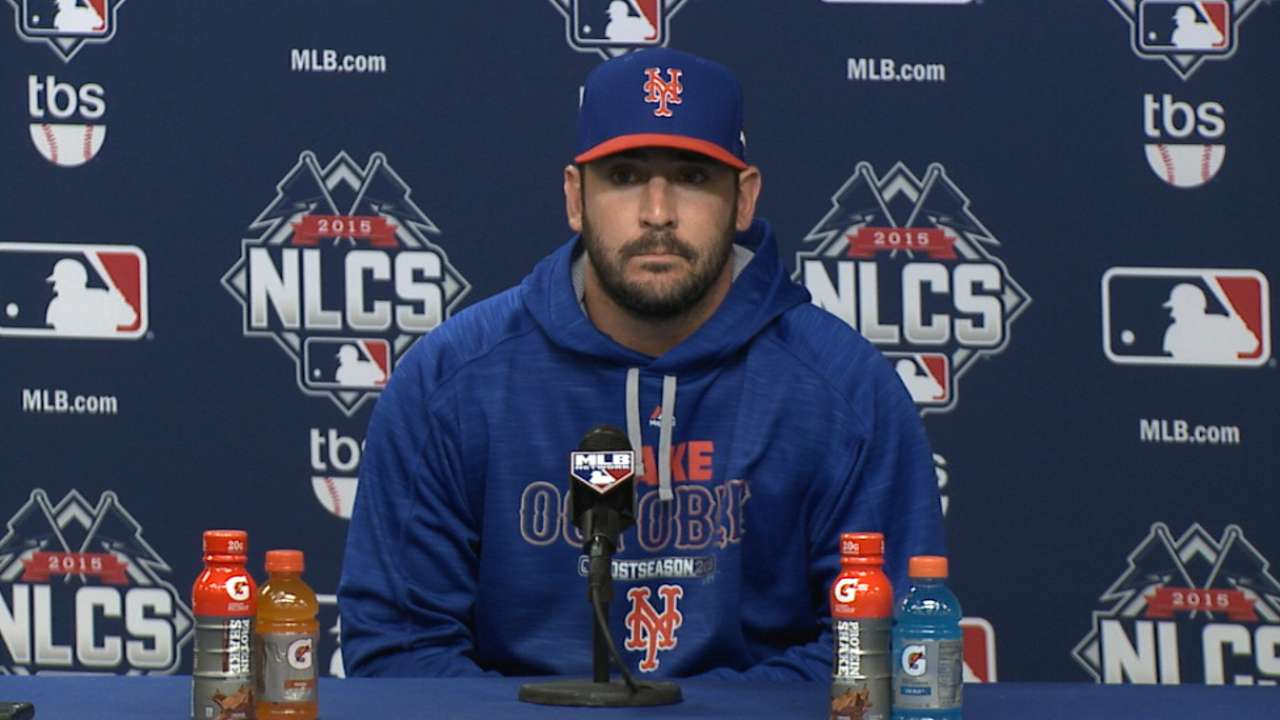 NEW YORK -- It's been nine years since the Mets' most recent National League Championship Series, and 12 since Chicago last stepped foot in the series that decides the NL pennant. Which is why Saturday's Game 1 start arrives packed with anticipation -- as two franchises with starving fan bases square off in a series that should feature a significant clash of styles.
Here are the four ingredients necessary for the Mets to advance to their first World Series since 2000.
• Get set for NLCS: Shop for Mets postseason gear
1. Battle of youth must spin New York's way
Mets general manager Sandy Alderson laid to rest years worth of speculation Friday by denying the validity of the many trade rumors to surface between the Cubs and Mets over the past few seasons. To many, New York and Chicago seemed like logical trade partners, with the Mets rebuilding via an influx of young pitching and the Cubs focusing on developing young hitters. But nothing between Alderson and Cubs president of baseball operations Theo Epstein ever came to pass, and now the fruits of their separate labors are set to face off on one of baseball's brightest stages.
"They're probably happy they didn't make a trade," Alderson said. "And we're happy we didn't make a trade."
The Cubs will see each of the Mets' four prized young arms at least once, with Matt Harvey, 26, scheduled to start Game 1 and either Noah Syndergaard, 23, or Steven Matz, 24, slotted for Game 2. Tuesday's Game 3 lines up Jacob deGrom, 27, to pitch on regular rest, though the club hasn't confirmed that arrangement. Going with deGrom in Game 3 would make him available to return later in the series, if necessary.
• Syndergaard's availability may shake up rotation
They'll need to stymie a lineup of interchangeable combinations of power and speed, anchored by first baseman Anthony Rizzo, 26, and third baseman Kris Bryant, 23. Whether it's Kyle Schwarber, 22, or Jorge Soler, 23, in right field, Chicago should feature immense power potential from the No. 2 spot in the lineup. And even with Addison Russell, 21, set to miss the series with a hamstring injury, the Cubs are able to slot power-hitting Javier Baez, 22, in his place.
2. Take advantage of Jon Lester on the bases
Mets manager Terry Collins is the first to admit it, and the numbers back him up. New York is built on power, not speed, as its 51 stolen bases this season ranked 29th in the Majors. But if the Mets are smart, they will take advantage of Cubs starter Lester's well-documented struggles with runners on base. Lester, scheduled to start Game 1 on Saturday, allowed an MLB-high 44 stolen bases this season, easily the most in his 10-year career.
Lester's issues involve throwing the ball to first base from the rubber. Because he is so hesitant to do so -- he didn't attempt a pickoff during the entire 2014 season -- teams have spent this year building what would usually be reckless leads.
Don't expect Collins to suddenly send his mostly station-to-station lineup off to the races. But if the Mets do run, Curtis Granderson (team-high 11 steals) appears a likely candidate.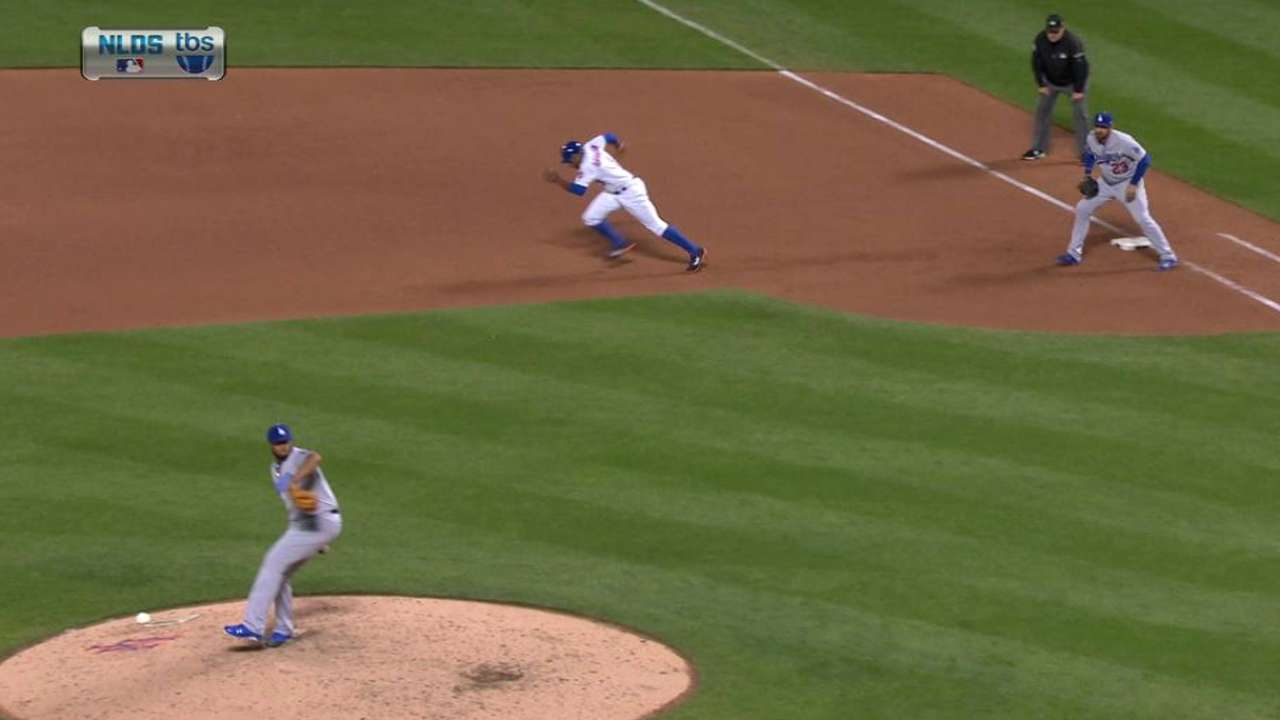 "[Sandy] Koufax didn't do a good job either with guys on base, because nobody ever got on," Collins quipped. "If you start stealing with guys who aren't real good at stealing, you run yourself out of innings. So we'll pick and choose our moments."
3. How many Harveys?
Harvey will take the ball for the Mets in Game 1 of the NLCS, and while a strong start from him could set the tone for the series in New York's favor, it still remains unclear what, if any, restrictions the Mets will place on the righty.
The Mets are still trying to control Harvey's innings in his first season back from Tommy John surgery. Although a Game 1 start suggests Harvey could pitch more than once if this series extends, Alderson was non-committal Friday about starting Harvey past the series opener.
Harvey also wanted to improve on his first postseason outing, in which he allowed three runs over five innings with seven strikeouts against the Dodgers in Game 3 of the NL Division Series.
4. More contributions from Duda, Wright
The Mets survived the NLDS against the Dodgers without steady production from a few of their best hitters. First baseman Lucas Duda struggled mightily in the five games, batting 2-for-18 with 11 strikeouts and no extra-base hits. The Mets suggested on Friday they are considering sitting Duda, a lefty, against left-handed starters this round.
Third baseman and captain David Wright had only one hit in the NLDS, but it was enormous, a clutch two-run single in the seventh inning of Game 1. Though Wright collected five walks and worked some deep counts at the plate, he struck out in seven of his 16 at-bats.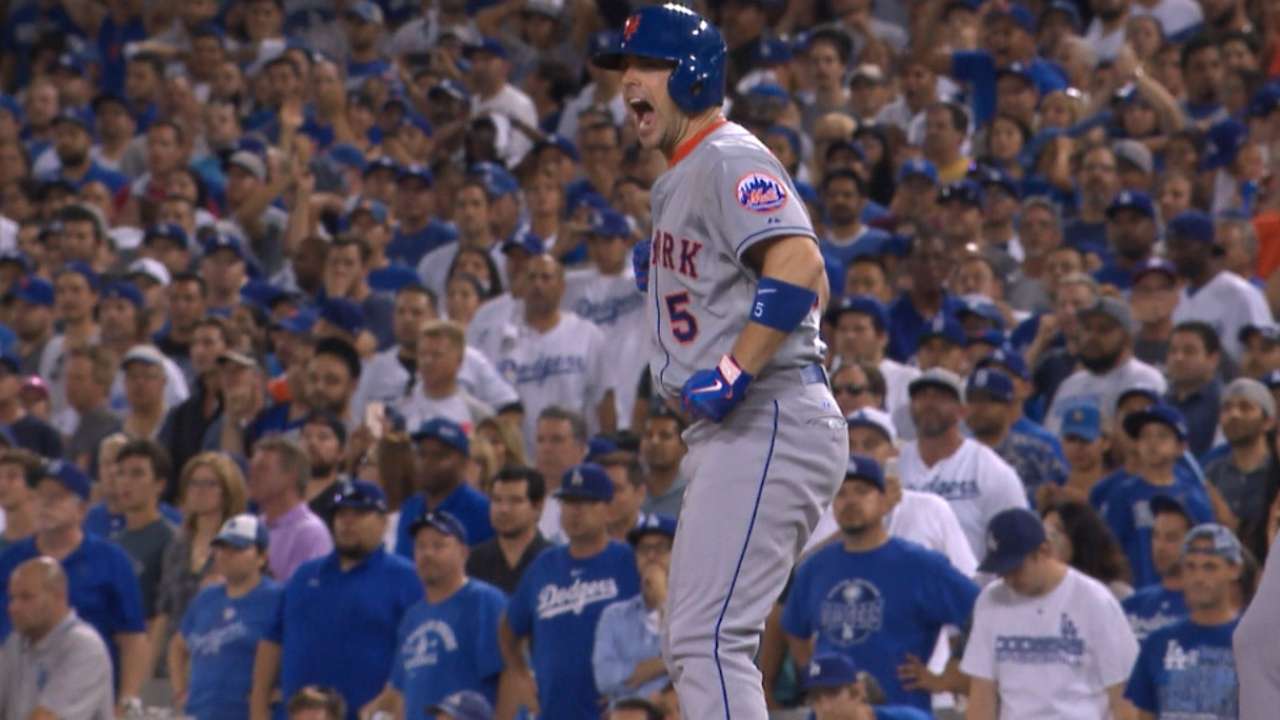 But as Collins pointed out, the Mets faced Clayton Kershaw and Zack Greinke in four of the five games against the Dodgers, which is enough to put a lot of hitters in slumps.
Joe Trezza is an associate reporter for MLB.com. Jamal Collier is a reporter for MLB.com. Follow him on Twitter at @jamalcollier. This story was not subject to the approval of Major League Baseball or its clubs.