Unlikely starting shortstops take NLCS center stage
Baez, Flores have dealt with a lot this season, now filling in for injured players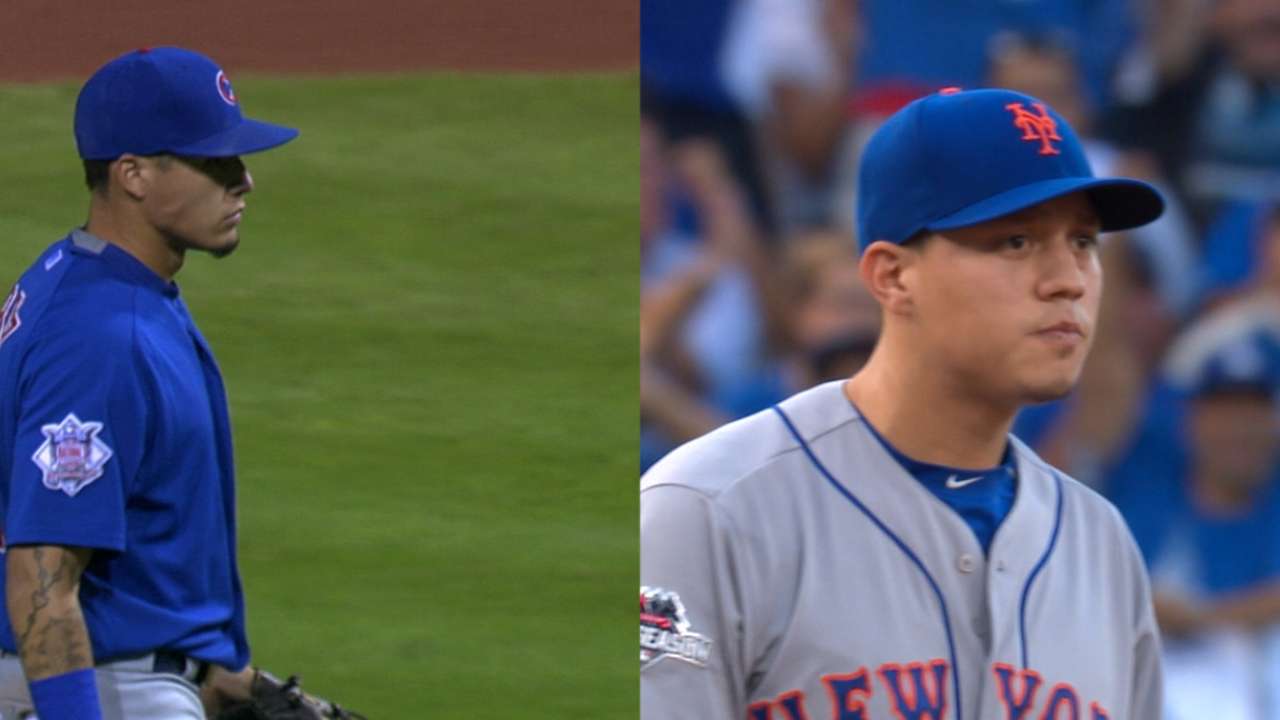 NEW YORK -- It was only a little less than three months ago that a pair of young infielders took the field amid a swirl of uncertainty. One was recovering from an injury that had cost him a likely summer summons to Chicago. The other was playing under the bright New York City lights that, at times, seemed to overwhelm him.
Javier Baez, as much as he tried not to, heard the rumors. A coveted prospect in a Cubs system bubbling with them, Baez found his name floating as a possible trade chip in the Cubs' efforts to add on at the non-waiver Trade Deadline. He had already lost his sister, then a chance to be called up because of an untimely injury. Now, he wondered if he'd be dropped by the only team he'd ever known -- a team, however, that didn't have an obvious fit for him at the time.
Wilmer Flores, whose shaky transition to shortstop had left some unconvinced he belonged there, didn't just hear rumors. He learned about a deal done. While the Mets played the Padres on July 29, myriad publications reported that Milwaukee had agreed to a trade that would have made Flores a Brewer. Flores, finding out the news from a fan, wept on the field for the world to see, only to then see the trade fall through.
As it turned out, neither player went anywhere -- except onto the biggest stages of their budding careers. For those who thought a Mets-Cubs National League Championship Series matchup was unlikely those few months ago, consider how even more improbable it is that the two shortstops who lacked a fit then would be key starters in October now.
* * * * * * *
"It's been a tough year for me," Baez said on Friday, following the Cubs' workout at Citi Field. "I've just tried to play through everything because life continues and you just have to keep moving on."
His has been a year laced with the sort of adversity that forces a 22-year-old to grow up too quickly.
It started on the field, where Baez learned through every swing and miss of 2014 that the swing-for-the-fences approach that got him plucked by Chicago with the ninth overall pick of the 2011 Draft wouldn't cut it in the Majors.
Baez homered in his Major League debut on Aug. 5, 2014, but also struck out three times. He closed out the season with much the same profile, showcasing the sort of power that made folks gush but also a swing with way too many holes. It landed him back at Triple-A Iowa to open 2015.
"Obviously, everybody wants to be in the big leagues, but I had to wait for the call," Baez said. "I was trying to be patient and learn day by day."
But that learning would be put on hold as family came first. His beloved little sister, Noely, who had defied the doctor's prognosis by living 21 years with spina bifida, passed away the day before the Minor League season opener. Baez left the Iowa Cubs to join his family and remained there, with the organization's blessing, for two weeks.
Noely's name is now tattooed on his forearm. Her tug on big brother's heart remains strong, too.
"I've been doing that for my whole life -- playing for her," Baez said. "I keep doing it for her."
By the time Baez returned to Iowa, Kris Bryant and Addison Russell had already left for Chicago. The glut of prospects that made the Cubs giddy about what could be this season also left Baez without a spot on the Major League roster.
He used the time in Triple-A to refine his approach, and it all seemed to be leading to a summer callup until Baez fractured a finger sliding into a base on June 7. The injury sidelined him for nearly seven weeks.
He returned just as it was rumored other teams wanted him in a Trade Deadline package and saw his production soar. Over his next 33 games with Triple-A Iowa, Baez hit .333/.383/.518 with 14 extra-base hits. His strikeout rate was a much more palatable 23.2 percent.
"From Javy's perspective, the biggest thing he has to do is stay ready," Joe Maddon told reporters this summer.
Maddon might as well have said the same thing entering the postseason, as Baez's readiness became paramount when Russell, the team's starting shortstop, suffered a hamstring injury in Game 3 of the NL Division Series. Baez finished that game in his place and then propelled the Cubs to a Game 4 win with a go-ahead three-run homer off St. Louis' John Lackey.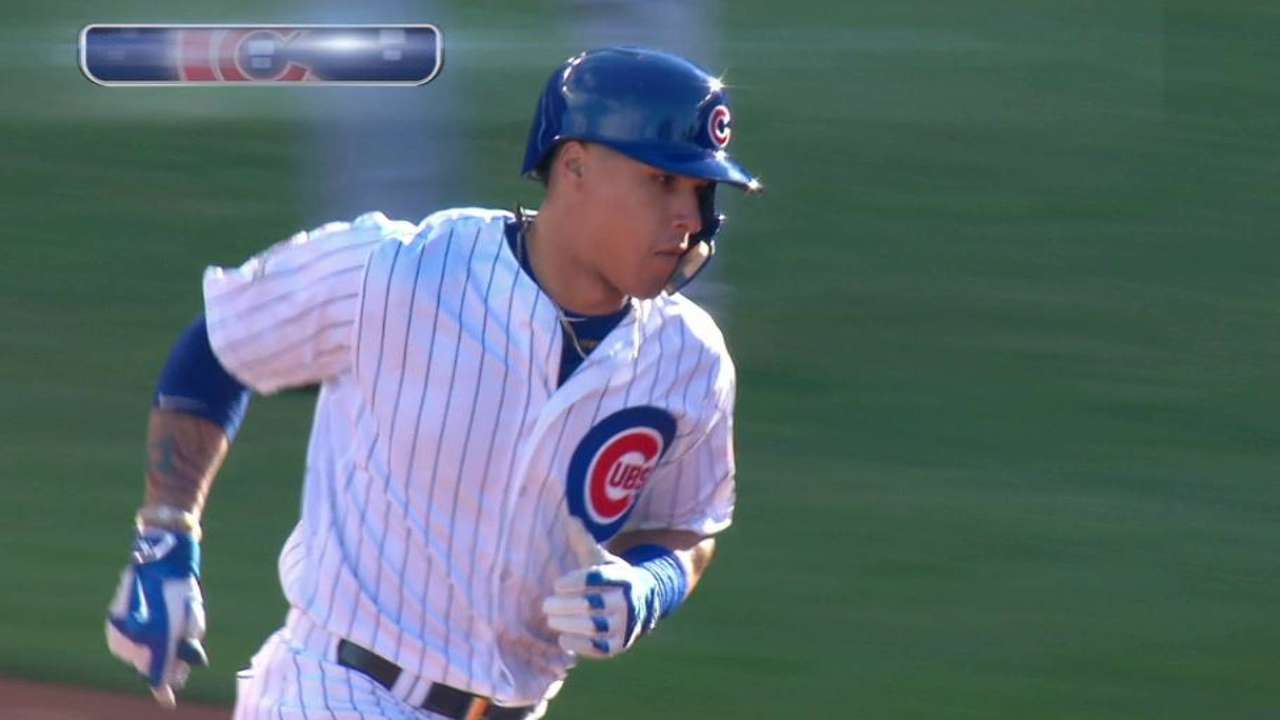 With Russell having since been ruled out of the NLCS, Baez takes his turn as the starting shortstop he long believed he could be.
"The thing about Addison is he's played enough here to know he belongs here and can do this," Maddon said. "I want to believe that Javy is arriving at that same point. I think the three-run homer in a playoff game like that against one of the best pitchers in the National League should boost your confidence."
* * * * * * *
Flores admits he has thought about it, that other ending to the story, the one where he becomes a Milwaukee Brewer on July 29, plays out the season with a team that finishes 36 games below .500 and returns to his offseason home the first week of October.
Had the Mets not balked last minute about the condition of Carlos Gomez's hip, that would have been Flores' reality.
"You know, what happened at the Trade Deadline was crazy," Flores said. "But it happened for a reason. And this is the reason."
The fact that the trade only actually went through on Twitter served as a springboard for much that's happened for the Mets since. Unable to get Gomez, the Mets went after and landed Yoenis Cespedes. What was a two-game deficit in the NL East at the close of July ended as a seven-game cushion as the Mets dispatched the Nationals with ease.
For Flores, though, that game at Citi Field was defining. An international signee out of Venezuela in 2007, Flores had fallen out of favor with many of the Flushing faithful frustrated by the defensive lapses that had him with a double-digit count in errors before June.
Flores hadn't been the guy many hoped to see start the season at short anyway, not after a winter of hearing how the Mets were connected to several more polished shortstops in the trade and free-agent markets. In the end, they landed none of them, leaving Flores as the next-best option out of camp.
His early impressions as an everyday player weren't overwhelming. But his raw emotion that night in July made him human. It made him likable.
Fans began chanting his name. They welcomed him to the plate with standing ovations. He became, almost in an instant, enveloped by a city and totally beloved.
"It has motivated me," Flores said of the fans' response. "You know, I really appreciate what they did for me. They really have respect for the players, and we have respect for them."
His story became that of legend two days later when, just hours after the Trade Deadline had passed without him being moved, Flores connected for a walk-off home run against the Nationals in the opener of a three-game series that the Mets went on to sweep, forging a tie atop the NL East.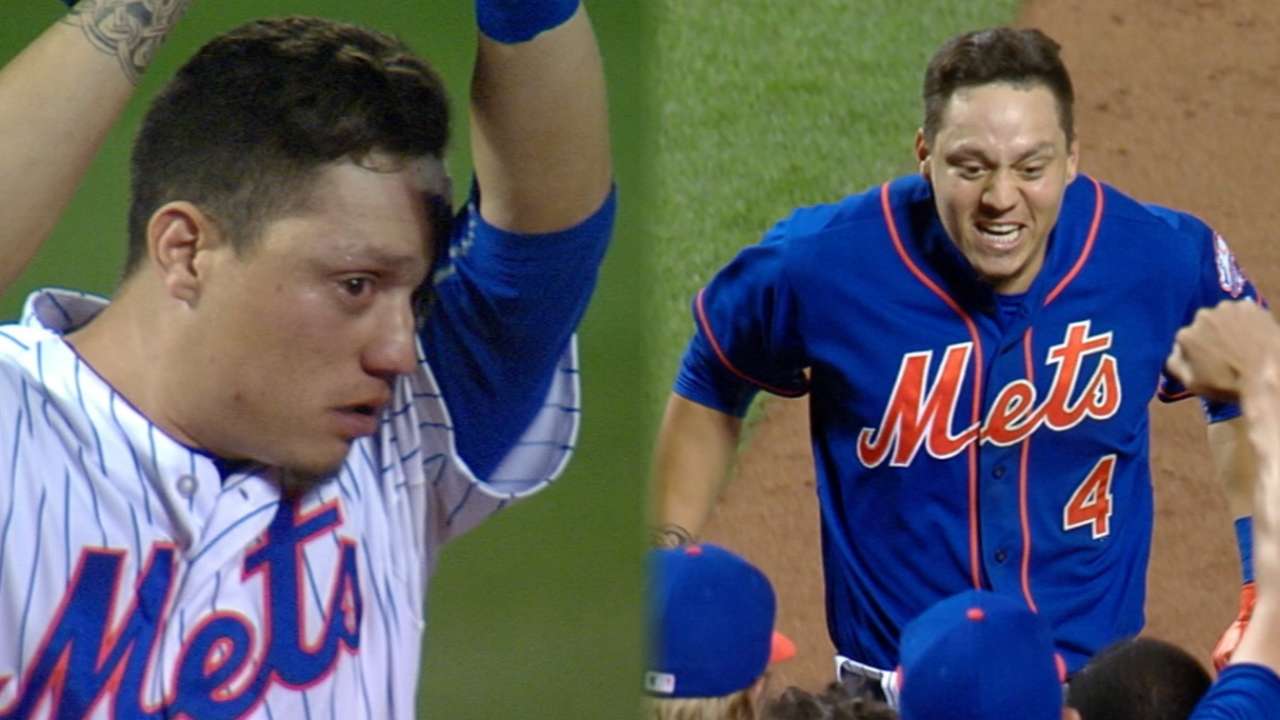 It was the apex of Flores' season, which closed with the 24-year-old infielder splitting time at short with Ruben Tejada. Back discomfort and a late-season bout with strep throat left Flores lethargic toward the end.
Tejada remained manager Terry Collins' starting shortstop entering the postseason until a controversial wipe-out slide by the Dodgers' Chase Utley ended Tejada's season with a fractured right fibula. Flores, poised to spend most of the postseason on the bench, suddenly became a piece the Mets were thankful they still had.
Flores hit .292/.326/.460 and committed just four errors after the Trade Deadline. And now Flores, already the center of one of baseball's most poignant moments this year, readies for the possibility of creating another.
"I think Wilmer said to himself, 'I've got to be the guy. I've got to come through,'" Collins said. "And I think when you have that kind of an attitude, I think it changes the way you get yourself ready and stay focused, and you're not worried about making a mistake."
Jenifer Langosch is a reporter for MLB.com. Read her blog, By Gosh, It's Langosch, follow her on Twitter @LangoschMLB, like her Facebook page Jenifer Langosch for Cardinals.com and listen to her podcast. This story was not subject to the approval of Major League Baseball or its clubs.