Tale of the tape: Cubs-Mets, Game 1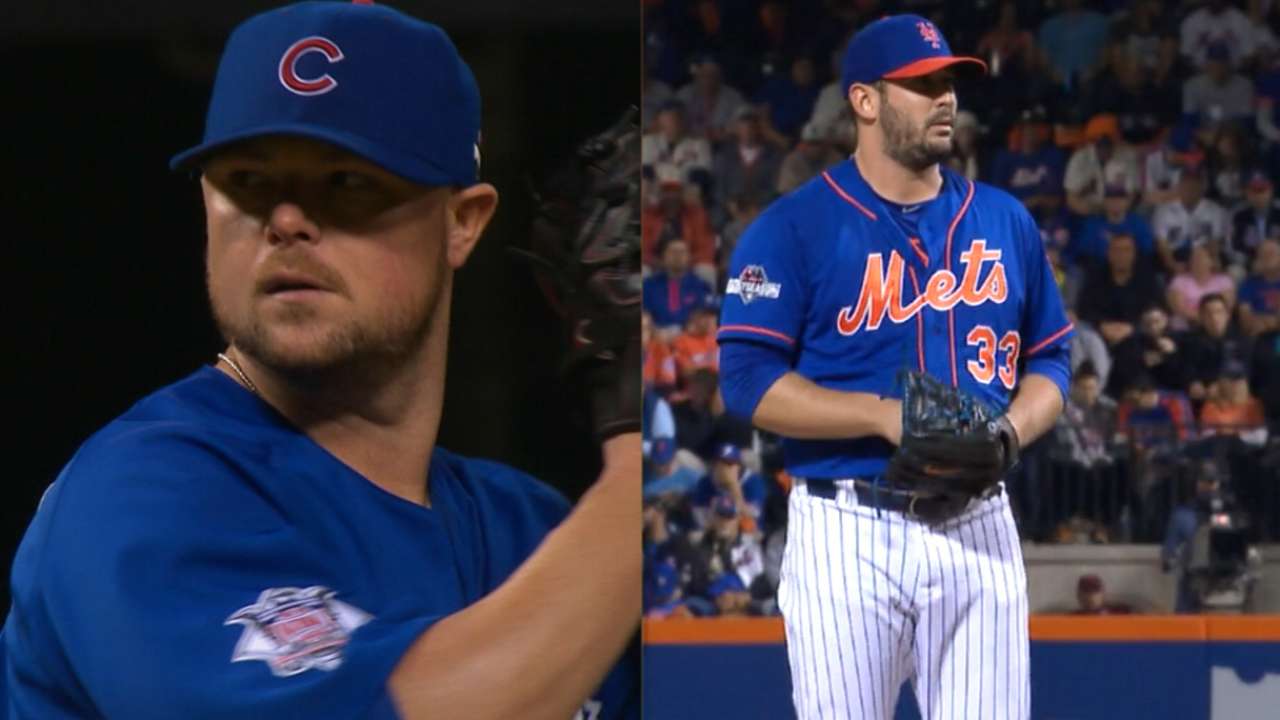 They aren't the aces of their respective teams, but two of the National League's best pitchers this season will face off to begin the NL Championship Series.
The Cubs send Jon Lester to the hill for the Game 1 start two years after he contributed to the Red Sox's World Series run. The Mets counter with Matt Harvey, who makes his second career postseason appearance. This season, both were among the NL's top-15 pitchers in ERA and WHIP.
We take a look at how Lester and Harvey's strong seasons stack up against each other before Saturday's Game 1 from Citi Field, beginning at 8:07 p.m. ET (7:07 p.m. CT) on TBS.
Jon Lester, Cubs
Against the Mets
2015: 2 GS, 1-0, 2.08 ERA
Career: 3 GS, 2-0, 2.50 ERA
Loves to face: Yoenis Cespedes, .154 (2-for-13)
Hates to face: Curtis Granderson, .273 (12-for-44), 2 HRs
• Cubs' pitch to Lester paying off for all parties
Game breakdown
Why he'll win: Lester has thrown a quality start in each of his two outings against the Mets this season, which should make him even more comfortable in a familiar spot. The left-hander has pitched in the postseason in six years throughout his career, including his last start on Oct. 9. He showed his experience after he allowed three runs over 7 1/3 innings against St. Louis.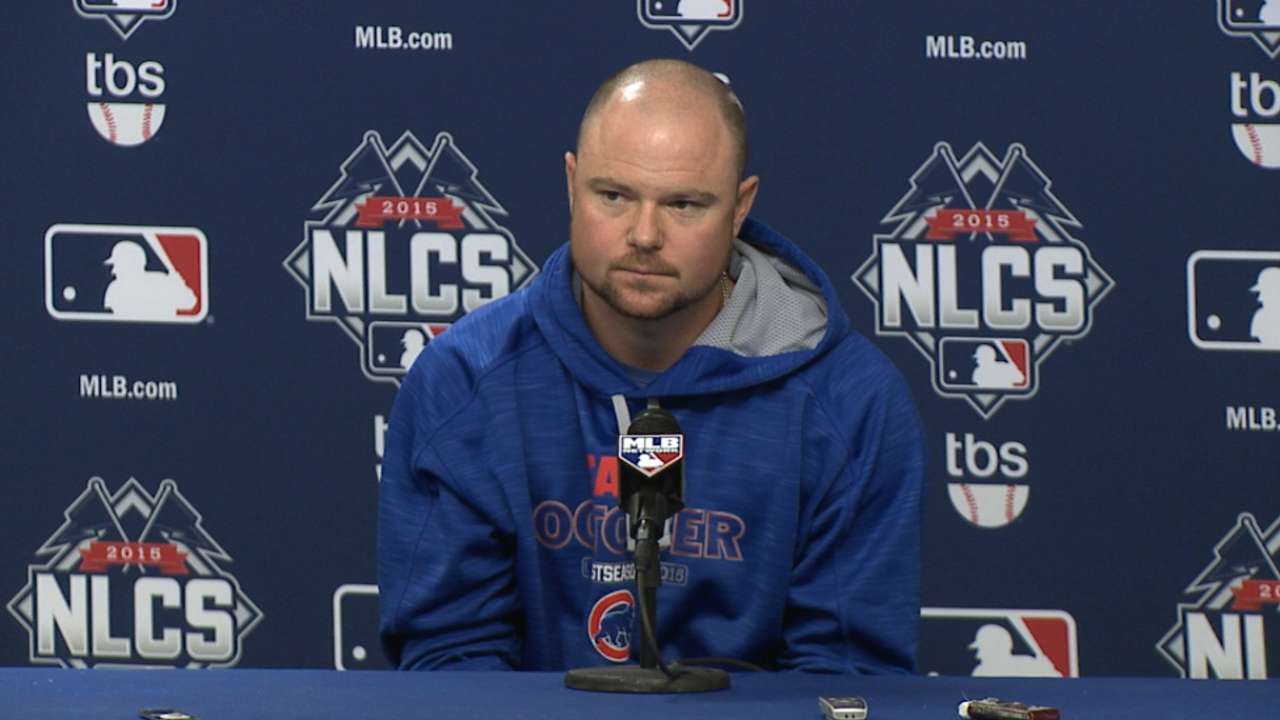 Pitcher beware: The Mets are a different team from the last time Lester saw them. Cespedes, David Wright, Michael Conforto and Travis d'Arnaud will see Lester for the first time this season, and all four have been crucial to the Mets' success. And Lester's job isn't any easier with Harvey opposing him.
Bottom line: Lester is on a roll, and he's had plenty of rest to continue it.
Matt Harvey, Mets
Against the Cubs
2015: 1 GS, 0-0, 0.00 ERA
Career: 2 GS, 1-0, 1.26 ERA
Loves to face: Dexter Fowler, .111 (1-for-9)
Hates to face: Chris Coghlan, .375 (3-for-8)
• Harvey earns Game 1 start in first full season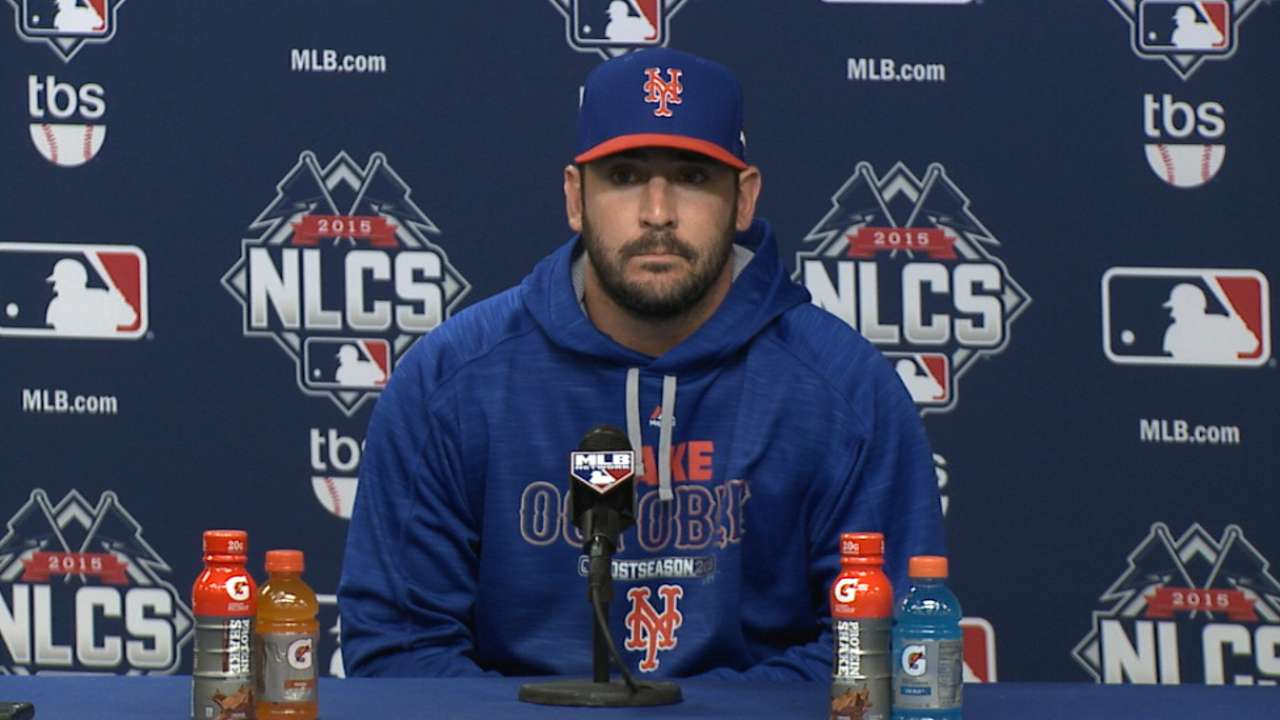 Game breakdown
Why he'll win: Harvey has allowed a combined four runs over his last four outings, including a quality start in his first postseason appearance. He finished the regular season as one of the Majors' top 10 pitchers in ERA and WHIP, as well as strikeout-to-walk-ratio, and he's riding that as he faces a team against which he has performed well. And the right-hander benefits from pitching at Citi Field, where he carries a 2.23 ERA compared to a 3.42 ERA on the road.
Pitcher beware: Though his numbers have impressed, Harvey has been limited in the number of innings he's thrown. Even if he is able to slow down a Cubs lineup that has averaged 4.8 runs per game in the postseason, he might not stay in to finish the job. Though he pitched well in the NL Division Series, Harvey remains relatively new to the postseason, and there will be added pressure in the NLCS.
Bottom line: He was one of the best in the regular season, but this isn't quite the same.
Greg Garno is an associate reporter for MLB.com. This story was not subject to the approval of Major League Baseball or its clubs.