Open and shut: Royals blank Blue Jays in G1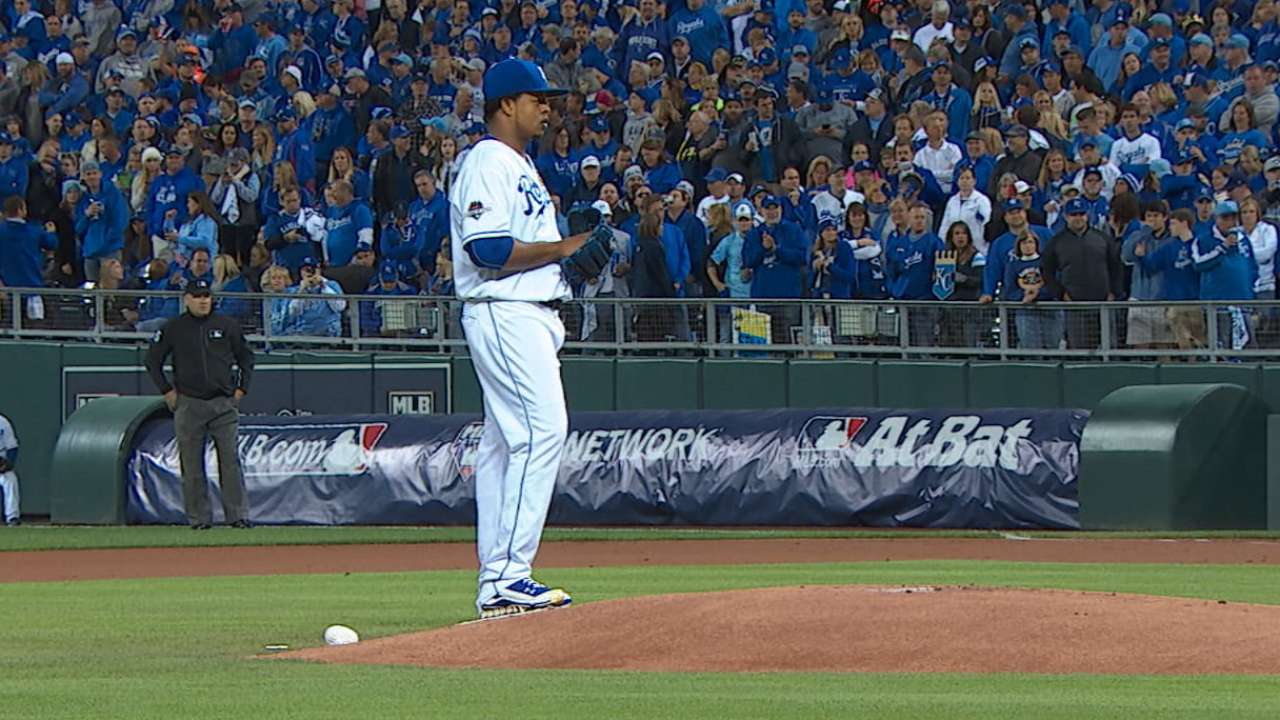 KANSAS CITY -- With the Kauffman Stadium crowd chanting his name, Royals right-hander Edinson Volquez went out and pitched the game of his life, stifling the Blue Jays through six shutout innings as the Royals stormed to a 5-0 victory in Game 1 of the American League Championship Series on Friday night.
Kansas City and Toronto meet in Game 2 on Saturday at 3:30 p.m. ET on FOX Sports 1 and Sportsnet.
• Dress for the ALCS: Blue Jays shop | Royals shop
It was just the sixth time the high-powered Blue Jays have been shut out all season. And it was the first time this postseason they went without an extra-base hit, and just the fourth time all season.
Volquez, who notched his first career postseason win, gave up just two hits while walking four and striking out five. He labored through a 29-minute, 37-pitch sixth inning but struck out Troy Tulowitzki with two on and two out. The Royals' bullpen took it from there as Kelvin Herrera, Ryan Madson and Luke Hochevar finished off the three-hit shutout.
• Blueprint in place for Royals' bullpen
"The fans give me a lot of energy," Volquez said. "I think seeing all those fans in the stands, calling my name, 'Eddie, Eddie, Eddie,' and I was like, 'Come on, I have to do it for them.' And I did it."
Said Royals manager Ned Yost, "Eddie was superb today, had everything going on, had his great fastball, locating well, really good curveball, really nice changeups, on the attack from the first inning on."
Marco Estrada started for the Blue Jays and went 5 1/3 innings, giving up six hits and three runs. He walked none and struck out six. Toronto designated hitter Edwin Encarnacion left the game in the eighth inning, and the Blue Jays announced he was day to day with a ligament sprain in his left middle finger.
"They're dangerous, and they put the ball in play," Blue Jays manager John Gibbons said. "So, things happen and they have good team speed. Tonight was the Volquez Show; he was tremendous."
MOMENTS THAT MATTERED
The leadoff man: Much has been made among Royals fans about Alcides Escobar leading off -- he's not the prototypical leadoff man as he had just a .293 on-base percentage this year. But Kansas City is now 46 games over .500 (including postseason) since he took over at the top spot in September 2014. Escobar doubled to lead off the first, and he also doubled in a run in the third to put the Royals up, 1-0. He then scored on Lorenzo Cain's single to make it 2-0.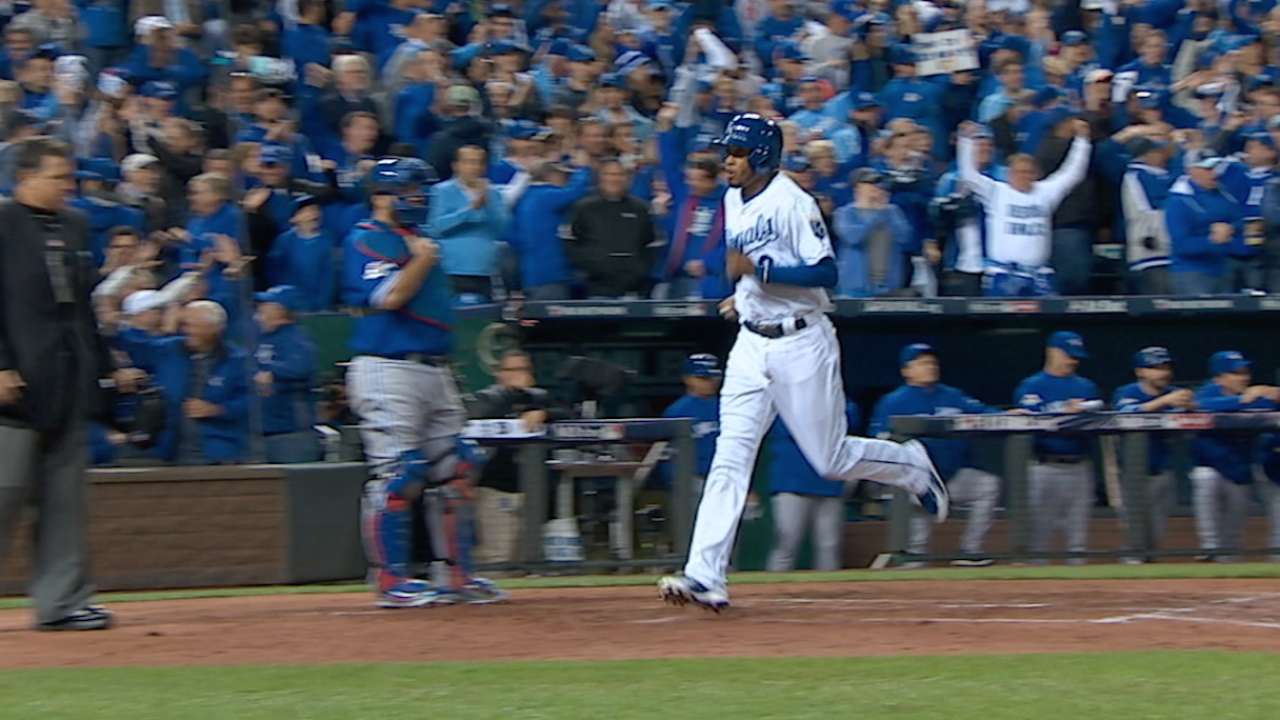 "Statistically speaking, it doesn't make any sense," Yost said. "It just doesn't. But it works. It works. We find ways to win baseball games. We were 32 games over .500 with him in the leadoff [spot], and I decided to move him down and we went 10-18. So as soon as I put him back in, the last seven games he led off to end the season, we won all seven of them, at a time we needed to win them to accomplish our home-field advantage goal.
"It's just the chemistry of the lineup somehow. That is kind of unexplainable to me how it works and why it works, but it does."
• Cain's RBI single extends postseason hitting streak
Encarnacion leaves with injury: Encarnacion left in the eighth inning because of an injury to his left middle finger. He was sent for X-rays, and the club announced shortly after the game that he was day to day with a ligament sprain. The veteran slugger was seen shaking his hand earlier in the game, and he likely aggravated an injury he was dealing with in the regular season. Encarnacion missed time at the end of July and again in September with soreness in the finger that never seemed to go away despite periods of rest. More >
"It swelled up a little bit more than we've seen in the past," Gibbons said. "Did that early in the game. We'll see how he is tomorrow. Hopefully he can go. Usually, a day or two it calms down on him and he's able to get through it."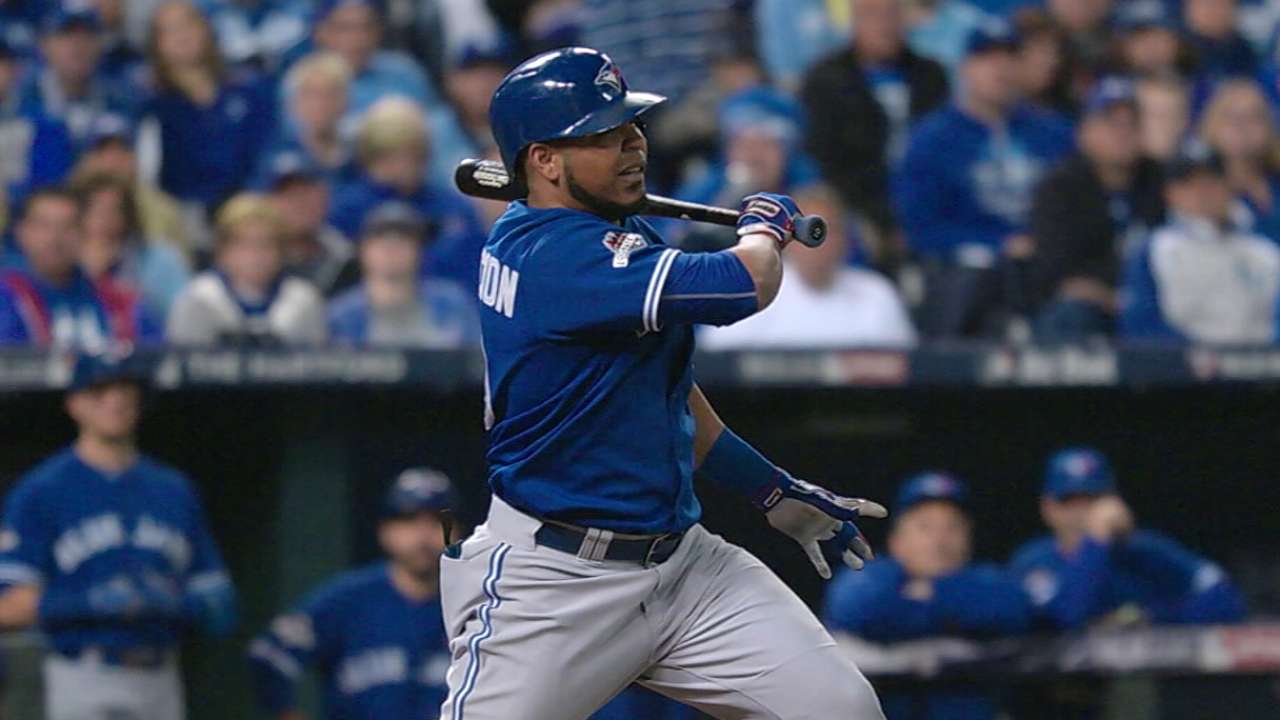 Missed opportunity: The Blue Jays' opportunities to score were few and far between against Volquez, but they were presented with a golden chance in the sixth. Josh Donaldson and Jose Bautista led off the frame with a pair of nine-pitch walks, but Volquez didn't back down. First, he got Encarnacion to strike out looking and then recorded an out on a hard-hit fly ball off the bat of Chris Colabello. Tulowitzki then worked the count full before he went down on a called third strike. More >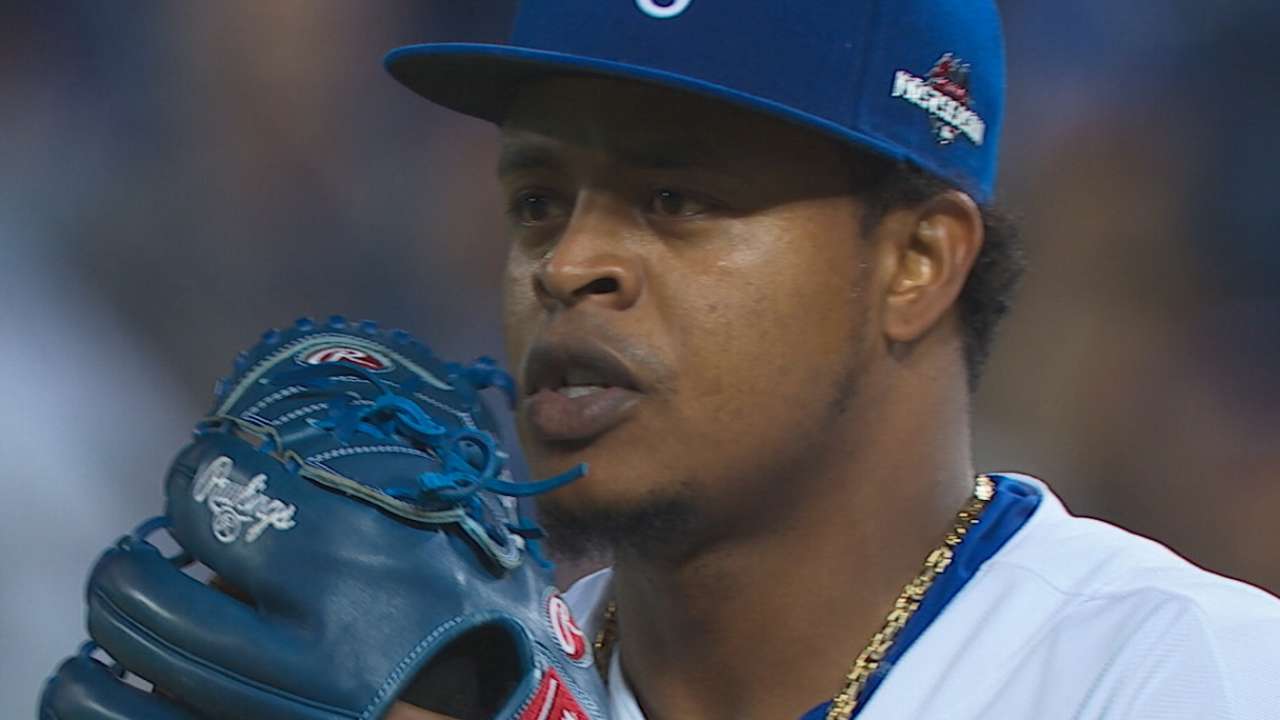 "I guess it was a combination of things," Colabello said of the offensive struggles. "We got some guys on base at certain points in time. I don't think [Volquez's] strikeout number was high tonight, so obviously we were putting balls in play, hitting some balls at guys, leaving some guys on. That's the way it goes sometimes."
• Postseason struggles resting on Tulo's shoulder
Big Sal with a bomb: Salvador Perez was visibly worn out during last season's postseason run, and it showed -- he hit just .207. This year, Perez was rested more with the Royals' big division lead in September, and he looks refreshed this month. Perez whacked his third home run this postseason in the fourth, giving Kansas City a 3-0 lead. He is now tied with Kendrys Morales for the team lead this October -- remember, the franchise record for one postseason is five, set by Mike Moustakas last year.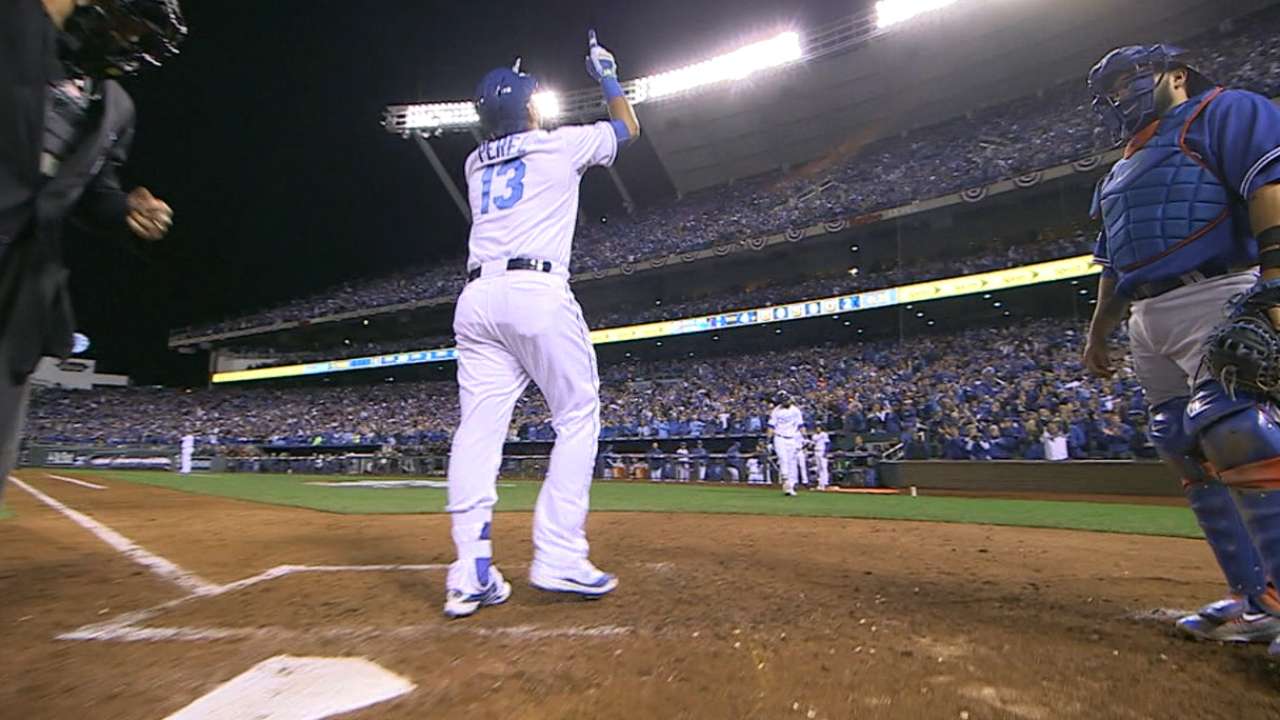 Yost also thinks Perez's power is just developing with experience.
• Salvy right as rain, playing through pain
"I just think that power kind of develops later for young players," Yost said. "You see Lorenzo Cain's numbers develop. Power numbers develop. Salvador's power numbers are developing. They get up here and learn how to hit and learn how to hit with power. And I think that's just their development as players."
• Goins, Tulo combine for beautiful double play
QUOTABLE
"He was pumped up, ball was moving a lot. I was surprised, but it's all about [the] playoffs. You're going to get the best out of these pitchers, and you have to be ready for it." -- Blue Jays outfielder Ben Revere, on Volquez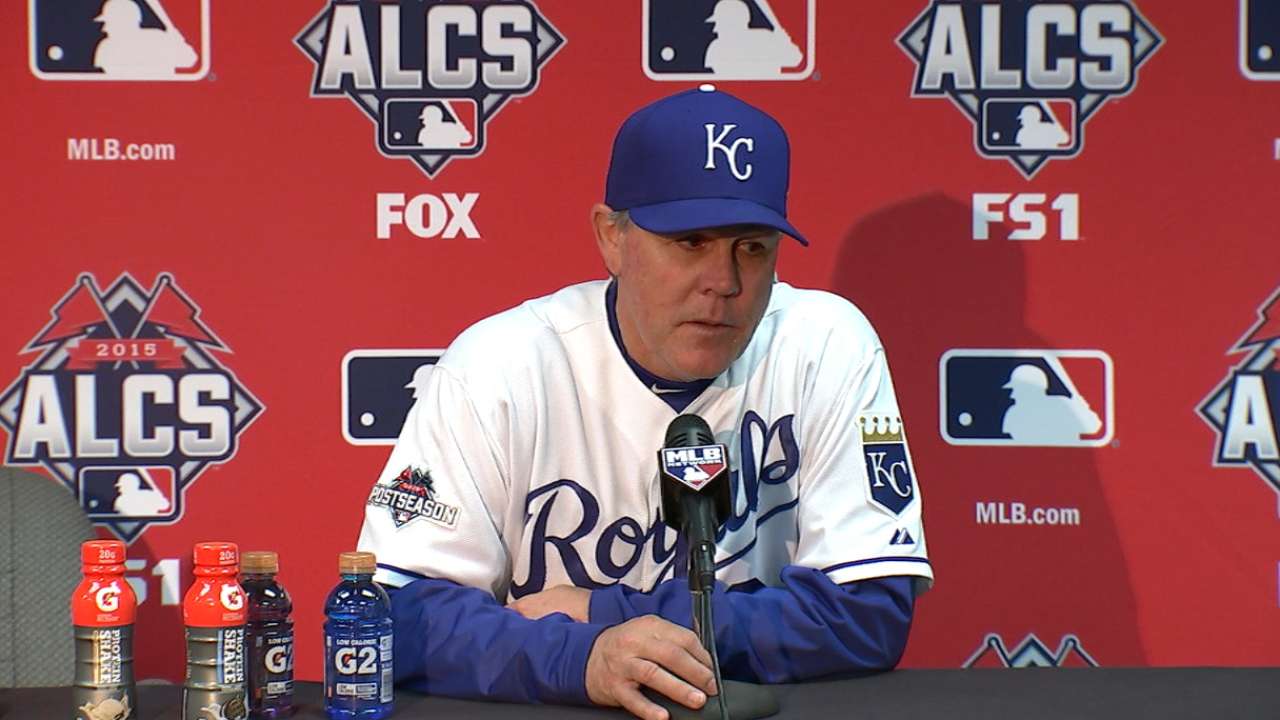 WHAT'S NEXT
Blue Jays: Left-hander David Price will make his first start since Game 1 of Toronto's AL Division Series when the ALCS continues Saturday afternoon at Kauffman Stadium. Price has yet to earn a win in six career postseason starts, but he does have a pair of wins as a reliever. In six career appearances against the Royals, Price has a 2-0 record with a 1.93 ERA in 37 1/3 innings.
Royals: Right-hander Yordano Ventura will make his third start of the postseason -- he started Game 1 of the ALDS against Houston and didn't return after a 49-minute rain delay, and he started Game 4 and gave up three runs in five innings while striking out eight. More >
Gregor Chisholm is a reporter for MLB.com. Read his blog, North of the Border, follow him on Twitter @gregorMLB and Facebook, and listen to his podcast. Jeffrey Flanagan is a reporter for MLB.com. Follow him on Twitter at @FlannyMLB. This story was not subject to the approval of Major League Baseball or its clubs.