Statcast of characters: NLCS boppers and burners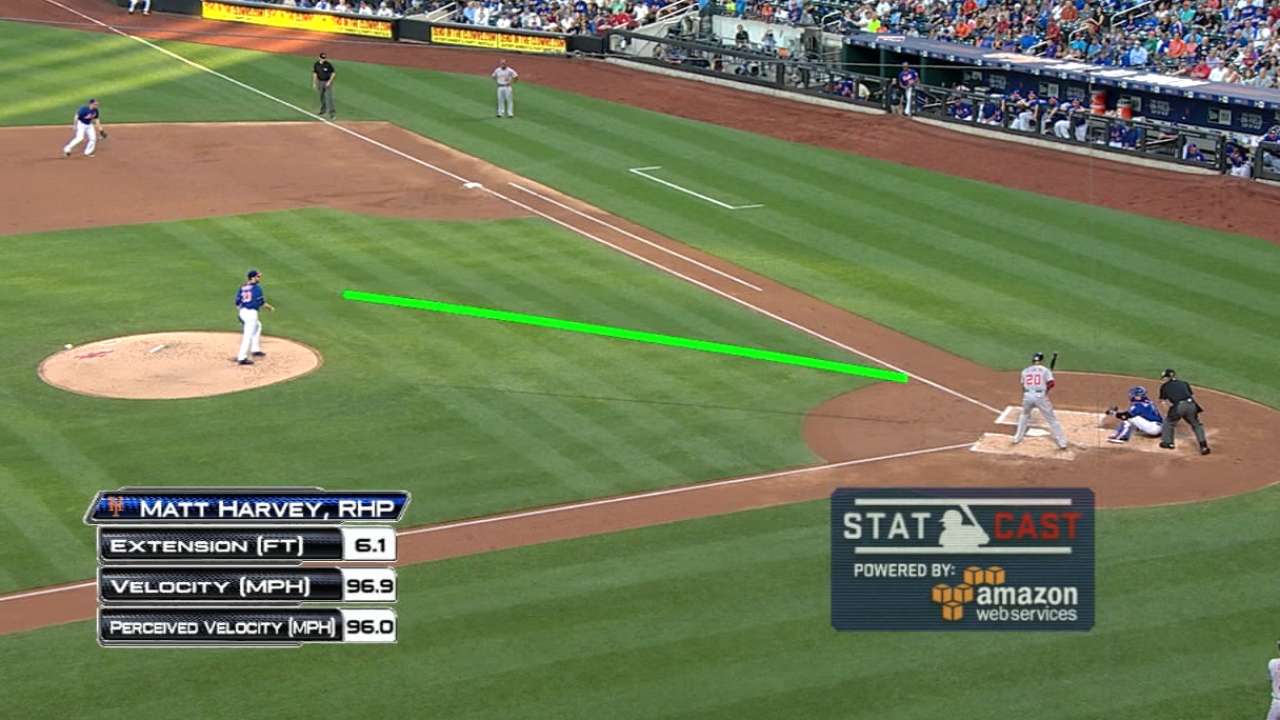 Cubs-Mets was not a popular preseason choice for the National League Championship Series, yet those are the two teams who will meet up for Game 1 on Saturday at Citi Field (7:30 p.m. ET, TBS).
There are many reasons for the teams' surprising seasons, but as Statcast™ shows us, a variety of impressive tools is certainly part of the recipe.
Both clubs have hitters who can send a ball into orbit, pitchers who can dial up the gas, and much more. With help from Statcast™, here's a look at three key players from each team, and what they bring to the table.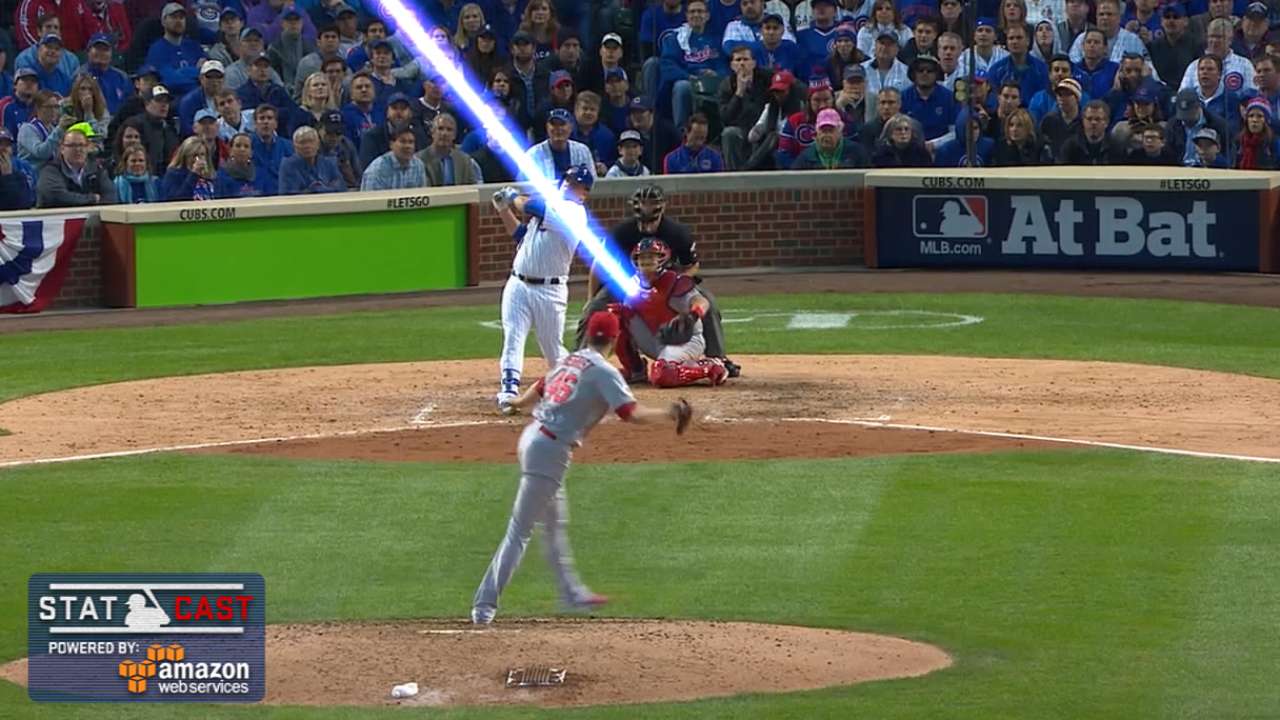 CUBS
Kyle Schwarber: Power
With the Cubs leading the Cardinals by a run in the seventh inning of Game 4 of the NL Division Series, Schwarber turned on a pitch from lefty reliever Kevin Siegrist, crushing it at a season-high 112.5 mph. His high-arcing blast soared over Wrigley Field's right-field wall and on to the top of the stadium's enormous video board, where the ball still sits. The solo shot not only reached a height of 136 feet with a projected distance of 419 feet, but also helped Chicago put away St. Louis and advance. That homer wasn't an isolated incident for Schwarber, who slugged .487 for the Cubs after his midseason arrival from the Minors. Among all hitters with at least 100 balls in play, Schwarber ranked fourth with an average exit velocity of 94.7 mph and 12th with an average distance of 248 feet.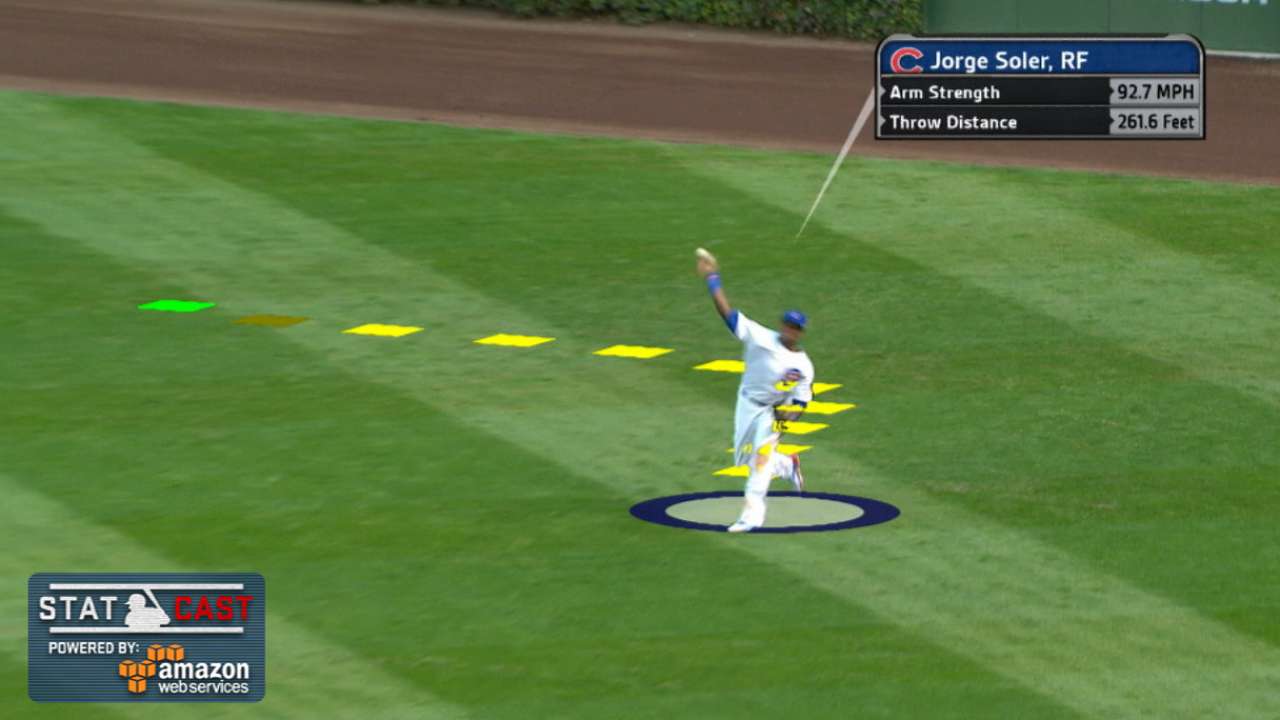 Jorge Soler: Arm strength
Injuries helped limit Soler to 101 games during the regular season, but the 23-year-old can show off some loud tools when healthy. Not only did he go 4-for-7 with six walks and two homers in the NLDS, he also helped the Cubs prevent a critical run in Game 4. With Chicago ahead by a run in the sixth inning, Brandon Moss lined a hit to right field that scored the tying run from third base. Catcher Tony Cruz tried to come home from second as well, but Soler unleashed a one-hop strike that reached 92.7 mph as it covered the 262 feet to catcher Miguel Montero for the out. That was at least the 10th time this season that Soler broke the 90-mph barrier with a throw.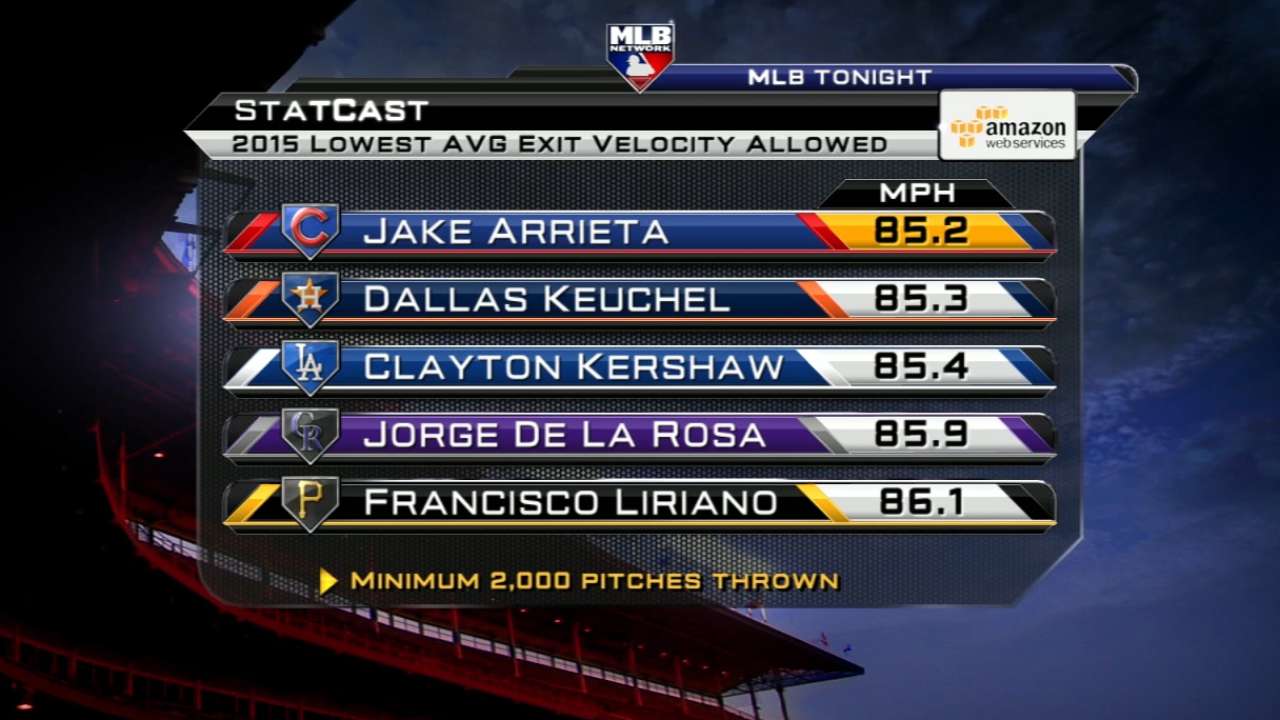 Jake Arrieta: Pitching
The right-hander authored an impressive Cy Young Award resume that included a microscopic 0.86 ERA over his final 20 regular-season starts and a shutout of the Pirates in the NL Wild Card Game. Arrieta held opponents to a .185 average (lowest in MLB) and a .507 OPS (second). How? Statcast™ shows that of all pitchers who threw at least 2,000 pitches in the regular season, nobody induced softer contact than Arrieta, who notched an average exit velocity of 85.2 mph, just ahead of the Astros' Dallas Keuchel and the Dodgers' Clayton Kershaw. Arrieta's sinker had the fifth-highest average velocity and eighth-best spin rate in the Majors, while his curveball ranked fifth in spin rate. That's not a fun recipe for hitters.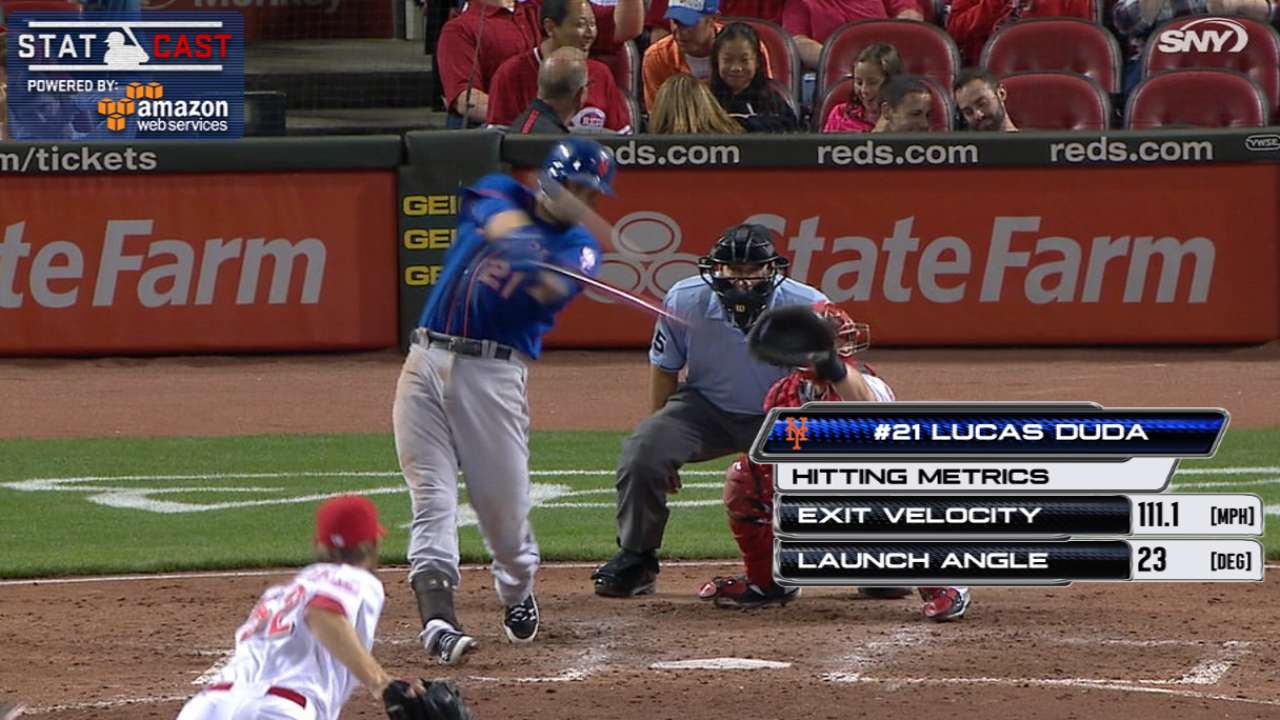 METS
Lucas Duda: Power
Despite a quiet NLDS that included 11 strikeouts, Duda remains a threat to do serious damage when he makes contact. The first baseman ranked fourth in the Majors this season with an average batted-ball distance of 251 feet (minimum 200 balls in play), and 19th with an average exit velocity of 93.0 mph. He displayed that thump in a two-homer, six-RBI performance at Cincinnati on Sept. 25, connecting on his second three-run shot at 111.1 mph and blasting it 434 feet, way up into Great American Ball Park's right-field bleachers. That actually was only the seventh-longest homer of the year for Duda, who cleared 450 feet on two occasions.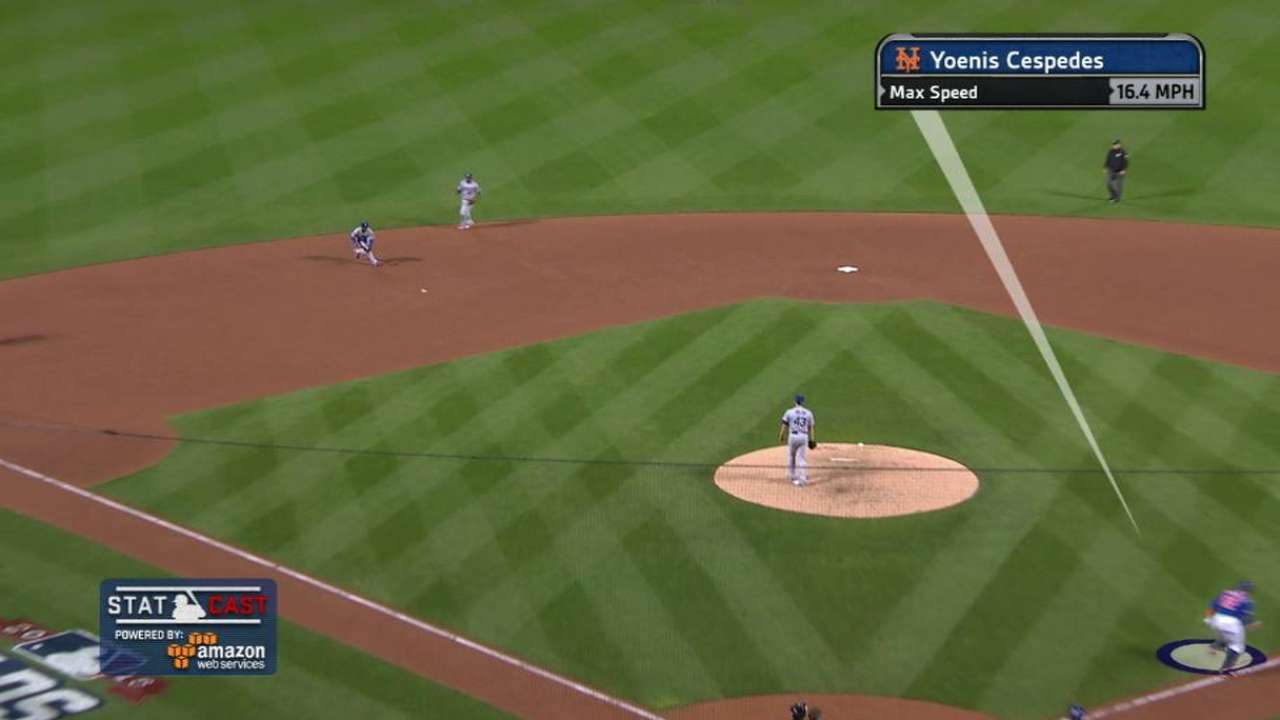 Yoenis Cespedes: Speed
The Mets' huge Trade Deadline acquisition also swings a lethal bat, and his rocket arm always gives baserunners something to think about. But for a player who isn't exactly small and scrawny, Cespedes can move pretty well on the bases, too. Just take Game 3 of the NLDS, when Cespedes led off the bottom of the second inning with the Mets trailing, 3-0. He hit what looked to be a routine bouncer to the left side and into the Dodgers' shift, but he reached 21.6 mph as he beat the throw of shortstop Jimmy Rollins. The Mets went on to score four runs in the inning to take the lead, and eventually won, 13-7. For Cespedes, it was one of 17 times this season that Statcast™ has tracked him breaking the 21-mph barrier as a runner.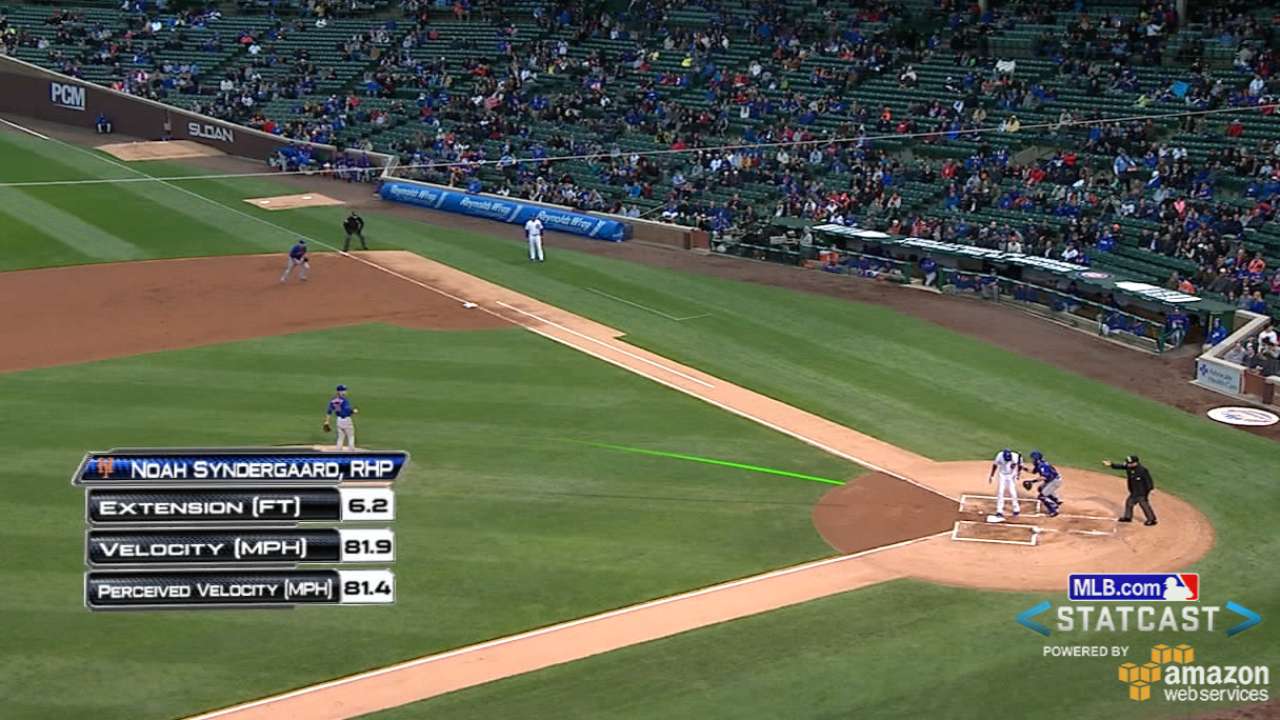 Noah Syndergaard: Velocity
Ever since his Major League debut on May 12 -- coincidentally against the Cubs at Wrigley Field -- Syndergaard has proven he can bring the heat like few others. The 23-year-old has earned his "Thor" nickname, and not just because of his 6-foot-6, 240-pound frame and long blond hair. Syndergaard's four-seam fastball has averaged 97.3 mph, the second-highest velocity among all MLB starters. The pitch's perceived velocity, which measures from the batter's perspective, ranks first among starters at 98.4 mph. Syndergaard also ranks second among all pitchers in average velocity on his sinker (97.1 mph), and first in perceived velocity (98.4 mph). The rookie cleared the 100-mph barrier 14 times during the NLDS, in which he put together a solid start in Game 2 before tossing a scoreless inning of relief in Game 5.
Andrew Simon is a reporter for MLB.com. Follow him on Twitter @AndrewSimonMLB. This story was not subject to the approval of Major League Baseball or its clubs.