4 ingredients for Cubs winning the NLCS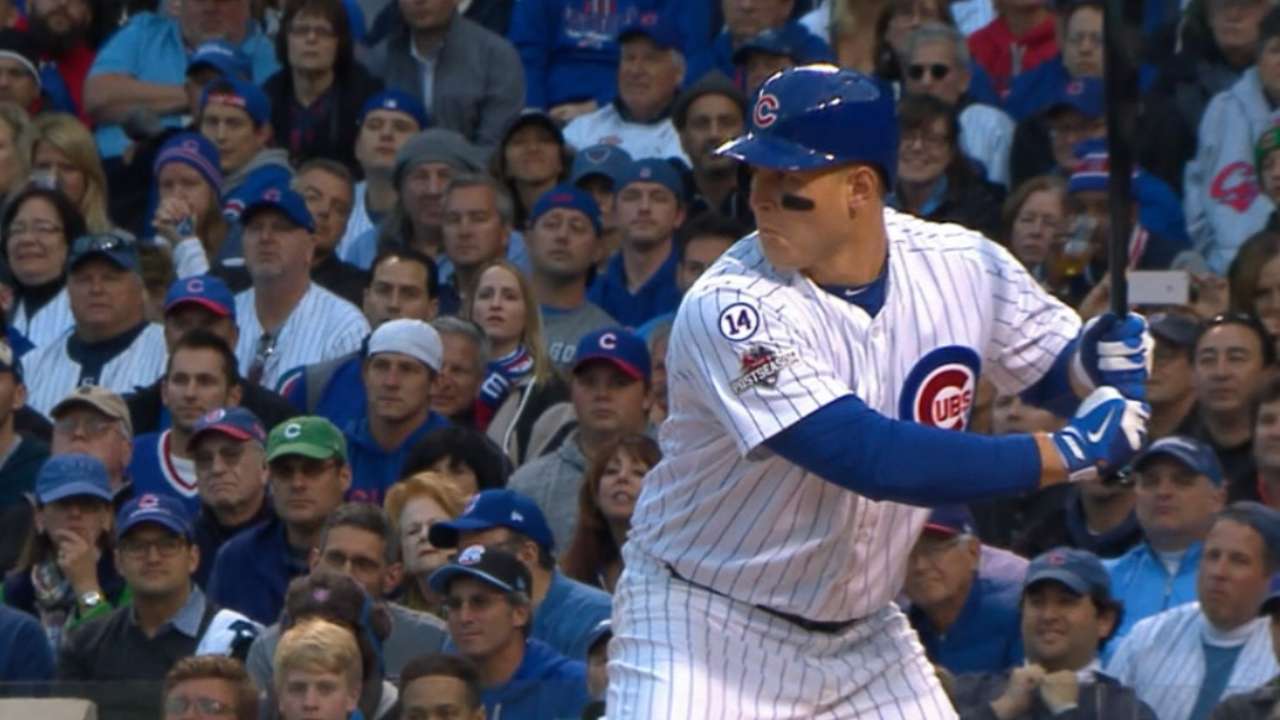 NEW YORK -- On one hand, this National League Championship Series is about the present, with the Cubs' stable of young sluggers set to take their hacks against the Mets' parade of power pitchers. On the other hand, it's a repeat history, and a chance for the Cubs to erase the pain of blowing a big lead to the Mets in the newly-created NL East in 1969.
Here's a look at some of the ingredients the Cubs will need to make it past the Mets this time:
• Shop for Cubs postseason gear
1. Power vs. power
This is an unapologetically free-swinging, hard-swinging Cubs team. Among NL teams, only the Mets hit more home runs than the Cubs after the All-Star break (New York's edge was 102-94, thanks in large part to Yoenis Cespedes), and Chicago has hit 12 more in the postseason, leading all teams. One of them has a permanent place in franchise lore; Kyle Schwarber's moonshot in the Cubs' Division Series-clinching win over the Cardinals on Tuesday will remain where it landed, atop the Wrigley Field scoreboard in right field.
"We have hit home runs and that's where we do our best work, I cannot deny that," Cubs manager Joe Maddon said. "But I really want us to be able to play a more complete game in the future too, and that's something we're really striving and working towards."
2. Have fun
The Cubs rode a five-game losing streak into Citi Field when they previously visited in late June, so Maddon lightened the mood by calling a pregame meeting and bringing in a magician. Kyle Hendricks promptly pitched the team to a 1-0 win. Before a September game against the Brewers, Maddon turned Wrigley Field into a zoo, complete with a cheetah and snow leopard cubs. On a workout day during the NL Division Series, Maddon hosted breakfast on the field while the Chicago Bears game aired on the video board. This team is best when it doesn't take itself too seriously.
"You never know what he's going to do to lighten the mood for us," said Game 1 starter Jon Lester.
3. Play defense
The Cubs lost a game-changing defender when Addison Russell sustained a left-hamstring injury during the Division Series round that will keep him out of the NLCS. Javier Baez, a fine defender in his own right who is still working toward defensive consistency, according to Maddon, will man the position instead. That's one spot to watch.
Another will be on the mound in Game 1. Lester's troubles throwing over to first base are well-documented, but did not play a role in Game 1 of the Division Series because only once -- in the first inning -- did Lester pitch with a Cardinals runner at first base, and that runner was Matt Holliday. The Mets will aim to create more traffic.
4. Short memories
Theo Epstein learned quickly how Cubs fans feel about the Mets after taking over as president of baseball operations. He learned about the black cat that crossed Ron Santos' path at Shea Stadium in 1969, while the Cubs were squandering a 9 1/2 game lead over the "Miracle Mets," who went on to win the World Series. But that was long before any of the current Chicago players were born, so the matter was laughed off on Friday.
By the way, Kris Bryant has a black cat at home, named Wrigley.
"There's no superstitions," Bryant said.
Adam McCalvy is a reporter for MLB.com. Follow him on Twitter @AdamMcCalvy, like him on Facebook and listen to his podcast. This story was not subject to the approval of Major League Baseball or its clubs.