A more mature Ventura sticking to game plan
Righty hoping to pitch AL champs to 2-0 lead in ALCS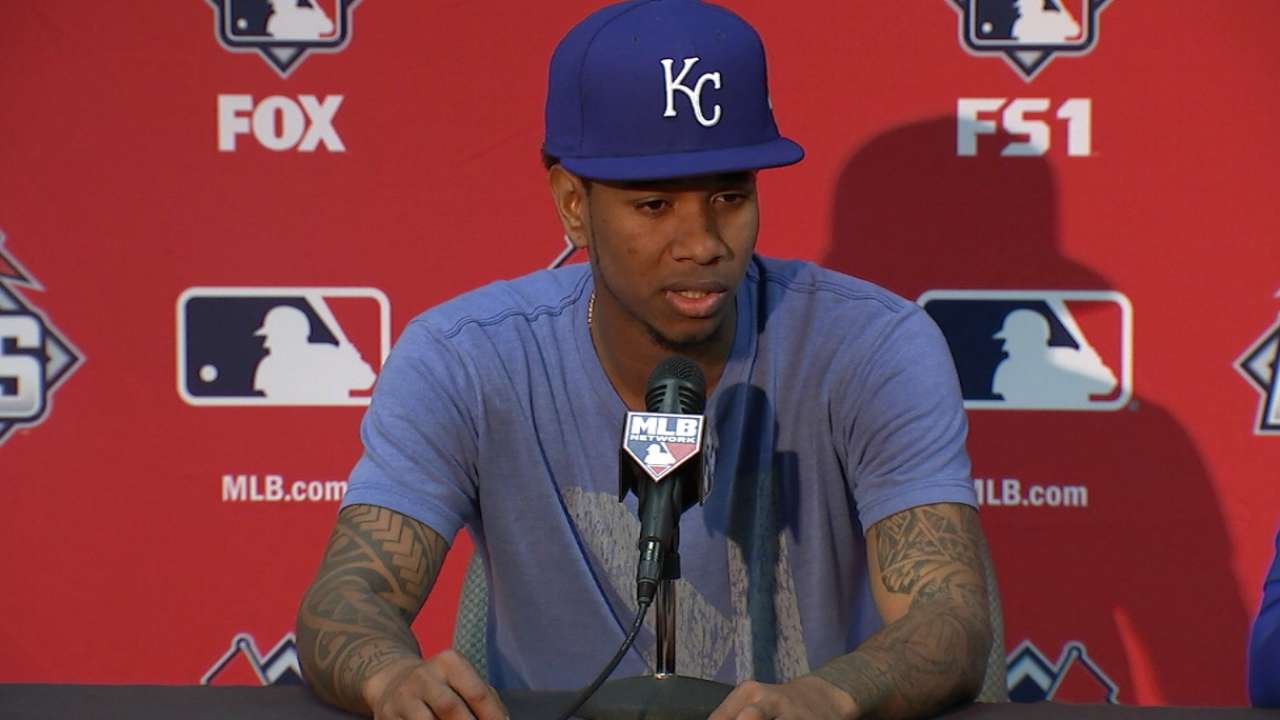 KANSAS CITY -- The Yordano Ventura who will return to the mound on Saturday for a Game 2 matchup with the robust Blue Jays (3:30 p.m. ET, FOX Sports 1) is very much the same right-hander seen in last year's American League Championship Series, though a bit more grown-up.
That trait should serve him well in a best-of-seven set between a pair of emotionally fueled teams following Kansas City's 5-0 win on Friday night.
Bad blood spilled into the teams' last meeting, in August in Toronto, which was filled with inside pitches, hit batsmen and cleared benches. Ventura largely stayed out of that fray aside from some tweets directed at Jose Bautista he later deleted, but he was in the middle of several altercations in April.
• Shop for Royals postseason gear
Royals manager Ned Yost believes Ventura, looking to extend his club's series lead to 2-0, has mellowed since then.
"I think he's made great improvements from the beginning of the year on, and a lot of them were just learning how to deal through adversity and how to become a better professional," Yost said. "And I think he's learned those lessons really, really well.
"The quality of stuff is the same. I don't think he's gotten any better in terms of his talent, but as a professional and as a competitor, he's gotten a lot better. He's matured a lot, which is a good thing."
The 24-year-old Ventura, who is 6-1 with a 4.18 ERA in seven career postseason appearances, six of them starts, will be opposed by Blue Jays left-hander David Price.
"He's never scared," Price said of Ventura. "He's not the biggest guy. You wouldn't know that by his velocity and the stuff that he possesses on the mound. He pitches with a chip on his shoulder. It's like [Marcus] Stroman -- it's you against the world. You have to have kind of that mind-set, and he does a good job of that."
Ventura was bit by the long ball in his most recent start, serving up two in five innings against the Astros in Monday's Game 4 AL Division Series victory. That trend could continue with the homer-happy Blue Jays, who led the Majors with 232 during the regular season.
Ventura gave up two of those -- to Josh Donaldson and Bautista -- on Aug. 1, when he won despite allowing five runs in seven innings. On average, though, he limited the opposition to 0.8 home runs per nine innings.
Royals pitchers yielded the second-fewest home runs (155) in the AL this season, adhering to a team-wide approach that routinely has them pitching inside. Establishing the inner half of the strike zone against a Blue Jays team known for its powerful lineup will be crucial, though it's also how they found trouble when last facing them.
Toronto's power hitters tend to crowd the plate, and their opponents often have nowhere to go but inside -- leaving them susceptible to being hit, as was the case in August.
But Ventura said his usual game plan won't change.
"This is nothing new to the Royals' pitching strategy," Ventura said. "We pitch inside, that's part of our game. We did with Houston, we've done it with every other team, and we'll continue to do it. We're going to stay within our game and what we do best. And if it's pitching inside, it's pitching inside."
Jane Lee is a reporter for MLB.com. Read her blog, Major Lee-ague, and follow her on Twitter @JaneMLB. This story was not subject to the approval of Major League Baseball or its clubs.