Schwarber ready for charged NY atmosphere
Epstein attributes success to cultural change throughout Cubs organization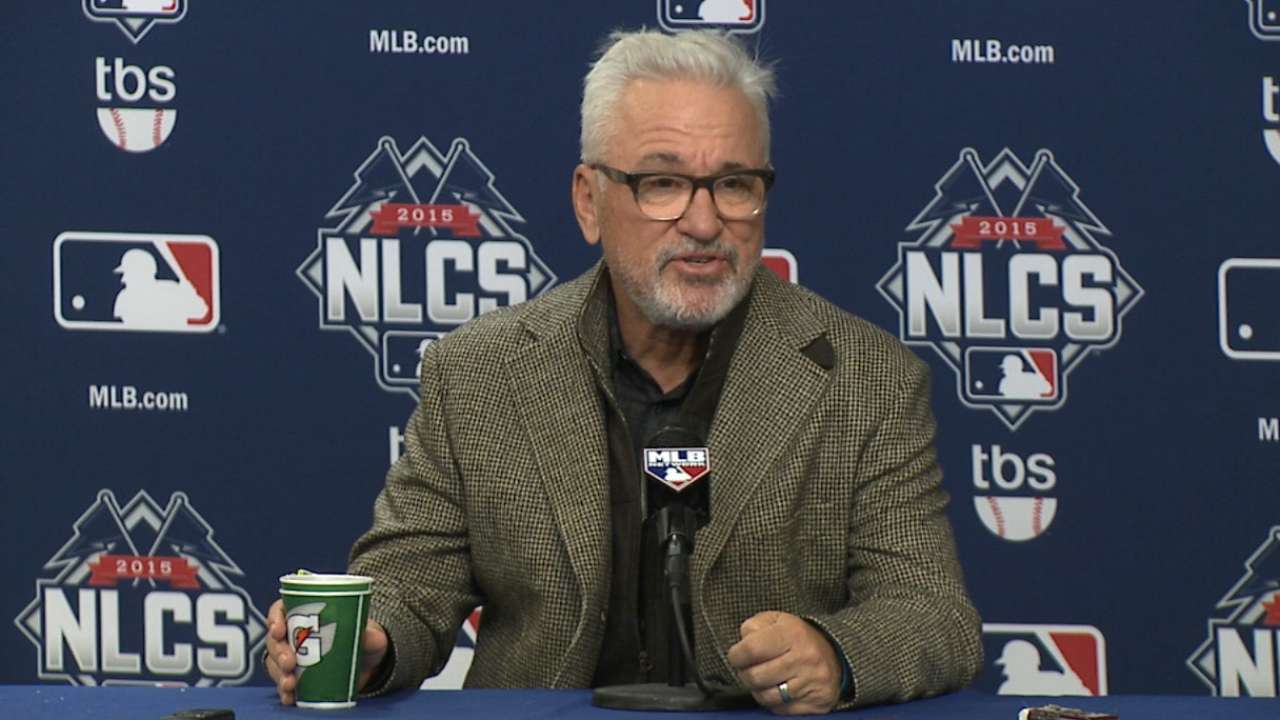 NEW YORK -- On Friday, rookie Kyle Schwarber got his first look at Citi Field on the eve of Game 1 of the National League Championship Series (7:30 p.m. ET on TBS) between the Cubs and Mets at Citi Field.
"It's nice to get my first taste of it," said Schwarber, who was playing for Double-A Tennessee in May when the Cubs made their only trip to New York. "The fans are great here, I've heard. I'm really looking forward to this series. We're a different ballclub, that's a different ballclub. ... Now it's the playoffs, so there's no excuses for being inexperienced."
How have the Cubs' youngsters stayed so calm?
"It's the personality in our clubhouse," Schwarber said. "If you guys had been with us all year, you would understand why this group is so good. We have a great personality, from our front office to our manager to our coaches and our players. It's a really welcoming thing. Then we have the veterans who [tell] the rookies, 'You're here to win. Let's go.'"
• Former manager Lou Piniella called odd plays or incidents involving the Cubs as "Cubbie occurrences." But in the last three years, saying something was "Cub" has become a compliment in the organization, president of baseball operations Theo Epstein said Friday.
"Some of these guys came into the organization at a time when we were not known for our winning ways, but they created -- along with our player-development staff members -- a great morale and a great spirit," Epstein said on Friday.
"The last three years, saying something was 'Cub' was a compliment in our Minor League system," Epstein said. "It meant that you were backing up a base, that you were doing something to help a teammate out, that you had come up with a big hit. That feeling really percolated through the system, and it's now here and Joe [Maddon] and his staff have taken it to a whole new level with their energy and vibe and confidence."
• Major League Baseball announced Games 3-5 of the NLCS, which will be played Tuesday through Thursday at Wrigley Field, will all start at 7:30 p.m. on TBS.
• On Saturday, Cubs rookies Schwarber, Kris Bryant and Jorge Soler will play in their first NLCS. But it's also the closest Cubs coach Henry Blanco has ever been to the World Series. Blanco, who played 16 seasons, has spent 26 years in the game.
"It's the first time," said Blanco, 44, who has played in three NL Division Series but never advanced. "I just get to see how it feels to get close to the World Series. I'm really excited about this."
Blanco and coach Franklin Font are devoted to their daily exercise routine, so much that it inspired a T-shirt this season. The two will be doing their sprints again on Saturday prior to Game 1 of the NLCS.
"We have to keep doing the same routine," Blanco said. "We can't stop. We have to go all the way."
• Cubs manager Joe Maddon, who was battling a cold, had dinner Thursday night with former Chicago Bears coach Mike Ditka in Chicago, and the two talked about their Pennsylvania roots.
Carrie Muskat is a reporter for MLB.com. She writes a blog, Muskat Ramblings. You can follow her on Twitter @CarrieMuskat and listen to her podcast. This story was not subject to the approval of Major League Baseball or its clubs.