Injured Tejada to attend Game 1 at Citi Field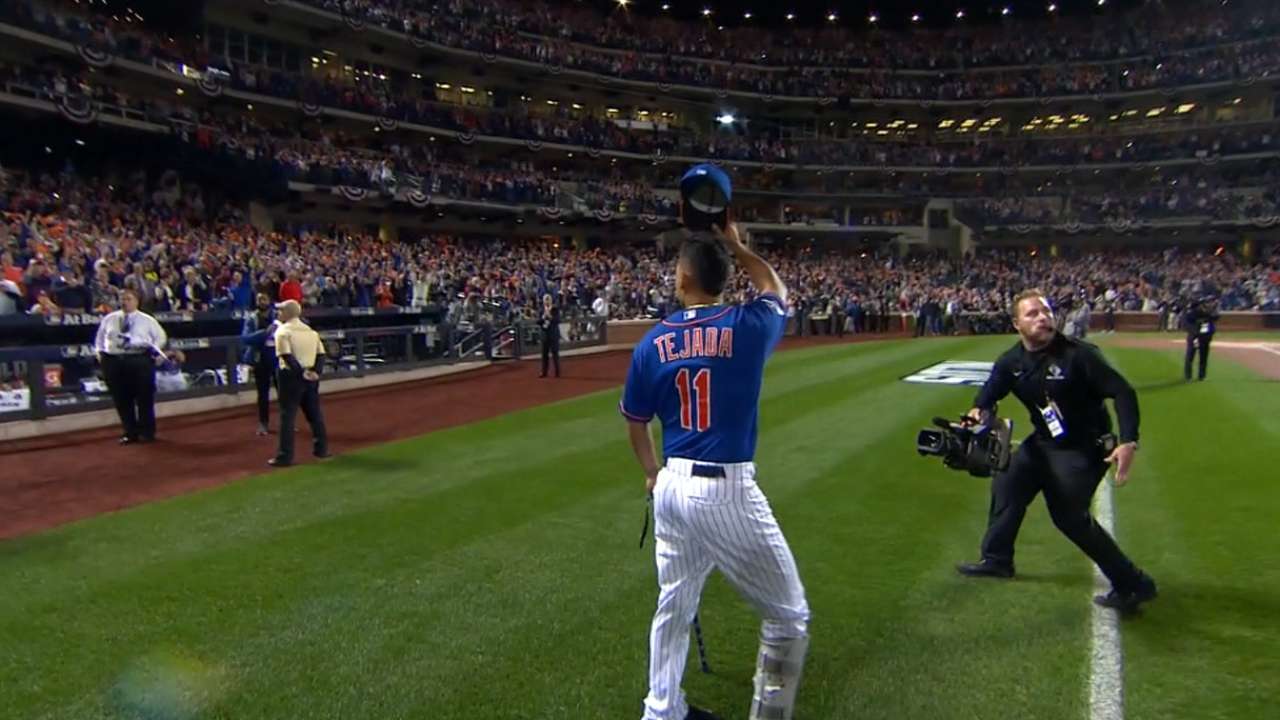 NEW YORK -- Mets fans flooded Citi Field in record numbers last week for the stadium's first National League Division Series, some holding signs as long as five feet reading "Win it for Ruben."
The slogan evolved into a rallying cry of sorts for Mets fans and players alike after shortstop Ruben Tejada sustained a broken leg on Chase Utley's controversial slide in Game 2 of the series. Utley was subsequently suspended for two games, though he remained active for the rest of the series after appealing.
• Get set for NLCS: Shop for Mets postseason gear
Tejada, though, was not with the Mets as they celebrated their series-clinching win Thursday in Los Angeles. He remained in New York, where he will be in attendance once again when the Mets open the NL Championship Series at Citi Field on Saturday (8:07 p.m. ET on TBS).
Manager Terry Collins confirmed Friday that Tejada will be with the team when it's in New York, though he will not travel to Chicago.
Mets fans will get to reuse those signs.
Tejada limped onto the field during player introductions before Game 3 of the NLDS, carried to the dugout step by Matt Reynolds, his replacement on the 25-man roster. Tejada received thunderous applause, louder than the one given to team mainstays David Wright and Daniel Murphy, or franchise legends Rusty Staub and Ed Charles, who threw out the first pitch. The cheers for Tejada rang louder even than the boos for Utley.
Joe Trezza is an associate reporter for MLB.com. This story was not subject to the approval of Major League Baseball or its clubs.