Yost recalls days working with Jays' Gibbons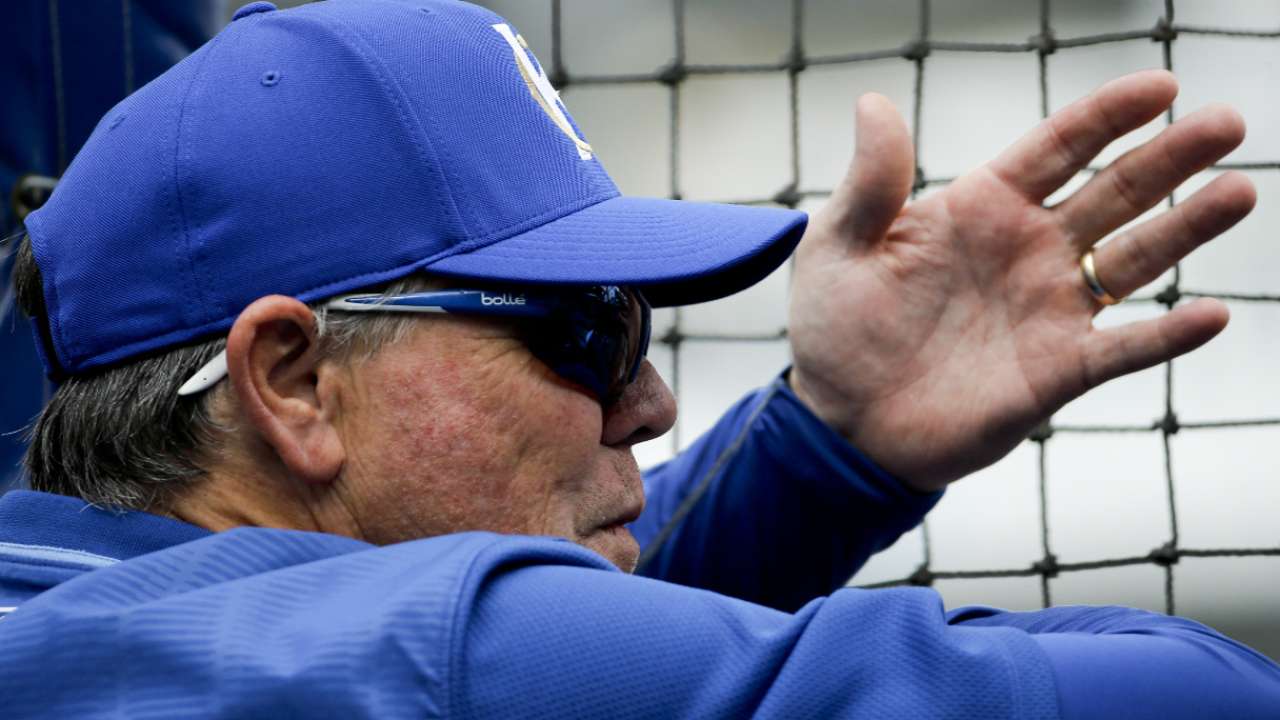 KANSAS CITY -- Back in 2010 and '11, Blue Jays manager John Gibbons was Ned Yost's bench coach with the Royals, and Yost remembers their relationship fondly.
"I love Gibby," Yost said. "You guys that work around Gibby know what kind of person he is. He's a tremendous guy. He's a funny guy. He's a loose guy. He's a very smart guy.
• Shop for Royals postseason gear
"It was my fault, but I didn't take full advantage of Gibby when he was here. At that time, I was still a little bit on the hard-headed side and managed the game all by myself. And here the last couple of years, I've learned to include my coaches a lot more in the decision-making process and the end-game decision-making process.
"But Gibby was great to have around."
No waiting: Yost prefers a quick turnaround between the American League Division Series and the AL Championship Series.
"It keeps you a little more active," he said. "I didn't feel like we got rusty at all last year in some of those longer delays, but it keeps everything flowing better.
"The one day is great and gives your bullpen an extra day; gives all the position players an extra day to kind of come in and move around a little bit with a light workout.
"But three or four days of that, and you start to get antsy, so I'm glad we're going today."
Growing up: Yost believes that Game 2 starter Yordano Ventura has matured greatly this season.
"I think he's made great improvements from the beginning of the year on," Yost said. "And a lot of it was just learning how to deal through adversity and how to become a better professional. And I think he's learned those lessons really, really well.
"The quality of his stuff is the same. I don't think he's gotten any better in terms of his talent, but as a professional and as a competitor, he's gotten a lot better. He's matured a lot, which is a good thing. Young guys go through some tough times up here. And the more you endure it, the more you learn from it, the better off you're going to be."
Jeffrey Flanagan is a reporter for MLB.com. Follow him on Twitter at @FlannyMLB. This story was not subject to the approval of Major League Baseball or its clubs.