MLB.com Columnist
Alyson Footer
International introduction opens ALCS
Canadian singer, US saxophonist perform anthems in KC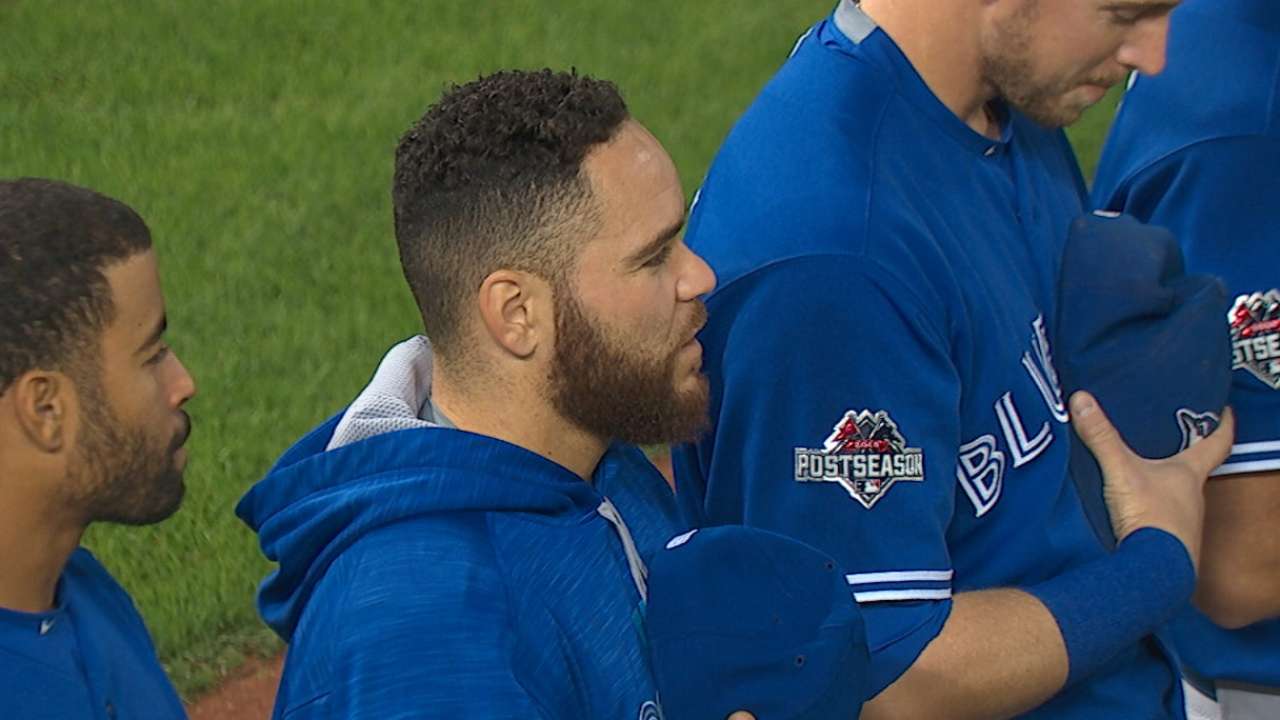 KANSAS CITY -- The list of Kansas City residents who are from Canada, are Broadway performers and professionally trained musicians, and are comfortable belting out the Canadian national anthem in a packed ballpark before a nationally televised Major League Baseball game is probably pretty short.
The list might be limited to one person, in fact. Fortunately for the Royals, they know that one person, and she was available to sing prior to Game 1 of the American League Championship Series between the visiting Blue Jays and the host Royals, who won the opener, 5-0.
• Dress for the ALCS: Blue Jays shop | Royals shop
Tina Maddigan-Mayer, who played the original Sophie in the Broadway show "Mamma Mia" and also performed in "The Wedding Singer," has sung at Kauffman Stadium before Royals games in the past. But when she received a phone call from a friend who formerly worked for the Royals and was helping track her down, she didn't hesitate to oblige.
"They contacted him yesterday and said, 'Do you know anyone who can sing the Canadian national anthem?'" Maddigan-Mayer said. "And he said, 'I know a Canadian girl.' They said, 'Can you come tomorrow and sing at the game?' Obviously, we're not barbecuing tonight in our driveway."
Maddigan-Mayer is originally from St. John's, Newfoundland, but her husband is from Kansas City. The family recently moved back to Kansas City after a brief stay in Richmond, Va., and even though theirs is a household divided between loyalty to the Blue Jays and the Royals, Maddigan-Mayer is thrilled for both of her favorite teams.
And she was doubly excited to perform before this game.
"I'm proud to be able to do it," Maddigan-Mayer said. "My mom was crying on the phone. She was so happy. She said, 'I can't believe it, what are the chances the Blue Jays are playing the Royals?'"
The American anthem was performed by saxophonist Mike Phillips, who is no stranger to playing before high-profile sporting events. On his resume are four Super Bowls, an NBA Finals game and the MLB All-Star Game in Kansas City in 2012.
Phillips, a jazz musician, began his career right out of high school when he was noticed and recruited by music legend Stevie Wonder. Phillips has also performed with Prince and Michael Jackson, and he has produced his own records that have done well in the jazz market.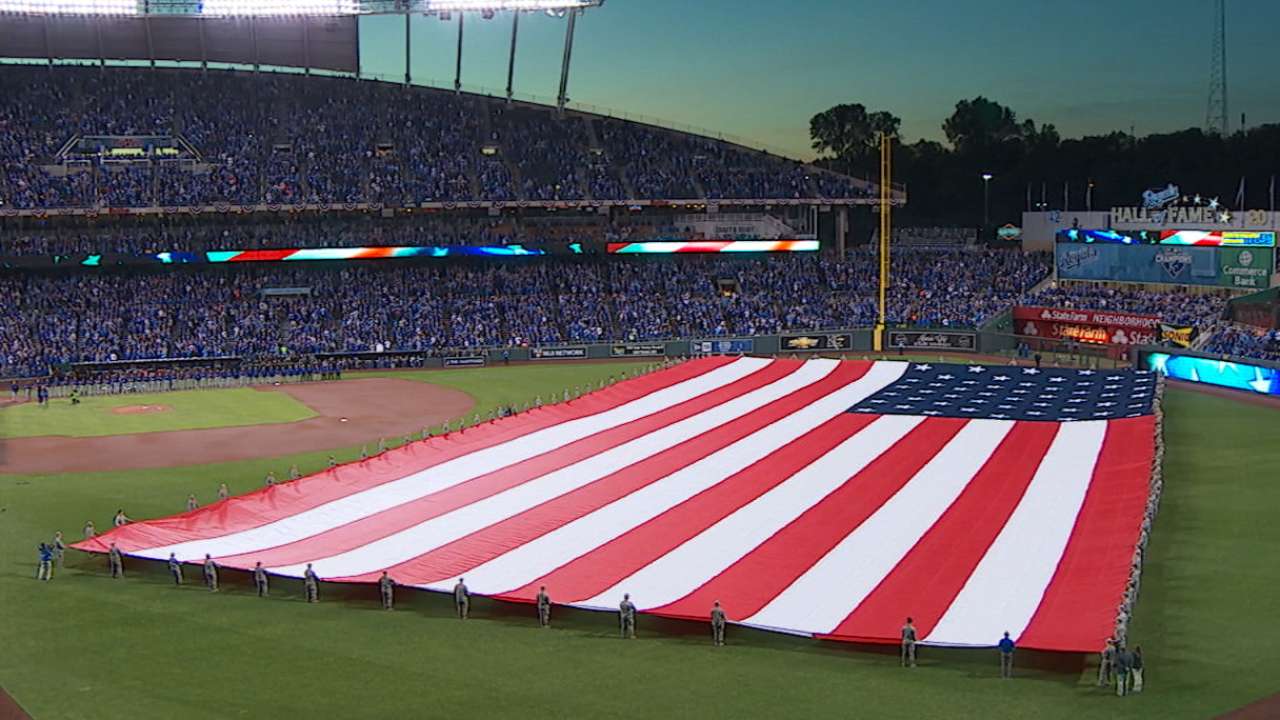 "A lot of miles, but I love it," Phillips said.
The Game 1 pregame ceremony began with an appearance by several dozen service members from Whiteman Air Force Base, who unfurled a giant U.S. flag in the Kauffman Stadium outfield.
Following the anthems, fans were treated to a flyover by a B-2 Stealth Bomber out of Whiteman.
The military theme continued with the ceremonial first pitch, which was thrown by U.S. Army Ret. Command Sgt. Maj. Tom Becher.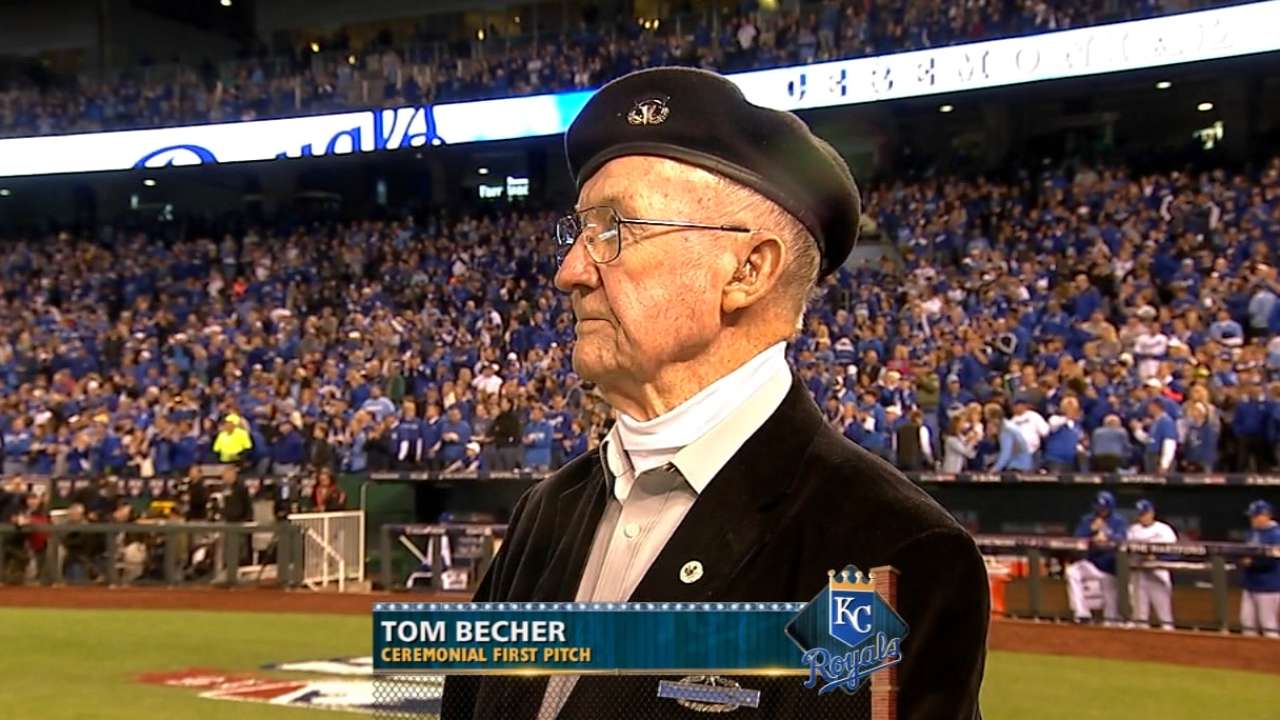 After enlisting in the Army in 1946, Becher completed his Ranger training and was sent to Korea in 1952. While his unit was exchanging mortar fire with the Koreans, a medic jumped into their foxhole and climbed over him just as a Korean mortar went off.
It killed the medic and wounded Becher, with pieces of the mortar shell entering his back and rib cage. He continued to fight and shoot his rifle until he and others moved all the injured into a M.A.S.H. unit. Becher was later presented with the Purple Heart by Gen. William Westmoreland.
In 1967, Becher was deployed to Vietnam, where he carried ammunition to multiple positions in his unit and carried casualties back out while risking his own safety. For these actions, he was awarded the Bronze Star of Valor when he returned home.
Alyson Footer is a national correspondent for MLB.com. Follow her on Twitter @alysonfooter. This story was not subject to the approval of Major League Baseball or its clubs.