Cards' Wisdom rakes in AFL offensive break out
St. Louis' No. 12 prospect goes 3-for-5 with 4 RBIs in 20-run performance for Surprise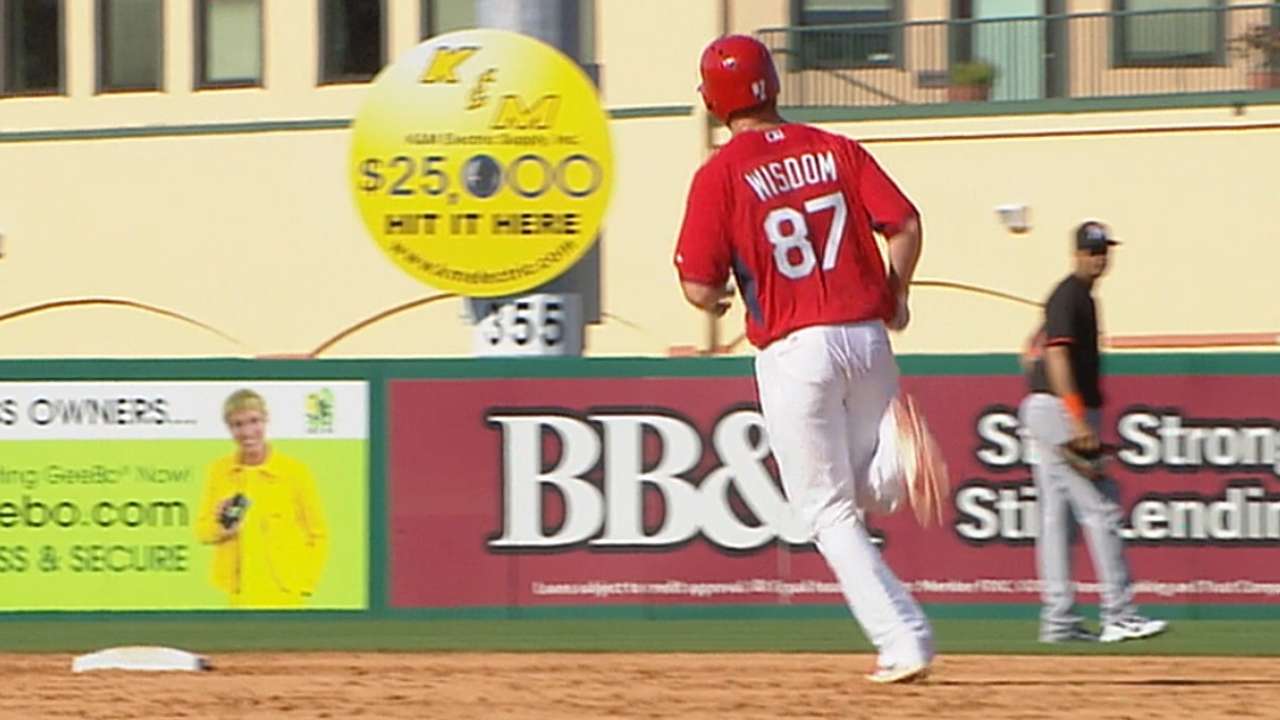 MESA, Ariz. -- A force of nature was the only thing that could slow down Patrick Wisdom and the Surprise Saguaros Friday. Wisdom doubled twice, tripled and drove in four runs in a 20-6 win over the Mesa Solar Sox, and the middle innings of the game were played under threat of an impending sandstorm.
Wisdom, named by MLB Pipeline as the No. 12 prospect in the Cardinals' organization, scored four runs in the rout. Wisdom tripled home two runs and scored on an error by the center fielder in the third inning, and he delivered an RBI double in the fifth. His final RBI came on a bases-loaded walk.
"I've never played through a sandstorm before," said Wisdom of the weather's impact on the game. "The conditions were not ideal. Sand in your eye. Kept blinking, trying to focus. It was a little hazy. But we got through it. I thought it was supposed to rain earlier, but I guess it held off until [the end]."
Wisdom, who usually plays third base, was at first base on Friday for his monster day at the plate. His first hit was a lined shot to center field in the third inning, and as he steamed around the bases, he got a chance to come home because of a misplay by the center fielder.
Wisdom arrived ahead of the throw, helping Surprise open up an early two-run cushion. The natural question for the slugger after the game: Have you ever hit an inside-the-park homer before?
"Yeah, when I was seven," said Wisdom after settling for a triple and scoring on an error. "I thought they were going to stop me at third, and I was pretty winded at that point. They kept me going and I scored. I didn't know until I got into the dugout. They said, 'They gave him an error.' That's alright."
Wisdom came back up in the fourth inning and stroked an RBI double to left field, and Surprise seized control of the game with seven runs in that inning. But the Saguaros weren't done. Wisdom drew a bases-loaded walk in the four-run fifth inning and doubled to center field in the three-run seventh.
"I felt really good out there," said Wisdom of contributing to the one-sided victory. "I just kept my approach to right-center and tried to hit the ball to right field. It paid off for me. I was just having some fun out there, playing first base. I don't usually do that. It's a good change and it was fun today."
Wisdom wasn't the only player with a big game. His teammate, Bubba Starling, homered twice, and Ramon Torres had four hits and two runs scored for the road team. Yadiel Rivera had three hits and drove home four runs, and Michael Ohlman homered and drove in three runs.
But the biggest game may have come from someone on the losing side. Mesa third baseman Jeimer Candelario homered twice and had three doubles in a 5-for-5 performance. Candelario scored twice and drove in four runs in the losing cause, and his second home run came in the ninth inning.
Wisdom, 24, played through his second tour at Double-A Springfield this season, and he improved across the board in batting average, on-base percentage and slugging. Wisdom hit .237 with 14 homers and 61 RBIs in 114 games this season, and he said he learned a lot in the process.
"I'm very proud of how I played this year," he said of his second season at Springfield. "I thought it was a big year for me and a lot of progress was shown, but I also feel like there's a lot more to learn and a lot more to improve on. I think this is a great opportunity to come out to the Fall League and continue on the season and continue to learn and get better. I want to take advantage of the opportunity."
Spencer Fordin is a reporter for MLB.com. This story was not subject to the approval of Major League Baseball or its clubs.