MLB.com Columnist
Tracy Ringolsby
Gibbons has KC roots, but it's all about Toronto
Blue Jays' manager spent four years on Royals' staff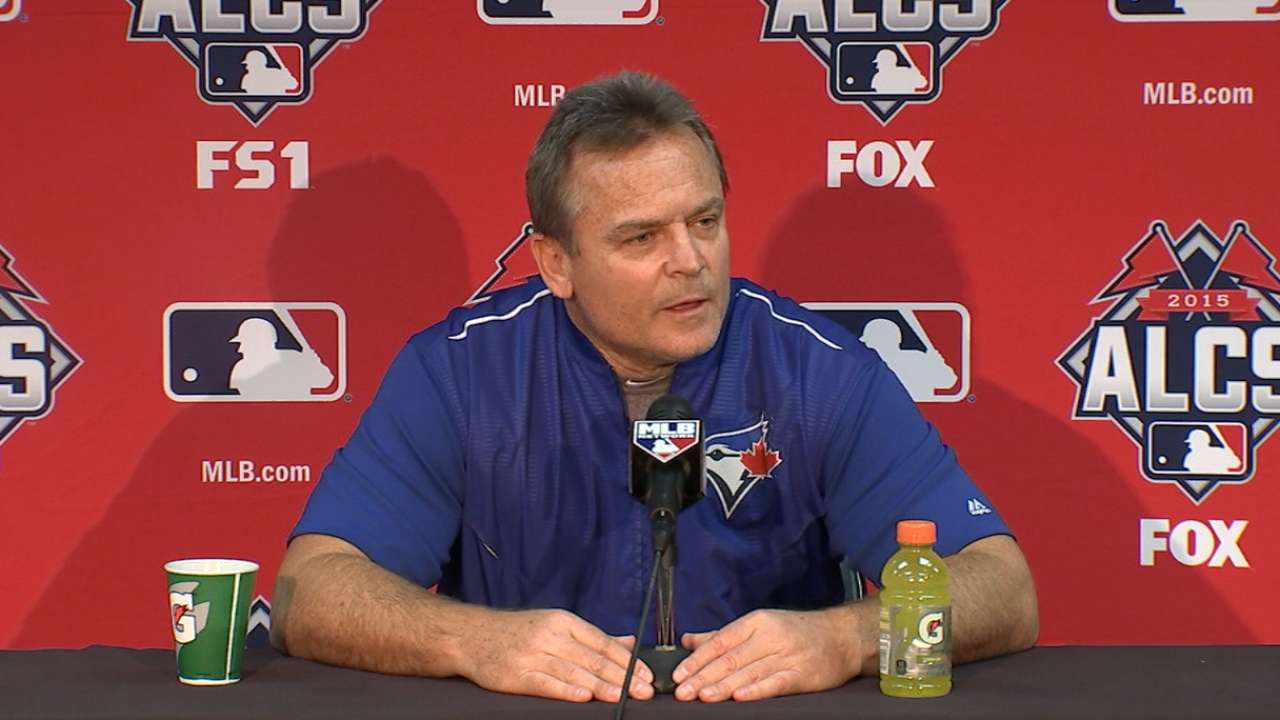 KANSAS CITY -- The fan in Toronto Blue Jays manager John Gibbons has a soft spot for the Kansas City Royals. But there are no warm and fuzzy feelings today or tomorrow, or any day in the next week or so.
"It is a little different right now," Gibbons said.
• Dress for the ALCS with Blue Jays gear
Right now, Gibbons is focused on winning the American League pennant. The last roadblock between the Blue Jays and the World Series is the Royals.
The two teams opened the AL Championship Series at Kauffman Stadium on Friday night, with Gibbons filling out the Blue Jays' lineup card -- before Kansas City took Game 1, 5-0 -- and sitting on the visiting bench in the ballpark where he spent four years (2008-11) as a member of the Royals' coaching staff.
And Gibbons watched closely when that lineup, built around the young players he got to know when he was Kansas City's bench coach, stepped up against Toronto's pitching staff.
"When I was here, you could tell something good was happening," Gibbons said. "But you also could tell it was going to take some more time. They had those good young position players, but they had to wait until the right time to add the pitching.
"Dayton [Moore, Royals general manager] did a good job waiting for the team to be ready, and then he went out and got that pitching."
Moore did a good enough job that after a 29-year postseason hiatus, the Royals won the AL pennant a year ago, losing to the San Francisco Giants in a seven-game World Series. And as an encore this year, Kansas City won the AL Central with an AL-best 95 regular-season victories, and then came from behind in all three of the games the team won in the best-of-five AL Division Series against Houston to advance to the ALCS.
There were, however, initial struggles.
And Gibbons witnessed them initially as a member of Trey Hillman's staff, and the last 1 1/2 years working for current manager Ned Yost. He was let go after the 2011 season when Chino Cadahia, who had worked with Yost in Atlanta, was let go by the Braves.
"Bobby [Cox] retired [as manager in Atlanta] and Chino was available," Gibbons said. "That's part of the game. I appreciate it. They treated me great. Ned kept me around, but there comes a time for a change. Ned was great with me. It was a very good experience."
In the four years Gibbons was on the Royals'coaching staff, they finished in fourth place in the AL Central three times, and fifth place the other year. Their 278-370 composite record was the third-worst winning percentage among AL teams from 2008-11, behind only Baltimore (.413) and Seattle (.423).
The seeds for success were planted back then, however.
The three current Royals pitchers who debuted during Gibbons' time in Kansas City are now relievers -- right-handers Greg Holland, the closer who underwent Tommy John surgery last month and is sidelined this postseason, and Luke Hochevar, as well as lefty Danny Duffy, who was primarily a starter in the regular season.
The offense, though, saw the arrival of Alex Gordon as a third baseman and then the start of his conversion to a left fielder, as well as the debuts of first baseman Eric Hosmer, third baseman Mike Moustakas, catcher Salvador Perez, center fielder Lorenzo Cain and shortstop Alcides Escobar (both of whom were acquired from Milwaukee via trade in December 2010).
"They were all coming up at a young age, so you knew the future looked good," Gibbons said. "The one thing I noticed about that group, they all played together in the Minor Leagues, they all won and there was a pretty tight bond there. The plan was, get those guys on track and Dayton was going to acquire some pitching, and he'd tell you that. Really, that's how the plan worked out. And shoot, he did an excellent job."
How good? Check out that lineup.
"I thought it was some of the best groups of young talent I had ever seen," Gibbons said. "The numbers of guys, you don't expect them all to make it, but they damn near all did."
Hired initially by the Royals in October 2008 after being dismissed as the manager of the Blue Jays in June 2008, Gibbons spent the 2012 season managing San Diego's Double-A affiliate in San Antonio, where he makes his home, and then returned for a second stint as Toronto's manager in '13.
"Things have come full circle," said Gibbons, "back with the Blue Jays, back in Kansas City."
Right now, however, there is no time for emotions.
Gibbons' focus is on one thing -- getting the Blue Jays back to the World Series for the first time since 1993.
Tracy Ringolsby is a national columnist for MLB.com. This story was not subject to the approval of Major League Baseball or its clubs.