Salvy right as rain despite playing with pain
Catcher drills third postseason homer, OK after being hit by backswing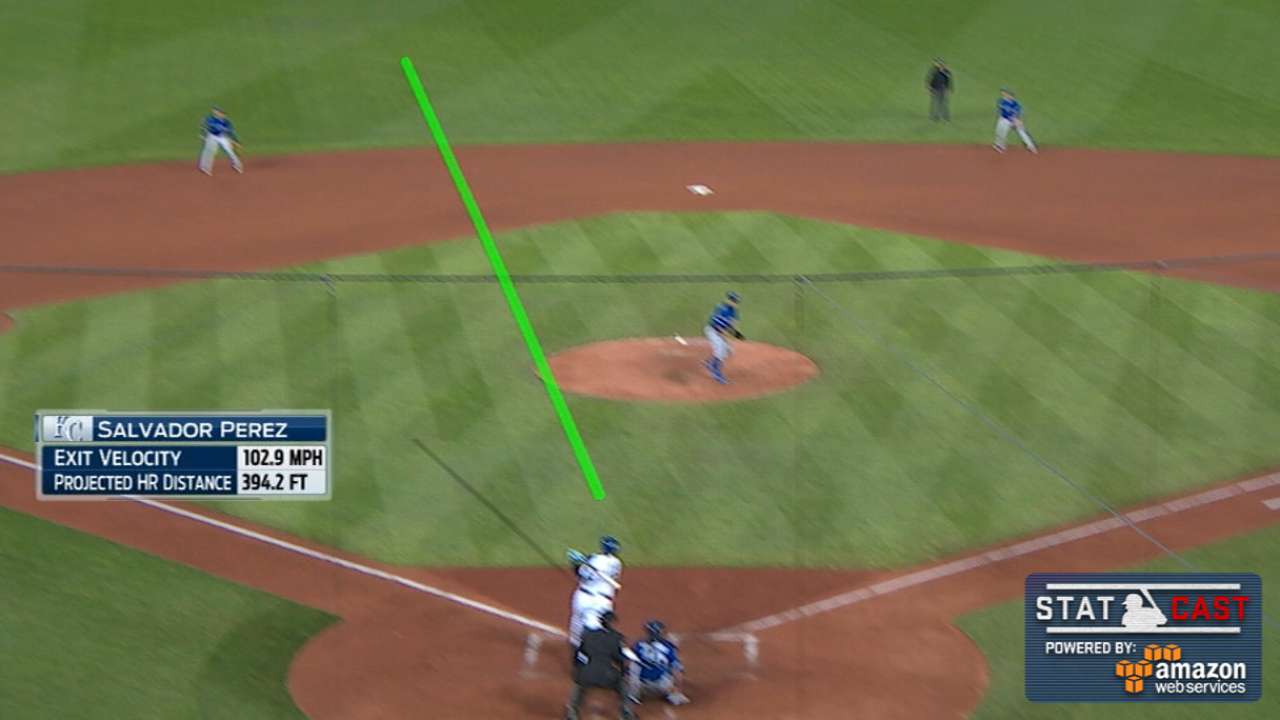 KANSAS CITY -- Royals catcher Salvador Perez emerged from the trainer's room long after most of his teammates had slipped away on Friday night, and he was still unshowered more than an hour after a 5-0 shutout of the Blue Jays in Game 1 of the American League Championship Series on a chilly evening at Kauffman Stadium.
"A little cold today," Perez said, grinning. "[It was] 47, I think I saw. But sometimes we don't feel that."
• Shop for Royals postseason gear
It's hard to tell whether the walking wounded backstop feels much of anything these days.
Perez didn't even have a bruise to show for the hearty Josh Donaldson backswing he took to his middle left finger in the eighth inning. Perez tugged at it every so often when speaking to reporters, whatever existing pain masked by the same joy he exudes every day no matter how sore he is.
Just days ago, Perez was playing through the AL Division Series with a merciless illness. He was also hit by a pair of pitches in the five-game set. But Perez never mentioned his ailment throughout.
"It's pretty good, I feel pretty good," Perez said of his finger. "I get some treatment and I'll be back behind the plate tomorrow."
Not that anyone in the room would ever question as much.
"You take a baseball bat to the hand, about 95 percent of the people in the stands are gonna go home," said reliever Ryan Madson, who was on the mound for the eighth. "But he's tough and he wants to be back there. He doesn't want anyone else to be back there."
Even after the last out had been made on Friday, capping Kansas City's 16th straight scoreless inning to set a franchise postseason record, Perez's work -- which included a home run in the fourth inning, his third this postseason -- was unfinished.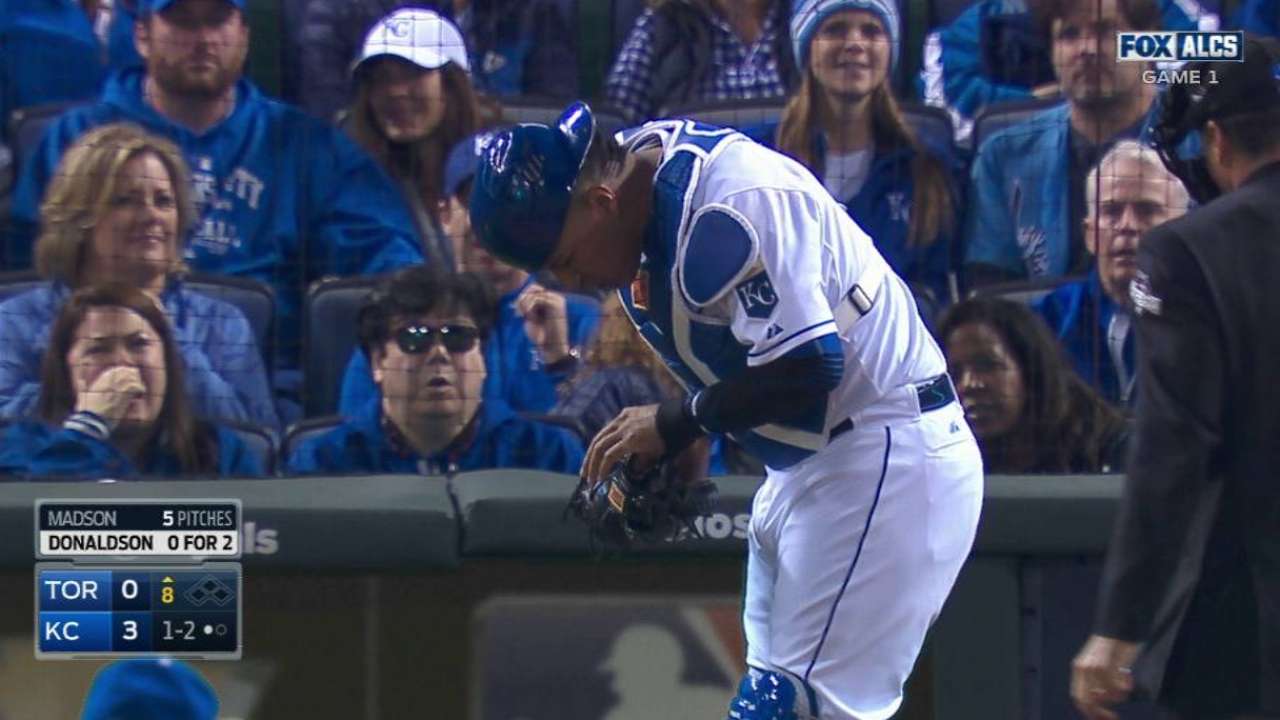 Starter Edinson Volquez saw the bucket, his icy Gatorade bath awaiting him, even though he waved off his batterymate during a postgame interview while the winds whipped around him.
Perez did it anyway. He always does.
"I told him, 'It's too cold, don't do that,'" Volquez said. "He said, 'OK, we won't do that.' As soon as I found out he was right behind me with a bucket, he poured it over my head.
"He's crazy. In a good way, too."
Volquez says Perez is "the leader of the team right now." When Perez isn't at the plate or behind it, he's on the top step cheering on his teammates. Equally perpetual are his contagious laugh and his unwavering toughness -- and his bat has been pretty good, too. Perez is 5-for-17 (.294) with three home runs and five RBIs through the first six games of the Royals' latest postseason run.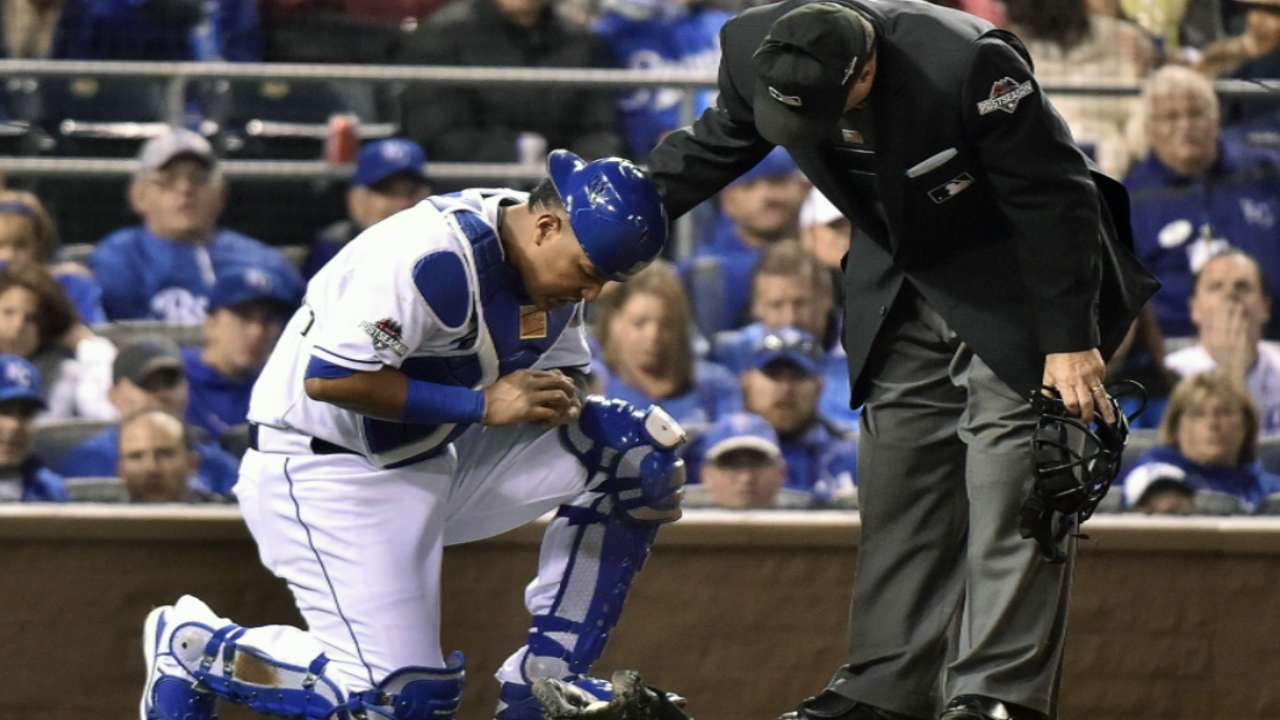 "He just takes a beating, just takes a beating," manager Ned Yost said. "But I think everybody just feeds off his enthusiasm and energy that he brings to the ballpark every day. And it's infectious, that attitude and enthusiasm and passion for the game. That's why I think all the players can unite behind Salvador, knowing that he helps bring the energy every single day."
"That joker's tough," reliever Luke Hochevar said. "He takes a beating some games -- foul balls, getting hit in the mask or backswings -- and he sticks it out. I think everybody in this clubhouse, not just the pitching staff, respects him and respects what he does on the field and in the clubhouse. He's a great competitor, and he handles this staff phenomenally well."
Jane Lee is a reporter for MLB.com. This story was not subject to the approval of Major League Baseball or its clubs.