Rangers' comeback made 2015 a special season
Down 9 games in late July, Texas won AL West but lost ALDS in heartbreaker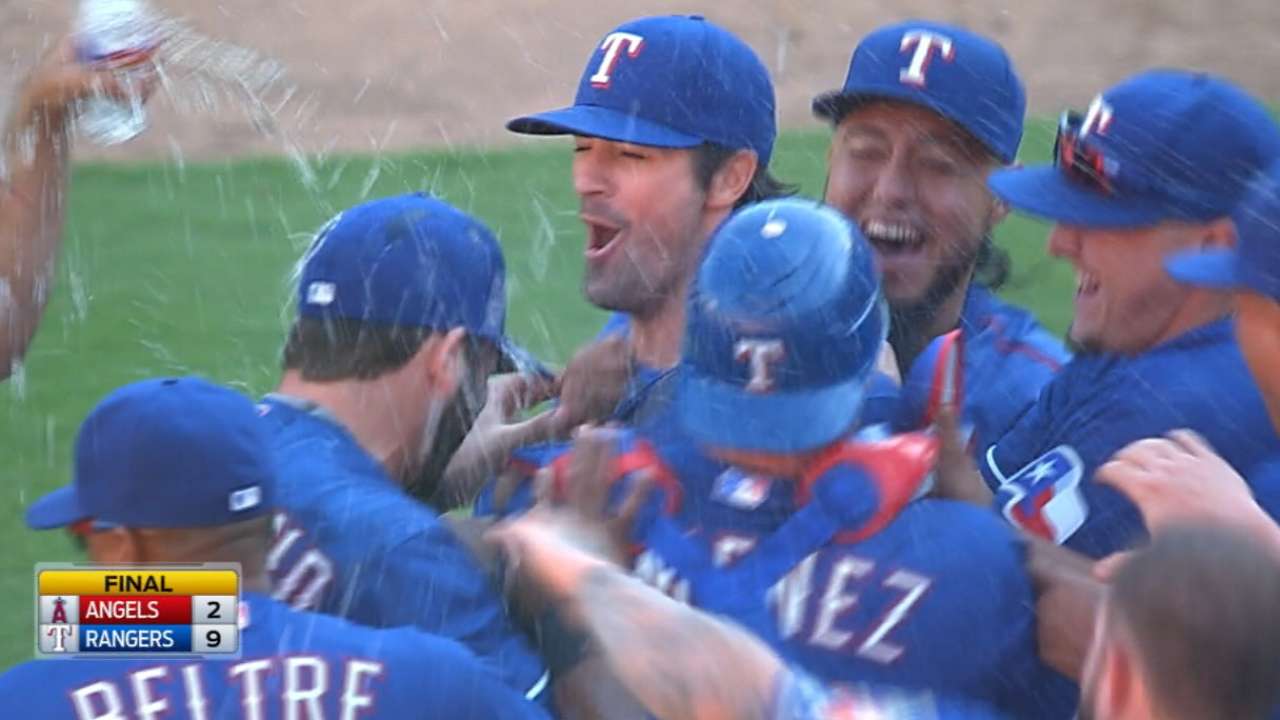 ARLINGTON -- The Rangers were one win away from advancing to the American League Championship Series when their season came to an abrupt and disappointing end.
Up 2-0 in the ALDS, they lost three straight games to the Blue Jays, including two in Arlington. It is not how the Rangers wanted it to end, especially with the seventh-inning meltdown in Game 5 in Toronto. But general manager Jon Daniels is not going to let that disappointment overshadow what otherwise was a terrific season.
After all, nobody expected a team that went 67-95 in 2014 to roar back and win a division title, especially considering they were five games under .500 and nine games out of first place as late as July 21.
"We had a very good year in a lot of respects," Daniels said. "From rebuilding our organization in a number of ways, recruiting a lot of great people, setting a tone in Spring Training, kind of rebuilding that winning culture, winning expectation and then going out and having a really fun year on the field.
"Listen, we all wish we were in Kansas City right now … but it doesn't take away the pride we all feel, ownership all the way through the organization for what's been accomplished, and re-laying that groundwork to get back there, year-in, year-out. That's overall the vibe throughout the organization right now."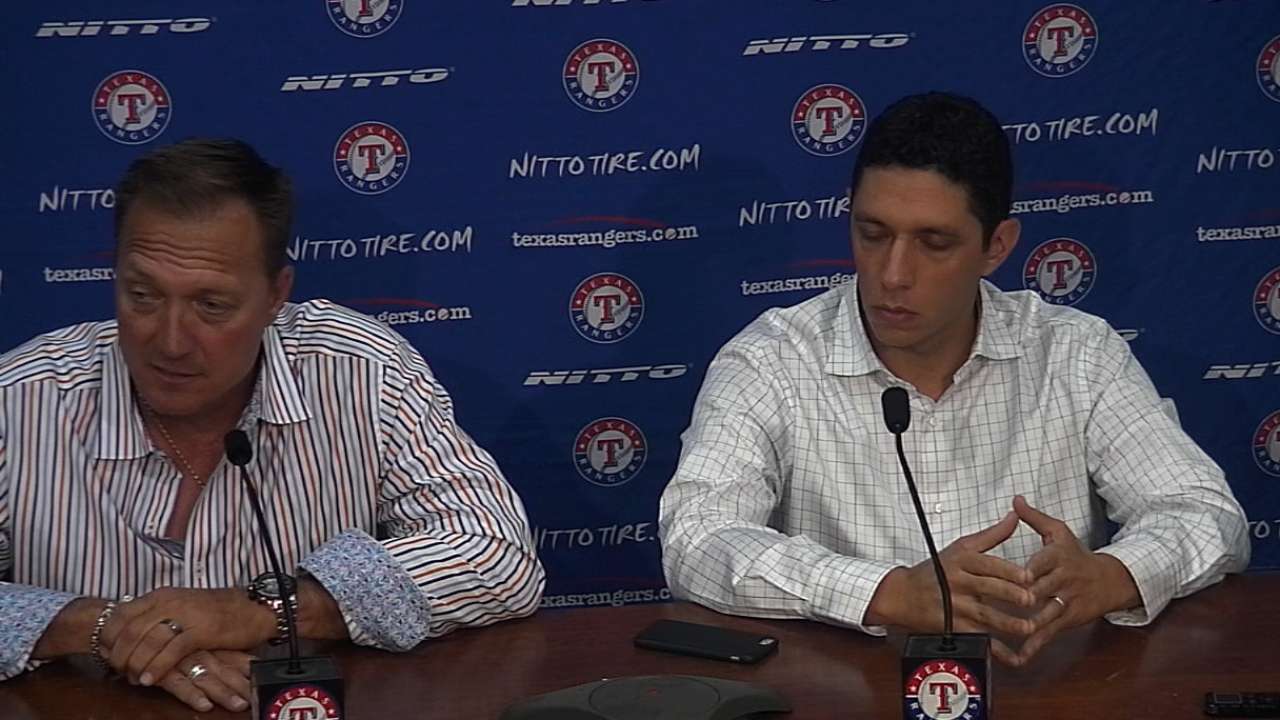 One year ago, the Rangers were introducing Jeff Banister as their new manager to lead in a daunting task ahead. Now he is a serious candidate for AL Manager of the Year.
"I feel just as excited today as I did a year ago," Banister said. "The mission for me has not changed one bit, as far as continuing towards our ultimate goal, that's to win a world championship.
"The way things ended for us, the feeling, I'll let that fuel me every day this winter to find a way to make us better. The last thing you want to do is lose your last game; that doesn't feel good. But I can take some gratification into what we asked these players to do on a daily basis and that was to show up. I'm proud of every part of that."
Record: 88-74, 1st place in American League West.
Defining moment: The Rangers went into the second half trying to climb back into the Wild Card race. By September, a Wild Card spot was well within their reach. Then came a four-game series with the Astros on Sept. 14-17 in Arlington. The Rangers swept the Astros to move into first place in the American League West and suddenly a division title was the goal.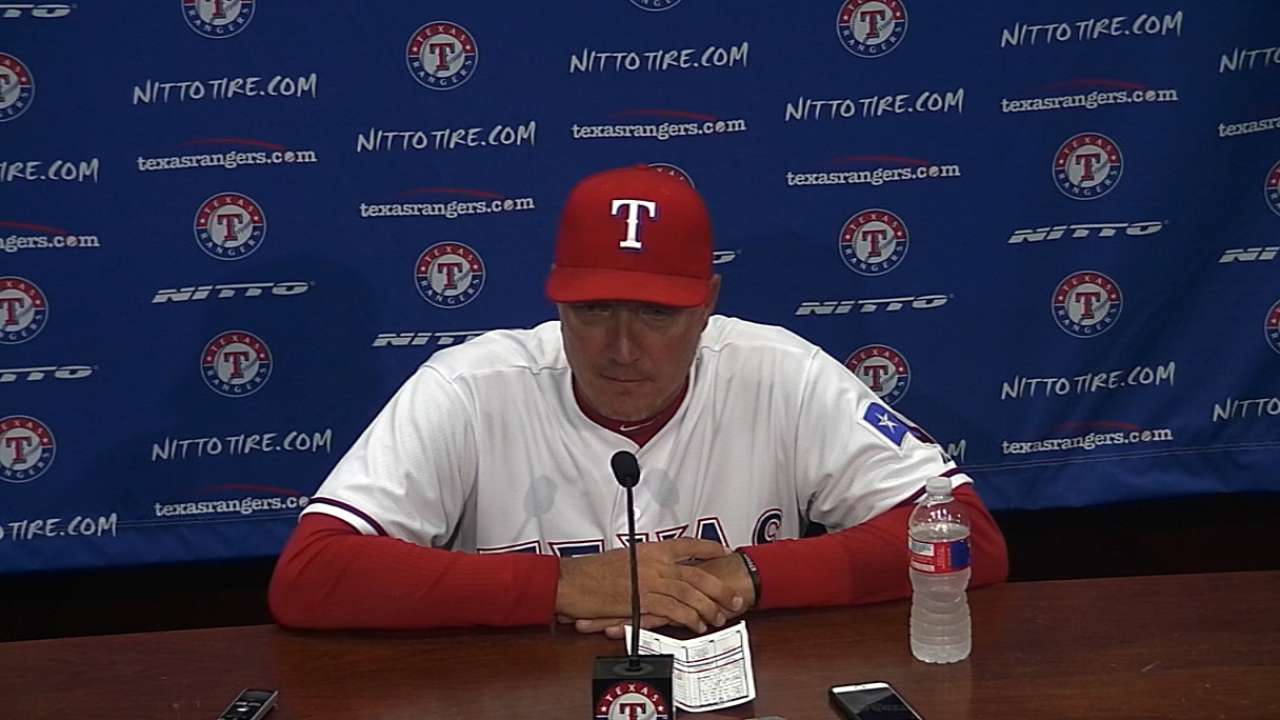 What went right: The offense surged back to life as Prince Fielder and Mitch Moreland enjoyed strong seasons coming back from injury, Delino DeShields took over as the leadoff hitter and Shin-Soo Choo, Elvis Andrus and Rougned Odor improved significantly as the season progressed. Colby Lewis and Yovani Gallardo were season-long bulwarks in a rotation that was propped up early by Nick Martinez and Wandy Rodriguez and reinforced in the second half by Cole Hamels, Derek Holland and Martin Perez. The bullpen also improved significantly as Shawn Tolleson took over as closer and Sam Dyson and Jake Diekman were acquired at the July 31 non-waiver Trade Deadline.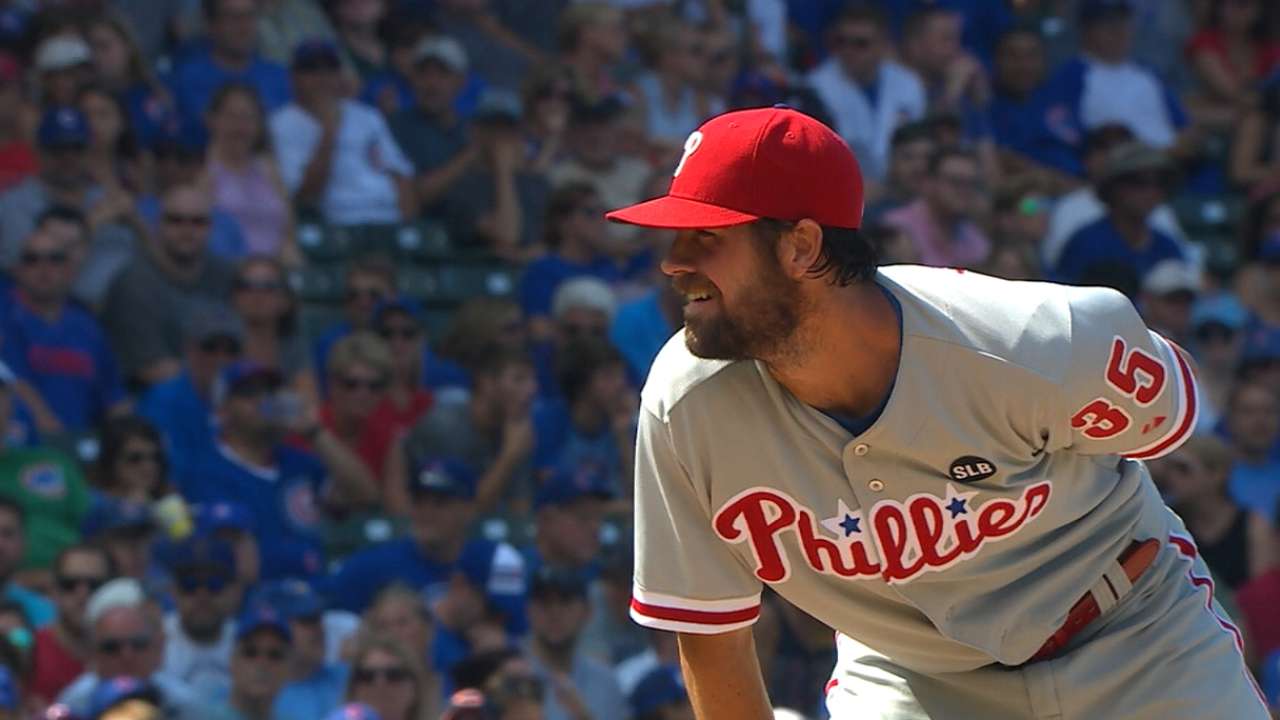 What went wrong: The Rangers were second in the American League in errors, and their defensive shortcomings came up in Game 5 of the ALDS. The Rangers lost Yu Darvish early in Spring Training when he went underwent Tommy John elbow reconstruction surgery. Holland also went down in the first week of the season with a strained shoulder. Neftali Feliz was unable to hold on to his job as closer, and the one-time shining star of the Rangers' pitching staff was unceremoniously cut loose in July. Tanner Scheppers also had an injury-plagued season. The Rangers picked up Josh Hamilton from the Angels for almost nothing on April 27, but he had a hard time overcoming a lack of Spring Training.
Biggest surprise: The Rangers showed up in Spring Training with a bunch of young power arms trying for spots in the bullpen. Rookie right-hander Keone Kela, making the jump from Double-A Frisco, emerged from the pack, and he was a dominant force much of the season, finishing with a 2.39 ERA and a 1.16 WHIP.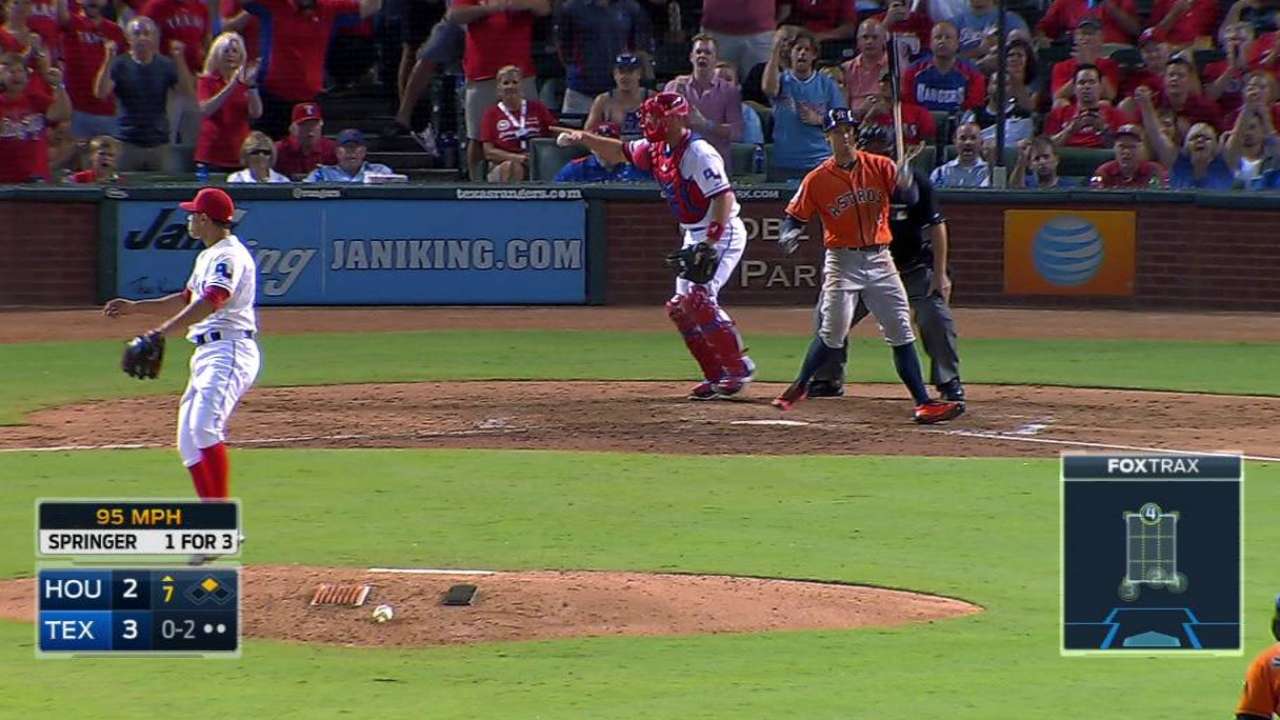 Hitter of the Year: In the first half of the season, it was Fielder. After the All-Star break, it was Choo. When the season was over, their offensive contributions were about even. Fielder had an .841 OPS and had produced 153 runs (runs + RBIs - home runs). Choo had an .838 OPS and produced 154 runs. If you had to pick one, it would be Fielder, because he came so far after undergoing season-ending neck surgery in 2014.
Pitcher of the Year: Gallardo had the lowest ERA, and Lewis led with wins and innings pitched. But in 2015, Tolleson had the most impact on the pitching staff as he took over as closer in late May and did a superb job for the rest of the regular season.
Rookie of the Year: It is rare for a Rule 5 Draft pick to make a team and stay in the big leagues all season. DeShields not only did that, but went from a fifth outfielder on Opening Day to leadoff hitter and starting center fielder. He was the spark that the Rangers needed at the top of the lineup, scoring 83 runs in 121 games.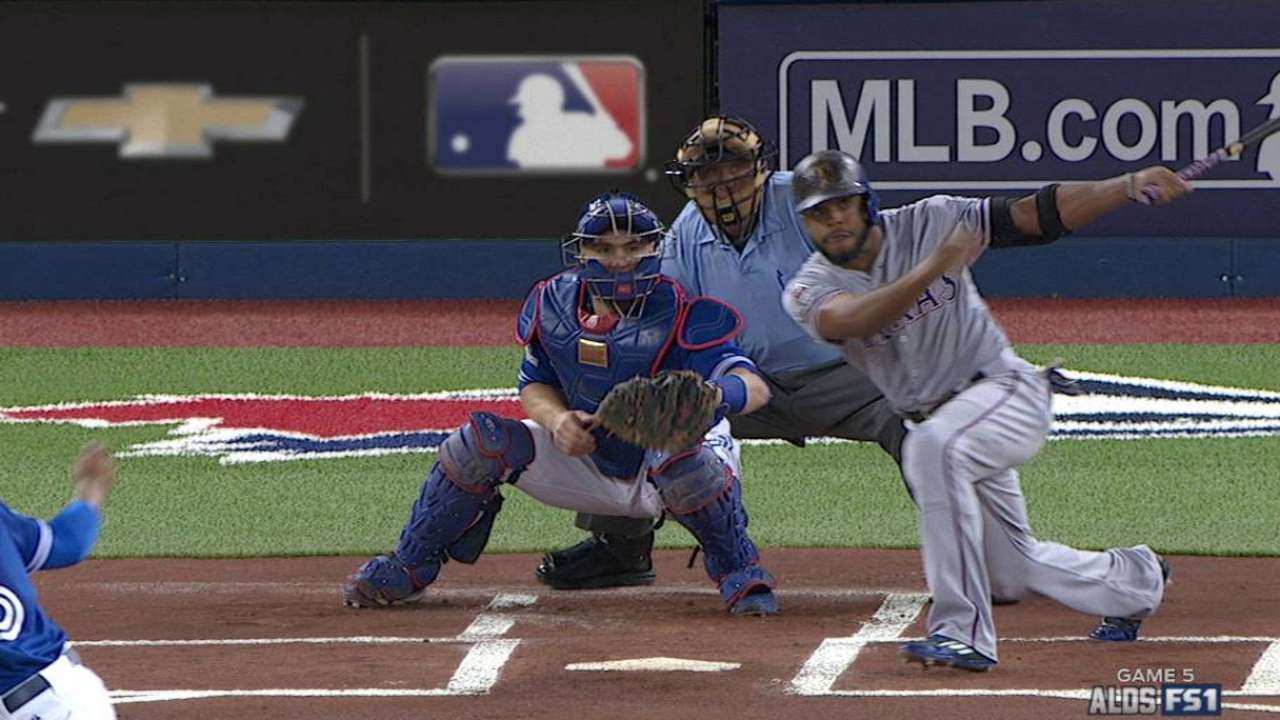 T.R. Sullivan is a reporter for MLB.com. Read his blog, Postcards from Elysian Fields, follow him on Twitter @Sullivan_Ranger and listen to his podcast. This story was not subject to the approval of Major League Baseball or its clubs.