Harvey earns Game 1 NLCS start in first full season
Righty had up-and-down campaign after Tommy John surgery, but ready for Cubs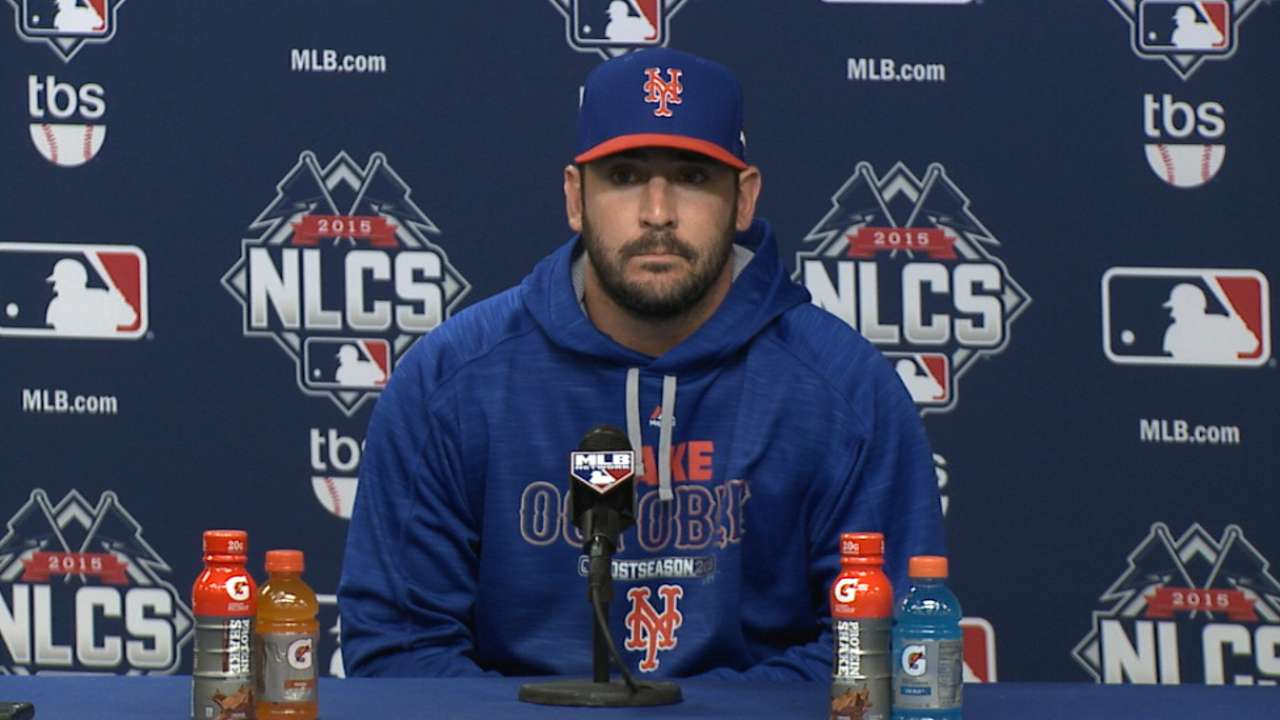 NEW YORK -- Matt Harvey's tumultuous season mentally and physically in the wake of returning from Tommy John surgery comes down to this: a Game 1 start in the National League Championship Series against Cubs veteran left-hander Jon Lester on Saturday night at Citi Field.
"I have a tremendous amount of respect for Matt and what he has accomplished this year, coming back from that surgery, pitching as much as he has, as well as he has and his determination to pitch in the postseason," Mets general manager Sandy Alderson said Friday on the eve of the 7:30 p.m. ET start on TBS.
• Shop for Mets postseason gear
"There was a little tumult along the way, and I think he's learned a lot from the experience. He's probably a lot better pitcher and person as a result. I think he's come through it really well and I'm very proud of what he's been able to accomplish this season."
The Mets, of course, hope that the best is still to come for the 26-year-old right-hander, who missed the entire 2014 season recovering from ligament replacement surgery in his right elbow.
Not only will Harvey start on Saturday night, but he's lined up to pitch Game 5 on Thursday, if necessary, at Wrigley Field on his normal four days of rest.
A month ago, as controversy raged about Harvey's innings count nearing what had been a predetermined cap of 180, everyone wondered just how much he might be used in the postseason.
Now the shackles seem to have been taken off. Though Mets manager Terry Collins said the club would still be going start to start evaluating Harvey, neither he nor Alderson would discount the fact that Harvey might make as many as five starts this postseason. The Mets would have to make it to the World Series for the first time since they lost to the Yankees in 2000 for that to happen.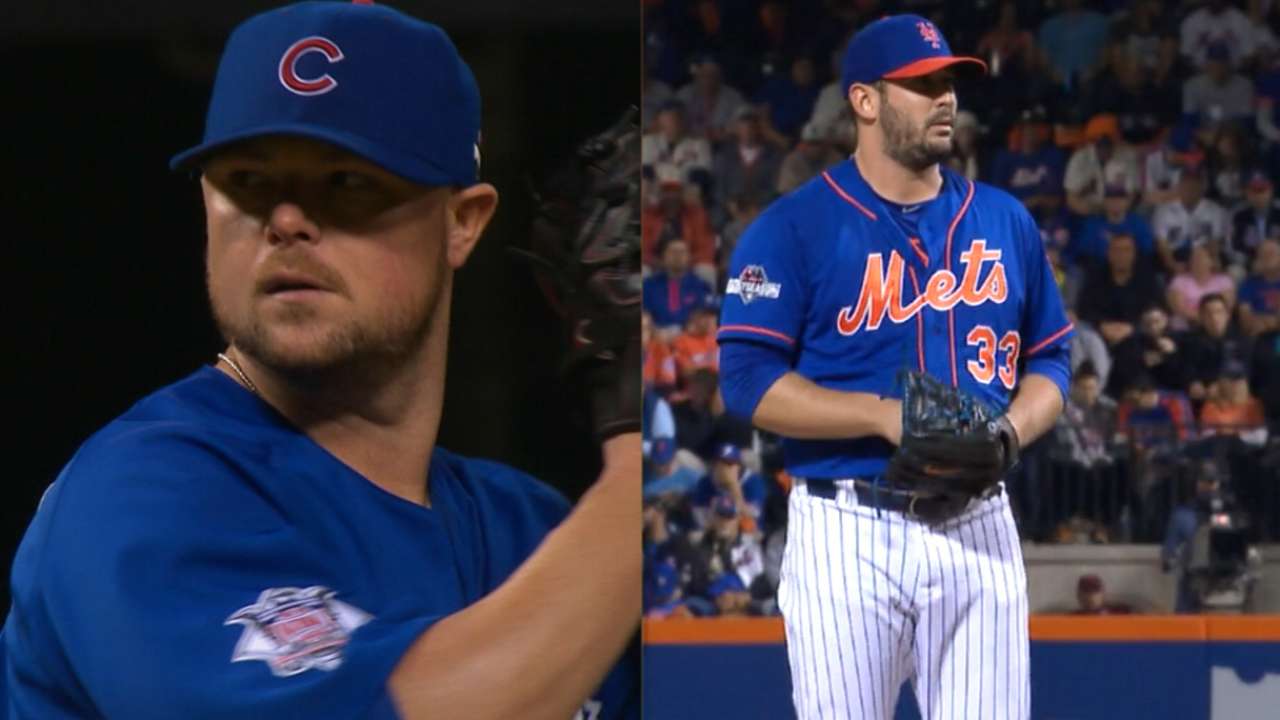 "Starting in a Game 1 creates the presumption that he'll start more than once in the series," Alderson said, echoing Collins. "But that's not a decision we've already made. It's a game-by-game proposition."
Harvey already has totaled 194 1/3 innings, including a five-inning stint Monday night in his Game 3, 13-7 victory over the Dodgers in the NL Division Series. The Mets won that series in five games with a 3-2 win in Los Angeles on Thursday night.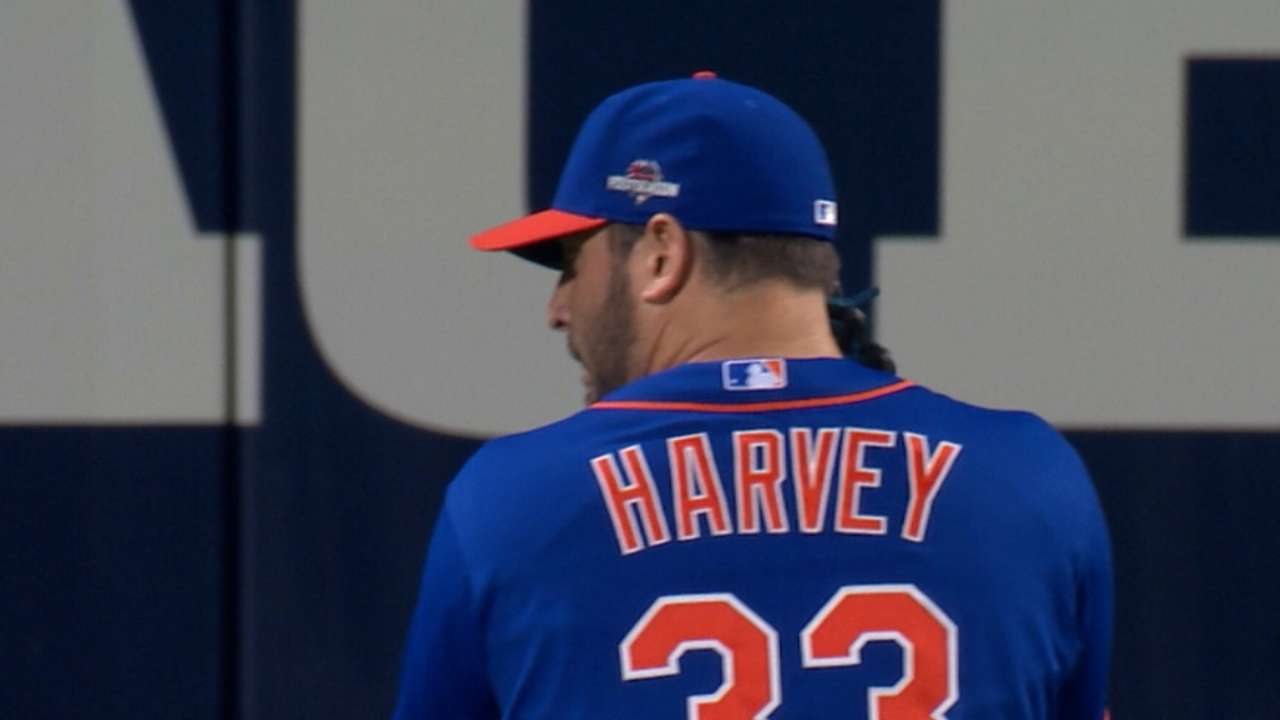 In Harvey's mind, he is long past the innings issue.
"I think everybody had enough talk and discussion about that whole ordeal," Harvey said. "I'll be the last one to ever bring that one up again."
To keep his innings count within reason, Harvey made only five starts during the last month of the regular season and started just once between Sept. 27 and Monday night, a stretch of 16 days.
And in none of those starts did he complete the seventh inning. Harvey's final regular-season start was Oct. 3, a six-inning stint against the Nationals. Because of off-days before the outset of the NLDS, Harvey didn't start for another nine days.
He cited a sluggishness and too many days off as the reason he struggled against the Dodgers, allowing three runs (two earned) on seven hits with two walks and seven strikeouts before Collins lifted him after five innings and 97 pitches.
He's back on a five-day cycle now and will undoubtedly remain there for the rest of the postseason if he stays healthy.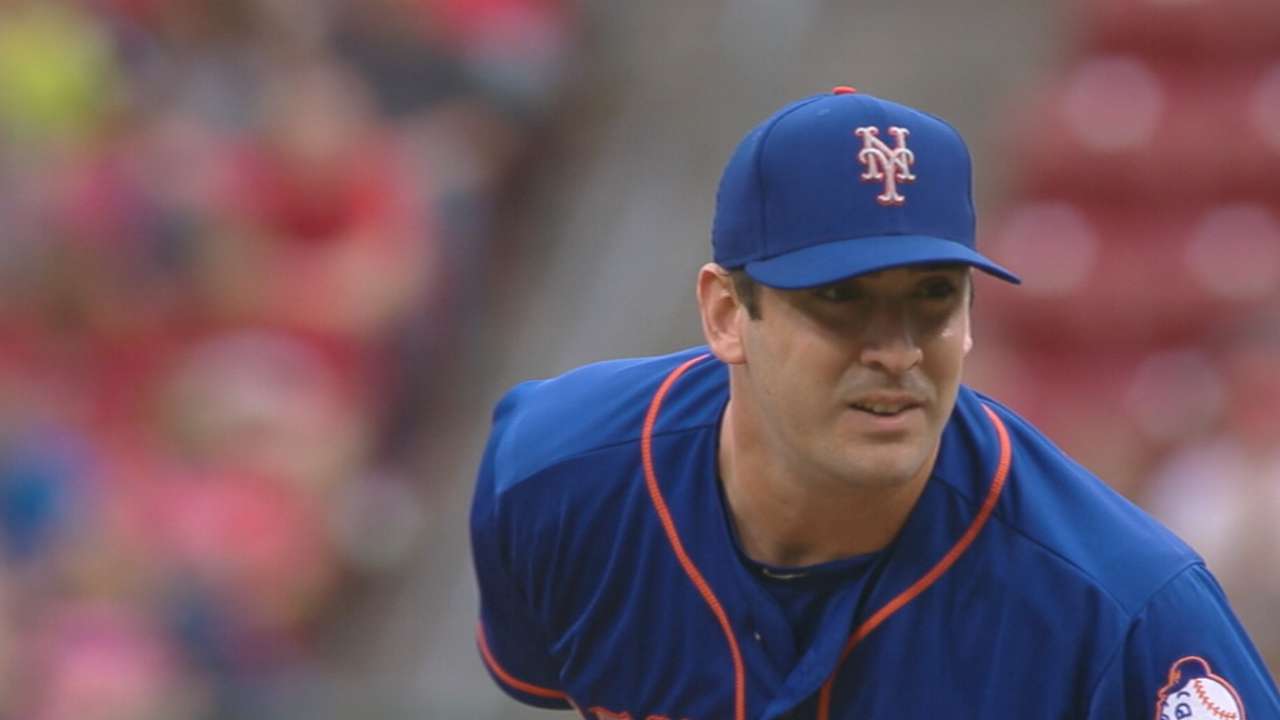 "I think the biggest thing is that I can be in a stretch here where I'm in a normal routine with normal rest," Harvey said. "I'm not using 10 days off as an excuse, but going down the stretch we had 10 days off here, 10 days off there. As a starting pitcher, you get into a routine. With all that going on, it gets a little bit difficult."
Saying all that, the Cubs won all seven games between the two clubs this season, all played prior to the All-Star break. Harvey pitched one of them: seven innings of scoreless, three-hit ball with nine strikeouts, getting a no-decision in a 2-1 defeat on May 13 at Wrigley Field.
Overall, Harvey was 13-8 with a 2.71 ERA, a 1.02 WHIP and 188 strikeouts in 29 starts in a season he characterized as having "a lot of ups and downs." Despite all the commotion, it was a pretty representative performance, considering the fact that he had Tommy John surgery on Oct. 22, 2013, and was restricted in his rehab for much of the following season.
His comeback this year has been well chronicled since Harvey made that first spring start amid much fanfare against the Tigers in Port St. Lucie, Fla., on March 6.
"Right now, physically and mentally, I think he's fine," Collins said. "What he went through in the last month has been very difficult for him. Deep inside this guy's a tremendous competitor and he loves to be in the big games. The other day, he was the first guy in my office wanting to pitch in Game 5.
"I told him that was probably not going to happen. But I told him, 'Right now, I have you pitching in the first game of the NLCS, if we get there.' He left with a big smile on his face and said he'd be ready. So I think it's the right choice and he's ready for it."
Barry M. Bloom is a national reporter for MLB.com and writes an MLBlog, Boomskie on Baseball. Follow @boomskie on Twitter. This story was not subject to the approval of Major League Baseball or its clubs.