Price confident that 'good things' on horizon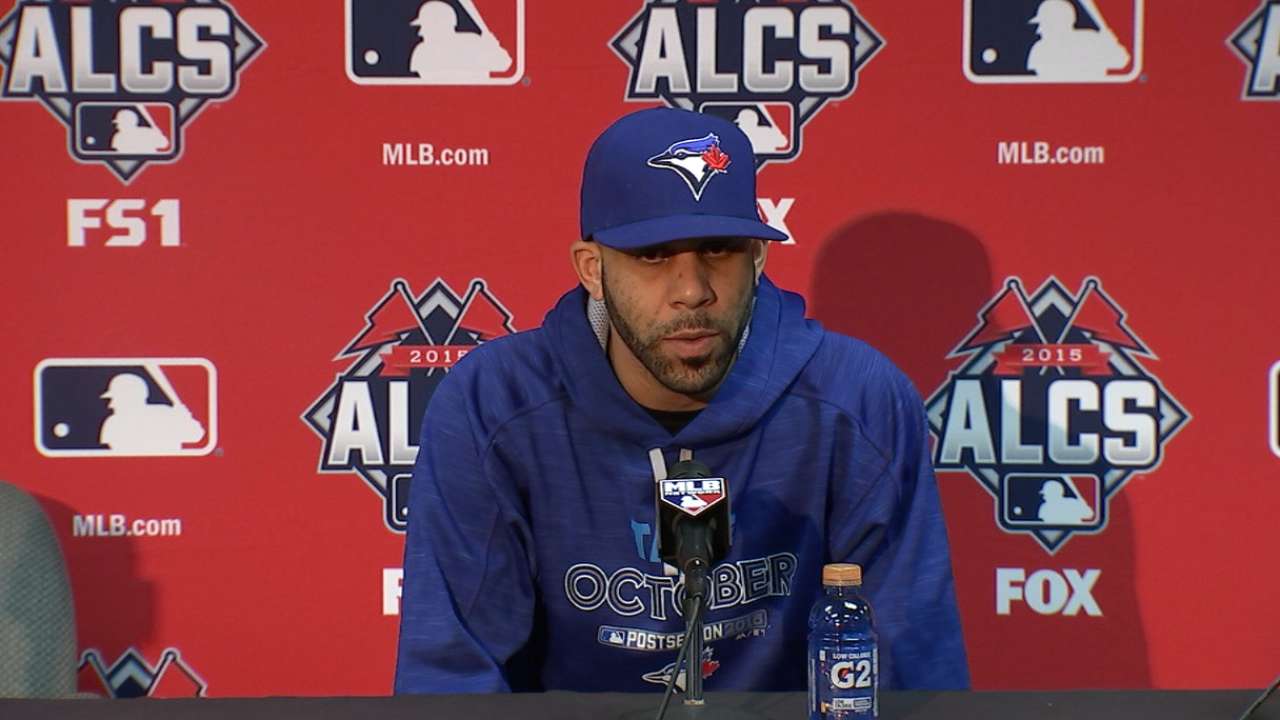 KANSAS CITY -- Much has been made of how the Blue Jays have handled ace David Price since the final week of the regular season. Much has also been made of the left-hander's well-documented struggles as a starter under the bright lights on the October stage.
More than familiar with the questions associated with each topic, Price shrugged off the repeated inquiries Friday, when Toronto lost, 5-0, to the Royals in Game 1 of the best-of-seven American League Championship Series against the Royals. On the eve of his Game 2 start against Kansas City's Yordano Ventura (Saturday, 3:30 p.m. ET, FOX Sports 1/Sportsnet), Price did not feel his staggered routine will present a problem.
In fact, Price wore a confident smile as he addressed Toronto's chances with him on the hill.
• Shop for Blue Jays postseason gear
"Good things are coming, I know they are," Price said. "I've got confidence in that."
After the Blue Jays' Game 1 defeat, Toronto first baseman Chris Colabello smirked when Price's postseason woes of the past were mentioned.
"I'll take my chances with that guy. I heard he's pretty good," Colabello quipped. "We're obviously excited to have him going. His reputation precedes him as a pitcher. Regardless of what his postseason track record is, it's good to have him go out there."
Blue Jays manager John Gibbons has taken some heat for Price's pitching schedule since his regular-season finale on Sept. 26.
After an 11-day layoff, Price looked a little rusty in his next outing, his 2015 postseason debut on Oct. 8, when he allowed five runs in seven innings against the Rangers in Game 1 of the AL Division Series. After Price warmed up with intent but did not appear in Game 3, Gibbons then used the lefty for three innings (and 50 pitches) to get the win behind starter R.A. Dickey in Game 4 on Monday, leaving Price unavailable for the win-or-go-home Game 5 on Wednesday.
"He ended up getting in, pitching longer than most people thought he would [in Game 4]," Gibbons said on Friday. "But, that was a little bit of strategy, too."
The Blue Jays, of course, won the clincher against Texas. That fact helped Gibbons overcome the hot takes focused on the way the veteran manager used Price leading up to and during the AL Division Series.
Gibbons offered a two-word reply to the critics on Friday.
"We're here," said the manager.
Price said he does not feel like his schedule has him out of whack going into his next start.
"I don't think I'm out of routine," Price said. "I've still got my work in. ... I threw a lot [in the] bullpen [on Thursday]. It doesn't change. Like I said before, the dimensions that I'm throwing are still 60 feet, six inches. That stuff doesn't change."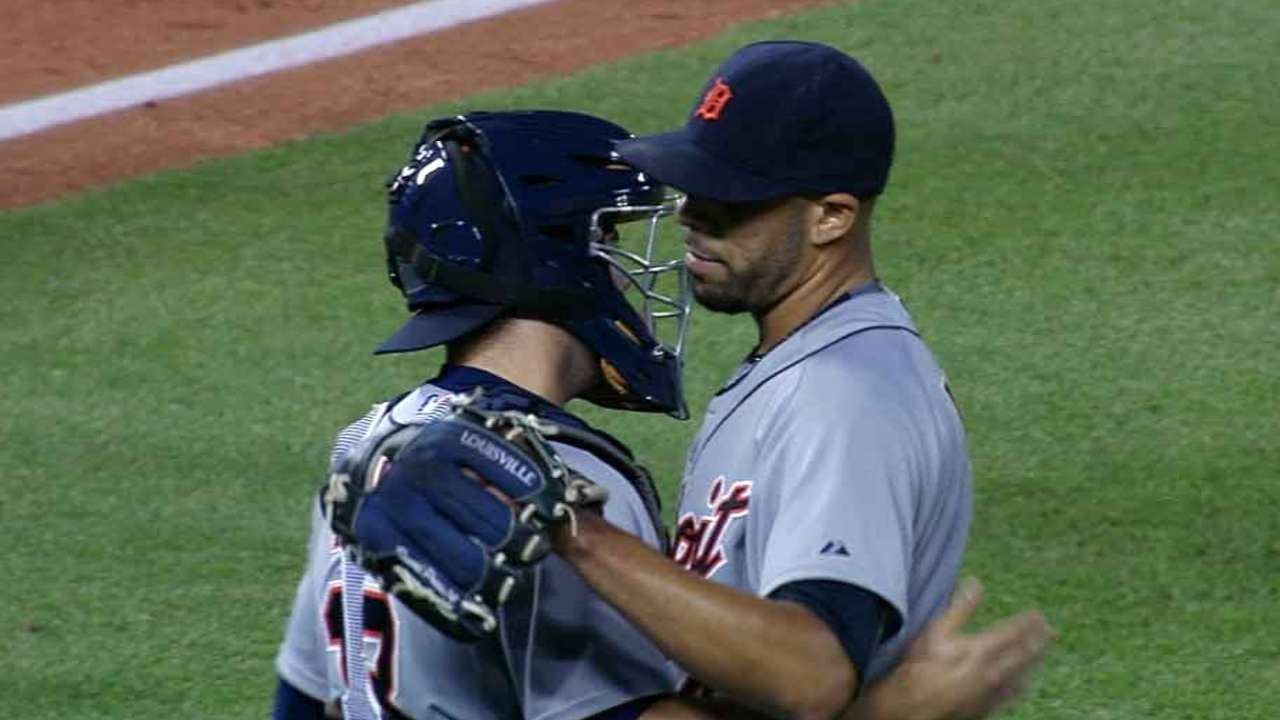 Kansas City had varying results against Price back in May, when he faced them in consecutive starts while with Detroit. On May 2 at Kauffman Stadium, the lefty breezed through nine innings, holding the Royals' contact-oriented lineup to one run on five hits with three strikeouts and no walks. Then, Kansas City tagged Price for five runs (four earned) on 13 hits in 6 1/3 innings on May 8.
"They do a great job of putting the ball in play," Price said. "They have a lot of team speed. They can cause a lot of trouble for pitchers whenever they have runners on base."
Price's task now is not only to help the Blue Jays continue their push toward the franchise's first World Series appearance since 1993 -- when Toronto won the second of consecutive championships -- but to help alleviate some concerns about his postseason track record.
In six career playoff starts, Price has gone 0-6 with a 5.23 ERA in 41 1/3 innings. He has a pair of postseason wins, but both came in relief. Price is one of only four pitchers in postseason history to have at least six losses within a winless streak consisting of six or more starts.
Randy Johnson went 0-7 in an eight-start winless streak from 1995-2001, Aaron Sele went 0-6 in a seven--start winless stretch from 1998-2001 and C.J. Wilson has an active nine-start winless streak in which he has gone 0-6 (2010-14).
Gibbons is not worried about Price.
"He's feeling good," Gibbons said. "Shoot, he's having another tremendous year. I don't worry about him at all. I know he's had his struggles in the postseason a little bit but, shoot, to accomplish what he does every year, you're good, you're really good."
Price, who won the AL Cy Young Award with the Rays in 2012, is in the mix for the award again this season for his work with the Tigers and Blue Jays. In 11 starts for Toronto after being acquired via trade, Price went 9-1 with a 2.30 ERA to help Toronto cruise to the AL East crown. Overall, he logged 220 1/3 innings, posting an 18-5 record with a 2.45 ERA, 225 strikeouts and 47 walks in 32 outings.
"I think what happens to those guys, the work horses," Gibbons said, "they get to the end of the year, they're gassed. They throw a lot of innings. They lead the league in innings pitched, and that takes its toll on them a little bit. But, he'll get it up for the next few games. Hopefully he pitches a few of them."
Jordan Bastian is a reporter for MLB.com. Read his blog, Major League Bastian, follow him on Twitter @MLBastian and listen to his podcast. This story was not subject to the approval of Major League Baseball or its clubs.