Tired Mets expect adrenaline boost for NLCS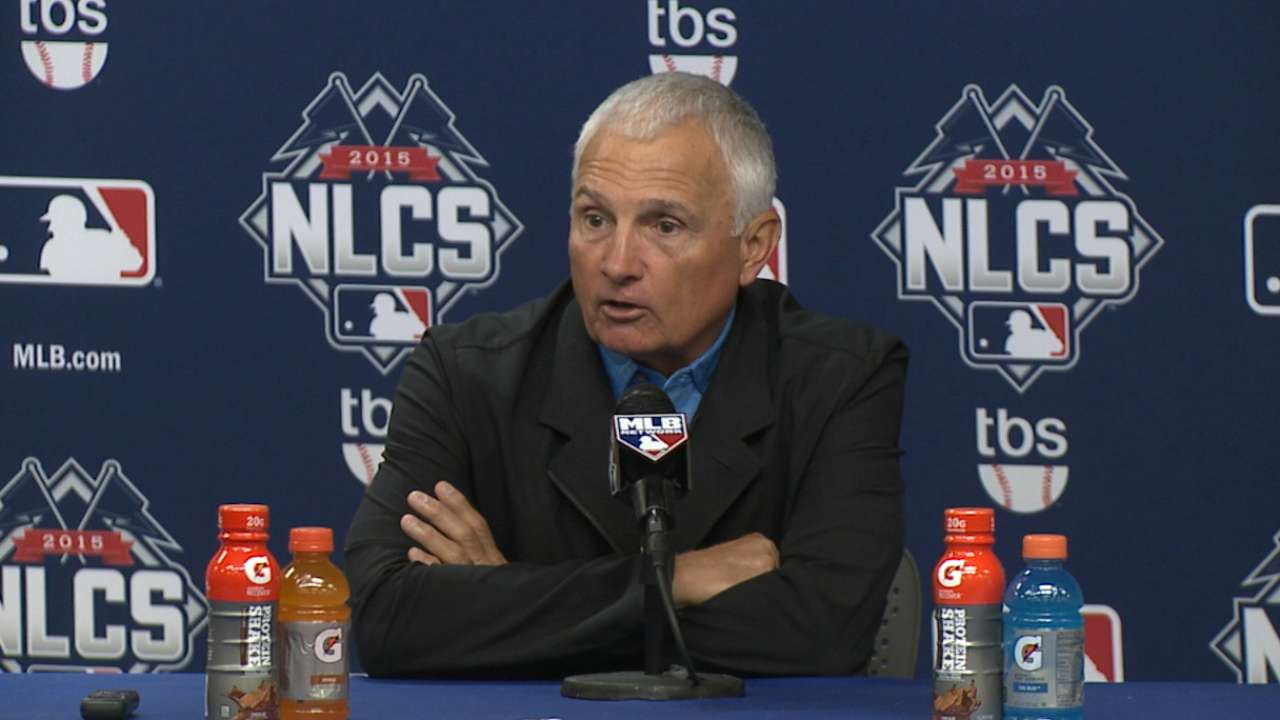 NEW YORK -- Over the past five days, the Mets crisscrossed the country three times in the air, played a series of baseball games deep into the night, partied once, conducted countless interviews and slept fewer hours than any of them would care to admit.
"We're tired," manager Terry Collins said at Citi Field late Friday afternoon, a day and change before Game 1 of the National League Championship Series against the Cubs (8:07 p.m. ET, TBS). "I mean, I put my head on the pillow this morning at 9:30, and got to be here now. So that's hard. But we've got a night off, and this place is going to be fueled with a lot of energy tomorrow night. I think we'll be able to use that as a little medicine to find some extra adrenaline for sure."
• Get set for NLCS: Shop for Mets postseason gear
Unlike the Cubs, who clinched their NL Division Series win over the Cardinals on Tuesday, the Mets needed five games to decide things against the Dodgers. In addition to forcing them to use starting pitchers Jacob deGrom and Noah Syndergaard, Game 5 required the Mets to fly coast-to-coast and back in less than a 48-hour span. Though Collins and several Mets players showed up to Citi Field on Friday for interviews, the team did not mandate a workout. Instead, the Mets encouraged their players to rest.
Given Friday's off-day and a lazy morning Saturday, they don't anticipate fatigue being an issue despite bits of evidence to the contrary.
Though the Mets struggled offensively in four of their five NLDS games, they chalk that up more to the performances of Dodgers starters Clayton Kershaw and Zack Greinke -- NL Cy Young Award candidates both -- than any feeling of tiredness. If fatigue does manifest itself in this series, it is more likely to happen on the mound. Not only have Matt Harvey, deGrom and Syndergaard pitched significantly more innings this season than ever before in their career, but all three could also appear in this series multiple times. It is a concern worth watching.
• Boasting 'different team,' Mets ready for Cubs
Yet for the Mets, the natural adrenaline of playing in front of sold-out crowds at Citi and Wrigley Fields should recharge any energy reserves that might be flagging. Don't expect anyone to nod off Saturday night in the dugout.
"It's electric," said Harvey, the Game 1 starter, of Citi Field's atmosphere. "Mets fans have been great all year, but they kind of took things to a different level this past series. The excitement of New York is definitely coming alive for New York Mets, and we can feel it. We appreciate all the support, and we're out there, we're getting more adrenaline, more fight, and a lot of that goes to them."
Anthony DiComo is a reporter for MLB.com. Follow him on Twitter @AnthonyDiComo and Facebook, and listen to his podcast. This story was not subject to the approval of Major League Baseball or its clubs.