Respect between NLCS skippers longstanding
Mets' Collins, Cubs' Maddon first came together with Angels in 1997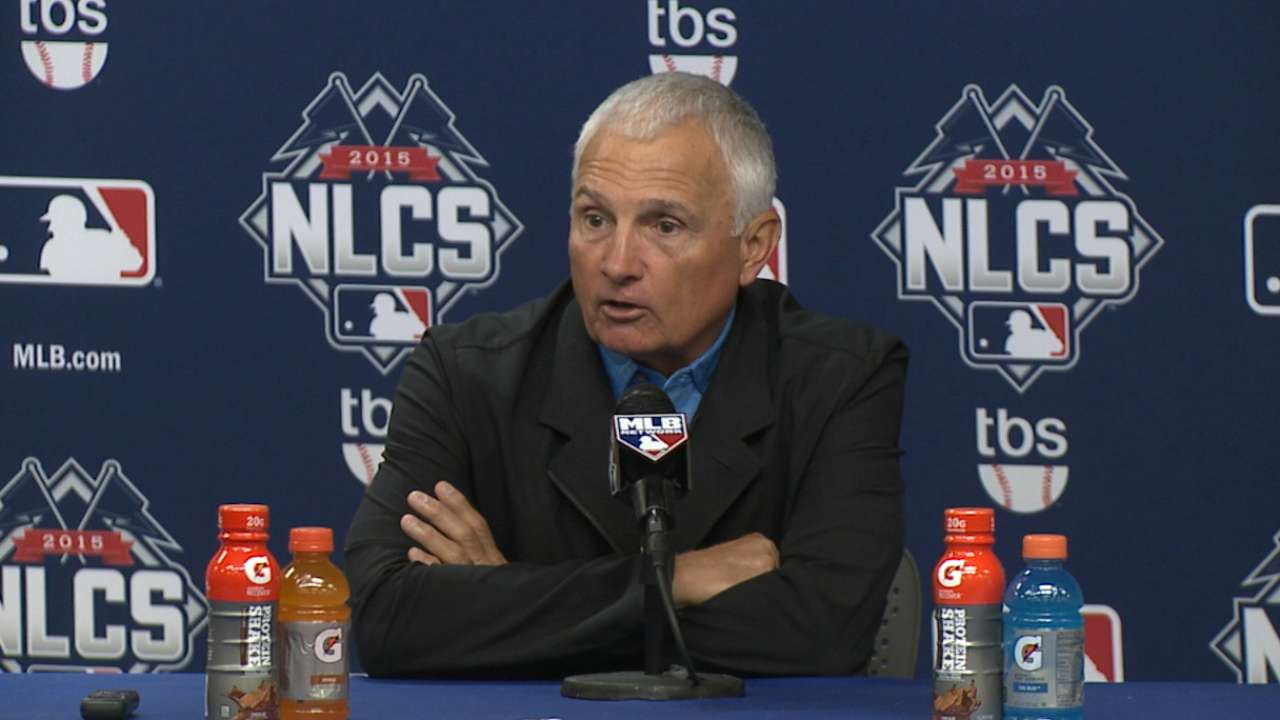 NEW YORK -- In baseball, paths tend to cross. And crisscross. Then cross again. If not somewhere in the big leagues, then in the Minors. If not in the postseason, then in Spring Training. If not in the Arizona Fall League then the instructional league or winter ball. If not on the field, then in the scout's section or a restaurant or a watering hole somewhere along the way.
Even in this insular world, the relationship between the opposing managers in this year's National League Championship Series, which begins Saturday night (7:30 p.m. ET on TBS) at Citi Field -- Joe Maddon of the Cubs and Terry Collins of the Mets -- is unique. And not just because when Collins managed the Angels, Maddon was his bench coach.
They had known each other casually before fate threw them together prior to the 1997 season. Both interviewed for the Angels' managerial opening at the Arizona Biltmore in Phoenix. Collins got the job. So it wasn't the most promising environment for a friendship to blossom. Especially since Maddon had been Anaheim's fill-in manager the previous season when John McNamara was hospitalized, while Collins was an organizational outsider after managing the Astros the previous season.
"That was the first time I really had an in-depth conversation with T.C.," Maddon, now 61, recalled before the Cubs worked out Friday. "From that conversation, he kept me on as his bench coach. Which, believe me, man, was a really a big moment for me. Because otherwise I could have been sent out into the Minor Leagues again and who knows what would have happened? So I was always grateful to him for giving me that opportunity."
Collins was told he had full authority to hire his coaching staff. Given his player-development background, he thought it was important to consider organization guys. And Maddon made a great impression.
"I was extremely impressed with his organization, his preparation and his thoughts," the 65-year-old Collins recalled. "Back then, bench coaches were just kind of guys you'd run an idea by. They didn't have a huge input.
"It was also the start of the computer age in baseball, and Joe was into the computers. His organization and his preparation and his personality -- I said, 'This is the guy.' So I hired him as the bench guy and I used him like I think bench coaches should be used. He always had an idea, always had a thought."
Example: One day as the Angels were getting ready to play the Mariners, Maddon brought Collins a rudimentary spray chart that showed where Ken Griffey Jr. was most likely to hit the ball.
"We talk today about shifting and everything," Maddon said. "I had this Neanderthal way of doing things at that point, [although] it was still one of the first computers utilized. And I went in with him one day and showed him this schematic of [Griffey]. And I said, 'T.C., would you mind if we shifted him tonight?' I told him what I thought and he was all for it.
"He gave me a lot of latitude and permitted me to work. The thing about being a bench coach for him that I really was always impressed with was, if I had a bunch of information, I would stand there and read it to him. I'd talk to him about it before the game. And he would never forget anything. He's got a really great mind."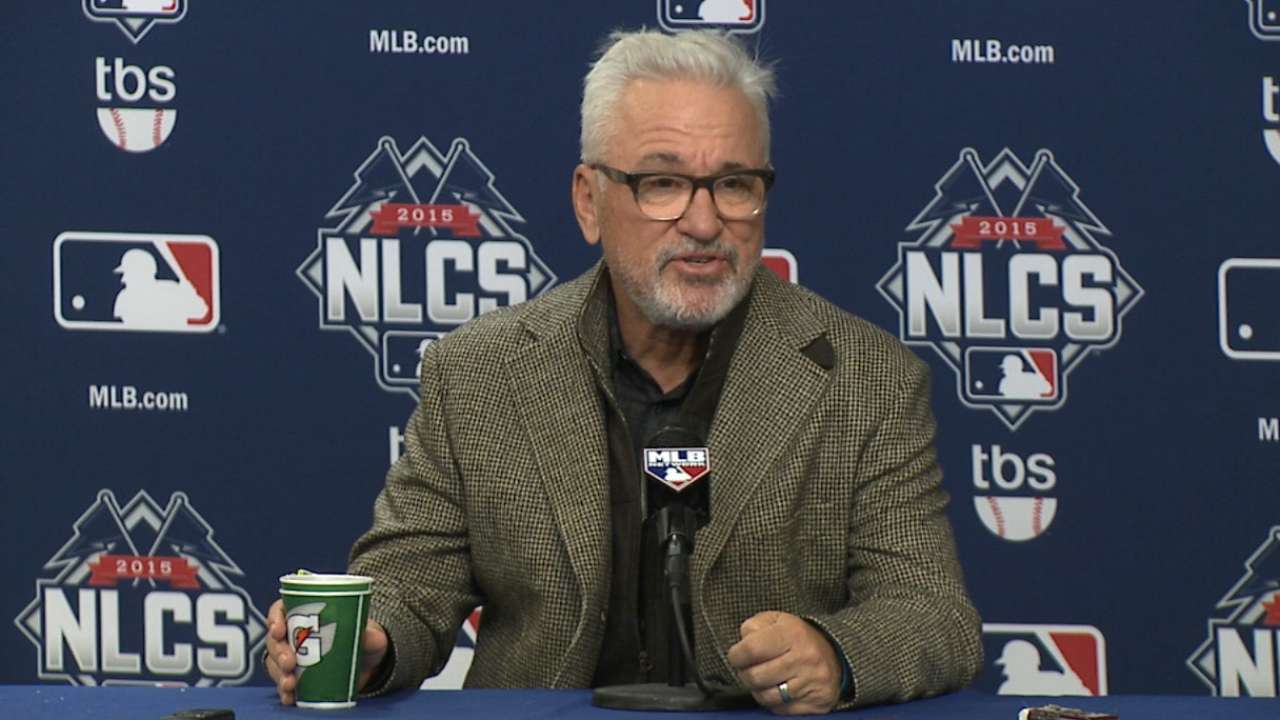 Maddon stepped in when Collins was suspended for eight games in 1998 following a bench-clearing incident against the Royals, and again after Collins resigned on Sept. 3, 1999.
And now it all circles back to this. Once again they are pitted against each other. This time, what's on the line is a trip to the World Series. They may well find themselves competing again after the World Series when the results of the NL Manager of the Year vote are revealed. Both figure to attract strong support.
While each is a competitor who wants to win, it's clear that whoever takes second place this time around will at least be able to take solace in being happy for the other.
"Nobody was more thrilled than I was when Joe finally got his chance in Tampa Bay [in 2006], because we became very good friends," Collins said. "I relied on him a lot and, obviously, he's become extremely successful. I'm real, real happy for him and real proud of him."
Maddon responded in kind: "T.C. and I go way back. He was with the Dodgers back in the day. He was managing and I was a young manager, scout, coach. So I've known him from some point in the '80s.
"We didn't really get together until the Angels. I had a great time with him. We had a great relationship on the bench. Really good. We laughed together. We worked together. I'm really happy for his success."
Win or lose, nothing that happens in this series or when the awards are handed out should change anything about a relationship that turned into a friendship, and finally ripened to openly mutual admiration.
Paul Hagen is a reporter for MLB.com. This story was not subject to the approval of Major League Baseball or its clubs.