Cubs' pitch to Lester paying off for all parties
Set to start Game 1 of NLCS, left-hander was sold by club's brass on talented pipeline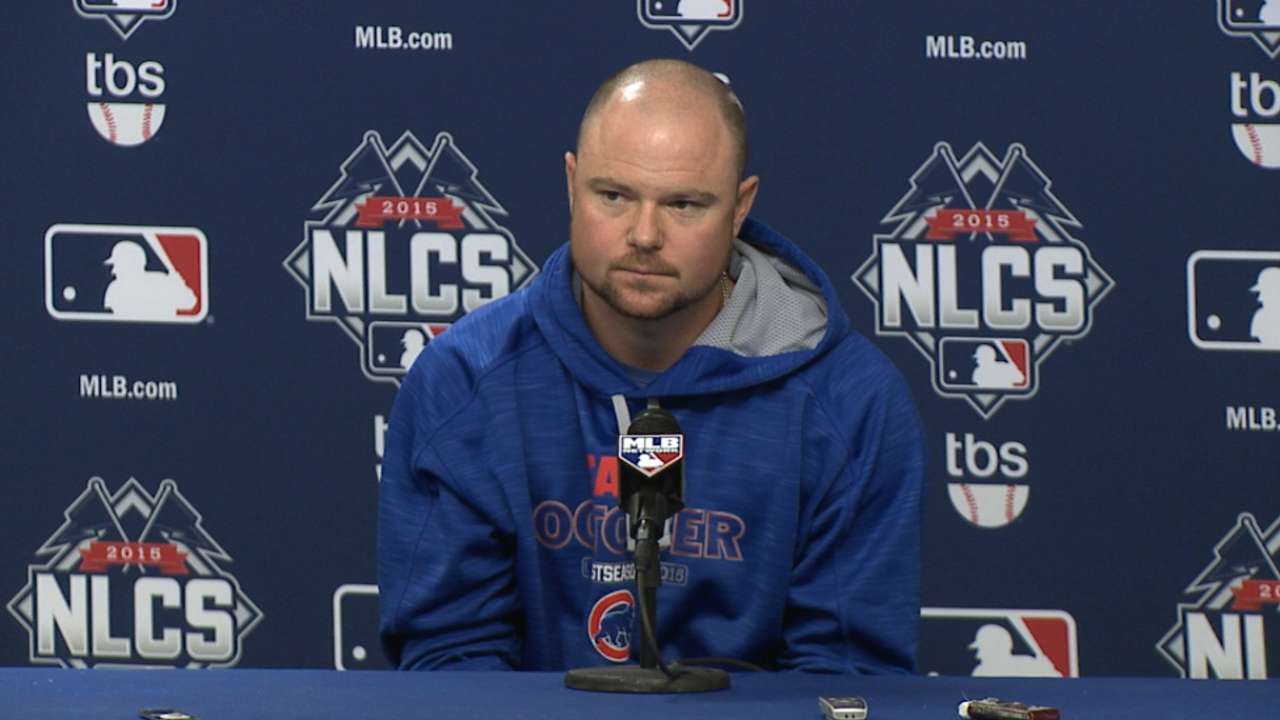 NEW YORK -- The Cubs' big pitch to free agent Jon Lester was an all-day affair last November that ended with a three-hour dinner at a downtown Chicago steakhouse. The club's baseball brass, led by chairman Tom Ricketts, employed video, slides and printed materials to paint a vivid picture for Lester and wife Farrah about everything from family life in Chicago to the Wrigley Field renovations and the concurrent rebuilding project happening on the field. Time and again, many of the principals said Friday, on the eve of Lester's start against the Mets in Game 1 of the National League Championship Series (7:30 p.m. ET on TBS), the left-hander fixated on the last item.
"He kept bringing the conversation to 2015," said president of baseball operations Theo Epstein. "He said, 'Hey, I've just been through a season in Boston when we tried to break in a lot of new players and it got me in last place and it got me traded.' He said, 'I'm not looking to go through that again. Tell me why this will be different.'"
"He was very candid," said Cubs senior vice president of player development and amateur scouting Jason McLeod, "about not wanting to punt 2015."
So Epstein, McLeod and executive vice president and general manager Jed Hoyer talked about 2015. Player by player, they told Lester in great detail about the talent in Chicago's pipeline, beginning with an improved Jake Arrieta and diving all the way into a prospect pool led by the likes of Kris Bryant, Addison Russell and others who would contribute as the season progressed.
• Dress for the NLCS with Cubs gear
Lester not only listened, he trusted. He and Epstein, after all, had history from their Red Sox days, when a 23-year-old Lester in 2007 helped win Boston's second World Series championship in four seasons.
"Based on our relationship and how important a decision this was for him, I wasn't going to lie to him," said Epstein, who says he told Lester, "that we were going to be real young in 2015. That we weren't going to necessarily be as good in 2015 as we could be in future years. But that we believed enough in the talent of the young players and the character of the young players that if things broke our way, we had a chance to be the Royals."
The Kansas City Royals, of course, had just ridden a young core of players to Game 7 of the 2014 World Series.
Epstein made no promises, but noted the similarities. Lester believed.
"Jon never told us that," Bryant said Friday. "It's cool to hear stories like that -- guys who have been in the league look at the Minor League players and the people coming up and it influences a big decision in his life. It looks like it's paying off. We're here [in the NLCS], where people didn't expect us to be at this time."
Lester signed a six-year, $155 million contract before delivering a 3.34 ERA and 205 innings during his first season with the Cubs. He then pitched into the eighth inning in Game 1 of the NL Division Series against the Cardinals. The Cubs lost that game but won the series for the right to play the Mets for the pennant.
Saturday's matchup with the Mets' Matt Harvey will be Lester's seventh appearance and fifth start in an LCS. He owns a 3.86 ERA in those games, with 27 strikeouts versus seven walks in 28 innings.
While much of the baseball world considers these Cubs a year or two early, Lester insisted he believed all along.
"I wouldn't have come here if I didn't think that we had a chance to win," he said. "I didn't want to go through another down year and worry about rebuilding for the next year. I wanted to win now.
"It didn't take much for [Epstein] to convince me about these young guys. He sat there and gave me highlight after highlight and number after number on these guys and what they projected them to do and what position they wanted them to play. I think the biggest thing that sold me -- especially on not only these young guys, but the whole organization -- was just how arrogant he was about it. And I mean that in a good way."
Told about that comment, Epstein laughed.
"I prefer 'confident,'" Epstein said. "Confident without remorse, I guess. Maybe that's arrogance, I don't know."
Adam McCalvy is a reporter for MLB.com. Follow him on Twitter @AdamMcCalvy, like him on Facebook and listen to his podcast. This story was not subject to the approval of Major League Baseball or its clubs.