Syndergaard's availability may shake up rotation
If rookie righty isn't rested enough to start Game 2 of NLCS, Matz will step in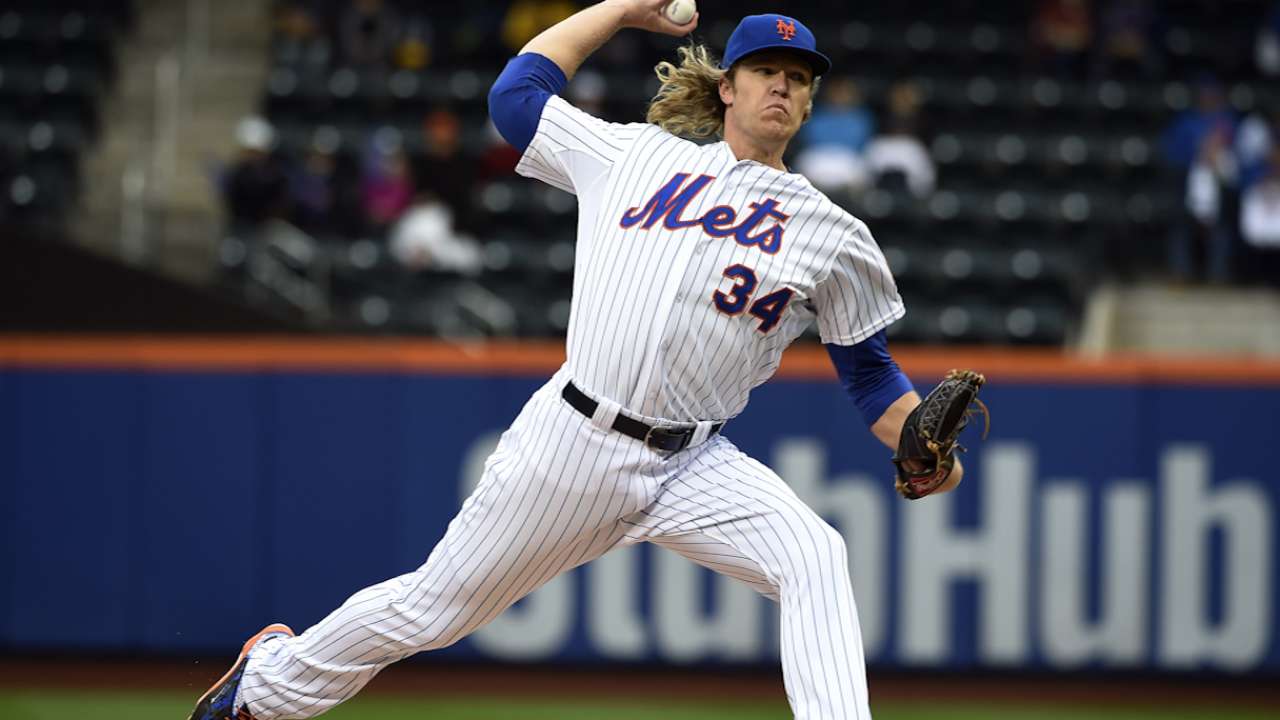 NEW YORK -- For the Mets, the decision to start Matt Harvey in Game 1 of the National League Championship Series was so obvious that they made it days before they even advanced. New York knew Jacob deGrom would pitch NL Division Series Game 5, taking him out of commission for NLCS Game 1, and it also knew there was a strong chance Noah Syndergaard would appear in the NLDS clincher as well.
Beyond Harvey, however, everything remained murky for the Mets on the eve of Game 1 at Citi Field. The team plans to monitor Syndergaard over the next two days to determine if he is well-rested enough to face the Cubs in Game 2, after throwing 17 pitches out of the bullpen in Game 5 of the NLDS against the Dodgers. If Syndergaard cannot go, fellow rookie Steven Matz will take his place.
• Get set for NLCS: Shop for Mets postseason gear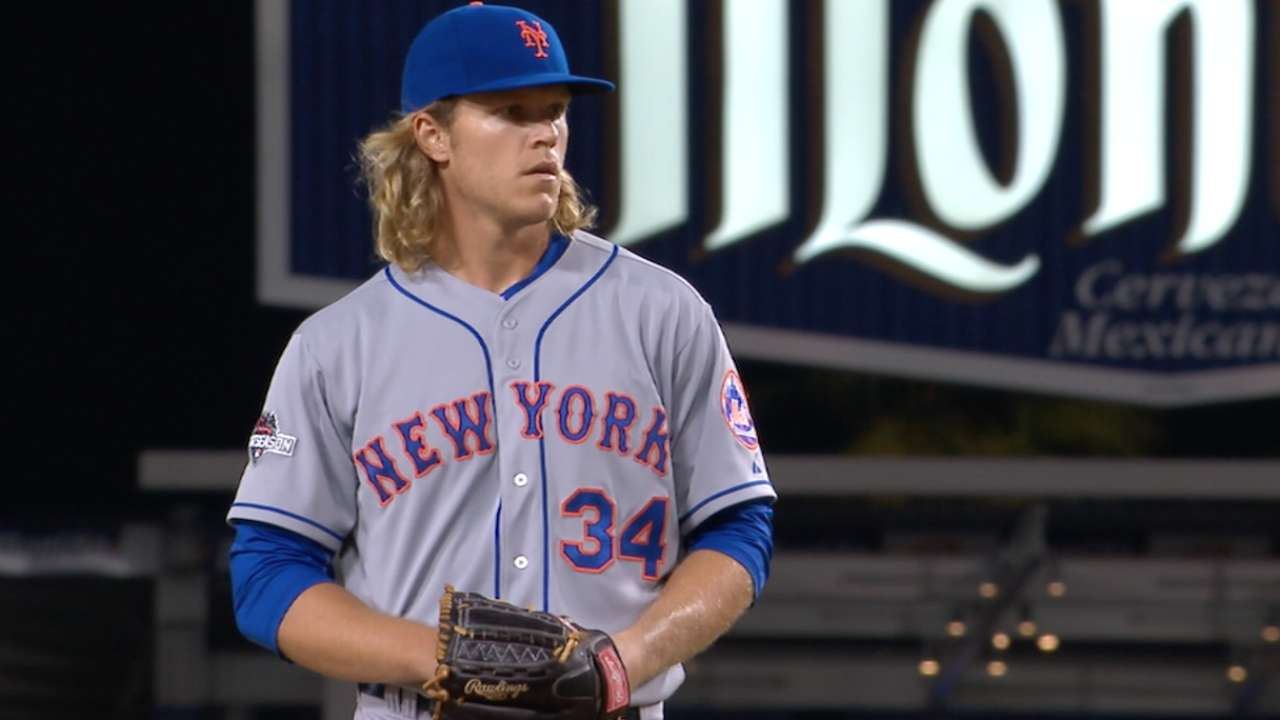 "His last time he pitched, the second day he was still pretty sore," Mets manager Terry Collins said of Syndergaard. "I'm certainly well aware that I got him up [in the bullpen] four times last night. You could almost say he got ready four times. That could have almost been five innings of work because I knew he threw over 100 pitches warming up. So if he's still tender tomorrow, he's probably not going to be the Game 2 guy."
Speaking earlier this week, Collins offered assurances that Harvey, who has already blazed past his so-called 180-inning limit in his first year back from Tommy John surgery, will pitch twice in the NLCS. General manager Sandy Alderson offered a less confident outlook on Friday, saying the Mets will decide nothing until after Harvey -- who is now at 194 1/3 innings -- starts Game 1.
• Harvey named starter for Game 1 of NLCS
"It's a matter of appearance to appearance and how he feels," Alderson said. "So that's a determination we'll make after his first start. We'll see. Certainly starting him in Game 1 creates a presumption that he'll pitch more than once in the series, but that's not a decision we've made."
If Syndergaard can pitch Game 2, deGrom would start Game 3 on regular rest, with Matz in Game 4. Otherwise, Matz will pitch Game 2, with deGrom in Game 3 and Syndergaard in Game 4. The Mets will figure the rest out on the fly.
"We're comfortable with running any one of four guys out there," Alderson said. "So it's not a decision that we have to make immediately."
Anthony DiComo is a reporter for MLB.com. Follow him on Twitter @AnthonyDiComo and Facebook, and listen to his podcast. This story was not subject to the approval of Major League Baseball or its clubs.