MLB.com Columnist
Anthony Castrovince
Cubs, Mets ahead of schedule in return to glory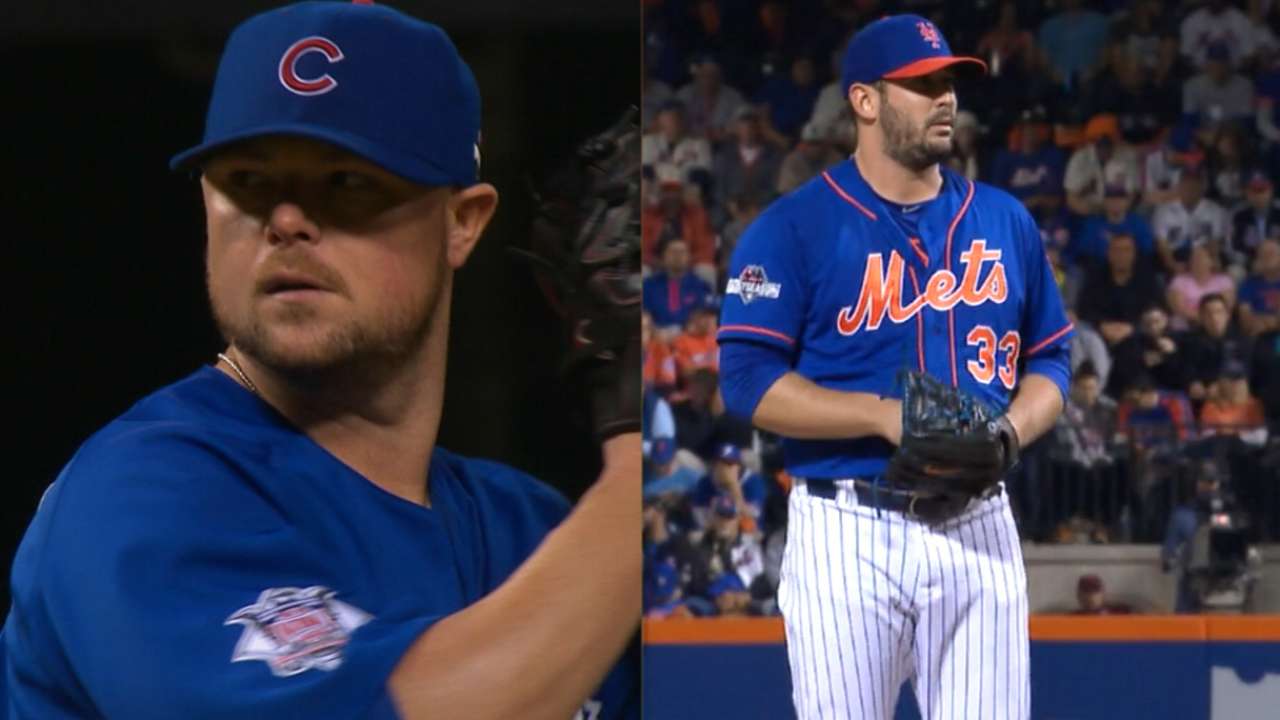 Going into the season, this was a matchup a lot of us would have felt comfortable forecasting for the National League Championship Series -- the 2016 National League Championship Series.
For both the Cubs and Mets to get to this stage in 2015, meeting up tonight for Game 1 at Citi Field (7:30 p.m. ET, TBS), certainly qualifies as a surprise in the big picture. These two teams entered '15 improved, but not to the level where you could confidently pencil them in for the postseason -- let alone the semifinals, of sorts.
The Cubs, it seemed, were too young, and the Mets, it seemed, were too unbalanced. This figured to be a bridge year. Going into Spring Training, PECOTA's projections had each of these clubs going 81-81, which would have been a marked rise for the Cubs (they won 73 the year before) and a miniscule-but-still-meaningful improvement for the Mets (79). Our preseason poll of dozens of experts from MLB.com and MLB Network not only totally whiffed on the entire American League postseason field (ugh) but didn't have either of these clubs reaching the postseason (and if you're a Nationals or Mariners fan, please don't torture yourself by clicking on that link).
Point is, the Cubs and Mets were respected but not necessarily feared. Suffice it to say the script has changed substantially.
Here's what we thought we knew about each of these teams and what we missed:
CUBS
What we thought we knew: This is what I wrote about the Cubs going into Spring Training ...
"Joe Maddon's availability probably sped up the Cubs' timetable a bit, as it prompted the front office to be even more aggressive on the free-agent and trade front than initially expected. This is still a club that needs its young assets in the lineup to reach and find its footing at the big league level, which could take some time. But the additions of Jon Lester, Miguel Montero and Dexter Fowler and the return of Jason Hammel make it clear this is no longer a rebuild situation but a club that intends to win now. The Cubs are on the rise."
Hopeful? Sure. But too much was unknown about the development paths guys like Kris Bryant, Jorge Soler, Javier Baez and Addison Russell would take, and it appeared Kyle Schwarber would spend much of the season in Double-A to work on his catching. Lester was a big addition for the rotation, but would Jake Arrieta be able to build upon his breakout 2014 (2.53 ERA in 156 2/3 innings) in a larger sample?
This was a team that was outscored by nearly 100 runs in 2014 and had the third-worst on-base percentage in the league that season. It was asking an awful lot of a predominantly young lineup to turn a fifth-place club into an October club virtually overnight. There was also the fundamental concern that the Cubs would have trouble establishing ground in a division featuring the two-time defending division-champion Cardinals and the two-time defending Wild Card-winning Pirates.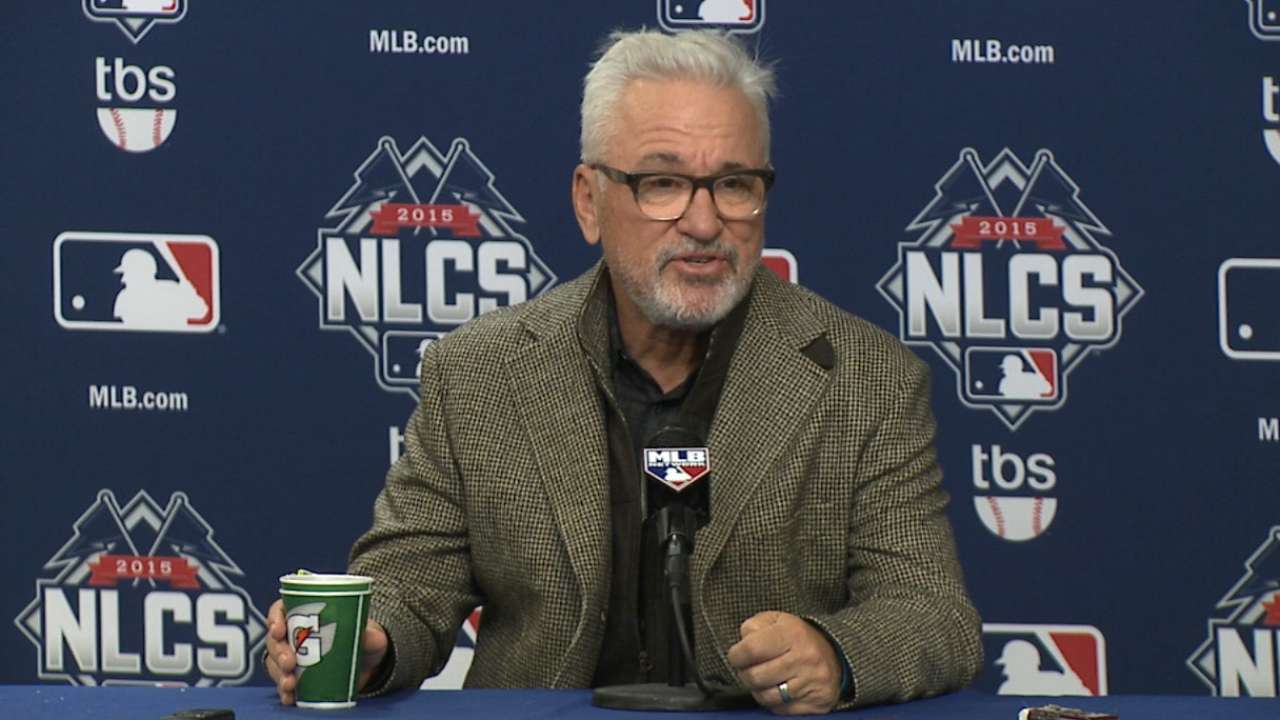 What we missed: As Maddon said late in the year, the Cubs possess "an unusually skillful group of young players." Still, nobody, internally or externally, could have predicted them to win 97 games.
But we definitely should have paid more attention to Arrieta's rise last year. It wasn't a one-time blip but, actually, the precursor to historic things to come. Arrieta became just the fifth pitcher to earn at least 22 wins with no more than six losses and an ERA below 2.00 since the earned run became an official stat in 1913. That's a good start.
Schwarber also changed the outlook here. Even when he made a brief emergence in the lineup during an Interleague trip in June, the Cubs didn't have a regular spot for him. But his 15 homers after the break helped the Cubs compiled the NL's best second-half record. The Fowler trade also didn't get nearly enough love, as the outfielder's .389 OBP was huge in the second half.
We knew Bryant would be up after the season's first 12 days, but the Cubs were surprisingly proactive with Russell's promotion in April and his replacing Starlin Castro at shortstop in August. He was instrumental in settling the middle infield (although now the Cubs have to get by without him this round).
It was also hard to know just how bad the Brewers and Reds would be. Milwaukee went from 82 wins in 2014 to 68 this year, while the Reds went from 76 to 64. The Cubs pounced with a 27-11 record against them to make the Central a true three-headed monster.
Basically, the Cubs are a product of this "unusually skillful group" making unusually swift strides, and Maddon handled the young lineup expertly by backing off the pregame rituals that might have worn them out down the stretch.
Now, here they are -- too young to have any real grasp of the North Side's 107-year title drought, but good enough to end it.
METS
What we thought we knew: This is what I wrote about the Mets in mid-February …
"The early strike for Michael Cuddyer augments the lineup, though it remains to be seen how much, given a significant shift in home ballparks for the versatile veteran slugger. What's most notable about the Mets' offseason is what didn't happen -- i.e., the pitching depth was kept intact and the shortstop position was not addressed. That could change in Spring Training, though. For now, the Mets are banking heavily on bouncebacks from David Wright and Curtis Granderson (in a reshaped Citi Field) and a strong rotation boosted by the return of Matt Harvey."
Remember: Just a year prior, general manager Sandy Alderson had famously "challenged" this club to win 90 games, and that didn't go so well. The most encouraging aspect of the offseason that followed was Harvey's seamless rehab from Tommy John surgery, and one figured Wright's shoulder would be more cooperative than it had been in 2014.
But the Mets' external additions rated as underwhelming. Cuddyer's numbers had been inflated by Coors Field, and his '14 season was limited to 49 games, so it was hard to envision the offense making a great leap from the 3.88 runs per game it averaged in '14. The Mets also spent all winter and spring looking for a shortstop upgrade that never materialized. And then, in Spring Training, the pitching staff lost two key pieces, as Zack Wheeler and lefty reliever Josh Edgin both had Tommy John surgery. It was unclear when and how much Noah Syndergaard and Steven Matz would impact the rotation.
So while you could be optimistic about the Mets, it was hard to be bullish on them -- especially with so many people mistakenly frothing at the mouths about that Nationals team.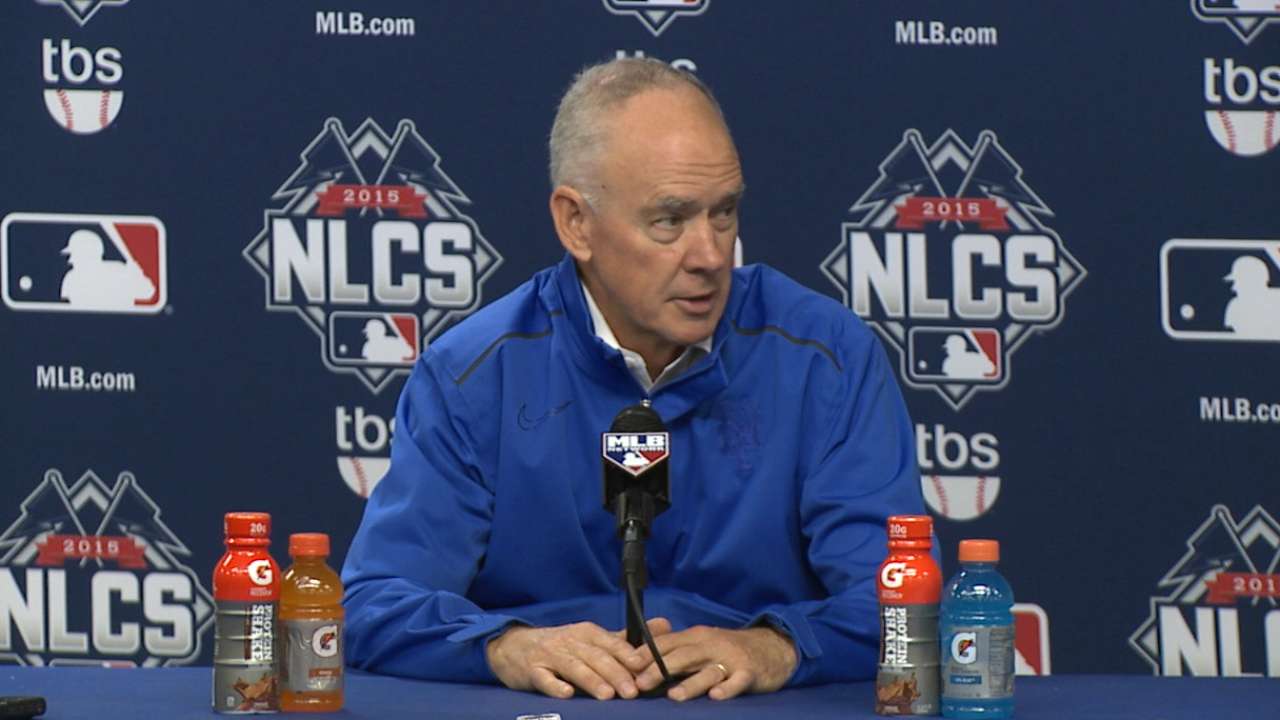 What we missed: The Nats wasted an MVP-worthy season from Bryce Harper and a strong first campaign from Max Scherzer and just never materialized as true contenders.
That was the undercurrent to everything that transpired with the Mets, because it allowed New York to survive its sub-.500 months of May and June. Perhaps predictably, this team simply didn't hit enough to support its stellar starting staff. On the morning of the July 31 non-waiver Trade Deadline, the Mets were two games over .500 and three back of the uninspiring Nats.
What we missed, really, was something not even the Mets could see. Their initial trade target was Carlos Gomez, who turned out to be an injured disappointment much of the second half with his eventual new club, the Astros. The Mets were also willing to part with Wilmer Flores in that deal, and right now he's the saving grace at shortstop in the wake of the Ruben Tejada injury.
We entered the year unsure if the Mets would take on significant salary in-season as a means to boost the bats. And nobody predicted the Detroit Tigers would be bad enough to become a Deadline seller. So the last-minute acquisition of Yoenis Cespedes was a surprise on various fronts. And if you predicted, on that day, that Cespedes would become one of the all-time great Deadline acquisitions by hitting 17 home runs with his new club, go ahead and pat yourself on the back.
The Cespedes salvation is a handy narrative, but an incomplete one. Michael Conforto's seamless transition from Double-A caught a lot of people off-guard, and the Mets got healthier in the lineup, in general. But in the big picture, this club's emergence was largely attributable to the struggles of two teams (the Nats and Tigers) that were widely forecast to get to October.
Instead, the Mets got there with 90 wins. And their rotation was good enough and the lineup deep enough to defeat the Dodgers.
Anthony Castrovince is a reporter for MLB.com. Read his columns and follow him on Twitter at @Castrovince. This story was not subject to the approval of Major League Baseball or its clubs.