Statcast of characters: 6 to watch in ALCS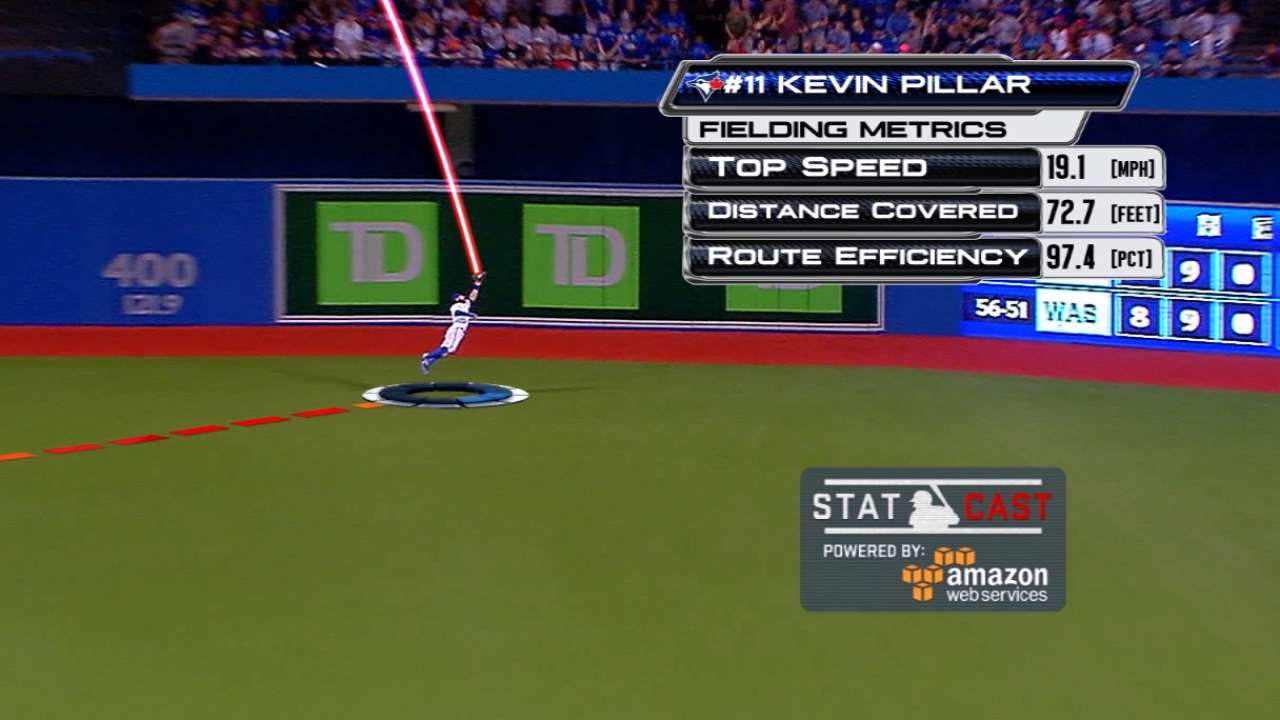 Lots of impressive skills will be on display during the American League Championship Series, which gets underway on Friday in Kansas City (7:30 p.m. ET on FOX, SNET). And thanks to Statcast™, we now can appreciate those skills even more.
The Blue Jays led the Major Leagues in runs scored, home runs and OPS on their way to an AL East title, before rallying to beat the Rangers in five games in the AL Division Series. The AL Central-champion Royals finished second in the AL in stolen bases, struck out the fewest times and featured a defense that ranked first in ultimate zone rating. They outlasted the Astros in another five-game ALDS, setting up this confrontation with Toronto, a rematch of the 1985 ALCS.
• Postseason gear: Blue Jays | Royals
So whether it's long home runs, blistering baserunning or spectacular defense, this series should offer plenty of fantastic feats. With help from Statcast™, here's a look at three key players from both sides, and what they bring to the table.
BLUE JAYS
Edwin Encarnacion: Power
Toronto is not lacking in this category, with a lineup that also includes Jose Bautista, Josh Donaldson and Troy Tulowitzki. Encarnacion doesn't take a backseat to any of them, as he showed in the sixth inning of ALDS Game 5 on Wednesday, launching a game-tying solo homer into the second deck of left-field seats at Rogers Centre. He connected with the Cole Hamels pitch at 109.7 mph, and it was projected by Statcast™ to land 436 feet away for one of nine times this year Encarnacion reached the 430-foot mark. Since Aug. 1, Encarnacion ranks eighth in the Majors with an average exit velocity of 95.2 mph (minimum 50 balls in play).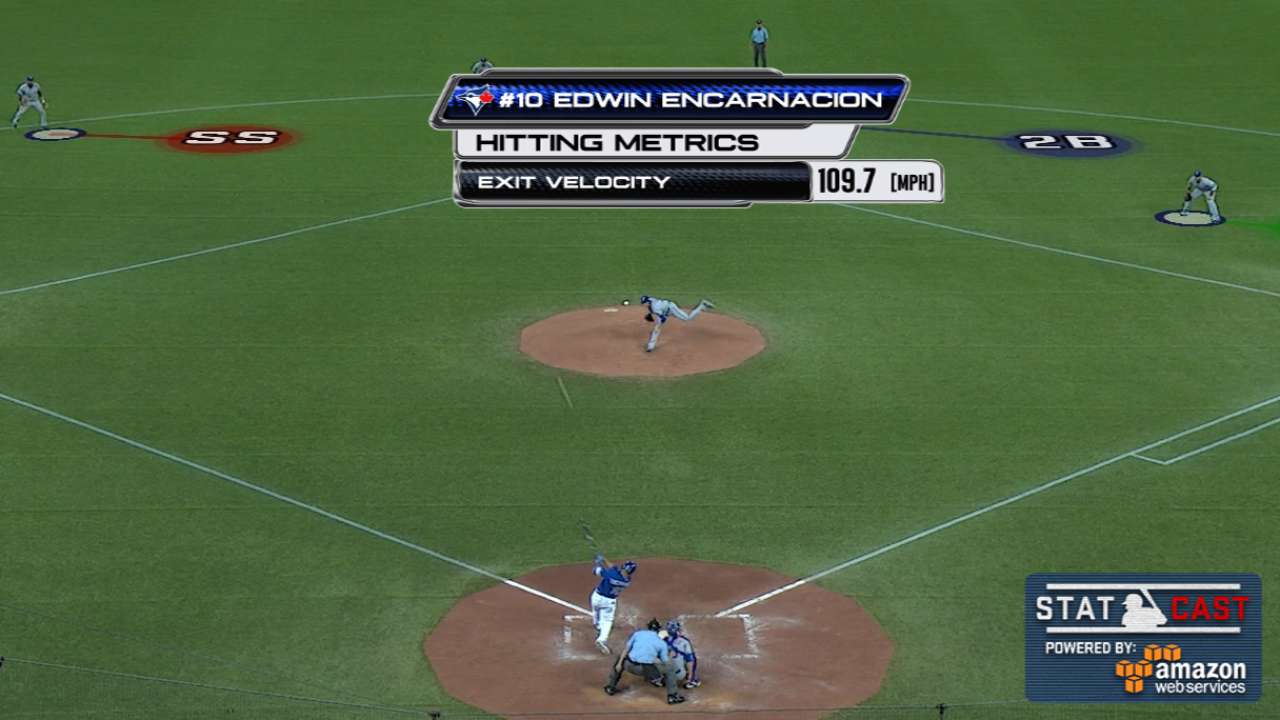 Kevin Pillar: Outfield defense
Few players this season seemed to show up on highlight reels more than Pillar, who ranked fifth among outfielders in defensive runs saved and fourth in ultimate zone rating. In terms of Statcast™, Pillar had the 10th-highest average route efficiency among all outfielders (minimum 100 plays). Toronto's center fielder showed off his prowess in the fourth inning of ALDS Game 5, reaching 21.1 mph as he sprinted in 94 feet and laid out for a diving catch to rob Josh Hamilton of a hit. Or take Pillar's play against the Twins at Rogers Centre on Aug. 6, when he raced 73 feet deep into the right-center gap, with a 97.4-percent route efficiency, and launched himself into the air for a Superman-style grab that ended with him tumbling across the warning track.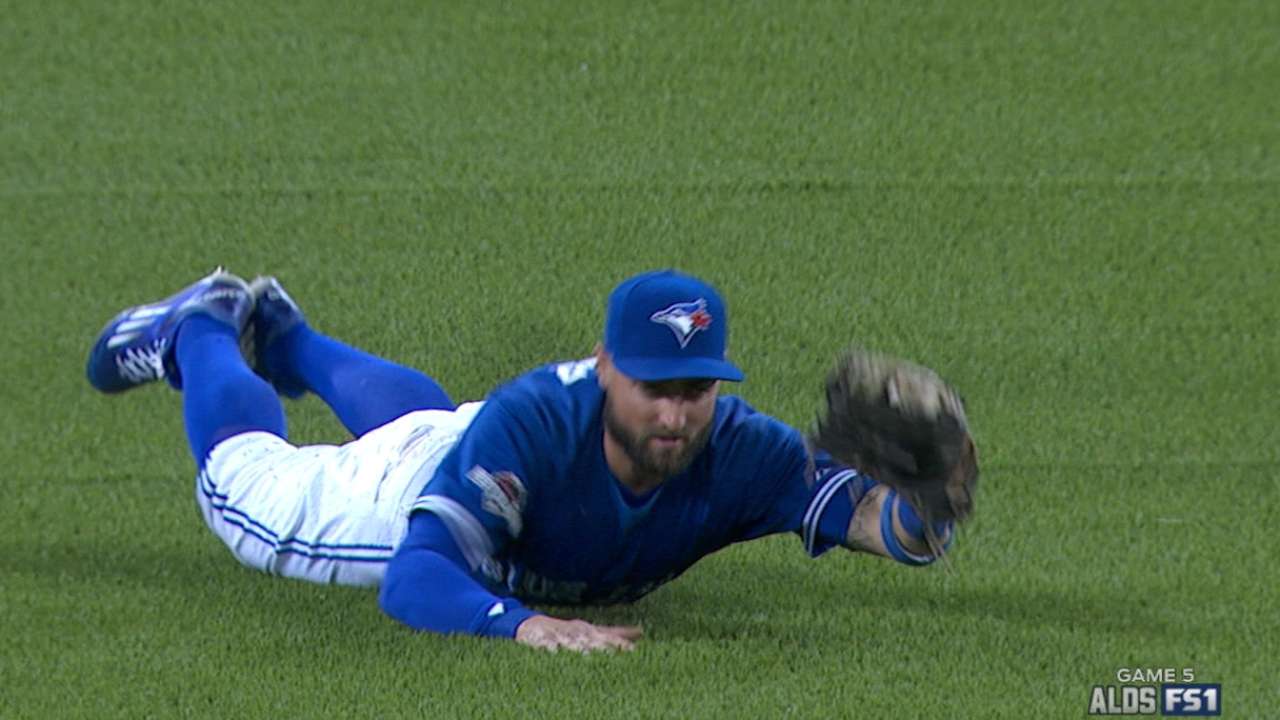 Jose Bautista: Throwing
Bautista is known more for generating velocity with his bat, but he can do the same with his arm when the need arises. Against the Yankees on Sept. 22, the right fielder ran to his left to grab a base hit, turned and unleashed a majestic throw to third base that reached Donaldson in the air. Bautista's heave traveled 250 feet and was clocked at 92.9 mph, getting the out after a video review. It was one of eight times this season Bautista hit at least 90 mph on a throw, with a high of 95.6 mph on April 21. He also reached that plateau twice during the ALDS.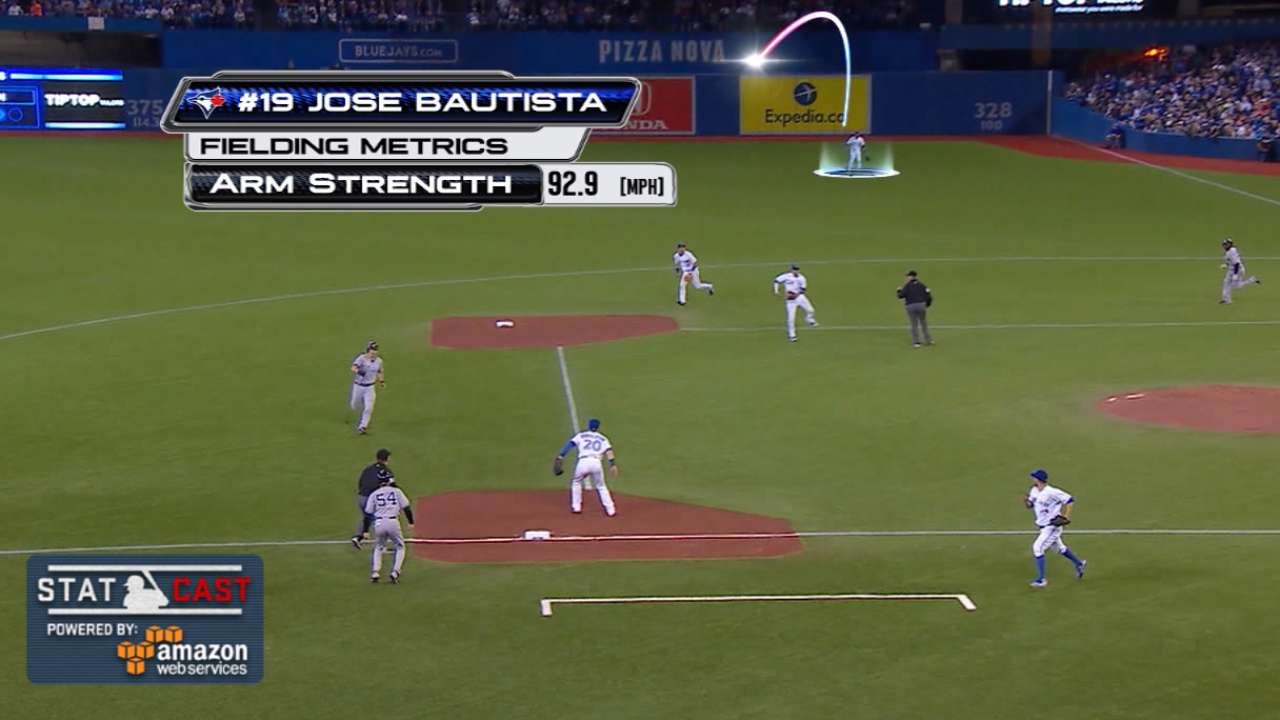 ROYALS
Kendrys Morales: Power
A low-profile free-agent signing in the offseason, Morales came up big for the Royals all season (22 homers, 106 RBIs) and again in the ALDS (three homers, six RBIs). In Game 5, he turned a close contest into a blowout with a three-run shot off Dallas Keuchel that gave Kansas City a 7-2 lead in the bottom of the eighth inning. The switch-hitter, batting right-handed, connected at 111.5 mph and it was projected by Statcast™ to travel 443 feet over the left-center field wall at Kauffman Stadium. That play was no fluke, either, considering that Morales finished 16th in the Majors this season with an average exit velocity of 93.1 mph (minimum 200 balls in play). He also finished third in average generated velocity, which subtracts the speed of the pitch from the exit velocity.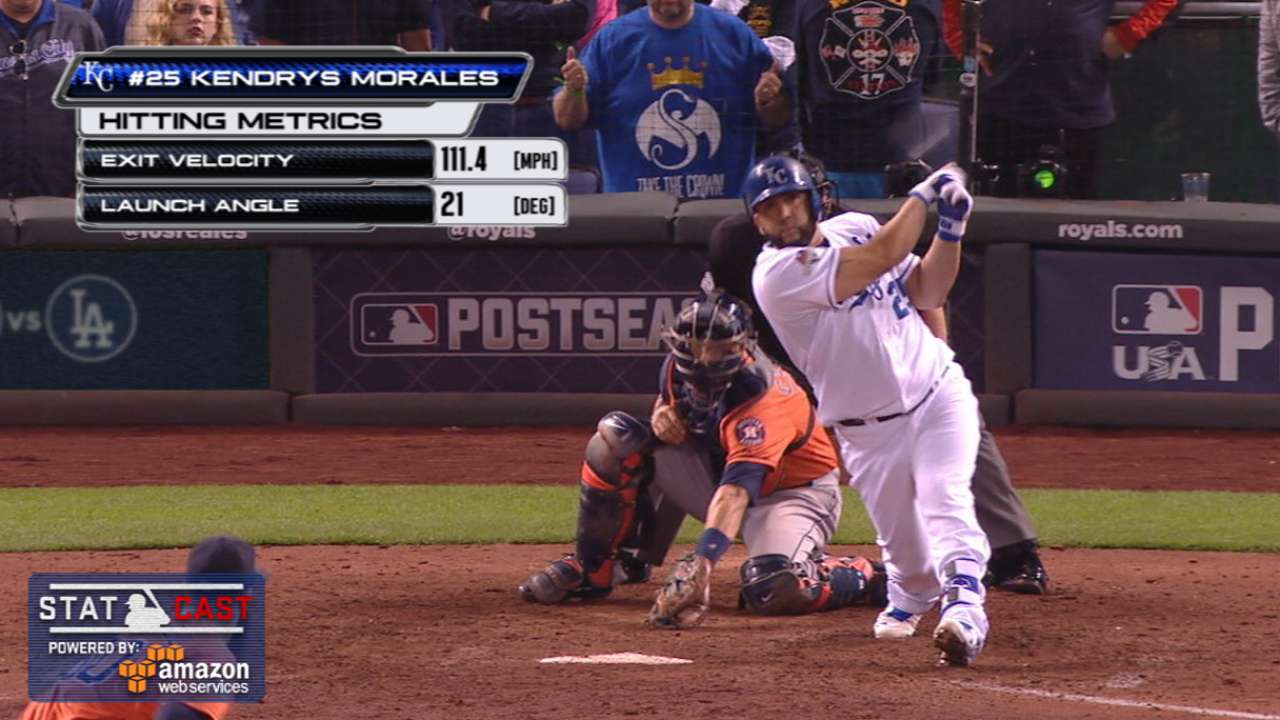 Alex Gordon: Outfield defense
With four straight AL Gold Glove Awards coming into this season, the defensive reputation of the left fielder was well established, and he's done nothing to harm it. The latest example came in Game 5 of the ALDS on Wednesday, when Houston's Jose Altuve hit a foul popup down the left-field line in the sixth inning. Gordon took his first step in 0.34 seconds and reached a top speed of 18.6 mph as he covered 108 feet to make a sliding grab. Statcast™ measured his route efficiency at 96.8 percent, one of 39 times this season that Gordon posted a mark of at least 95 percent.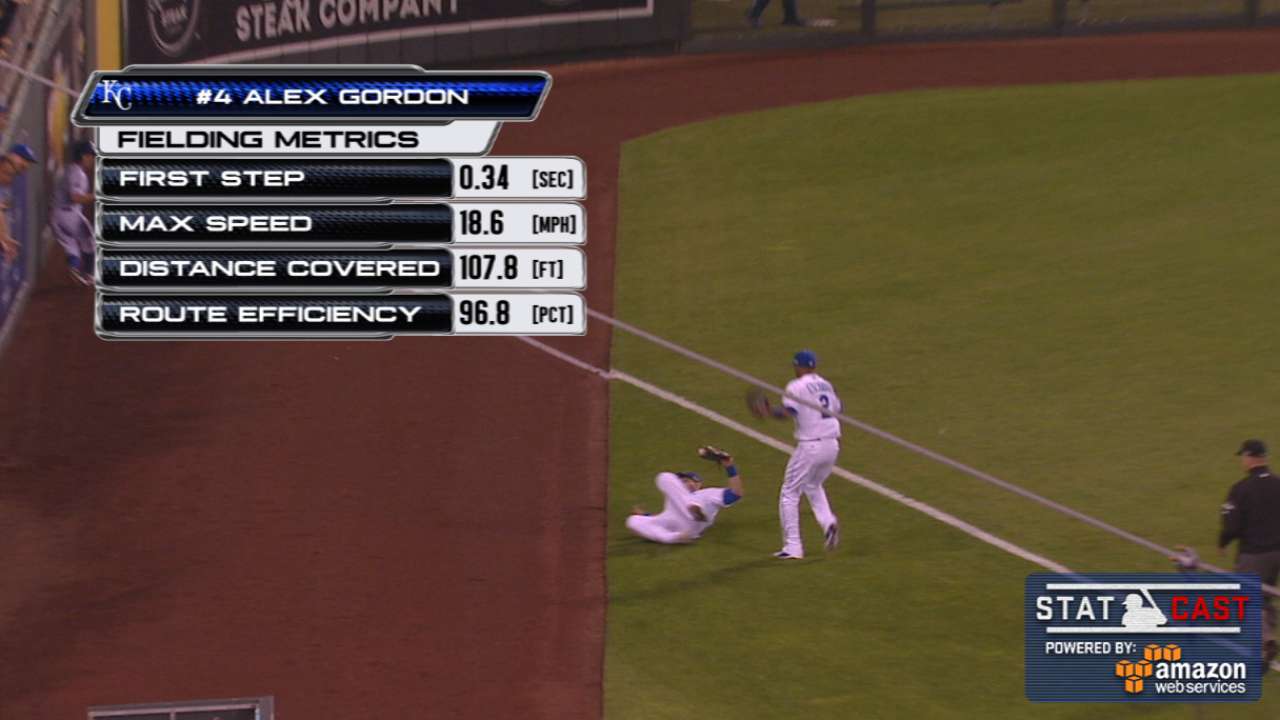 Terrance Gore: Speed
He won't start, but for the second straight postseason, Gore provides Royals manager Ned Yost with a weapon off the bench. Used almost exclusively as a pinch-runner, the speedster is 12-for-13 in career stolen-base attempts, including 1-for-2 in this year's ALDS. Against the Tigers on Sept. 18, Gore took second base, beating a perfect throw from catcher James McCann by reaching a season-high 22.4 mph on his way to the bag. That was one of three times this season Gore topped 22 mph, despite his limited opportunities.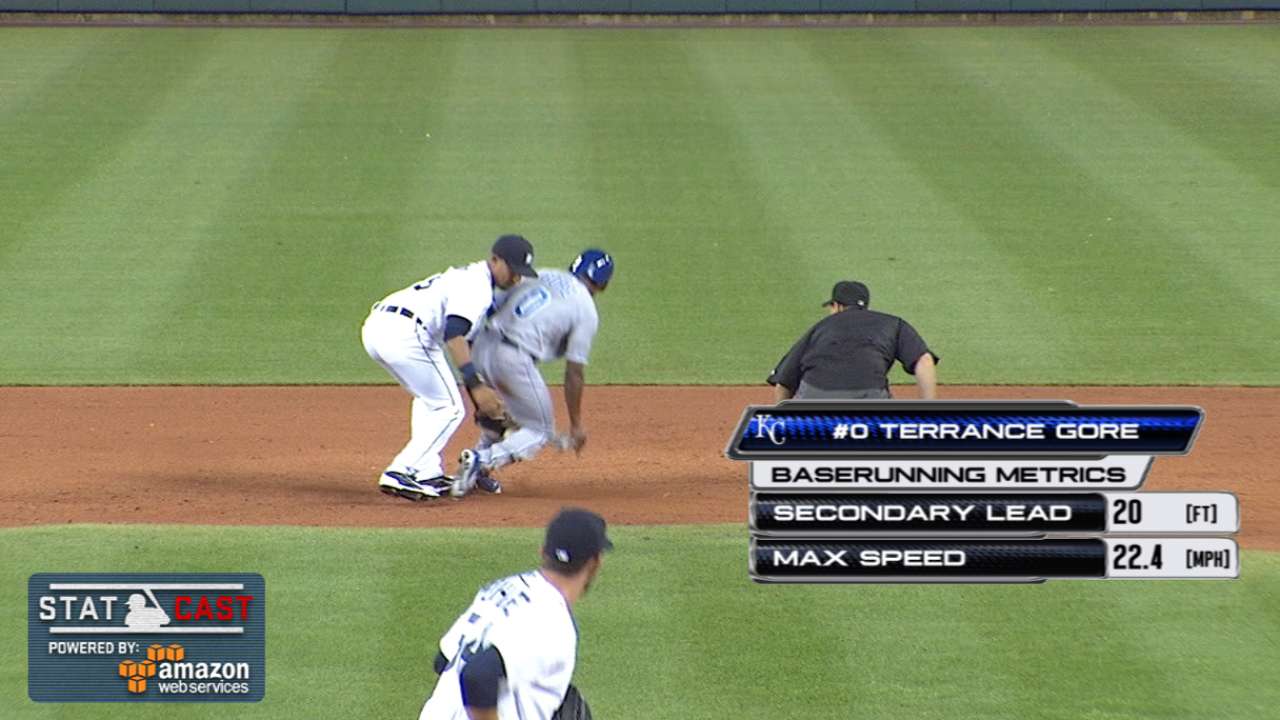 Andrew Simon is a reporter for MLB.com. Follow him on Twitter @AndrewSimonMLB. This story was not subject to the approval of Major League Baseball or its clubs.