Bautista discusses his legendary bat flip
Blue Jays slugger: 'I'm not going to apologize. I enjoyed it.'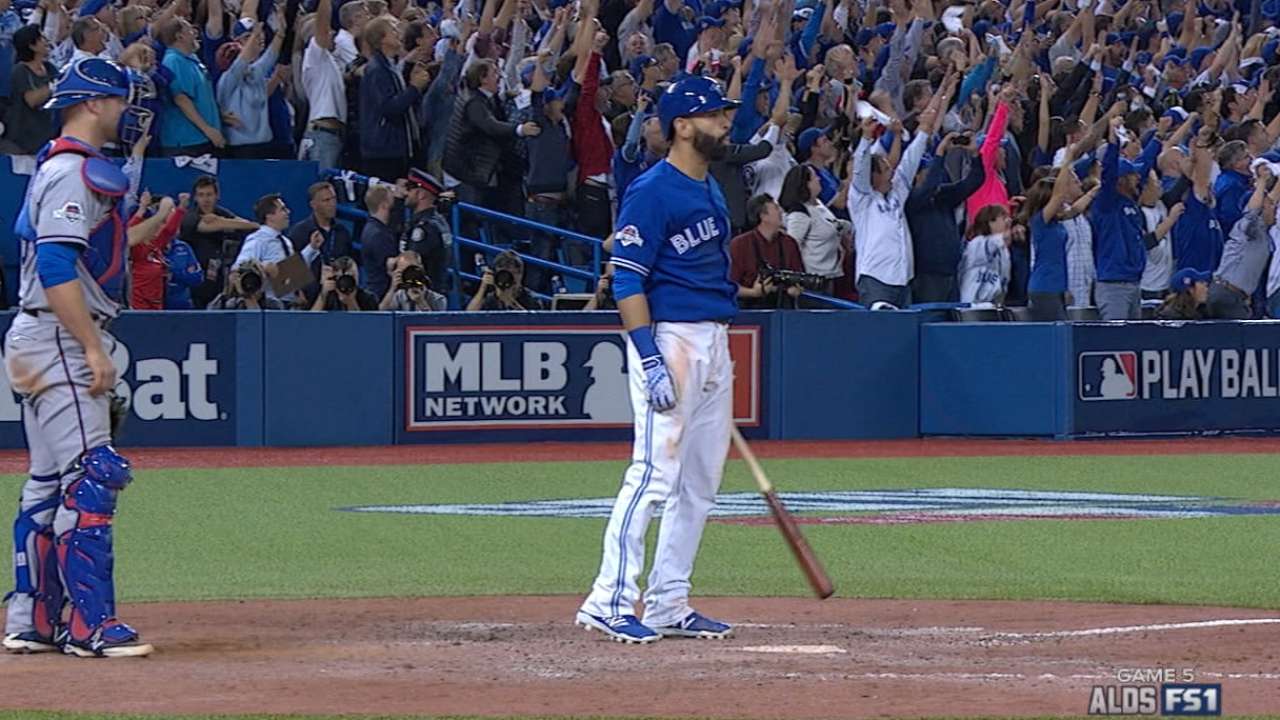 Jose Bautista appeared on The Dan Patrick Show on Friday morning to discuss the crazy seventh inning in Game 5 of the American League Division Series and his now-famous bat flip.
On his thought process during that seventh-inning at-bat
"A lot of things happened up until that point, so everything came to that moment of, I guess, exhilaration when I hit that ball. Everything was a buildup, up until then. Even the previous play, when [Josh] Donaldson hit that little popup and everybody thought it was going to fall, but then it got caught [on a bounce], and we got the run. Everyone assumed it was going to be bases loaded and they got the out at second, and it was two outs and we tied the game. I didn't have the sacrifice fly [as an option] anymore, I had to get a hit.
"I had faced [Sam] Dyson before. He throws pretty hard. He has a lot of movement on his fastball, has a great changeup. For some reason, I felt like he was going to stick with the heater. I missed the first one. He had a ton of movement on it. It kind of bottomed out at the bottom of the zone and I fouled it off, and then he threw another one pretty low, got the count back to even, 1-1. And I think he left this one a little higher than he would've liked, and I connected on it. After I hit the ball, I don't really remember a whole lot of what happened until I kind of came back to the dugout after everyone stopped hitting me."
Was it an out-of-body-experience?
"Well, I think right after I hit the ball, it became an out-of-body experience. I knew I hit the ball, for sure, it was me. But what happened after that, it was a moment of joy. It was a moment of, you know, you realize you just did something great for the team in a series you were down, 0-2, and you came back, won two on the road, come back home and a bunch of crazy stuff has happened with the umpires and crazy plays -- Russell Martin hitting [Shin-Soo] Choo in the hand, and that's how they got the lead in the seventh. And everything was just kind of a buildup to that moment, and it was great knowing I put my team ahead. Again, I don't really remember much about it. I had a blacked-out moment, I guess."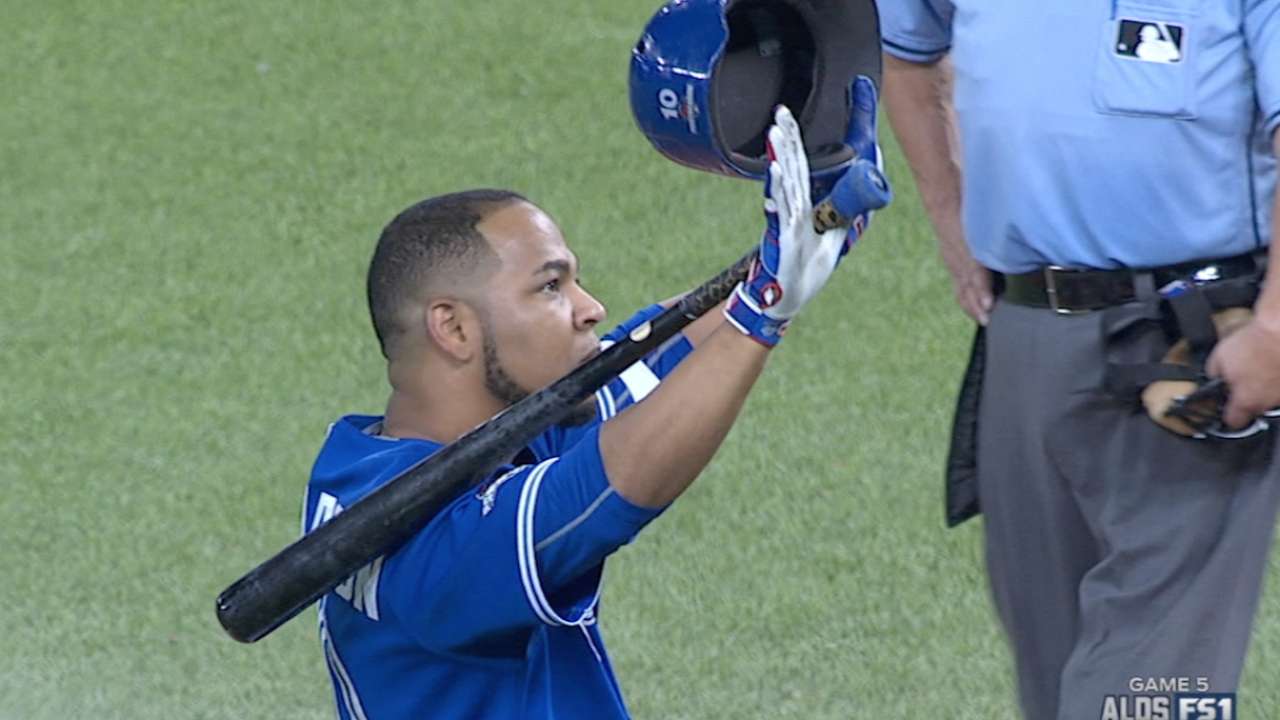 Did the bat-flip coverage bother you?
"No, absolutely not. I play with a lot of passion, a lot of emotion; I wear my emotions on my sleeve. I think that's what gives me my drive, what keeps me going and allows me to be successful. I have to play like that. If I don't, I might not be me. I understand that every now and then you've got to do things that people are not absolutely going to love, and I'm OK with that.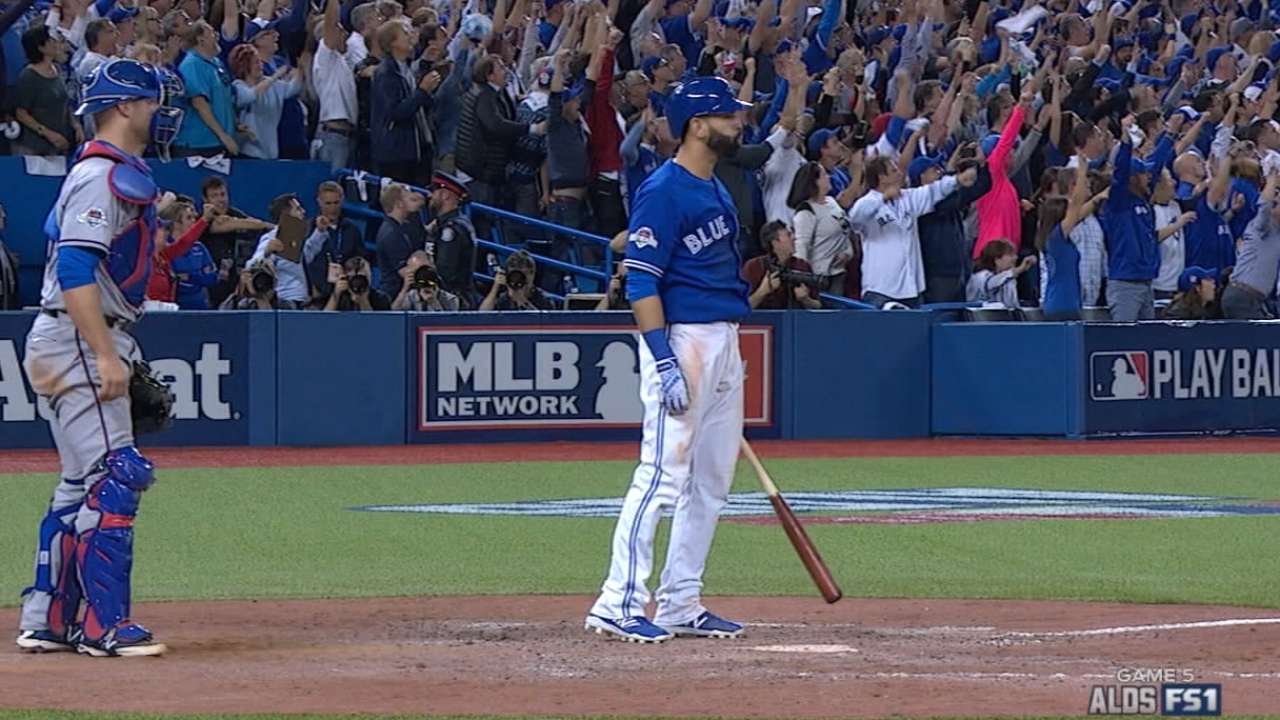 "I think with the situation of the game, the situation of the series and the importance of the playoffs and us facing elimination -- and for me to put my team ahead in a tight series like that -- the emotions came out. I wasn't doing anything to disrespect the game or the opponent. I understand what they're saying, but it happened. I didn't plan it, I'm not going to apologize. I enjoyed it. I can't say that I would do it again -- I didn't plan it - but who knows? I would've celebrated in some way."
• Dress for ALCS: Celebrate Blue Jays' postseason run
On whether he was making it personal with Dyson
"It's part of competition. It's part of being a competitor and trying to come out on top, trying to win. There's going to be a winner and a loser. I don't feel that because I did that, I was humiliating him in any way. Who knows? If he were to strike me out in that situation, and he gets to pump his glove or do a fist pump, I can't get mad. It's a big situation in the game, so I shouldn't get upset. … I was able to come out on top and do something good for the team, and the bat flip is just what came out of me. I can't say I planned it."
Cash Kruth is a reporter for MLB.com. This story was not subject to the approval of Major League Baseball or its clubs.