Blue Jays social media buzzing before Game 1
To capture the excitement of Toronto fans heading into the American League Championship Series against the Royals this weekend, you must start with the Blue Jays' AL Division Series victory over the Rangers and the Shot Heard 'Round Canada.
Toronto slugger Jose Bautista's game-winning home run in the seventh inning of the winner-take-all Game 5 victory was perhaps the most momentous home run in the franchise's past 20 years, now up there with legendary postseason home runs hit by Joe Carter, Roberto Alomar and Ed Sprague.
• Shop for Blue Jays postseason gear
Blue Jays fans tuned in via television for the entire series -- according to Sportsnet's Jeff Blair, 11.5 million Canadians watched some part of Game 5, and audience levels peaked at 8.1 million viewers at 7:44 p.m. ET. For context, that equates to nearly one-third of Canada's population of roughly 35 million people.
Damn: overall, 11.5 million Canadians watched some part of ALDS Game 5. Audience levels peaked at 8.1 million viewers at 7:44 p.m. ET.

— Jeff Blair (@SNJeffBlair) October 15, 2015
If Wednesday's social media activity was any indication, plenty more will be tuned in online this weekend. According to Stephen Brooks, the Blue Jays' senior vice president for business operation, #ComeTogether was the top trending topic in the world Wednesday.
#ComeTogether was apparently the number one trending topic in the world yesterday on Twitter.

— Stephen R Brooks (@sbrooksbaseball) October 15, 2015
The ALCS begins at 7:30 p.m. ET Friday in Kansas City (FOX/Sportsnet). Marco Estrada, in whom actor Stephen Amell has tremendous faith, will face off against the Royals' Edinson Volquez.
I've got an ESTRADA, and the only prescription is MORE MARCO. #GameDay #ALCS #BlueJays #PerfectTweet #ComeTogether

— Stephen Amell (@amellywood) October 16, 2015
During the teams' meeting in August, Volquez hit Toronto third baseman Josh Donaldson with a pitch. When Volquez continued to pitch inside, Donaldson got angry and the benches emptied before a war of words ensued. It all sets up a primetime showdown Friday. Can Volquez silence the high-flying Jays? Or will Donaldson bring the rain?
I'm thinking rain will be brought to Kansas City tonight. LOTS of rain!! #ComeTogether #TorontoWantsItMore @BringerOfRain20

— Sue J (@Tigger7) October 16, 2015
Of the 49,742 at the Rogers Centre on Wednesday, we now know that one young fan was especially locked in for Bautista's big at-bat. Video of 9-year-old Oscar Wood, with his marker-drawn Bautista beard and Blue Jays T-shirt jersey, has now gone viral as Wood seemingly "wills" Bautista to hit the home run, mimicking the veteran's batting stance in tune with the delivery from Rangers reliever Sam Dyson.
In the end, it was Wood's delightful moment pre-swing and Bautista's reaction post-swing that drew the attention of the sports world. Because once Bautista connected, the only thing that traveled farther than Bautista's flipped bat was the home run ball.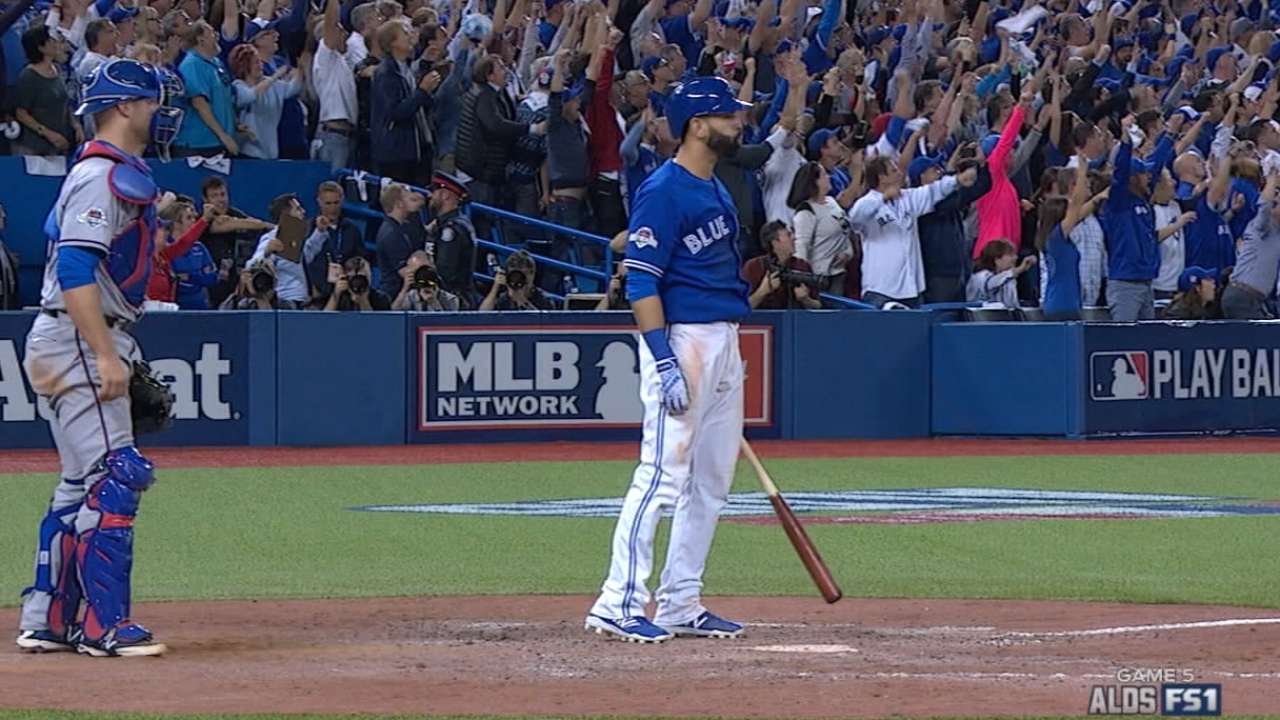 Bautista be like pic.twitter.com/cHrQpORsQD

— Cause We're Canadian (@MadelnCanada) October 14, 2015
It certainly drew the attention of another pro franchise in town, the NHL's Maple Leafs, who congratulated the Blue Jays on Twitter.
Congrats @BlueJays on winning the ALDS! @JoeyBats19 if you could get your bat that landed on the Air Canada Centre roof, that'd be great.

— Toronto Maple Leafs (@MapleLeafs) October 14, 2015
Two other well-known Canadian entities have gotten in on the excitement, offering a toast (of coffee, perhaps) to the nation's club.
Cheers to Canada's team, the #ALDS champs! #ComeTogether #GoJaysGo pic.twitter.com/IjJXYxdclL

— Tim Hortons (@TimHortons) October 14, 2015
We've got #BlueJays fever! All Canadian locations will be playing the game with sound on. Come early! #ComeTogether pic.twitter.com/BhB2HlCuuI

— Earls Restaurants (@earlsrestaurant) October 16, 2015
And if Bautista's home run isn't etched in Blue Jays history books, it's certainly etched in one Blue Jays fan's skin.
I have heard and seen some crazy stuff in the last 24 hours but this one takes the prize… https://t.co/pseKmdgWng

— Jose Bautista (@JoeyBats19) October 16, 2015
And the memory is worn on CBC News Chief Correspondent Peter Mansbridge's back.
I've worn this shirt for all three Blue Jay wins (including at the game last night). Not washing it. #cometogether pic.twitter.com/Z3m5K4MeOX

— Peter Mansbridge (@petermansbridge) October 15, 2015
But there's sure to be more fan excitement to come -- it sounds like Prime Minister Stephen Harper is watching closely, and Toronto City Councillor Norm Kelly has already started some trash talking.
Kansas City are fake @Royals. We've got the real ones on our side. #ComeTogether pic.twitter.com/LnVjxvte9M

— Norm Kelly (@norm) October 16, 2015
What a game @BlueJays! Congrats, and looking forward to the #ALCS! #ComeTogether

— Stephen Harper (@pmharper) October 14, 2015
Toronto residents were more than entertained by fan favorite Munenori Kawasaki's postgame interview, which says it all about the Blue Jays' postseason future: "Just win!"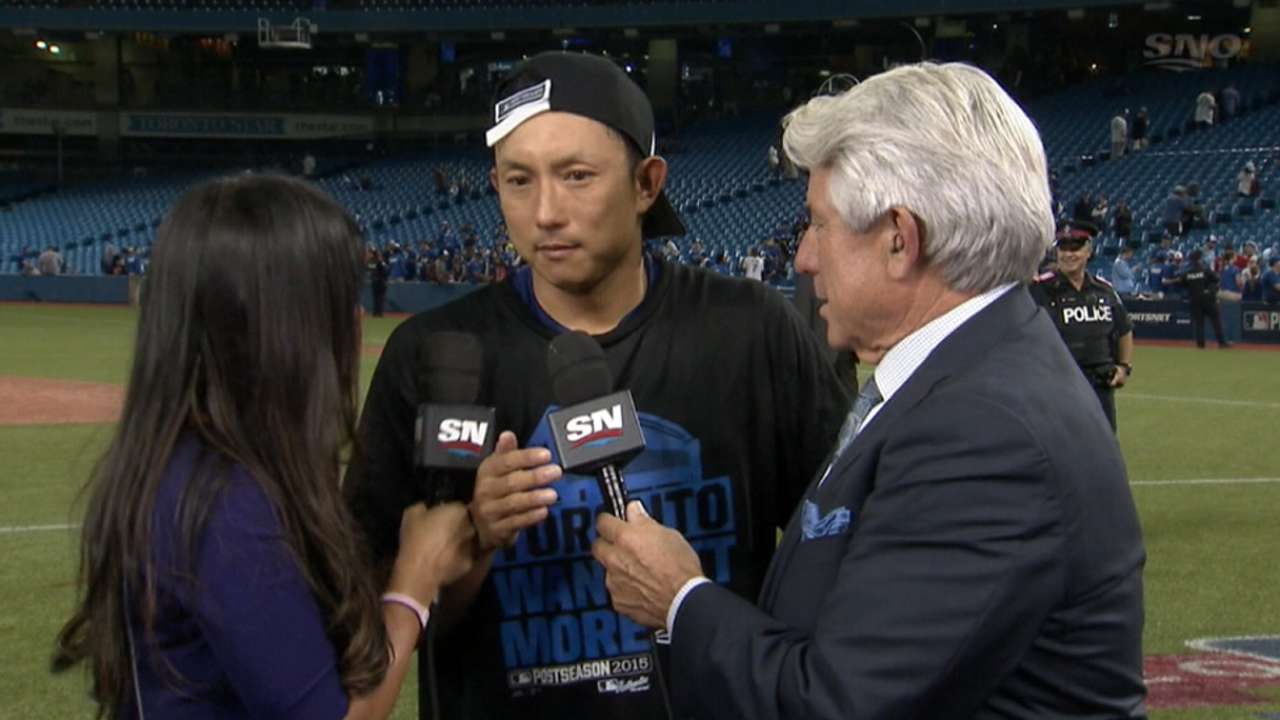 Joey Nowak is a reporter for MLB.com. Follow him on Twitter at @joeynowak. This story was not subject to the approval of Major League Baseball or its clubs.