MLB.com Columnist
Alyson Footer
KC speed, Martin's arm to be tested in ALCS
Royals' aggressiveness will be up against one of best at nabbing basestealers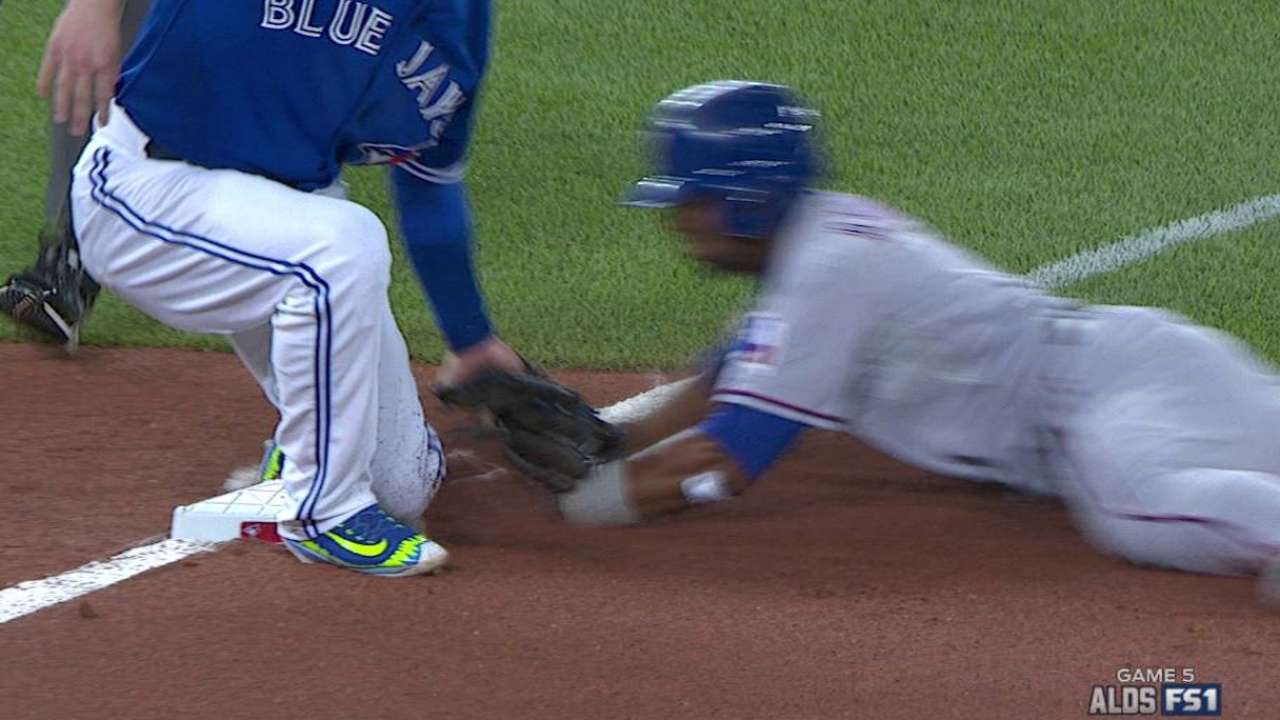 KANSAS CITY -- The American League Championship Series, beginning tonight at 7:30 ET (FOX/Sportsnet), will feature the league's two best teams, but beyond that, there's another interesting element that could test a vital strength of each club.
The Royals, who have heavily relied on speed and defense while building their championship-caliber clubs, have one of the best baserunning teams in baseball. The Blue Jays, on the other hand, have the game's best-throwing catcher in Russell Martin, who threw out 44.4 percent of would-be basestealers in the regular season, the highest in the Major Leagues.
• Gear up for ALCS: Blue Jays | Royals
It's unlikely the Royals are going to change their approach and tone down their aggressiveness on the basepaths, but at the same time, being aware that it's Martin behind the plate could force them to be a bit more strategic in basestealing opportunities.
"It'll be very interesting," said Kansas City outfielder Lorenzo Cain, who had 28 steals during the regular season. "He's definitely not the first catcher to try to shut us down. We'll see what happens. First and foremost, you have to get on base."
The Royals are good at that, too. They had 104 steals in 2015, which ranked fifth in MLB and second in the AL. They were successful on 75.4 percent of their attempts, fourth best in baseball.
But the combination of Martin's strength and accuracy and Toronto pitchers being tough to steal on may trump Kansas City's scrappy methods of getting around the bases.
Martin's reputation is not isolated to just this season. Over his career, he's been one of the game's best catchers in terms of throwing. In 10 seasons, Martin has a 33.1 percent caught-stealing rate, having thrown out 321 attempting basestealers in 971 attempts.
In 2015, according to Statcast™, Martin's average throw was 81.7 mph, tops among all catchers with 50 throws tracked.
But does this mean that Martin definitely has the upper hand? It's hard to tell.
"They're probably the best team in baseball, at least I've seen in the American League, at manufacturing runs, because most of the guys can steal bases, and if they can't, they're very good baserunners," Blue Jays manager John Gibbons said. "And then they've got their weapons on the bench, with [Jarrod] Dyson and [Terrance] Gore."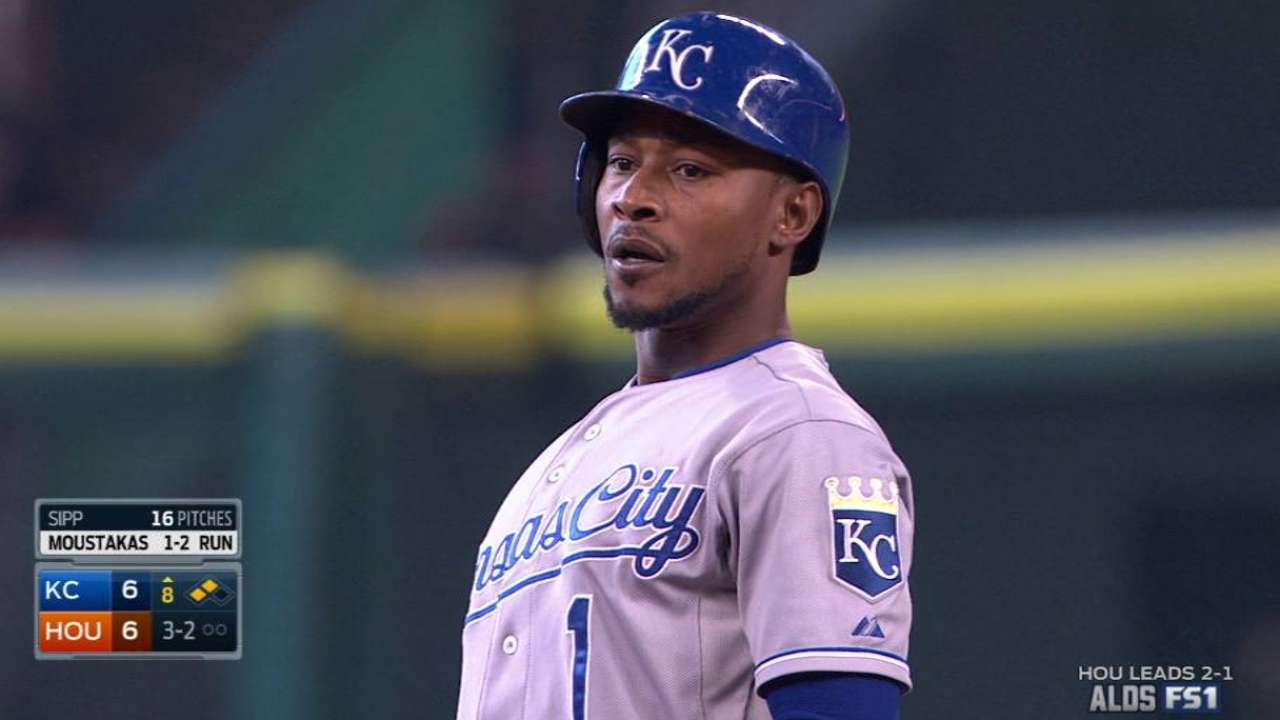 Although a catcher's throwing arm can affect an opponent's running game, part of his success rate has to do with how quick his pitchers are to the plate. Martin benefits from Toronto's starting staff in that respect. David Price, for example, has not allowed a stolen base this year.
From the Royals' perspective, a pitcher's timing is as much of a factor as a catcher's throwing arm.
"If we have opportunities, we'll go for it," Kansas City infielder Ben Zobrist said. "It's not going to be based on whether [Martin's] behind the plate or not. It's going to be based on how the pitchers do. When a pitcher does a good job of holding guys -- being quick to the plate, things like that -- then it takes those opportunities away. You're always looking for opportunities, and I don't think that any of that's going to change."
Added Cain: "Getting a chance to face [Martin] during the season, with Price, Dickey, Estrada and all those guys -- they're all quick to the plate. It's already going to be tough enough to steal bases against those guys. We'll see what happens. We'll have a game plan for it, and we'll steal as we can and just get into scoring position."
As much as a pitcher's release has to do with limiting stolen bases, Martin's impact should not be underestimated. Blue Jays backups threw out just 31 percent of basestealers this year (as compared to Martin's 44.4 percent), and for the course of his career, his backups have thrown out 20.2 percent of attempted thieves, relative to his 33.1 percent mark.
Alyson Footer is a national correspondent for MLB.com. Follow her on Twitter @alysonfooter. This story was not subject to the approval of Major League Baseball or its clubs.